FEATURES
The Club Sounds of "Natural Phenomena" Are Inspired by Ayesha's Travels
By Vance Brinkley · February 16, 2021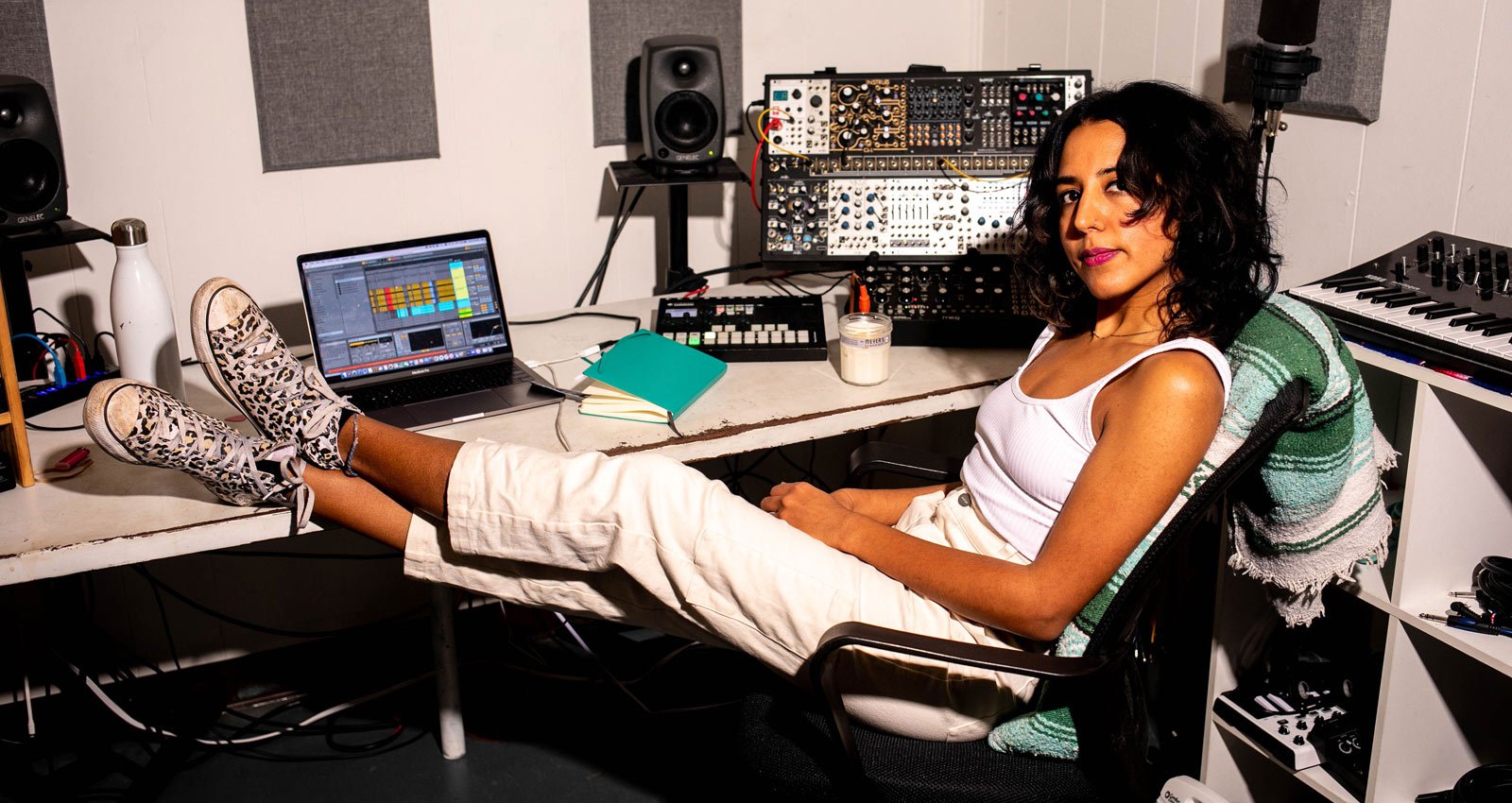 Using percussion, sampled sounds, and echoed bells, and working in genres ranging from EDM to hip-hop and Baile funk (she just calls it "Genre X"), Ayesha Chugh's music tells a story of diaspora. Her latest, Natural Phenomena, continues that tradition, drawing on her experiences living in different parts of the world.
Ayesha and her twin sister Aanya were born in 1987. Her family (who immigrated to the states from India) lived in Chicago before moving back to India in 1995. "They wanted their kids to grow up in touch with their culture," she says, "It was a little bit of a culture shock… We were very American, and India at the time was less connected to the global economy. You really stood out, and there were a lot of misconceptions about you—you were definitely a 'phenomenon.'" Chugh's early years in India were some of the best of her life. "I had a pet monkey," she recalls. "My sister [and I] would always get into trouble, and we just really just made the most of our childhood." They were living in Tamil Nadu, a South Indian state with a rich musical history. "Tamil music, in particular, is very polyrhythmic, very percussive," says Chugh, "and it's the many grooves that get you dancing. That's something I took for my own music that goes back to my childhood."
.
00:10 / 00:58
In 1999, the Chugh family moved back to the U.S. and settled in San Mateo, a city 20 miles south of San Francisco. "It was tough coming back from India and going to a rough Bay Area public school," she says. "In those years I was much more introverted, and spent a lot of time on the computer." Around this same time, peer-to-peer file-sharing programs, like Limewire, allowed users to download music freely. "I basically got into hip-hop, 'internet music'…just any music that was available through P2P networks and torrents," she says, "I was obsessed. Just the idea of being able to burn your own CD was such a crazy, Back to the Future-style invention.
When The Bay Area fell into a recession in 2001, Chugh's family moved back to India, and she spent her teenage years in the Himalayas before finishing high school in Bangalore. In 2005, she returned to the U.S. for college, doing her undergrad work at Scripps College in Claremont, California. She started to grow musically during this period as well, delving into obscure subgenres and making mixes for house parties. "Those years were very exciting to me, musically," she says. "I was learning so much of so many different kinds of music." She listened to bands like Mana, fell in love with the Stones Throw label, and experienced the early rise of EDM. When she moved to Washington, D.C. for her master's in 2012, she made mixes while working research jobs for local think tanks. She had planned to get her PhD and become a full-time researcher; instead, she decided to leave her professional career to become a DJ. "I was really questioning how I would fit in international development," she says. "I became aware through DJing that the thing I was most passionate about was music." She began racking up a series of high-profile gigs, netting spots at the Broccoli City Festival in D.C. and Bonnaroo in Tennessee. When the physical toll of being a professional DJ began to wear on her, Chugh took a job at a music production company to balance her work life with her art. In March of last year, she released Let's Get Visceral, an album recorded mostly in India, with the sound of the country's traditional percussion providing its foundation.
.
00:10 / 00:58
With Natural Phenomena, Ayesha refines the structure she created on her debut, and lets loose sonically a little more. Each track is a blend of genres—house, dancehall, and traditional Tamil music all make appearances. By adding elements like aquatic-sounding percussion and synthetic snares, Chugh creates a kaleidoscope of sounds that complement the body-moving grooves. "Infinite Space" kicks off with a buildup of bells, snares, drums, and echoing meditations, but once that beat flips, it dives headfirst into Baltimore club. On "The Club Is a Sea," Chugh coats a pulse-pounding bassline with synthetic splashes and gurgles. And while Ayesha's life experiences inform the sounds of Natural Phenomena, the desire to remain authentic to herself is the spark that kindles the fire. "Suddenly I feel like I'm connected to a world beyond me," she says, "It's been so cool to have music as the avenue to connect with people."