FEATURES
Ayanda Sikade Keeps the Backbeat for South African Jazz
By Philip Freeman · January 18, 2022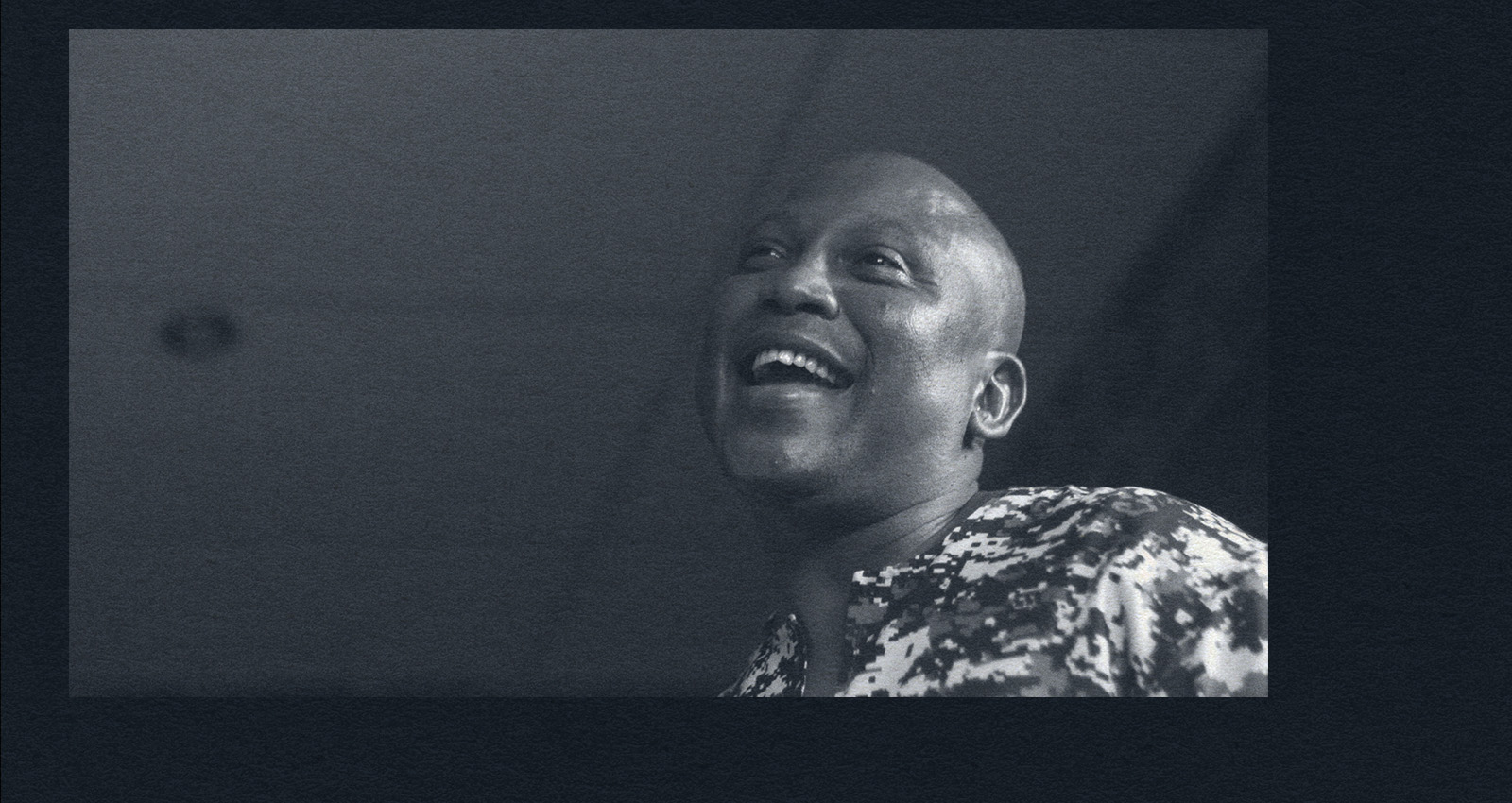 Though he's been a crucial figure in South African jazz for years, drummer Ayanda Sikade is only now achieving the recognition he's long deserved—something one could say about the South African scene as a whole, given the increased worldwide profile it's begun to enjoy in the last few years. His second album as a leader has just arrived, and killer performances on others's records seem to emerge constantly.
Born in Mdantsane township in South Africa's Eastern Cape province on New Year's Day 1981, Sikade began playing the drums as a child. "I'm from a traditional family, so we didn't grow up with instruments at home," he says via WhatsApp, after a day in the studio with trumpeter Siyanda Zulu. "We grew up on traditional music, which is sung, and then handclaps and of course dance. So I'm from that. But there was a jazz band not far from my house that I used to go and watch when they were rehearsing."
By watching the older men play, he learned about various instruments and the way they worked together to create jazz, but he wasn't allowed to join in. "Now and again I would fiddle with some instrument. They would be angry with me if I touched the saxophone, which is a very sensitive instrument," he says. "They didn't have a piano, but they had an electric piano, and the owner of the piano didn't want it to be touched. So the drums were the only [instrument] that I could fiddle around and try to do what they just did, try to emulate how the drummer was playing, the rhythms, the different times, 4/4 time or a shuffle and all these kinds of things."
At the turn of the millennium, Sikade—who'd been gigging since the age of 10—entered the University of KwaZulu-Natal's jazz program. There he met pianist Nduduzo Makhathini. The two have been friends and collaborators ever since. They were both members of revered South African saxophonist Zim Ngqawana's Zimology band in the mid-'00s, touring with him for several years; Sikade can be heard on Makhathini's albums Sketches of Tomorrow, Mother Tongue, Listening to the Ground, Icilongo: The African Peace Suite, and Ikhambi.
Makhathini says, "Unlike myself, Ayanda came up in jazz traditions in South Africa when he was really young. For me, jazz only came when I went to study music…I think Ayanda possesses a significantly important place in the jazz traditions in South Africa that stem out of his apprenticeship in his early years. In this sense, he also carries a much higher responsibility for the South African jazz aesthetic and its legacy."
Saxophonist Linda Sikhakhane, who has recorded with both men, calls Sikade "a mentor and a bridge to a lot of knowledge from our masters. He and Makhathini are pioneers of an important movement in our jazz community which has freed a lot of young musicians to speak their hearts on the bandstand, creating space for independence and encouraging musicians to release their works. He is a torchbearer for many young cats."
When two musicians have been playing together for so long, they begin to develop a shared language. "You know, it's like [we're] one person," says Sikade of drumming behind Makhathini. "All these years, we've been really digging into understanding each other's spiritual way of dealing with sound. We agree in everything about sound: Where is it coming from, where is it going, what's the future of sound, what should we be doing."
He shares a story from the Zulu recording session as an example of the depth of their bond. "Today, when we're in the studio, we recorded this tune and he said he couldn't hear the drums, the drums were not in his headphones. But because he knows how I'm thinking, he could just play without even hearing me. We really have a special combination when it comes to the understanding of sound and how we interpret it and how we think of it. It's really a special gift that God has given us."
Makhathini appears on Sikade's new album Umakhulu, along with bassist Nhlanhla Radebe and alto saxophonist Simon Manana. The three veterans bring in original compositions that allow Manana, who's just 23, to step forward boldly. The saxophonist has a big, strong sound; he often sounds like he's playing a tenor rather than an alto. He sat in with Makhathini and Sikade on a gig at the Johannesburg club Untitled Basement, and afterward, the drummer watched video of the gig on Facebook. "He had all this knowledge of being like a purist on how he's phrasing and how he's hitting his notes and lines…This really moved me and I thought, 'I wanna do something with this cat, man, because I like how he's interpreting what he hears.'"
He formed a trio with Manana and bassist Herbie Tsoaeli, another former member of Zimology (Sikade played on Tsoaeli's 2021 album At This Point In Time: Voices In Volumes). By the time the session was booked, though, Radebe was on bass; Sikade says, "We went into the studio as a trio plus, actually, and came out as a quartet."
The music on Umakhulu covers a broad range. The opening track, "Mdantsane," named for Sikade's hometown, is a slow blues with a highly memorable, hooky melody. Manana plays with a surprising degree of patience for a young man, resisting the urge to run wild, and Makhathini's piano solo has a late-night barroom energy. Sikade's playing is loose but always on time, his strikes landing like bare feet slapping in dust.
This is true even on tunes like "Nxarhuni River," a fast bebop burner that delivers a jolt of energy in the album's second half. One of Makhathini's biggest influences is McCoy Tyner, and those florid explosions of notes, anchored by pounding left-hand chords, are all over the track's opening moments. Behind him, Sikade lays down a complex but driving rhythm that bounces all over the kit with tumbling, Max Roach-like fills.
The drummer explains that his rhythmic concept is rooted in the African culture of song and dance: "It starts from the dance, so basically you feel the pulse through how you dance—how you dance is how you're gonna play it…The dance becomes a very important element to each and every musician, because culturally we dance and also we sing, so the singing is synchronized with the dance."
He adds that this "human-ness," which sets South African jazz apart from its U.S. and European counterparts, is part of what he loves about playing with Tsoaeli—who, at 57, has a great deal of wisdom to impart. "His music is based on how Africans deal with time, you know?" he says. "It's not like how the Europeans would deal with time, whereby if the train is to be there at seven o'clock, and if you're not there at seven o'clock then you are missing the train. Sometimes it can come a bit earlier, sometimes it can come later. It's this kind of flexibility of time, the elasticity of time—when we say we're going to meet in the morning, we say we're going to meet when the sun is up. So when the sun is up, it could be between seven and ten. He's got this kind of philosophy that he uses to describe his music…Music is not like we are laying bricks, so if I miss the pattern of the brick it means this thing is wrong. You always come as you are, and we're going to be elastic about the sound."
Umakhulu is Sikade's second album as a leader, but it's a role he's still not comfortable with. His debut, Movements, was recorded in 2010, but he stuck the recordings in the box for eight years. "Somehow I don't think I was really ready to be a leader, for lack of a better word. I thought maybe I was still a bit young and I was not feeling something about myself at that time, cause I believed [in being] a sideman…I believed in being in a band situation."
When I ask him if he considers himself an elder—he's been playing professionally for over two decades, and up-and-coming musicians like Sikhakhane and Manana see him as a mentor—he laughs. "I believe in the next 10 years that South Africa, if not now then, will be like the main hub of this music in the whole world," he says. "It feels great, and I'm really fortunate and privileged to be part of such a movement that is bringing this sound into the forefront with these young cats and also Makhathini and bra Herbie and all these other masters that are in the forefront…but I'm not yet an elder. I'm still feeling young. I'm still feeling like I'm in my early 30s in my spirit and in my way of doing things, so I'm gonna be an elder maybe in the next 20 years, and I think I'll take that voyage."