FEATURES
Reintroducing Ángel Rada, Venezuela's Pre-Eminent Experimentalist
By Andy Beta · May 09, 2022
When Venezuluan electronic composer Angel Rada found himself at university in Germany in 1970, he dove deep into the relatively new field of electroacoustic music, while also doubling in Chemical Engineering, ultimately earning his doctorate in both. Rada had access to Moog synthesizers and began pushing his explorations further and further out, but it was the discussions he had in the engineering department that led to his biggest breakthrough.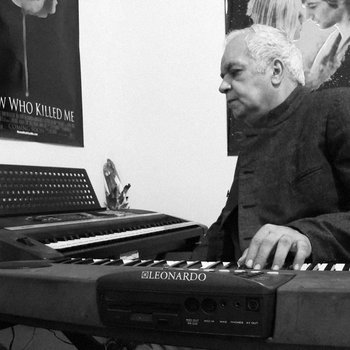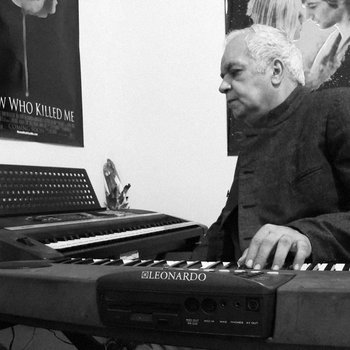 Merch for this release:
Vinyl LP
"I began to be aware that, in the universe, nothing is standing still," Rada recalls. "Everything changes from one state to another, and every object is formed by moving atoms interchanging electrons. My perception evolved to a second stage focused on the relationship between quantum physics and Buddhism." But even the most intrepid fan of early electronic music may be forgiven for not knowing about Rada's oeuvre, as most of it was only released in his native Venezuela. Thankfully, this month, the Spain-based label El Palmas Music reissues Rada's 1983 debut, Upadesa, which follows from the label's handy 2020 compilation, Tropical Cosmic Sounds from Space. (For further exploration, the label has also digitally reissued a run of his '80s albums.)
"Venezuela is a small country, but it has everything, it is so rich in many ways," DJ and label head Maurice Aymard wrote via email. As a Venezuelan artist based in Madrid, reviving Rada's music was crucial for him. "The amount of genres that Latin America has is countless: cumbia, merengue, salsa, porro, son, guaguanco, Latin jazz, soul, funk and yes, even electronic music. It was unbelievable to me that an artist like Ángel Rada could produce this kind of sound living in a tropical Latin country, but with so many influences from around the globe."
Born in Cuba, Rada's family came to Venezuela when he was still a baby. By the age of 13, the young Rada began his musical training in earnest with his uncle, the chorus conductor of the Caracas Cathedral. He soon moved on to studying theory and piano at the José Ángel Lamas School of Music, before his pursuits finally took him to Lübeck University in northern Germany. 
Merch for this release:
Vinyl LP
It was a fortuitous time in Germany in the 1970s, as the post-war generation began to fearlessly fuse psychedelic rock with academic music, pushing into bold new realms of sound. Rada's studies in electroacoustic music and exploration of technologies like the Moog Modular synthesizer soon had him rubbing elbows with fellow explorers. One of the first people he befriended was Klaus Schulze, the original drummer in Tangerine Dream and Ash Ra Tempel, who was enamored with the possibilities of nascent electronic music. "We clicked immediately because he was very interested in the tropics," Rada says. "He knew the Moog Modular very well, so I went to his apartment and saw his equipment. I asked him to teach me about oscillators, voltage controllers, and filter techniques." From there, Rada rubbed elbows with other kosmische legends like Edgar Froese and members of Kraftwerk. 
Despite finding kinship with that scene, Rada began to have second thoughts about the movement deep down. Combined with the discussions in the engineering department and the realization of that changing state of nature and interest in quantum physics and Buddhism, he started to conceive his vision of what his own music would embody. For the Venezuelan, he came to find electronic music to be cold and soon began to evolve his thinking towards "a concept of ethnicity and sound, which I called 'Ethnosonics,' involving musical instruments, some of the ancestral," as he describes it. "Ethnosonics does not exclude any technique created by mankind if it has transcended in time. There is no complete musician if he does not know all musical techniques, African, Caribbean, folk or contemporary, using only one technique is limiting."
The first glimpse of that philosophy of Ethnosonics manifests on Upadesa. Constructed with primitive synthesizer, sequencer, and acoustic guitar, Rada fascinatingly combines the well-worn and new-fangled. "Carillon" rides a swinging, sputtering machine rhythm before it erupts into synthesized spurts and squiggles. He runs his voice through his circuitry a la Kraftwerk for the giddy and playful "Video Game." A programmed march beat of fuzzed-out snares underpins "Asesinato Musical," with Rada taking a keyboard solo that quotes both "St. James Infirmary" and the highest frequencies of his instrument. 
But rather than lay the foundation for his musical career, external events constantly hampered Rada's output. "Earthquakes, floods, and landslides collapsed my house, and I lost all my instruments and studio," he says. "It took me a long time to reacquire them and find a new home." And when nature wasn't wreaking havoc, corrupt government policies and hyperinflation further destabilized his country. "Venezuela has become a no man's land, with millions emigrating to other countries."
Despite such setbacks, Rada's output was an inspiration for the music makers to arise in the years after. "Ángel Rada is one the pioneers, he released so many great albums, and the '80s was his peak time," says Aymard. "So it was super important for our country—and the world—that people can finally listen to all of Ángel's wonderful music."