FEATURES
How Isolation Fueled Angel Deradoorian's Meditative New Record
By Will Schube · October 16, 2017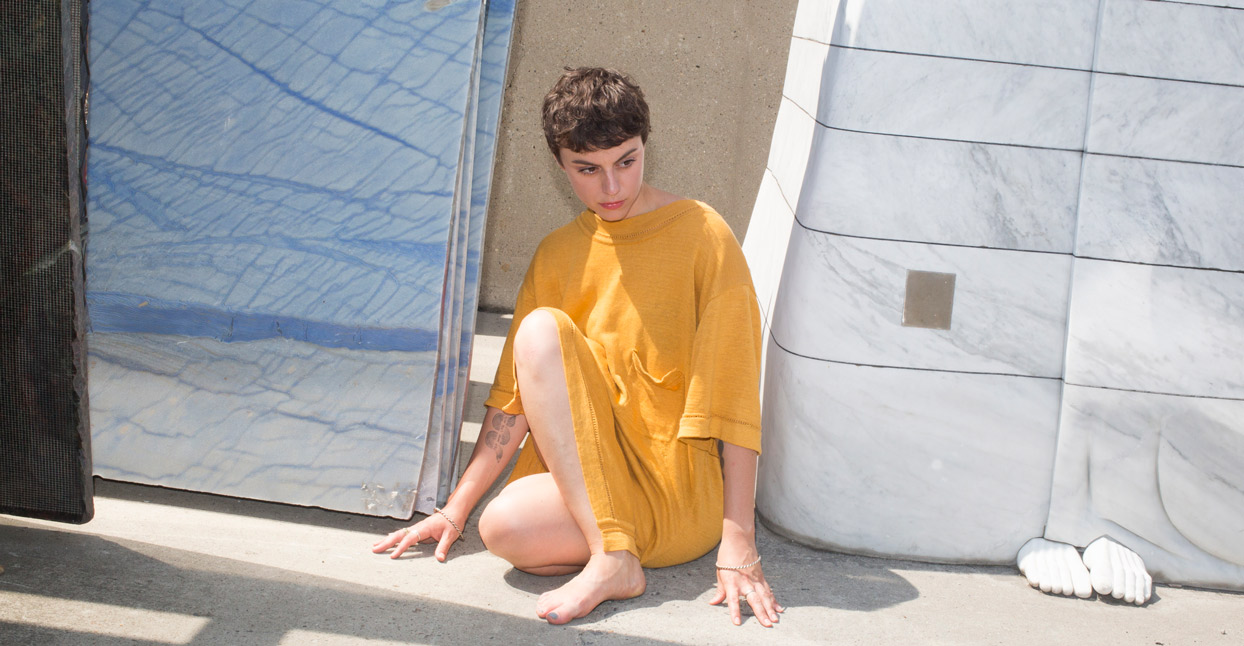 Just as Angel Deradoorian was preparing to release her debut solo LP—2015's The Expanding Flower Planet—she retreated to Big Sur, California to start thinking about her next record. The New York-based vocalist and multi-instrumentalist had finished Flower Planet a year earlier, but it took some time to secure a label to give it a proper release. By the time she inked a deal with Anticon, Deradoorian had already begun looking for new sounds and entertaining new philosophies for her follow-up. Eternal Recurrence is a sharp detour from Flower Planet's warped, psychedelic pop, trading bouncy drums for droning synths, hauntingly introspective vocals, and lyrics that wrestle with love, pain, isolation, and wonder.
It's also rooted in deep loneliness. "Being that alone, I was starting to lose an association with my body, where I felt like there was nothing really around me," Deradoorian explains over drinks at The Lot Radio in Greenpoint, Brooklyn. "I wasn't really touching other people, interacting with other people, so I was very much in my mind. In that sense, it took me out of my physical reality."
.
00:10 / 00:58
Though Deradoorian started Recurrence in Big Sur, she moved back to New York and secluded herself upstate to finish it. With production help from guitarist Ben Greenberg (who's played in The Men and Zs) for the latter recording session, the album examines what it means to love and fulfill yourself without human interaction. "I get obsessive about ideas and really want to explore them," Deradoorian says. "This time it was like, 'What is it like to be very alone?'"
Though Recurrence deals with isolation, Deradoorian is an eager collaborator. In Greenberg, she found someone who was able to take the ideas she created in solitude, and turn them into fully-formed songs. "I'm not really delicate in that way," Deradoorian says. "I do really like working with other people at a certain point, because it becomes more exciting and more energetic in a way that I can't really generate by myself."
For Deradoorian, creating music is a meditative practice that allows her to slow down and embrace the world. "I'm a very emotional person," she admits, "but when I sit down—mostly doing drone style music, layering sonics—I feel more connected to a larger source than my shitty psychology that holds me in a weird chamber of hell." The songs on Recurrence mirror this battle between earthly trappings and the great unknown. In a sense, it's an atypical love album centered on the joy of appreciation.
Having started in the music industry at a relatively young age—she joined Dirty Projectors at the age of 20—Deradoorian has spent her career trying to balance music's economic imperatives with the need to make music as a part of self-care. That might be where the cosmic nature in her music derives from—finding joy and love in an industry that actively tries to suffocate these emotions in favor of profit. "As I've deepened my musical journey, I realized when there's a lot of business aspects pulled into it, trying to bank off of your musical creativity, it's not really realistic," she explains. "The stress that comes with that disallows a creative force within me to be working."
.
00:10 / 00:58
Eternal Recurrence creates a warmth through patience, its disparate tones dragged and elongated until they cohere into something altogether new. And while the record is infused with the loneliness Deradoorian experienced while recording, it's tempered by hope, love, and self-discovery—a mission that is both the precursor for this album and the intended result of meditative music creation.
"Music was kind of the driving source, the only hope, in a very dark psychological period, to keep me moving forward in my life," Deradoorian concludes. "Creating this music was like creating affirmations of love."
—Will Schube