FEATURES
American Wrestlers on The "Rightness" of Youth and Finding Nirvana Funny
By Annie Zaleski · November 04, 2016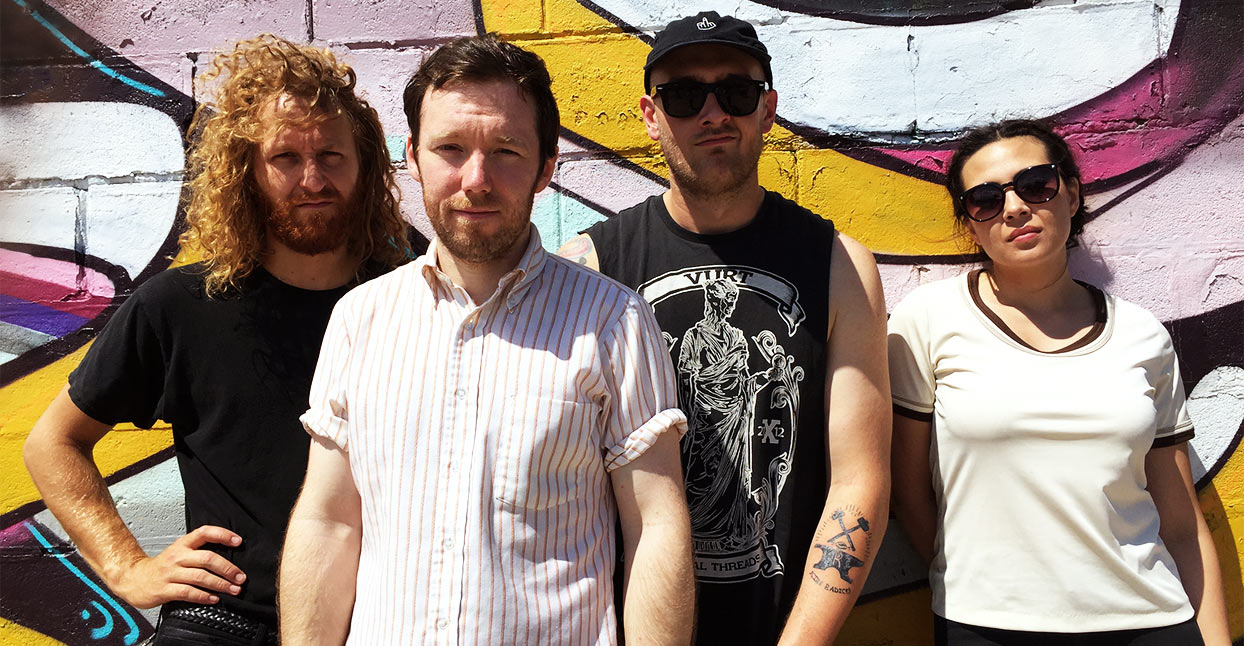 Growing up in East Kilbride, Scotland—a working-class area just outside Glasgow—American Wrestlers' Gary McClure had no shortage of musical exposure. His older brother was into hip-hop, while the music of '80s Scottish legends Aztec Camera was a constant presence in his house—owing to the fact that that group's founder, Roddy Frame, is McClure's uncle. Still, he vividly recalls that it took a random spin of his older brother's copy of Nirvana's Nevermind—and, in particular, the caustic seventh track, "Territorial Pissings"—at the age of 11 to convert him into becoming a music lifer.
"[Nevermind] had these goofy-looking guys on the back [cover] with long hair," McClure recalls, calling from his adopted hometown of St. Louis, Missouri, his Scottish accent firmly intact. "I saw the record, and I thought it was funny because I was so naïve. The background for the first six tracks was pleasant enough, and then ["Territorial Pissings"] came on, and they were just screaming, and the guitars were all insane. I had never heard punk, and I couldn't believe that you could do that on a record."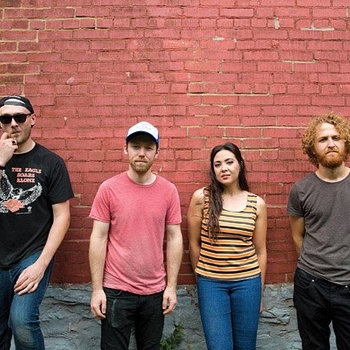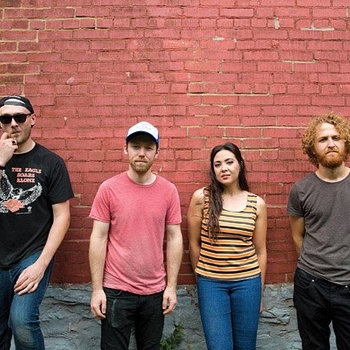 Merch for this release:
Vinyl LP, Compact Disc (CD)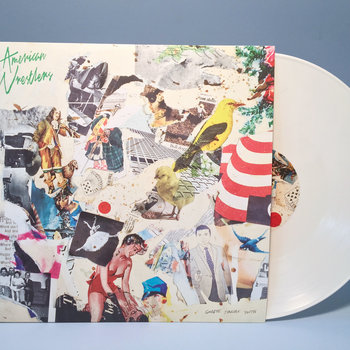 "It was such a profound moment in my life," he continues. "It was like a switch had been turned on, or the world just came into color. Like something had been waiting inside me for someone to connect with. It was like a total epiphany after hearing this song. After that, I was in love with music and had to have a guitar. I was just so obsessed with it. It just felt so right."
The quest for catharsis is central to Goodbye Terrible Youth, American Wrestlers' second album. As always, McClure's songs are sturdy pop compositions augmented by stinging, noisy guitars and yearning vocals, meaning the record falls squarely between buzzing shoegaze and lo-fi '90s indie rock. But Goodbye Terrible Youth has higher production values and crisper instrumentation than American Wrestlers' 2014 self-titled debut. Distortion-swirled guitars and disoriented organ drive both the Built To Spill-esque "Vote Thatcher" and churning "Hello, Dear"; the synth-heavy "Blind Kids" feels like a new wave 45 in the vein of early Modern English; and "Someone Far Away" is a slightly grittier take on mid '80s Britpop jangle. The album-closing, delicate "Real People" is an acoustic-driven song that's not a far cry from Aztec Camera's manicured dreampop.
Given its influences, it's no surprise that Goodbye Terrible Youth also feels like a lyrical throwback: its themes are similar to those that permeated the music of the U.K. during the '80s, a time when political and societal uncertainty and frustration boiled over. "I always write about legacy—and frustrated legacy," McClure says. "That just naturally comes out. ['Vote Thatcher'] is a song about legacy, and how much it actually is worth, and how much time changes—and how much really stays the same.
"And then this idea of youth kept coming up," he adds. "At first, I thought it was because I was jealous. But I think it's really because I think young people are often more right about things than grown-ups can be. It's almost like you lose your way a bit as you get older."
Despite the record's philosophical weight, McClure says his songwriting process isn't very calculated. "Songs just kind of happen," he says. "That sounds a bit more dramatic than it really is. I just watch TV and I play guitar, and a couple weeks later I'm thinking, 'Oh, I've got five songs I could finish here. They're pretty good.' It feels like a very natural thing." After talking to McClure, it's clear he has a pathological drive to make music, whether the public hears it or not. For starters, he says he'd have made this second album anyway, even if American Wrestlers didn't have a record deal.
Merch for this release:
Vinyl LP, Compact Disc (CD)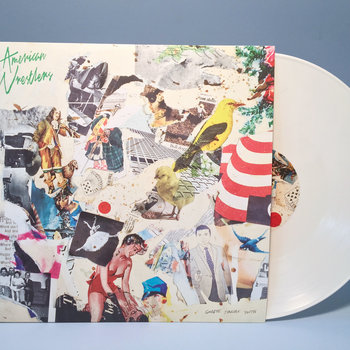 Moreover, he was also "totally convinced" that nobody would ever hear the music he was making after relocating to St. Louis in early 2014 for a relationship. This creative work included American Wrestlers' first album, which he recorded on a Tascam 8-track recorder. Still, one night, something compelled him to upload this collection to Bandcamp and then email journalists in far-flung places such as Seattle, Boston, New York, and Philadelphia to promote it. "I had told them I had moved to their city, because I figured people would like to hear from a local artist more," he says with a slight chuckle. "That was all the information I gave them."
Much to McClure's surprise, within two weeks he had nine interested record labels emailing him. The eventual label sweepstakes winner, Fat Possum, opted to release the album as-is. "The first record wasn't intended to be released that way, I guess," McClure says. "There was a lot of stuff that wasn't quite finished off the way it should have been. Maybe some of the tracks were a little too long. When Fat Possum picked it up, it was still just a demo tape. They just said, 'Well, let's just put it out the way it is, because we love it the way it is.' This time 'round… I knew that it was going to be finished, and so I could make everything more concise."
McClure also wanted Goodbye Terrible Youth to capture American Wrestlers' bristling live energy since, in the time after releasing his debut, he put together a live band (which also includes bassist Ian Reitz, drummer Josh Van Hoorebeke and keyboardist Bridgette Imperial, McClure's now-wife) for shows. "We had just toured. I wanted to write something which would work better out with a live audience, engage them a little more," he says. "Plus, I knew that there would be live drums, and I could make a lot more happen with live drums than you can with a drum machine. It's kind of hard to get things to really rock, for want of a better phrase. Unless you're Nine Inch Nails. They can make it work, I guess. He can make it work. But I'm not Trent Reznor."
Merch for this release:
Vinyl LP, Compact Disc (CD)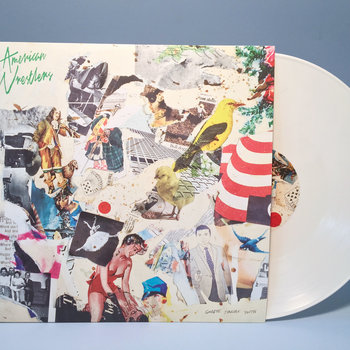 Still, it should come as no surprise that McClure's first major musical inspirations besides Nirvana were the kind of outsized personalities endemic to '90s music—people like Billy Corgan, Courtney Love, and Reznor himself, all of whom had singular visions and the confidence to pull them off. In fact, while McClure has had full-band experiences in the past—he played in the shoegaze-leaning duo Working For A Nuclear Free City—he's most comfortable working alone.
"I can't write with anyone anymore," he says. "With Phil [Kay] from the Nukes, we kind of outgrew that, I think. Actually, we've been in touch and have recorded a few things. But if anyone came in now and said they were going to write as part of the Wrestlers I would, quite quickly, just find another project that was mine and mine alone, you know?"
The conversation turns to pop music's penchant for co-writing, and how creativity-by-committee is mind-boggling from the perspective of a solitary freelance writer. "You know what I'm talking about, because then it's not an expression of you, is it?" McClure says. "And the thing you had in your head, even if you weren't entirely sure what it was, you have to get it out in the right way. And then if other people start putting stuff in, it's like, 'Well, yeah. I mean, that's kind of good and all, but it's not really what I was trying to do. It doesn't really feel like me.'
"So then you have to go and get it out some other way," he says. "I hope the rest of the guys don't get too frustrated. They probably do. It's not that I'm a control freak or a megalomaniac or something—I just have to do it. I have to do something which is all mine. I have to make my own little world."
—Annie Zaleski