FEATURES
The Many Faces of Pop Eccentric Alex Cameron
By Aly Comingore · Photos by Eleanor Petry · September 18, 2017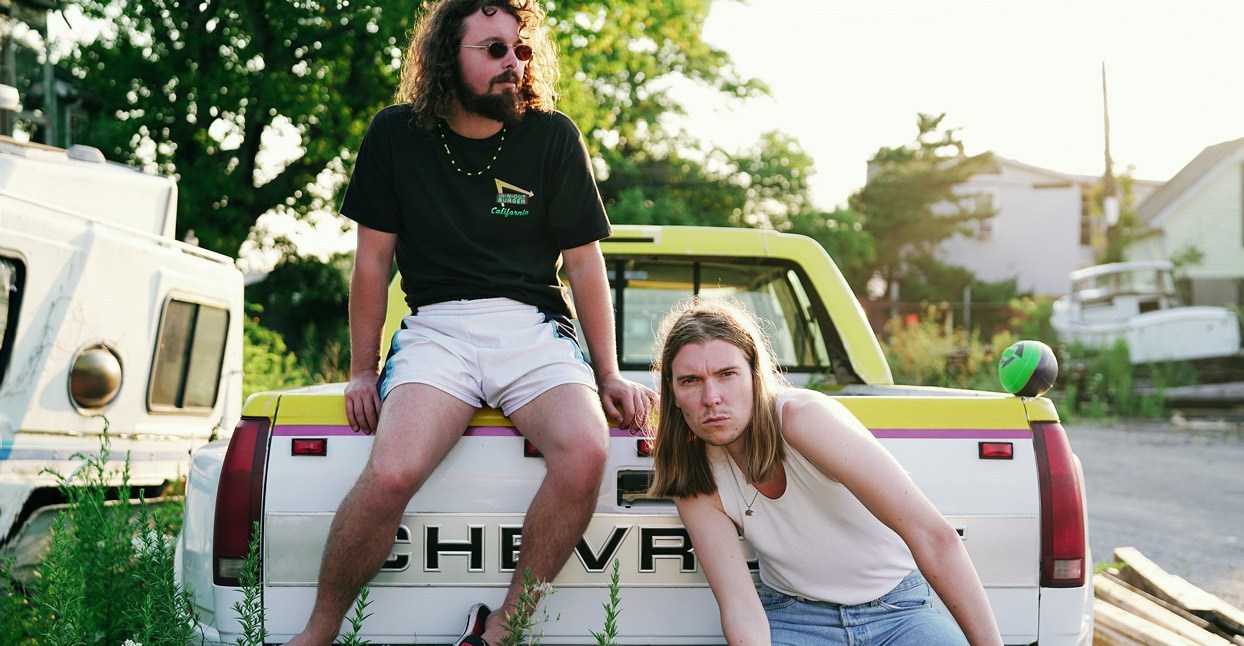 Back in 2014, Alex Cameron was working at a government office assisting victims of corruption in his hometown of Sydney, Australia. It was his job to organize reports, pore through letters, catalogue phone messages, and chase leads relating to all sorts of sordid government and municipal malfeasance. In his time there, the young musician proved to be quite good at sifting through the minutiae of people's lives—something that wouldn't surprise anyone who listened to his 2014 debut, Jumping the Shark. On that album, his first solo effort after leaving the Aussie group Seekae, Cameron spun tales of everyday losers and aspiring stars against programmed drum machines and simple synth lines, providing a voyeuristic look at hope, misery, and what it feels like to hit rock bottom.
Merch for this release:
Vinyl LP, Compact Disc (CD), Cassette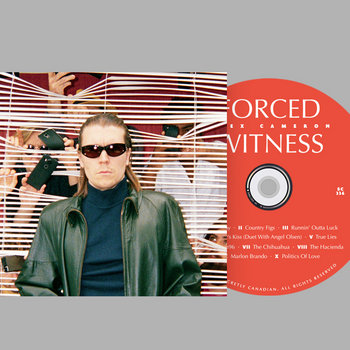 Ironically, Jumping the Shark was also the thing that pulled Cameron out from his desk job. The album kept the singer and his saxophone-playing "business partner" Roy Molloy on the road for the better part of the past three years, and was ultimately re-released by indie label Secretly Canadian in 2016. This month, Cameron follows it up with Forced Witness, a record that, like its predecessor, is filled with haunting pop songs about sleazy characters. But where Jumping the Shark shined a light on people trying to succeed in the shadows, Forced Witness points a finger at those miscreants living above the fray. It's a collage of tales about privilege and misogyny that feels both inspired and sadly applicable in 2017. "The record can be seen as being quite brutal in its message," says Cameron, "and it kind of started to come together on the road."
Today, like most days lately, Cameron is sitting in the back of a tour van. At the moment he and M0lloy are in Memphis, Tennessee. It's a stifling July afternoon, but the singer is not one to gripe about the less glamorous aspects of his current gig. Right now the road is home, mostly because he doesn't have the money or the wherewithal to figure out how to live anywhere else. "Success to me is when you get to work every day," he explains, "so I'm doing that, and I feel pretty successful."
After leaving Australia three years ago, Cameron and Molloy have played wherever people would have them—and sometimes even where they wouldn't. At the start, Cameron would show up looking like the washed-up protagonist who stars in many of Jumping the Shark's tracks—an elder lounge singer with slicked hair, dark sunglasses, and a face full of wrinkles he created from drug store powder and foundation. Around that time, the pair also appeared in an existential short film titled "Reflections," which followed them through their first South By Southwest, and took a cold, hard look at all the problems involved with trying to "make it" in the music industry.
In the midst of all of this meta-ness and identity shifting, Cameron also started to find his groove. On stage he became the consummate showman he was at one point imitating, a lithe dancer and master of banter capable of riffing off of his straight-man bandmate with the timing of a seasoned stand-up. Looking back, Cameron says he always had faith that his songs about "microscopic tragedies" would connect with people. "I thought the songs were better than the record," he admits. "That kind of gave me the sense that—if I made good songs, and I back 'em, I reckon I could take them on the road and I could make a really hot live show, turn it into something really explosive—like a small explosion. I like to call it a controlled fire."
Merch for this release:
Vinyl LP, Compact Disc (CD), Cassette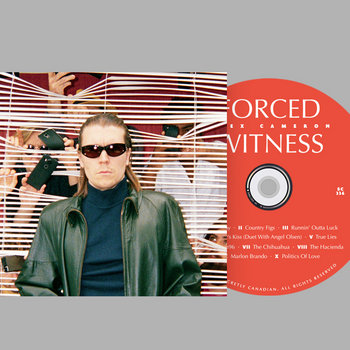 And so it burned, low and slow, as Cameron and Molloy criss-crossed their way around the world. The songs eventually made their way into the hands of a few notable fans—namely, Foxygen's Jonathan Rado, who discovered Cameron on tour in Europe, and Angel Olsen, who Cameron credits with "guiding [him] through obscurity." Olsen and Cameron first met backstage during a run of Australian music festivals in 2014, and then again at a small party in Olsen's backyard. "I didn't even know he played music," she says via email. "But I knew he could make a good spritzer." After their second encounter, Olsen says, she looked him up and was "blown away" by what she found. "The writing was the first thing I noticed," she recalls. "He really has a knack for bringing out the beauty in some truly ugly characters, some of which are very a part of him. Sometimes me."
Perhaps nowhere is that sentiment truer than on the Forced Witness standout "Stranger's Kiss." The Springsteen-esque power ballad features Cameron and Olsen as two ex-lovers engaged in a sometimes funny, sometimes pathetic back and forth about their newfound freedom. They each take turns taunting the other about the blissfulness of singledom, and ultimately come across sounding like the vindictive jerks we've all been at one juncture or another in our romantic lives.
Elsewhere on Forced Witness, the blame isn't so evenly spread. On "Studmuffin96," Cameron builds a hazy psychedelic jam around a man waiting to sleep with an "almost 17-year-old girl. For the synth-and-bongo-fueled "Marlon Brando," he takes on the role of a guy who gloats about being able to bench press the object of his affection's boyfriend. The latter, Cameron says, was specifically inspired by an incident dating back to his days in Sydney, when he took a friend to a local pub and was called a "faggot" by a complete stranger before they even got inside. "That really gave me a sense that there was still this character out there in the world, that there was still a song that had to be written about that confused straight white male that is still digging himself a hole in society, losing touch of what's important, like social progress and acceptance and education, because they are everywhere still."
Merch for this release:
Vinyl LP, Compact Disc (CD), Cassette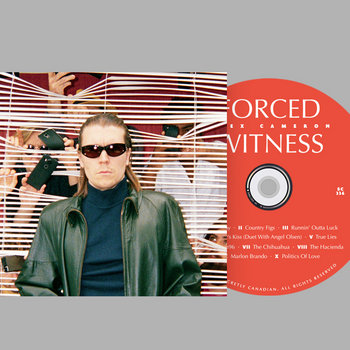 While Cameron says the idea of writing a record about the pervasiveness of toxic masculinity planted itself years ago, he'll also be the first to admit how uncomfortably timely that concept feels now. "Where we've gotten to, we just have these insane men literally ranting at cameras, and everyone is watching disgusted, but nobody really knows what to do," he says. As a longtime studier of people, Cameron believes there's something to be learned, or at least better understood, by exploring these miserable characters, and that doing so through pop music just might mean the message reaches a little further. "I think when you get specific with songwriting, with storytelling, and you choose to focus on something true and small, people tend to register with it more, people tend to get on board with it. Whether that's some kind of bastard or asshole or a beautiful tragedy involving love, I just try and keep it focused, so there's no room for ambiguity. I want people to know what they saw."
-Aly Comingore