FEATURES
A New Collection Revisits One of Albert Ayler's Final Performances
By Philip Freeman · May 24, 2022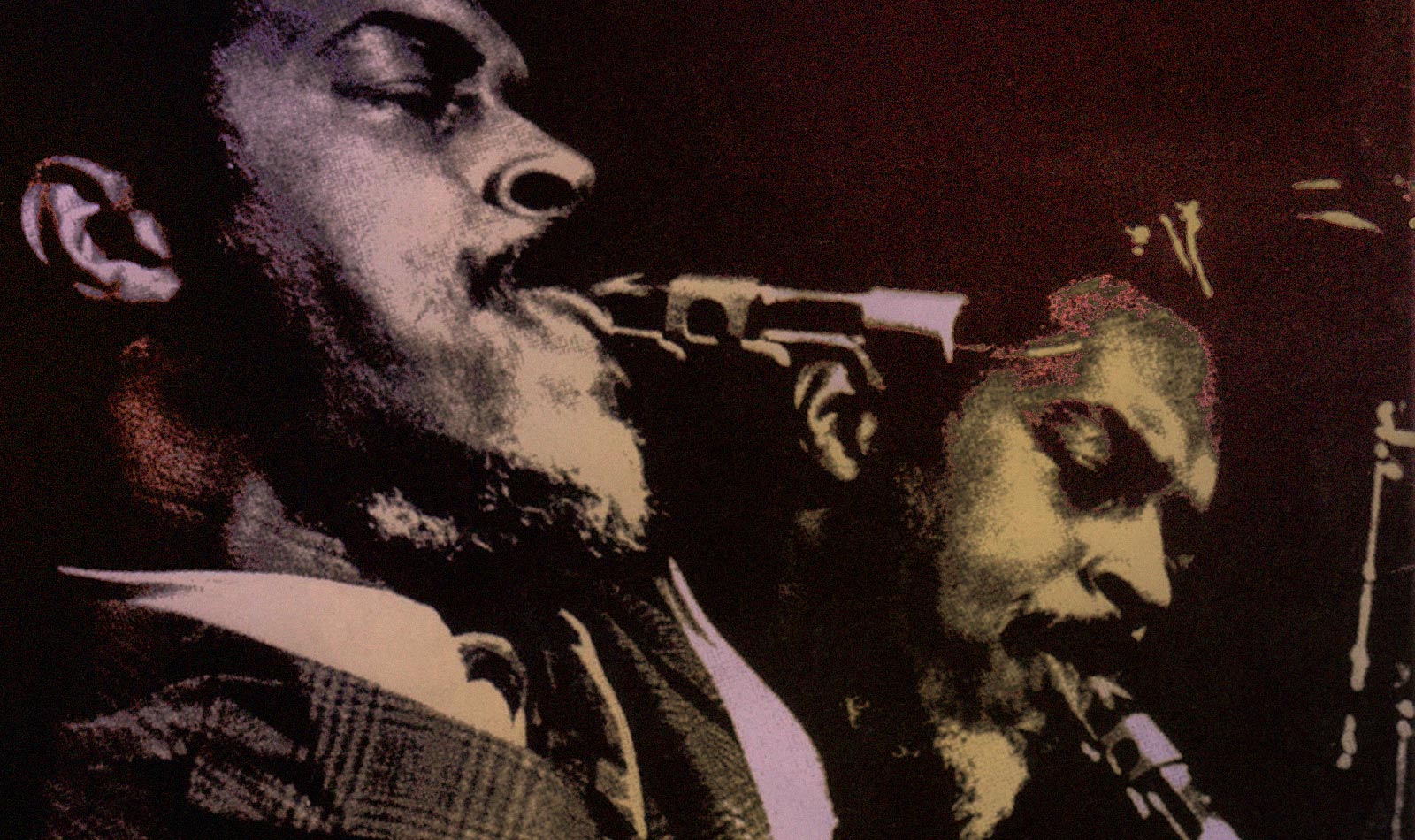 Albert Ayler was born in July 1936 in Cleveland, Ohio, and died in November 1970 in New York. After a stint in the Army that brought him to Europe, his first professional recordings were made in 1962. In less than a decade, he reshaped avant-garde jazz in his own image, leaving an empty space after his death that many would argue was never filled.
Ayler's compositions typically featured melodies that were not unlike marching-band fanfares, played with deliberately primitive, gospel-ish fervor. His solos were squalling exhortations delivered as a massive, vibrato-drenched cry that frequently leapt into the tenor saxophone's uppermost register where it became a piercing squeal. No one sounded like him—even within the raucous context of free jazz. Upon hearing Ayler perform in Denmark, the poet Ted Joans described the music as "so different, so rare and raw, like screaming the word 'FUCK' in Saint Patrick's Cathedral on Easter Sunday."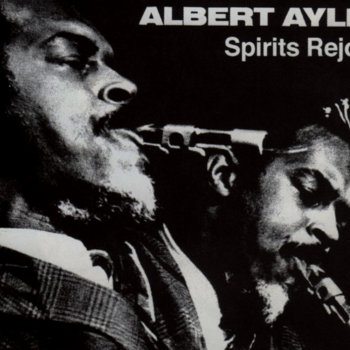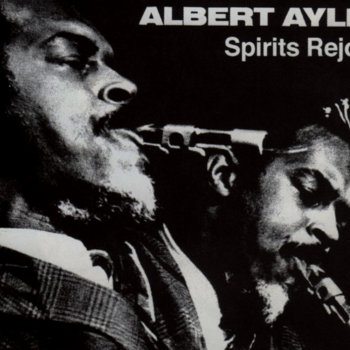 In 1964, Ayler moved to New York, and made his breakthrough recording, Spiritual Unity, with bassist Gary Peacock and drummer Sunny Murray, helping to launch the label ESP-Disk' in the process. Two years and several highly regarded albums later (Spirits Rejoice, Bells, and the collective improvisation New York Eye & Ear Control most notable among them), Ayler had developed a cult following and strong support among certain critics, including Amiri Baraka. John Coltrane, a friend and admirer, convinced Impulse! Records to sign him.
Ayler's music moved through several notable phases. His early trio recordings, and collaborations with trumpeter Don Cherry, were his fiercest and rawest material, explosive storms of sound barely tethered to rhythm. In 1965 and 1966, his brother Donald joined his group on trumpet, and Dutch violinist Michel Samson added an eerie art-music element. This quintet toured Europe, recording four concerts for radio that are gathered on Berlin, Lörrach, Paris & Stockholm. Revisited. He also recorded live for Impulse! in New York, with various groups that featured two bassists and even a cello at times.
Steve Tintweiss was an up-and-coming bassist on the New York scene during these years. He was about a decade younger than Ayler, and worked with singer Patty Waters, pianist Burton Greene, and saxophonist Frank Wright. "I met Ayler at this party," he recalls. "I was playing with Frank Wright's group at the time, and Frank was a friend of [his] from Cleveland. Of course I had heard of Albert and heard some of his records, so I met him socially. Then, a few months later, early in '66, Burton Greene had a gig at Slugs, and for the last tune, Albert and I both sat in with Burton's group, and that was just a free jam. Rashied Ali was on drums. Frank Smith was in the band, and he was really like an Albert acolyte, so the two of them were just wild, screeching tenors. So that was the first time that I got to play with Albert."
Tintweiss has fond memories of Ayler, whom he remembers as a gentle, kindhearted man. "He was very easygoing, he was quite comfortable around people, and he just had a very positive demeanor. I would describe him as a spiritual guy that was always looking for the best in any situation. It was rare that I saw him get angry. He put all those kinds of emotions into his playing or into his music."
When Ayler returned to the recording studio in 1968, with Impulse! producer Bob Thiele at the helm, his music had changed yet again. He was deep into a relationship with Mary Maria Parks, a poet, singer-songwriter, and fellow saxophonist, and took his work in a more conventionally melodic, R&B-rooted direction. On 1968's New Grass and the twin products of a single August 1969 session, 1970's Music is the Healing Force of the Universe and 1971's posthumous The Last Album, Ayler and Parks embraced thick, stomping grooves and brought in blues, rock, and soul artists like guitarist Henry Vestine of Canned Heat and legendary session drummer Bernard "Pretty" Purdie. Parks was Ayler's co-writer, and sang or recited poems on multiple pieces, making the spiritual message present in track titles since the beginning of the saxophonist's career even more explicit. Offstage, she was his manager, handling contracts and logistics while also working to get her own career as a songwriter off the ground.
Merch for this release:
Compact Disc (CD)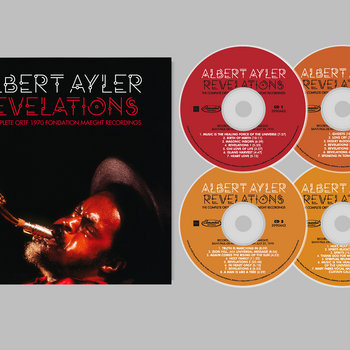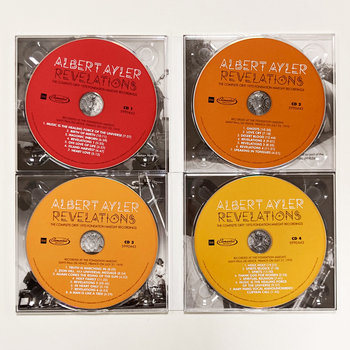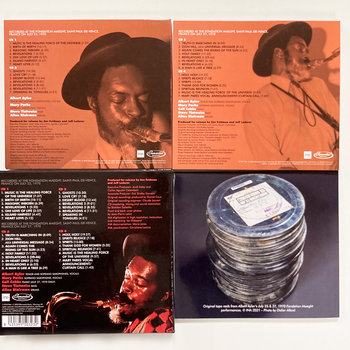 Ayler's final recordings were made in July 1970, at a pair of concerts staged by the Fondation Maeght, a private art museum in Saint-Paul de Vence, France established by art collector Aimé Maeght and his wife Marguerite. The band Ayler and Parks put together included her on vocals and soprano saxophone, Call Cobbs on piano, Tintweiss on bass, and Allen Blairman on drums.
"I had only about four days to get an emergency passport and make all the travel arrangements and so on," Tintweiss remembers. "[Mary] had to show that we had this engagement at the Fondation there in France in order to get the emergency passport, and then on the other end, because the concerts were under the auspices of Aimé Maeght, a well-known art entrepreneur in France, we got very royal treatment on the French side. We didn't even go through customs; we were whisked right through when we got to the airport in Nice. It was quite a different experience coming back—we were stuck with a lot of other tourists on standby trying to get a flight coming back."
Cobbs missed his first flight to France, so the first night's performance featured only the quartet. Portions of these concerts have been released before, on the albums Nuits de la Fondation Maeght and Live on the Riviera, but those were rough, semi-bootleg recordings. The new 4CD set Revelations: The Complete ORTF 1970 Fondation Maeght Recordings contains all four sets in full, documented by French radio using their own equipment and offering much better sound quality than any previous issue.
Merch for this release:
Compact Disc (CD)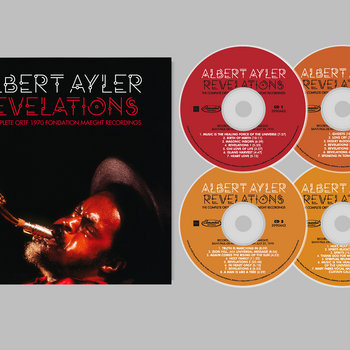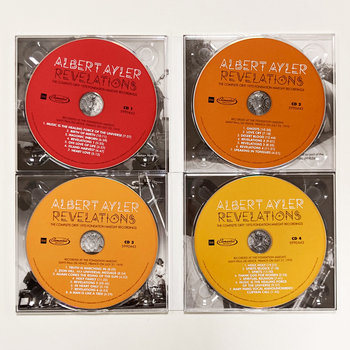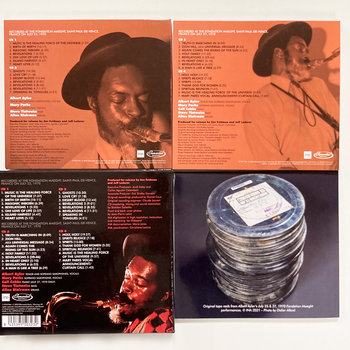 The first set lasts only 45 minutes, but each of the next three runs more than an hour. The band plays some well-known themes from Ayler's catalog, including "Ghosts" and "Truth Is Marching In," as well as then-new pieces like "Music Is The Healing Force Of The Universe" and even some that wouldn't be released until after his death, like "Desert Blood" and "Again Comes The Rising Of The Sun." There are also a half dozen totally improvised sections, which have been labeled "Revelation" one through six. The music often has a strong gospel feel, with Ayler's crying saxophone and Cobbs's shimmering, rippling piano leading the group and Tintweiss and Blairman surging behind them like the tides. Parks's poetry and singing are prominently featured, delivering spiritual messages strongly present in the culture at the time; what's more surprising is her soprano sax playing, never heard on any previous release of the Fondation Maeght concerts. Her playing is fierce and sharp, not unlike Roscoe Mitchell's, and the way she interacts with Ayler on several extended duo sections adds an entirely new dimension to the music.
"He didn't have any sheet music with him, we didn't rehearse, so it was a last-minute, completely spontaneous thing," Tintweiss recalls. Ayler gathered the musicians shortly before they all took the stage, offered brief instructions, and then they were off. "I was already used to just playing completely free-form, so that's what it was like, other than a few tunes that I had heard or that I knew."
Despite the forcefulness of Ayler's sound and style, the bassist remembers him as an open and welcoming collaborator. "He would stop, he would listen…it was more a back-and-forth, but it wasn't like an equal collective type of group. I've been in those, too. No, it was definitely [that] Albert was the star. No two ways about it. I just went with the flow."