FEATURES
For Ailsa Tully, Memory and Sound are Inseparable
By Hayden Merrick · November 15, 2022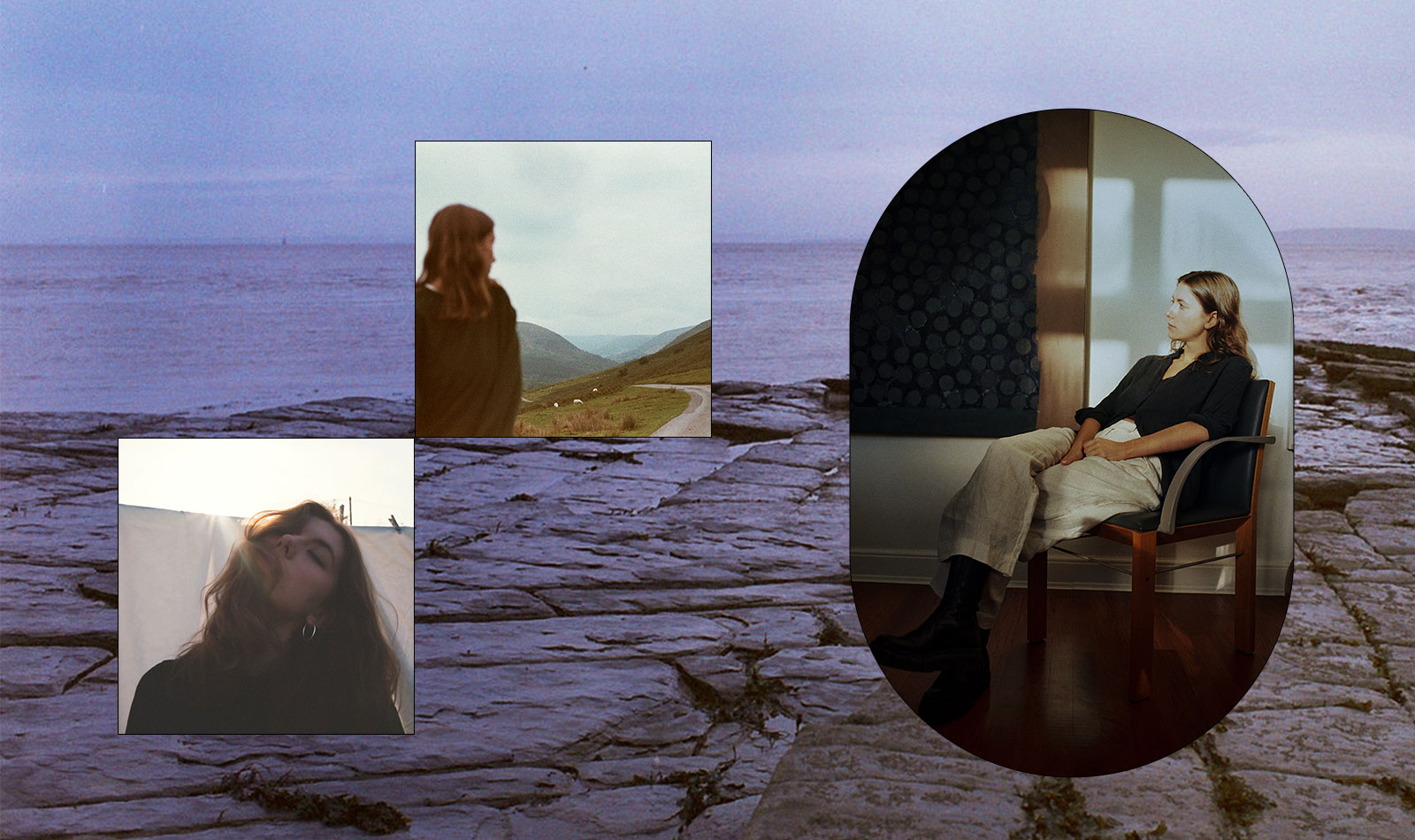 Ailsa Tully archives her memories through sound: how the waves sounded as they collapsed on the Isle of Arran the night her long-term relationship ended; the backdrop of diffuse bar chatter preceding a particularly special live show; the concrète chorus of garden tools in her grandfather's workshop. "For a long time, I was just recording everything around me, which was quite lucky because some places I can't go back to anymore," she says.
Tully mines these sonic archives to create textural folk pop: spacious, curative, and melded by her droning bass guitar. Depending on which way you tilt your head, these compositions may sound a little like Cassandra Jenkins, Adrianne Lenker, or Rozi Plain. You may hear echoes of the choral music that filled Tully's childhood home or her brush with classical composition before a university professor suggested switching to drama studies (she chose pop composition instead). You may even hear hints of the Incredible String Band, whose avant-folk approach Tully enjoys, even if the band's cultural appropriation is better quarantined in early '70s Edinburgh. These influences percolate in her music like a swarm of wild bees excavating an underground burrow—just one of the found sounds her music has incorporated—but Tully's work is made distinct by her empathy for geographical locations; an acute, lucid throughline.
.
00:10 / 00:58
"I feel very connected to lots of places, and I think there's a lot of importance in that, and a grounding thing that happens when you have these different locations that mean something to you," she says. Tully's affinity for place is written on her birth certificate: she is named after the Ailsa Craig, a humble island near the Firth of Clyde in Scotland, and she spent her formative years in rural Wales, an environment that instigated her love of field recordings. "I'd record from my house to this ruined abbey [Llanthony] in the Black Mountains," she says. "It's a 25 mile walk, and I'd record everything along the way. That's what started my interest—this sense of identity that is only created through sound."
Now based in London's vibrant, gentrifying borough of Hackney, Tully continues to explore how identity and sound interface, but specifically how her identity interfaces with sound and location. Take the light and lively standout "Edge." The song takes place on the King's Cross canal walk. The bubble of rushing water and indistinct conversation make a counterpoint to the lyrics, which, with a playful roll of the eyes, appraise Tully's mental health and her relationship with her mother. "I had planned it all/ I'm on constant recall/ You say that's neurotic/ Well blood runs deep," she lilts over trickles of guitar and a half-time drum groove. Music is a safe space for Tully to get vulnerable, to peel back the layers of her relationships and anxieties. "You see through to the truth when you write," she says. "You see through to the truth of a situation, whether that's pain expressing itself or—I guess that's what it gives me. I look back and think: that was the truth of what happened in that moment and how I really felt."
Tully's Bandcamp profile is an omnium-gatherum of these self-exploratory vignettes. At the center of numerous singles is her accomplished 2021 EP Holy Isle in which she contemplates the remnants of a relationship via its defining locations and resolves to move forward. Remaining elusive, though, is a full-length album. Its absence is concurrent with the sense of patience—and the divergence from mainstream trends—that is forthright in Tully's music. She lauds Rozi Plain as an artist whose outlook is most akin to her own: "I love how collaborative her work is, and I love that she's entrenched in such a strong community of musicians that feels very supportive, and it feels separate from this hype-y quality, which I hate. I see people come up and go down all the time. It's exhausting to see—Who's the new favorite? How long will it last?—and I think she's managed to be like, 'I make it because I love it, and I'm with the right people.'"
.
00:10 / 00:58
Signed to the nonconformist label Dalliance Recordings, Tully is insulated from industry thirst traps by a similarly supportive network of DIY musicians. That sense of community is clear on her latest release Hiding Place, a collaboration with Catrin Vincent of cinematic art-rockers Another Sky—whom Tully supported on their last UK tour—and Hana Stretton, an Australian maven of lo-fi guitar-scapes. Each composer contributed the shell of one song before evolving the arrangements as a collective, layering auxiliary instrumentation, tape effects, and backing vocals during a one-day session in Stretton's sequestered garden studio. The project incubated for several years before its belated release in September.
Speaking to this unhurried, piecemeal approach to creation, Tully notes, "I don't see [songwriting] as I need to add everything in and get the lyrics finished and create the arrangement. I can have a vague idea, but for me, as long as I feel that the vague idea is there, I feel like I've written a song. Everything else feels extra." It's a freeing outlook—to trust your instincts, to trust the heart of an idea, and let the breeze blow the remaining pieces into place. "I'm not like that normally; I'm really stressed," Tully laughs. "I have to kind of drop into a feeling of clarity…It always seems to be the place I gravitate towards, that kind of calm reflection. I guess it's hoping to be wise, hoping to have some kind of wisdom about a situation, or aiming for that." Her music is at once documentation of that quest and proof of its successful denouement—a place of respite, free from bustle and expectation.
The final composer Tully namechecks is Hildegard von Bingen, a 12th-century German Benedictine abbess whose melismatic chants are, she confirms, best experienced alone in a darkened room. "You know when you get that special feeling that only some songs can really evoke?" Tully asks. "It's a bit like a magic. My grandma used to say that it sends her. There's a kind of elation, but it's quite rare." She's right: some music has that rare, elating power to send the listener—and its creator—to places otherwise consigned to hazy memories, ensuring they live on through the magic of sound.