FEATURES
AEW Composer Mikey Rukus Brings Wrestling's Bold Characters to Life
By Ed Blair · Illustration by Thomas Slater · January 11, 2022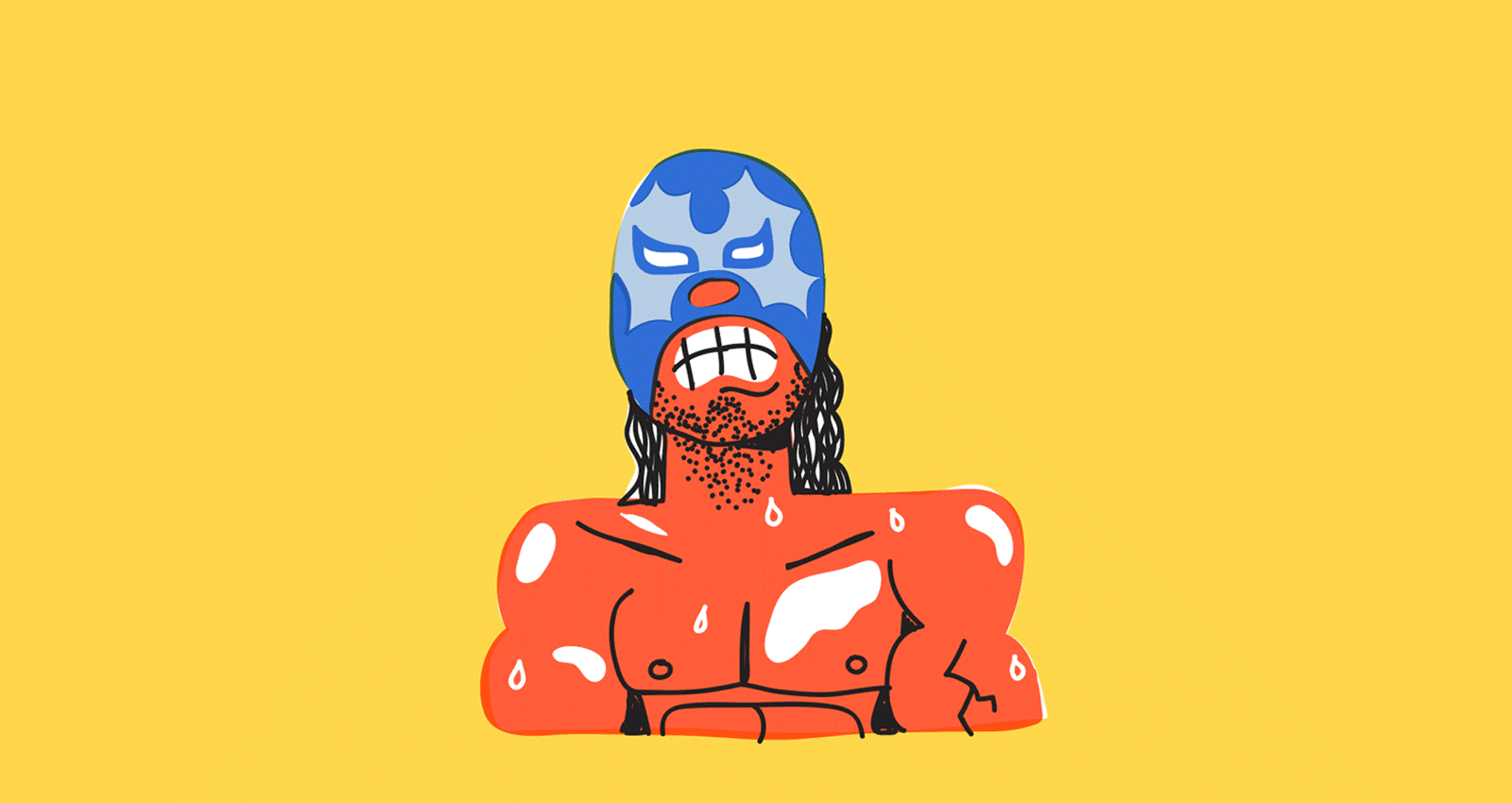 Imagine trying to explain the landscape of professional wrestling right now to a despondent ECW fan in the year 2000. They would've just watched the wrestling landscape in America shrink from three nationwide companies to only the WWE (formerly known as the WWF), and for the next two decades, they'd watch the WWE work tirelessly to make their name synonymous with professional wrestling—a bit ironic, given the WWE's insistence on calling themselves a "sports entertainment" company. Energy companies and conservative media networks would try their hardest to build a national brand, but it seemed impossible anyone could even approach the McMahon wrestling juggernaut, let alone compete with them. Indie wrestling was a sport for tape-trading diehards and lifers, operating in the vast shadow of a corporate behemoth.
.
00:10 / 00:58
"In late 2015, early 2016, I noticed an explosion within the independent pro-wrestling scene. I noticed that wrestlers were taking their own brands into their own hands, and creating these personas across social media. I thought that was really intriguing," says Mikey Rukus, describing his entry point to that grueling world, all small paydays and long drives. The producer/musician started making theme songs for mixed martial arts in 2010, and had reached a point where his work was being played on UFC pay-per-view channels. Wrestling had something different to offer, though. "Pro wrestling…you have the ability to have character development and exploring stories and things like that," he says. "Creatively, it was very exciting."
Rukus isn't wrong. Public interest in indie wrestling has grown considerably over the past decade, providing a level of visibility unseen since the ECW. WWE's "development territory," NXT, is basically a supercharged version of the indie scene as a whole, providing long-term indie vets with a sweet, sweet taste of the WWE limelight (and the money attached). Overseas companies like New Japan Pro Wrestling are obsessed with the indies as well, giving fan favorites like Kenny Omega and the Young Bucks yet another launchpad. New Japan and the WWE are each major wrestling companies, but the increased attention from both towards unsigned wrestlers created an environment rich with possibility.
The timing for Rukus's new focus on wrestling was shrewd in a number of ways. Not only was the wrestling business booming, but between increased visibility brought by streaming options and an uptick in aggressive copyright enforcement in digital spaces, using unlicensed theme music (as has been tradition) stopped being an option for promotions or wrestlers trying to boost their profile. Rukus went hard in his first two years in the business, boasting that "between 2016 and 2018, I created over 200 themes for independent pro wrestlers across the U.S. and the UK."
.
00:10 / 00:58
And then a couple of tweets changed everything. It's hard to believe an off-hand tweet by Dave Meltzer, one of wrestling's longest-running journalists, could have been the sole genesis behind All In, the first non-WWE/WCW wrestling event to draw more than 10,000 people since 1993; most likely something like this was in the works for a second, but it's a great story. The one-off show All In quickly became the active company All Elite Wrestling, and immediately Rukus knew he had to be involved. "I heard the announcement of AEW in early 2019. I just tried to do what I could do in terms of networking to connect to the right people and start a conversation," he explains. The hustle paid off. Rukus now sits as Director of Music for the hottest company in wrestling since the Monday Night Wars, making him responsible for such bops as the Moroder-infused "Darkside of TR" (the theme for FTR), the RATM-by-way-of-sleaze-rock "All About Tha (BOOM​!​)," and the many other musical cues heard on Wednesday, Friday, and sometimes Saturday nights. He does all this at a staggering pace, churning out over 80 tracks in eleven months, sometimes with barely two hours composition time for a theme.
Wrestling isn't really about individual success; as much as Hulk Hogan or The Rock might try to convince you, it's really a group effort. The carny colloquialism for losing a match is "doing the job," and a big part of doing the job well is helping your opponent(s) look strong, or vicious, or sneakily underhanded as the story demands. In his role as Director of Music, Rukus is the ultimate enhancement talent—he never has to take a bump, but is always concocting the best way to elevate a wrestler's character and presentation, working with the talent to better serve the story. "There's a lot of things that you can take with music, and associate with storytelling," Rukus says. "For all intents and purposes, I always look at the size of the individual first, and what their overall story is and I go with a tempo. I look for the tempo first, and then I look for a different thing that maybe might tie into their backstory." He clarifies, "a big guy is not going to be somebody that walks to the ring in a very quick fashion; it's going to be a little bit of a slower tempo. High flyer would be a faster tempo."
.
00:10 / 00:58
For Rukus, incorporating backstory is a crucial part of the theme composition process. He's not just working with current or up-and-coming stars; literal legends of the squared circle have made their way to AEW as well. "In a situation like that, you're going to want to be able to touch on that and create something that's like a continuation of their story," he noted. Meeting such high narrative expectations proved a daunting task at times, like when it came time to craft a theme for The Man Called Sting. "He was one of my childhood heroes. So I was very nervous about that aspect," he said, "but at the same time, once you get into the process, all of that goes away." It's a haunting yet triumphant piece, recognizable as a riff on Sting's theme from his "Crow" persona in WCW, but with a more aggressive flair that is all Mikey Rukus.
It's not just his work on the music for AEW that sets Rukus apart from other wrestling musical producers, however. It's his accessibility, and his vision. "I made a conscious decision in the very beginning, like, look, I'm going to be interactive with the fans. I'm going to talk about the process, we're going to make this thing exciting," he said, explaining his very active Twitter presence. Most wrestling themes are one and done, but Rukus keeps finding ways to expand his work beyond the 60 seconds you hear on TV. He releases EPs, fleshing out different musical ideas, and expanding a wrestler's character. For the God's Favorite Champion EP, he said, "We had a couple of different edits. But then we had a couple of different tracks that I created after the fact that were almost like different scenes to a mini movie for what would be Miro's character." To that end, He's done chiptune versions of popular themes (8​-​Bit Mayhem) with more on the way, and is currently in the process of a large-scale orchestral reimagining (AEW Symphony) of a variety of AEW themes.
This isn't merely an album for Rukus, though. It's a chance to invite fans to join him in a big musical celebration, the scale of which grows larger by the day. "We're going to do sheet music. I'm looking at actually having it printed, registered, and distributed to symphony orchestras in the United States, and then even broken down to a smaller level—to push to middle school and high school concert and symphonic bands across the United States." However ambitious his mission, the end goal's simple: "It's just making wrestling music exciting for the fans," he says. So far, the plan's working.