FEATURES
Admas: The Music of the Ethiopian Diaspora in 1980's Washington D.C.
By Martyn Pepperell · August 20, 2020
As a young man in Washington D.C. during the early '80s, keyboardist Tewodros "Teddy" Aklilu regularly tuned into WPFW 89.3 FM, a local community radio station owned by the non-profit Pacifica Foundation. "It was a very left-leaning radio station and very Afrocentric," says Aklilu, on the phone from Addis Ababa, the capital city of Ethiopia. "That was my music school, really, and I would listen every day. They used to have a world music program, and it was very interesting. Due to WPFW, I was indoctrinated into an organic mode: sustainable, small, community centers and the like. I was never attracted to large things."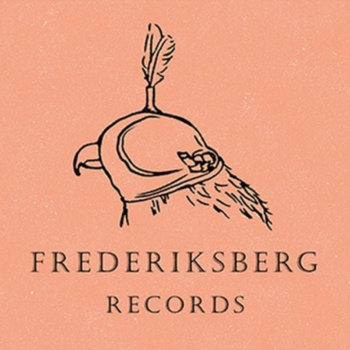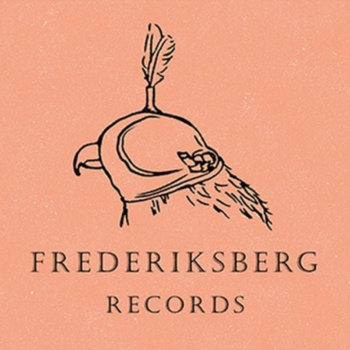 Merch for this release:
Vinyl LP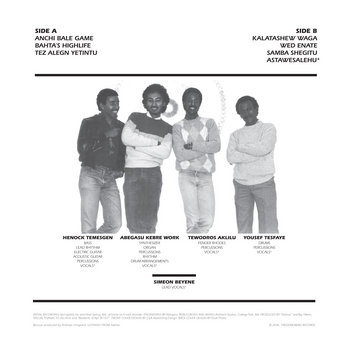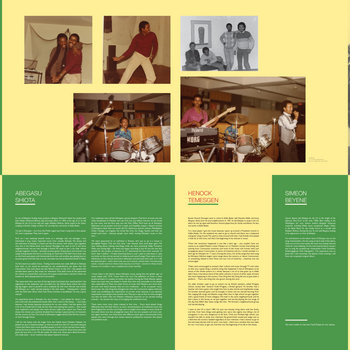 When he wasn't listening to music, Aklilu was playing it, mostly with his good friends Henock Temesgen and Abegasu Shiota, who he met through the local Ethiopian community. "Our job was always to back up famous [Ethiopian] singers [like Aster Aweke] when they played around D.C," he explains. "Before the singers came on, we would play our instrumentals. That's when we would really get into it, because it was our music."
When Aklilu says "our instrumentals," he's talking about Ethio jazz, a distinctive blending of traditional Ethiopian folkloric music, jazz, soul, funk, and Latin rhythms pioneered by the great Mulatu Astatke. "It has quite a story, the instrumental," Aklilu says. "I was always fascinated by the instrumentals." Growing up in Addis Ababa during the '70s, before his family relocated to America, Aklilu's favorite part of the day was the hour before television would start broadcasting in the evenings. "While you were waiting for the program to start, they'd show photographs of landscapes and play instrumentals by Mulatu Astatke, Gétatchèw Mèkuria, and Hailu Mergia," he remembers. "The instrumentals were always my favorite part of Ethiopian music."
While they were passionate about Ethiopian music, Aklilu, Temesgen and Shiota were entering adulthood between Washington, D.C, and neighboring Prince George's County, Maryland, and as Aklilu's WPFW anecdote suggests, were exposed to a rich array of influences. Aklilu was a soccer player, and he hung around with kids hailing from countries across South America and the Caribbean. "I found most of what I was attracted to was Afro-Something—Afro-Caribbean, Afro-Latino, Afro-American—and WPFW pushed it full time." At the same time, he used to sneak into go-go concerts. "Trouble Funk, Experience Unlimited [EU], Chuck Brown and The Soul Searchers, all those Moog synthesizers! I was mesmerized."
Merch for this release:
Vinyl LP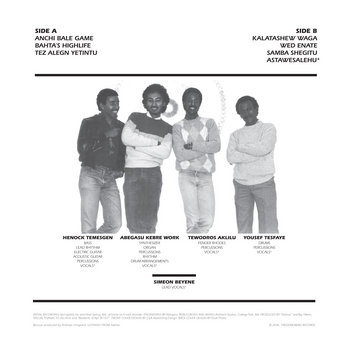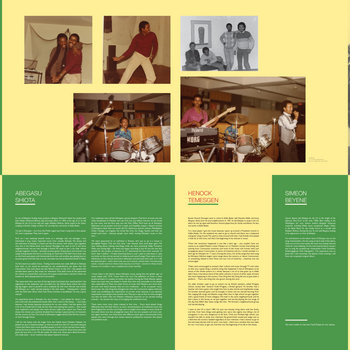 Around 1983, Shiota purchased a four-track, and the three spent the next six months recording at home. "The possibilities were crazy," Aklilu says. "We compiled some of these experiments and put them on record. It's really as simple as that." The fruit of their labor was Sons of Ethiopia, a limited edition LP they self-released as Admas in 1984. Seven songs long, Sons of Ethiopia took the trio's Ethio jazz/Ethiopian pop foundations and expanded them to include the drum machines and sleek synths of electro and the vibrant rhythms of reggae, samba, and highlife. The results were a perfect representation of their cultural connectivity. "It's a global thing man," Aklilu says. "It's not even an Ethiopian thing. We were in the city, and the global thing was going on."
After releasing Sons of Ethiopia, Temesgen and Shiota went to Berklee College of Music. "They became world-class," Aklilu says. "That was Abegasu [Shiota]'s first recording project—right now, he is one of the top recording engineers in Ethiopia." Aklilu, however, went down a different path. "After the Ethiopian famine [in 1984-85], I could not bring myself to play music anymore," he says. "My dream was to study irrigation systems and mechanized agriculture so that we could never starve again." In pursuit of this, he spent the next six years studying economic development and natural resource economics, before moving to Chicago and returning to playing music full-time. In 2010, he moved back to Addis Ababa to start a family. "Now, I am completely an environmentalist," he says.
Merch for this release:
Vinyl LP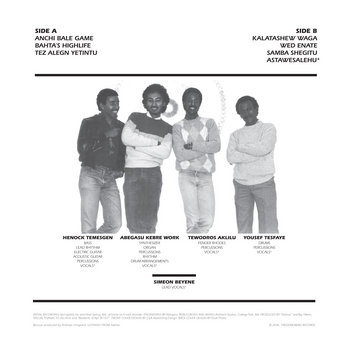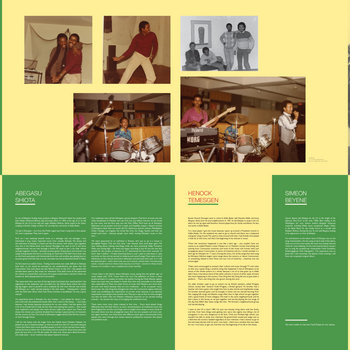 Meanwhile, by way of DJs, YouTube uploads, and entries on music blogs, Sons of Ethiopia found its way into the ears of a new generation of listeners. One of them was Andreas Vingaard, a New York-based Danish video journalist and the founder of Frederiksberg Records. "To be honest, I don't remember when I first came across it. I just remember not being able to forget it," he says. Vingaard was introduced to Ethiopian music through the Éthiopiques compact disc series and Francis Falceto's Abyssinie Swing book, before visiting Ethiopia for the first time in the mid-2000's. "I knew of the Ethiopian greats, but this was something completely different and yet at the same time wonderfully familiar. I had never heard anything that sounded like it," he says.
After several years of work, in late July, Vingaard reissued Sons of Ethiopia on Frederiksberg. The reissue is accompanied by a set of detailed liner notes Vingaard created in collaboration with music, art, film writer, and researcher Francis Gooding. They've never met offline, but Vingaard and Gooding have corresponded about Ethiopian music for over a decade. The text they created locates Admas within the landscape of Ethiopian popular music and geopolitics. "I've always thought that it is important to put records in their context," Gooding explains. "Once you line everything up, things that could seem like outliers often aren't at all; they're really central expressions of a particular time, place and tradition. That's the case here."