FEATURES
The Transfiguration of Adán Jodorowsky
By Amaya Garcia · February 14, 2018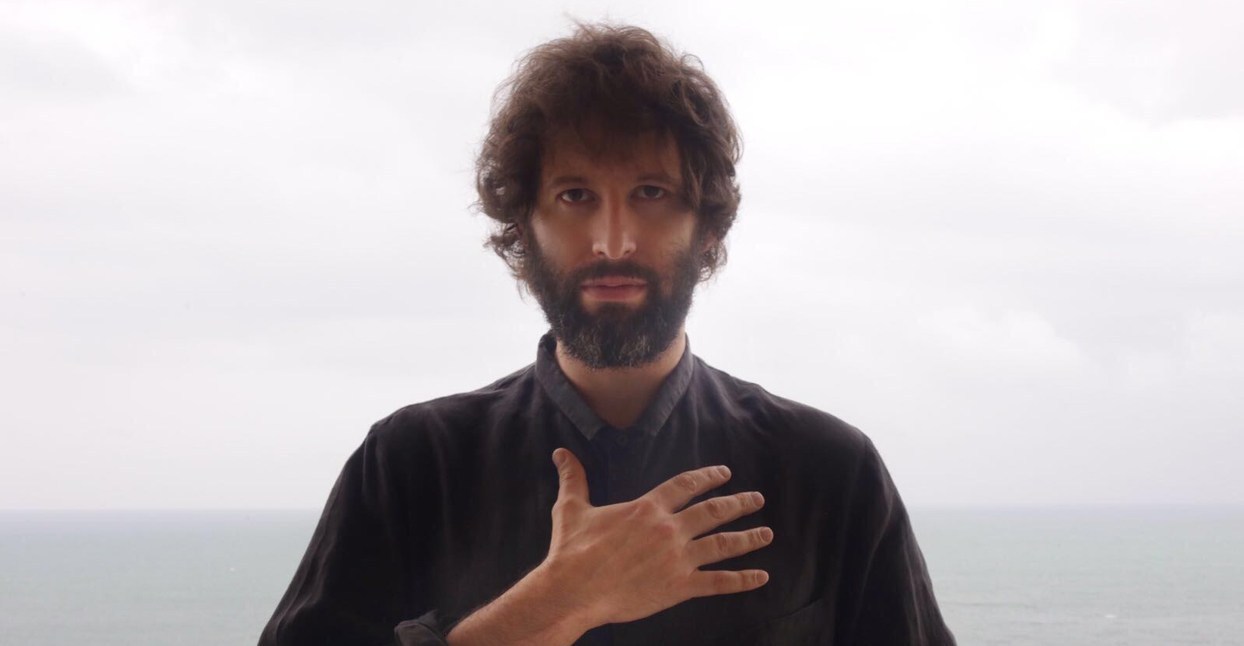 When the world first met Adán Jodorowsky as a musician, it didn't meet Adán Jodorowsky at all. We met "Adanowsky:" a stand-in for the artist, composed of an array of characters that were sometimes meant as strange and hokey commentaries on the benefits and pitfalls of stardom, with its glossy veneer and its inevitable layers of darkness. Almost every one of his solo records –from his Spanish language debut, 2008's El Idolo, to 2014's ADA– bore the name of each character and, to a colorful extent, told the story of an artist struggling to find his identity and uniqueness, no matter the cost.

The first iteration of the character, El Ídolo [The Idol], was a French-Mexican, leather clad rocker, with all the swagger and arrogance that comes with the stereotype. The second, 2010's Amador [Lover], was a man who, realizing the error of his arrogant ways, haphazardly walks towards a path of spiritual enlightenment, love and acceptance. His last character turned out to be 2014's ADA, a cross-dressing fashion icon concerned with the pursuit of happiness, lust, and beauty. El Idolo, Amador, and ADA all happened to look like grandiose versions of Adán Jodorowsky himself, and it's telling that, at the end of every tour supporting these albums he would bury the character in a public funeral, like a purifying ritual of sorts –a clean ending to each cycle.
Now, he's buried his stage name, "Adanowsky," along with them to finally reveal the man behind the many masks. "I don't know [why I created these characters]," he says. "Maybe it was because I was shy, I was insecure, and also because I wanted to have fun. I've always admired Alice Cooper, Marilyn Manson, David Bowie, and those incredible characters inspire me a lot. So, I wanted to be them in the beginning."
We're sitting in a neon lit storage room on top of Axelrad, the Houston bar and music venue where, closer to midnight, he would perform tracks from Esencia Solar, his fifth full-length and first solo album under his real name, Adán Jodorowsky. He's a soft spoken man, and there, amidst discarded bar equipment, broken bathtubs and lit neon signs, he was humbled and wondering if people would actually show up to see him perform without the gimmicks. But there's an additional layer of complexity to his characters and to his former artistik moniker, Adanowsky. He, admittedly, changed his name and created these personas as a way to distance himself from the name and legacy of his father, Chilean film director Alejandro Jodorowsky. It's something that proved to be difficult and a bit of a dichotomy, considering that their artistic trajectories are intrinsically linked to each other, to the point where Jodorowsky played his own father in the director's latest film, 2016's Endless Poetry.
"I changed my name because I wanted to do something by myself and not [be recognized] because I am the son of my father," he says. In that sense, the characters were successful, making him an instant star in Latin America after having so much trouble crossing over as a an artist who sang primarily in French. They also backfired on a personal level, unwittingly making him look and sound arrogant and self-important. "They used to hate me before because I had a horrible ego," he says while laughing. "Now I'm trying to calm this ego. I saw my interviews on You Tube and I said, what an awful man. I hated myself, so I decided to change."
That reckoning forms the backbone of Esencia Solar, a record where Jodorowsky sheds all of the pretense and documents, through exquisitely crafted stories, his journey into finding his essence and reclaiming his identity. He's ditched the grandiose, dance-worthy sound he cultivated on his 2015 LP, ADA, –deeply anchored on lush synths, funk bass lines, and falsetto-filled choruses– to focus on an earthy sound closely linked to the new Latin American folk wave. Esencia Solar is full of beautiful and delicate Spanish and acoustic guitars, strong but sometimes understated violins and flutes, bossa nova rhythms, and soaring choirs that give the music a romantic yet down to earth quality. It sounds like what I would imagine Seu Jorge and Serge Gainsbourg would compose on a trip through the Southern Cone of South America. It's a vibrant album, full of color and magical retellings of Jodorowsky's hard-earned lessons about existence, love, sacrifice, longing, death, and inner peace.
"When I did this album, I was in a very good mood," he explains. "[Unlike for other records] I wasn't depressed, so you can feel it in the album when you listen to it. There's a very positive vibe. […] There are a lot of stories in Esencia Solar. I talk about someone who wants to be a singer but he can't because society made him to be someone who works in an office. Then, there's a song ["Qué bello es envejecer'] that talks about how beautiful it is to get old. "Hasta la Aurora" is about a homeless man in front of the beach. He starts to build a life in front of the sea and he dies watching the stars."
The stories he's exploring are all existential at their core. They're about forces bigger than himself firmly planting him on the ground and obligating him to let go of his ego—inevitable occurrences like getting older, a theme he explores in the track "Vivir con Valor" in a duet with Mexican chanteuse Natalia Lafourcade, and welcome curveballs like finding love and the birth of his son, Alión, who is immortalized in a song of the same name. "He was born with a smile; he always smiles," Jodorowsky says. "When I had my son, everything changed. Alión is an incredible little boy. He's already playing drums and guitars, and we enjoy really much to share a life together. He's on tour with me, I bring him everywhere. Even when I produce albums. I was an entire month in a studio, in Sonic Ranch in El Paso, and he was with me every day. I can't bring him in each town because it's too much, but yeah, I want to be a present father."
The birth of his son not only made him refocus his energy but also his career. He's veering towards more experimental terrain, and you can hear that in the album's full-throated choirs and the addition of the Brazilian cuica in several tracks.
He's mutated quite a lot since the El Idolo days. He's not only jumped from one style to the next, but he has also scored two of his father's films: La Danza de la Realidad and Endless Poetry. In the latter he also has the starring role, stepping in the literal shoes of his father and playing the director as a young poet growing up in Santiago, Chile who fights the destiny his parents have prepared for him. This last role was a cathartic experience for the singer, as it pertains to his relationship to his father's fame and his own path towards artistic creation.
"Endless Poetry is psychomagical acting," the musician explains. "It means that I helped my father to heal his genealogical tree, and he made peace with his father in this movie, and with his family, and when the movie was finished I felt that I healed myself too." After the filming ended, Jodorowsky –much like one of the muses in the film– shaved off all of his hair, put it in a box and buried it in the Atacama desert. He also spent a month there, naked, going through the rebirth that spurred Esencia Solar and making peace with his artistic oeuvre being intrinsically linked to that of his father's. These days he's happy to be the son of a poet, as he tells it, and to share the same artistic preoccupations as the legendary filmmaker.
"All my life I've been searching for something," he says. "I'm never satisfied with what I'm doing, and it's a big something for me. I called my father two days ago and told him: 'You know, I'm never satisfied with what I'm doing in my art. It's terrible.' He said: 'Adán, I'm 89 years old and I've never been satisfied with what I'm doing in my life, and it's impossible to be satisfied. The problem of the artist is that they want to be God, and we can't be God. The big suffering of the artist is that they cannot be God. They can't.' And yes, I share that feeling with my father, and in his movie you can see that. He wants to conquer the world, and I feel the same thing."