FEATURES
Aaron Parks Brings Talk Talk, Brian Eno, and More to His Free-Roaming Jazz Songs
By Michael J. West · June 09, 2020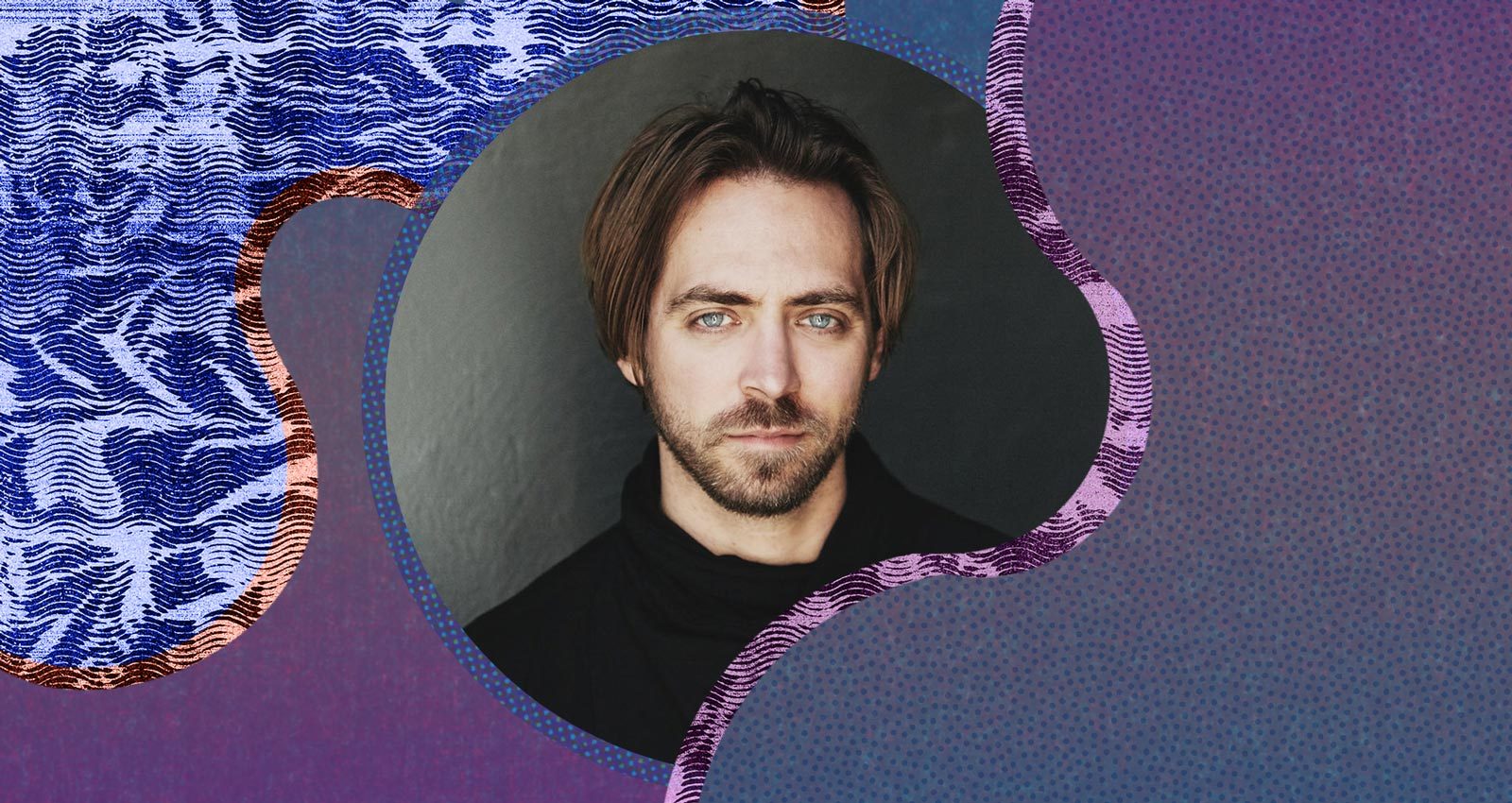 Growing up outside Seattle, Aaron Parks was a hardcore jazz purist. "I was like, if it's not swinging, I don't really care," the pianist recalls. That devoted fandom seemed on its way to becoming vocational when Parks moved to New York, where he studied with legendary pianist Kenny Barron, and spent five years in trumpeter Terence Blanchard's quintet. In just a short period of time, Parks was well on his way to becoming a leading light in mainstream, acoustic jazz.
Then he chose another path. Little Big II: Dreams of a Mechanical Man, the second album by his four-piece Little Big, offers a unique brand of fusion—jazz, indie-rock, hip-hop and electronica combine to create an organic and remarkably seamless whole. Parks plays electric pianos, synthesizer, and celeste along with his Steinway grand (guitarist Greg Tuohey, bassist David Ginyard, and drummer Tommy Crane round out the band.) The songs are lyrical, harmonically adventurous, and groove-heavy—though not necessarily in the "standards-and-swing" sense.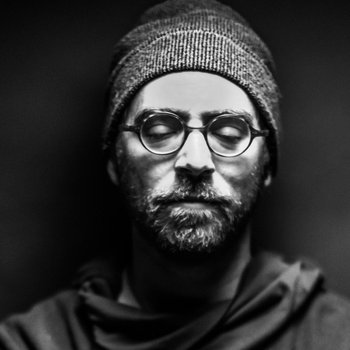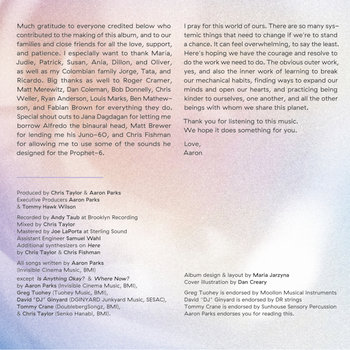 .
00:10 / 00:58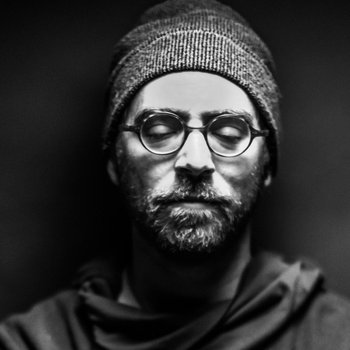 Merch for this release:
Compact Disc (CD)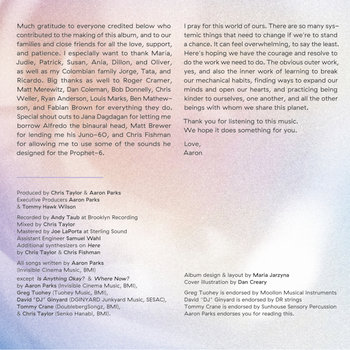 It was Parks's relocation to New York that accelerated the transformation. Even inside his self-selected social bubble, he was encountering ambitious and stylistically omnivorous musicians. He'd moved to the city in the early '00s, and Radiohead and Bjork were the rock acts that jazz musicians had deemed hip enough for the room. Both were major-label artists with underground cache, and both were experimenting heavily with electronic and avant-garde forms. It wasn't long before Parks began digging into the ambient electronica of Aphex Twin and Brian Eno, as well as post-rock pioneers Talk Talk, whom he now cites as a major influence.
"And then you start doing your homework, and you start to hear how Miles Davis's influence fed into Talk Talk," he says. "You start to see how these things are all connected, and how everything belongs to the same tree of music."
That was the philosophy Parks brought to bear when, at 24, he made his first effort to synthesize these styles into his own vision. And while his 2008 album Invisible Cinema was both original and highly acclaimed, Parks was disappointed with it. "To me, it still feels like a jazz record with other influences in it," he says. "The improvisations are all in the realm of, 'Hey bro, cool solo.' I was more interested in creating a record where it's a little harder to pinpoint what it is, and the solos aren't obvious solos."
He refined his approach in the supergroup James Farm, and as an accompanist for guitarist Kurt Rosenwinkel: two projects that thrived on genre experimentation. Under his own aegis, Parks spent much of the 2010's performing and releasing records in the straight-ahead jazz idiom that had been his first love, filling gaps in his own musical education. Behind the scenes, he was developing his holistic ideas. In 2012 he made his first attempt to record the material that became the first Little Big album. He made a second attempt in 2014, then finally solidified the lineup that recorded the band's self-titled 2018 debut.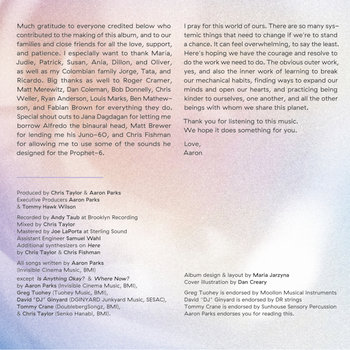 .
00:10 / 00:58
Merch for this release:
Compact Disc (CD)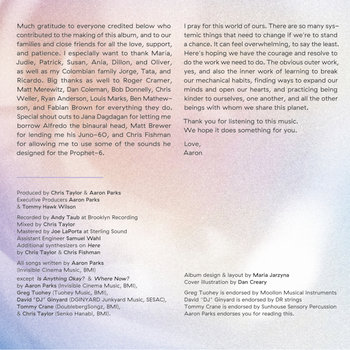 "You can definitely trace a line from Invisible Cinema to Little Big," Parks says. The 2018 album, he adds, was about reintroducing that aesthetic in its more mature form; Dreams of a Mechanical Man, in contrast, is "about the band. I wanted to capture the real chemistry that we have developed now: something much more connected and kinetic. The improvisations serve the song and the band, rather than celebrate themselves.
"That's the thing I've been looking for: feeling like everybody's playing for the sake of the music as a whole rather than their own individual moments of glory."
Parks has more ideas to explore with Little Big. For one thing, he's found himself increasingly drawn to music with lyrics (and has already reached out to potential collaborators). He has also thought about revisiting some of the tunes he wrote for Invisible Cinema and James Farm. However, he cautions against the idea that he has somehow abandoned straight-ahead jazz.
"Little Big is part of a trajectory that I don't think makes for one clear narrative," Parks says. "My trio and solo work, and playing with vocalists, and all the different collaborations that I continue to do—it's all important to me. My attitude in general is one of 'and,' not 'or.'"