FEATURES
Aaron Lee Tasjan, Glam Rock Folk Singer
By Jewly Hight · October 24, 2016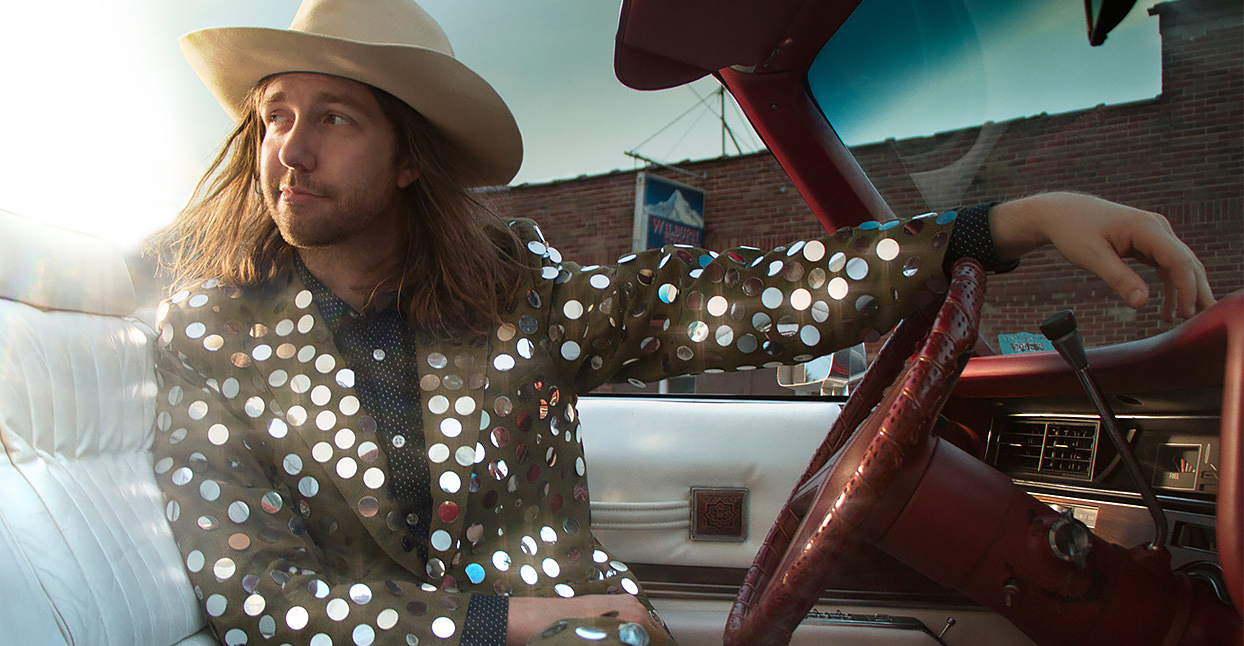 It's tough to take Aaron Lee Tasjan seriously when he calls himself a folk singer. Though the shaggy-haired, 30-year-old Nashville transplant is perfectly capable of quieting a room with storytelling songs and acoustic fingerpicking, there's a whole lot of other music in his repertoire—not to mention on his resume. His incisive electric guitar playing landed him prime glam rock gigs, first with Semi Precious Weapons, then a latter-day lineup of the proto-punk New York Dolls—both far better known for the flaunting of fabulous rock 'n' roll androgyny than for anything remotely folk-leaning. He also secured a spot in the hard-edged roots rock outfit Drivin' N Cryin'. The solo work that Tasjan's committed himself to since—including his magnetic New West Records debut Silver Tears—makes use of his slouching self-awareness, bohemian intellect and wicked wit, as well as his fondness for psychedelic eruptions, sophisticated studio pop flourishes and easy twang. He's wagering that the Americana scene, no matter its traditionalist rep, has room for such motley impulses. The week after he spoke with us, he brought a pair of drag queens on stage during his showcase at the Americana Music Festival.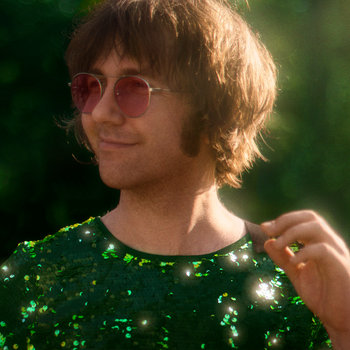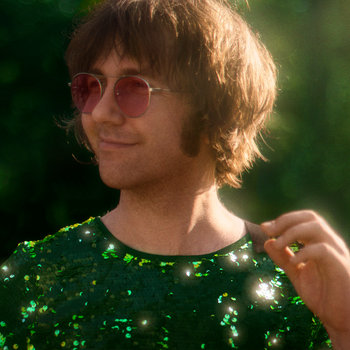 Merch for this release:
Compact Disc (CD), Vinyl LP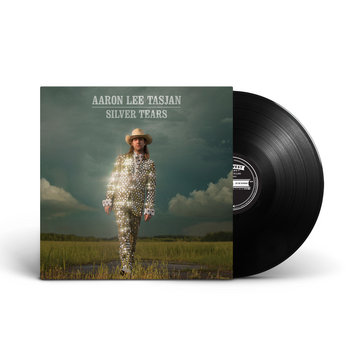 Qualities like subversiveness, theatricality and flamboyance played a big role in some of the bands you were in before you turned your attention to your solo work. Is there room for that stuff in the Americana scene?
I hope there is. I guess you find that stuff out along the way a little bit. That's kind of part of the risk of doing it. I haven't thought about it any more than, 'Maybe this time, for whatever reason, people will catch on.' That's why you keep doing it.
On a visual level, lots of Americana acts have worn rhinestone western suits in a nod to Porter Wagoner or Gram Parsons, but you take that to a more glam extreme with the mirrorball suit on your album cover. Does that hearken back to the stage wear of your New York days?
Totally. It's funny you mention Porter Wagoner—remember the big rhinestone wagon wheel [on his suit]? I bought a gold shirt that was like that. It was covered in wagons and rhinestones, and I used to wear it all the time in Semi Precious Weapons. And that seemed very…
Probably seemed ironic in that context.
I guess it was kinda, yeah. But the way those guys dressed, it just seemed so queen-y to me. It was very effeminate, with all the rings and the beautiful silk ties. All that stuff, man, it just seemed very pansexual to me, which was very much what that band [Semi Precious Weapons] was. So it seemed perfect in a way.
Do you think things work differently when the exchange is going the other way—when you're bringing androgynous, glam elements into an Americana setting?
Absolutely. The thing that's funny about that green suit that I put on the cover is that we made it. It's a $7 suit and we went to Michael's and got those sequins and Gorilla-Glued every single one of 'em on there. That was part of the mission statement of the whole thing: People can make something beautiful out of nothing. One thing I try to remember is the work will never fail you, and you can find ways to be creative with what you do have. In a lot of ways, that makes a more lasting impression on people.
In roots music, there tends to be an emphasis on naturalistic, unadorned production values, the idea being that if you dress it up too much, that'll get in the way of authentic expression. But there are tracks on your new album— "Little Movie," for instance—that have artful, orchestral pop arrangements that reminded me of Jeff Lynne.
Totally. And I'll be honest with you, I was, like, sick to my stomach half the time we were making it. I knew that I was doing what I was feeling in the moment, and was making something that I was gonna like. But this was the first time that I had to give it to somebody else and have them say, 'OK, great. We're gonna put this out now.' I was like, 'Man, I know they signed me based on hearing In the Blazes, and this is a lot different than that.' So I was kinda nervous to play it for [the label]. I thought they would just be like, 'This is pretty, but it's too much and you've gotta dial it back.'
Merch for this release:
Compact Disc (CD), Vinyl LP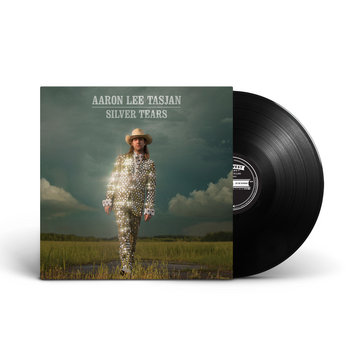 You debuted a lot of that material at a showcase several months ago in East Nashville. In the middle of your set, you told the story of writing a slew of songs after a fan gave you a napkin full of acid. That story even appears in your official bio now. What do you feel like that sort of thing does for your reputation as an artist?
I mean, you're inundated all day long with commercials for this medicine that you need to have hair, or this medicine that you need to have your digestive system be perfect, and a lot of that stuff really is bad for you. What's wrong with a 10-second commercial for a drug that is good for you in the middle of a folk concert?
That was one of many moments when you got the crowd laughing. Wit plays a big role in your writing, your delivery and the yarns you spin between songs. When did you first see the worth in being funny?
I heard it done the first time when I was in high school. My friend Brendan's father had Arlo Guthrie's "[Alice's] Restaurant Massacre" record. He had it playing on the way home from school one day. It totally knocked me out, because it was funny, but it wasn't a joke. It was still a great song.  And the guy was still really cool, but it was hilarious. It took a long time for me to figure out that there was an approach to doing it that made me feel connected and all that kind of stuff. That wasn't until maybe just a few years ago. For so long, I never felt worthy of being on stage as a songwriter. So I was really shy when I first was on stage, and I didn't say a ton.
That's hard to picture.
A major turning point for me was around 2007. Kevin Kinney invited me to Drivin' N Cryin's Thanksgiving shows in Georgia, and [Todd] Snider was the opener. I loved his records, but I'd never seen him live. I saw him do those two shows by himself, and I was like, 'Oh, that's how you play a solo show—you don't just go up there and sign your songs. You bring out these other parts of your personality to make up for the fact that there's not a bass player and a drummer and a third guy playing guitar or keys or whatever behind you.'
Merch for this release:
Compact Disc (CD), Vinyl LP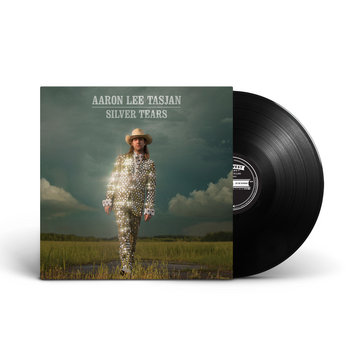 The Americana scene is home to a lot of musicians who've spent time as sidemen, in addition to being solo artists—people like Buddy Miller, Rodney Crowell, Jim Lauderdale, Darrell Scott, and Will Kimbrough. In their cases, one type of work seems like a logical extension of the other. How do you think your progression from past gigs to solo work looks to the outside observer?
Probably completely insane and super weird. But the truth is, when you grow up listening to bands like the Beatles, that just seems like the right thing to do. Because they had all kinds of music on their albums. They're thought of as a great rock and roll band, which they absolutely are, but they were true genre-hoppers. That appeals to me in a significant way, because I don't ever wanna feel stuck. I don't ever wanna feel boxed into a thing, other than just boxed into, 'This dude's gonna do something different every time.'
It was clear to me that you weren't the boxed-in type when I read an interview in which you emphasized the link between the New York Dolls and American roots music.
I mean, [Dolls front man] Dave [Johansen] was a huge, huge blues fan. [Chicago blues guitarist] Hubert Sumlin was one of his favorite people on the planet, and he was always around at Dolls gigs, sitting in and all that kind of stuff. Bo Diddley too. The Bo Diddley song "Pills," the Dolls would cover that all the time. …The idea of staying true to something that is very well-rooted and recognized as such, figuring out a way to take that and just move it around a little bit—that always seemed interesting to me. It gives people something to hang onto, but there's also a few things in there that might surprise or intrigue them. That's all you're really hoping for, is just to not have somebody put on your record and go [in a bored tone of voice], 'Oh, I get it.'
—Jewly Hight