FEATURES
"I'm Not the Same": Lessons from Aaradhna's "Treble & Reverb" Five Years Later
By Teta Alim · June 05, 2017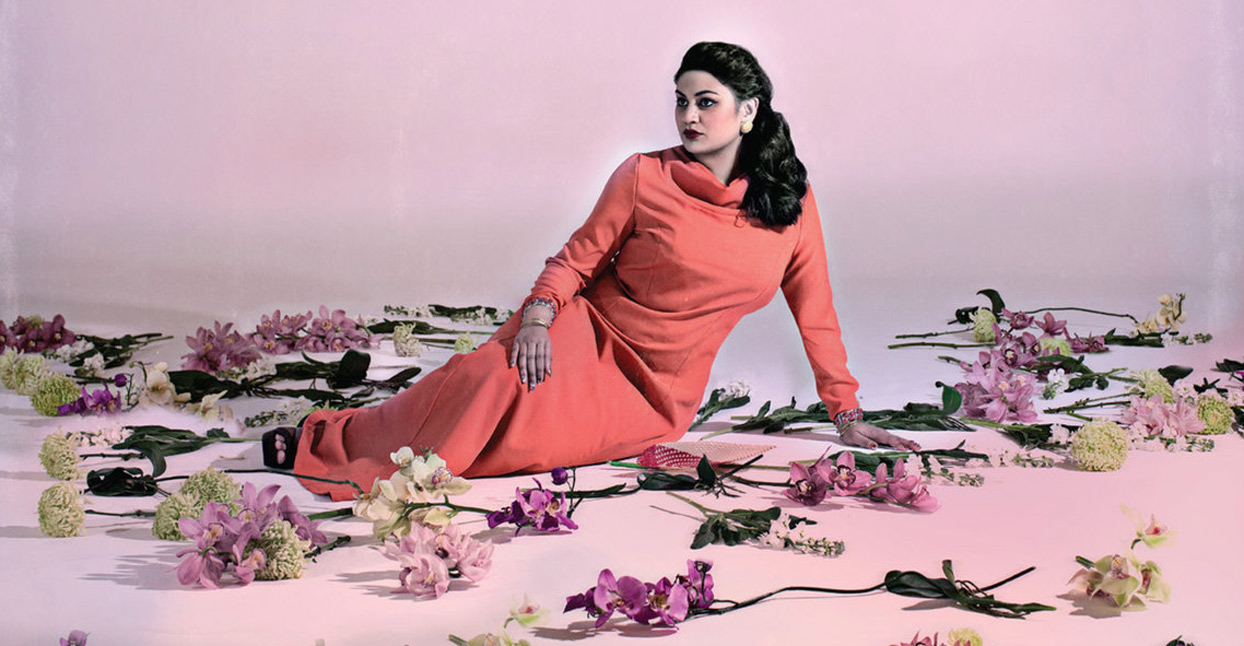 Even though I was a pre-teen with little experience in heartache, Amy Winehouse's Back to Black dominated my middle school years. As a young, brown Asian girl, I was told vulnerability was a weakness, but that notion was shattered once I heard the U.K. singer. Her voice allowed me to release years of bottled-up worries and fears and lost love.
Aaradhna's song "I'm Not The Same," from her 2012 album Treble & Reverb, strikes a similar chord. "Hey Mr. Heartbreaker / Do me a favor / Stop making me cry / 'Cause I feel I ain't strong no more." Aaradhna, a musician of Samoan and Indian descent, often sang about her experiences with depression. To see someone with similar skin sing about mental health—which is too often ignored or unspoken of in brown communities—was affirming.
Both of Aaradhna's parents were singers, which meant that she was surrounded by music when she was a young girl. She listened to music from Bollywood movies as well as her mother's Samoan gospel songs. Her 2006 debut album, I Love You, was certified gold in her home of New Zealand, and now, 11 years later, her take on soul music is ubiquitous throughout the country.
On I Love You, Aaradhna's voice was world-building, reaching higher notes to create heavenly peaks and slipping to lower notes to carve out safe caverns. It wasn't just her easy control over her full vocals; there was a welcoming openness to the way she sang that invited repeated listens. She followed her debut with a 2008 cover/tribute album, Sweet Soul Music, on which she paid homage to soul greats like Al Green and Aretha Franklin.
Treble & Reverb won Album of the Year at the 2013 New Zealand Music Awards, where Aaradhna also took home the award for Best Female Solo Artist. She won again in 2016, in the urban/hip-hop category, for Brown Girl, but refused to accept her award, saying, "I feel like if you're putting a singer next to a hip-hop artist, it's not fair. I'm a singer, I'm not a rapper. I'm not a hip-hop artist. It feels like I've been placed in a category for brown people. That's what it feels like. We need a Soul/R&B category." She ended up giving her award to hip-hop group SWIDT.
"It wasn't about me, it was more about the soul artists in our country who get placed in the 'urban award' category," she says. "It was more for them to hopefully create a soul category, which they haven't had for 51 years. I was aware of [the absence] in 2013, but wasn't ready to speak my voice that time. I was happy I finally kept my shoulders held high this time around."
We caught Aaradhna on the phone as she was finishing up a day in the studio to talk about Treble & Reverb five years later, and the lessons she's learned since then.
How did you find the sound for Treble & Reverb?
Before I put out my first album, which was I Love You, I was always into the old-school sound, and I was trying to get some of my producers to try and make my music sound like that. But we could never really get it there. With Treble & Reverb, when I heard Amy Winehouse's album, that really made me wanna try and get that sound. Plus, I had some time away, so I was listening to a lot of old-school music; Sam Cooke is my number one favorite. So just listening to a lot of doo-wop groups and stuff like that. But it's all thanks to Amy Winehouse's Back to Black album. It just inspired me to go there.
What was it about Back to Black that inspired you? Was it just sonically, or was it the writing style as well?
It was everything; it was the style. I just loved the honesty. It comes from a real place, and I just wanted to follow that. That whole sound, that whole era—I was inspired by it.
What are some lessons you learned from Treble & Reverb?
To continue writing honestly. And to try to work on my own production, to get into producing—teaching myself to play instruments. Just to keep being honest with my lyrics and music.
After Treble & Reverb got the recognition that it did, was it hard to follow up?
I always just stay writing new music, just for therapy. I'm always ready to do new stuff, to put out new music, so by the time that [Treble & Reverb] was made, I had music waiting.
Have fans shared any stories with you from the Treble & Reverb days?
I know that a lot of people really related to 'I'm Not the Same,' because they went through the same kind of experience—through depression. It makes me kind of happy when people can connect with the song, and for it to help them a little bit. That was one of the main comments I kept getting.
I was watching one interview you did where the interviewer said that 'I'm Not the Same' sounded like a relationship song, and you clarified that it was about depression. Does it worry or bother you when people misinterpret your songs, particularly for Treble & Reverb? Do you feel, for the most part, people do understand what you're singing about?
I always like to let the listener interpret what they are feeling from the music. It is upon them if they take in the way I sing it. If it's a little different than what I am saying, I am fine with that. Most of the time, people can relate to it the way I do, because I am trying to write it in my most truthful manner.
Was it hard for you to open up about your depression, especially in your music?
Yes, but it is something people shouldn't be afraid to speak up about, because it is a serious issue in today's world. My opinion would be to seek help, talk to family, friends. I used my music to express how I felt.
Music is vulnerable. Was it hard for you to reach that level?
I think I was just going through some stuff. It wasn't hard for me, since I was really in that zone. Each song was about something I was really thinking about and feeling. It was easy for me to write about it. I don't know, it's just easier for me to put it in a song and sing about it. That's therapy for me.
What's the songwriting process like for you?
Usually, I start off alone when I write. I'll have a line that pops up, and then I'll just write. Most of the songs on Treble & Reverb, half the album I wrote at home at my mum and dad's. The other half, I was in Romania.
Did you expect it for it to be so difficult to go into the music industry?
I already knew it was going to be hard, and once I got into it, I was like, 'Damn, it's even harder,' because I didn't think about how people would be negative and share their negative thoughts with me. [Laughs] And I didn't know that I would really take it to heart at the time, which was my mistake. But you know, you live and you learn.
What drew you to soul music? Was it a record/singer/song that made you want to sing soul, or was it mostly family influences?
I have always admired Sam Cooke and also my parents when I was growing up. They are the major influences in my music today. I also loved Amy Winehouse, and how she was true to her music and her sound reflecting on soul from the '60s which also helped.
What drives you to make music?
It's just my sanity. I've gotta make music just to stay sane. Also at the same time, man, I gotta make music because, I don't know, it feels good to me. And I do it for the people that are waiting for my music to come, the people that connect with the music and that it helps—that drives me as well. But most importantly, I do it for my sanity. I do it for myself. Because it's therapy. And to be able to put it out there and for others to hear it is a plus.
Have you developed a self-care routine?
I just spend a lot of time with my loved ones. That helps. And not looking at comments. And knowing that I got to do this for myself first, and not being controlled by someone else's judgment. I'm doing this because I like to sing and express myself, and it helps just to remember that. Little reminders help.
Was it a conscious decision to go in a somewhat different direction with your sound on Brown Girl?
It was something that just happened. I didn't really think about it consciously. Like, with Treble & Reverb, I wanted an old-school sound. With Brown Girl, I didn't really think about it. I just went with what I felt.
Did you find that it was easier to make Brown Girl vs. Treble & Reverb?
I think it was harder [with Brown Girl], because I wrote the songs, but I had to share a bit more on the production. I really let the producers take control of the sound of the production—which was hard, because I'm particular. With Treble & Reverb, I had the sound already in my head when I gave it to the producer at the time. With Brown Girl, it was totally different. But I was happy. It was just harder to let the reigns go a little bit.
Do you think you're in a completely differently place now for Brown Girl than you were for Treble & Reverb? How have you grown musically between these albums—not just in the studio, but on stage?
Each album does speak for itself, and I always try to write what I am going through at certain stages in life. I would say both albums have massive growth in different aspects and I love both projects to death because they speak truly and freely. That also makes it easier to perform live knowing the fans can relate.
What do you know now that you wish you could tell yourself five years ago?
To write more, perform more, and keep creating in a positive and happy state.
—Teta Alim