FEATURES
A Perfect Day in Akron, Ohio with Rhea Butcher
By Daniel Ralston · August 02, 2016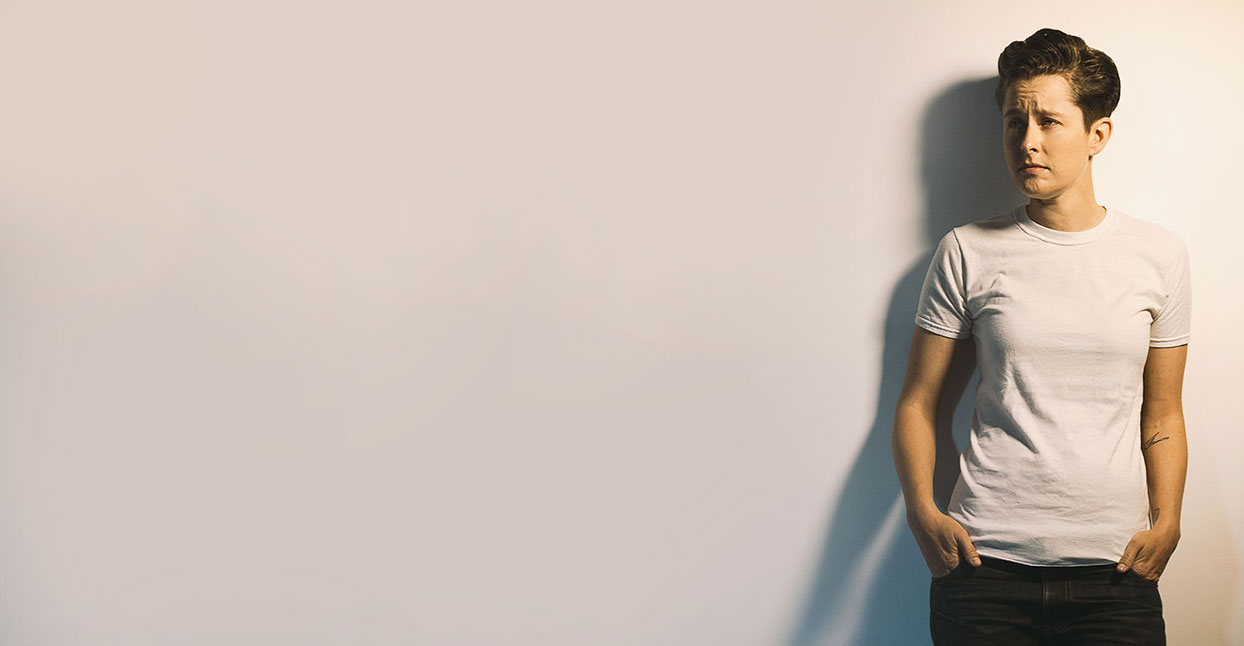 Rhea Butcher is having a moment. That's how you start an article when you're writing about a comedian who just made their late night debut on Conan, is about to star in her first TV show ("Take My Wife," which she co-created with her wife Cameron Esposito for NBC's digital platform Seeso) and is releasing her debut comedy record in the span of a few months. If that wasn't enough of a hot streak, the Akron, Ohio-born and raised comedian is also still in celebration mode after her beloved Cleveland Cavaliers won the NBA title.
Her album, BUTCHER, will be released on the venerable punk label Kill Rock Stars. Listen to an exclusive premiere of "7-11 and Lighters" right here.
.
00:10 / 00:58
Merch for this release:
Compact Disc (CD)
Rhea Butcher answers our questions about gender identity, post-Cavs euphoria, and how to spend a perfect day in Akron.
I'm interested in the way you integrate your identity and look into your act. Your Conan set is a good example. You open with a bit about your name and how it relates to you personally. Do you find that to be something you're doing for the audience—to kind of get it out of the way—or is the choice more "This is what I need to talk about and I do not care?"
I actually think it's a bit of both; any time a comic walks out onstage the audience is viewing them. When a (straight) white guy is out there that seems "normal" or "typical" or "neutral" to an audience (for now). We're really in a comedy renaissance right now with diversity being something we are, at the very minimum, talking about. It's not something that was necessarily a topic of conversation about stand up or TV, in say 1987. So in a way I want to talk about it right off the top with an audience because I've spent my whole life getting weird or confused looks from people. I think if I didn't talk about it, there would be a few people going "what" for most of my set, and they maybe wouldn't pay attention. For the people that aren't confused by the way I look, I see it as [that I'm] relating to them. I also feel like it is something I DO need to talk about ,because talking about your clothes or being self deprecating can be viewed as cliche but when the way a person looks is causing very hateful lawmaking to happen, like North Carolina's bathroom bills against transgender people, I think we have a duty to talk about it. I have been misgendered my whole life and 9 times out of 10, it happens in the bathroom and it is definitely not a neutral situation. Typically the person saying something to me about being in the "wrong" bathroom is very scared of me and lashes out in a very threatening way. While I do not identify as trans myself, I do identify as genderqueer (and am cisgender), and I support my trans brothers and sisters and can understand what they are going through because living outside of the gender binary is something I have been punished for my whole life. As recent years in the LGBTQ movement have taught us, putting a face to queer identities is what helps get progress moving. I also just think like, hey there are so many different types of women and I just happen to be one of them, so let's just think about that a bit and open our minds to all kinds of people.
I haven't seen "Take My Wife" yet (looking forward to it!) but was there a sense of "there have been a bunch of TV shows about a young married couple where one of them is a comedy person" but we are coming at it from a place that isn't as well explored" (ie. a lesbian couple where both partners are stand-up comedians). Did that free you up to hit on familiar sitcom territory?
Glad you're looking forward to it! I think we are coming from this angle: let's make a show by lesbians about lesbians where we don't ONLY talk about being lesbians—we talk about being people, who happen to be lesbians. We also wanted to make a show about what it's like to be working women in 2016, and working women in a creative/competitive field. I/we wanted to make a show about stand-up that isn't just stand-up. We wanted to show behind the scenes and make it a life/workplace comedy. We're also not necessarily millennials (depending on which rubric you use), and we're also not midlife. We're right in that weird spot of "shouldn't we be having kids or buying a house or something?" but also still very much young and in a career that keeps you in a sort of arrested development. We really just wanted to make a show that shows lesbians as people.
With "Take My Wife," did you and your wife have specific things that you wouldn't get into on the show? Is there a blacklist of topics somewhere?
Ha, there's no like "DO NOT SHOW" list in a safety deposit box in an old bank or anything, but we definitely had conversations about us kissing on screen and if we would have any nudity. I was 100% [for] no nudity because screenshots live forever. We also discussed how many details from real events we wanted to use. We really wanted to make a show that was very representative of our life together and individually but not give away too much of our actual lives, so the show is like a carbon copy that way. It's the same but not in ink.
I'm from Philly and I remember when the Phillies won in '08 my joy hangover lasted like, 9 days. A neighbor (who was usually awful to me) and I banged on pots and pans in the street all night. It is a unifying thing that transcends so much. Can you tell me a little bit about the feeling you had when the Cavs won the NBA title? How long did the euphoria last? Do you remember the first thing that kinda derailed it?
For the first 5 minutes after the Cavs won on 6/19 I literally didn't believe it. I was watching the clock count down, telling myself, "they can't lose but they are going to lose. How are we going to lose?" I just really couldn't grasp the fact that yeah, we won. I mean I said to my wife, while I was kneeling on the floor, "WE WON?!?" I'm sure my face looked exactly like LeBron's face immediately after they clinched it. I was so so so emotional. I cried and hyperventilated and my dog was very scared for me. I had been invited to a watch party by some Northeastern Ohio comics but I just couldn't go because I'm very superstitious, and the previous games where I had watched with strangers the Cavs had lost, plus I didn't want ANYONE to see my emotional reaction whether we won or lost. I found out later that there were Golden State fans [at the party we were at], which holy cow, I do not know how the host, who's from Cleveland, dealt with that. I didn't see anyone from Cleveland or Ohio until that Wednesday (the same day as the parade which I watched all of, and when I couldn't watch on set, I had an earbud in listening all day long) and when we saw each other we just hugged super hard and smiled. It was really great. All the Ohio comics call each other "champ" when we see one another. It's a great feeling. And honestly, I'm still not derailed.
If someone went to Akron tomorrow, what are the things they would absolutely have to do?
Oh boy, this has got to be my dream question. Start your day off with breakfast at one of two spots: Wally Waffle or Flury's in Cuyahoga Falls. Then take a nature walk through one of the million Metro Parks that Ohio has to offer. They really are absolutely beautiful parks. Ohio has more Metro Parks per capita than any other state. Then take a tour of Stan Hywet Hall, the mansion of the Firestone rubber baron, F.A. Seiberling (the nearby Seiberling Nature Realm is named for him). The gatehouse of the Tudor-style estate is where A.A. was founded. Next I'd say check out Summit Mall, if only because I basically grew up there in the 80's/90's. If you're ready for lunch go to the Swenson's drive through in Wallhaven. The veggie boy with fried mushrooms and a California is my classic order.
Then in the afternoon, if you don't have RubberDucks tickets, head out to the Goodyear blimp hangar and check out the remains of the Rubber Bowl, the University of Akron's old football stadium. It was built in the hole that was dug to create the Soap Box Derby Downs, located directly next to it. Pop over to Strickland's for an afternoon soft serve. Then head back downtown to check out the Mark Mothersbaugh exhibit currently running at the Akron Museum of Art (maybe even swing by Myers School of Art and see who's next). If you're a skater, I'd suggest swinging by the downtown high school Central Hower to check out the gnarly brick wall that many skateboarders have attempted and a few have succeeded, to ollie. It's seriously gnarly. After that you have to of course go by St. Vincent St. Mary and check out the LeBron James Arena (after driving down the newly minted King James Way) and praise our hero. Swing into Highland Square after for a movie at the Highland Theater, coffee at Angel Falls, some vintage clothes at Revival, or some hard to find records at Square Records. Also be sure to check out the recently opened Birchwood Supply Company which has some absolutely beautiful vintage relics from all across Ohio (owner Jason Horinger even picked the aforementioned Rubber Bowl).
You could stop by Annabell's for a $.50 pint (I don't drink anymore but please enjoy one for me) or head down to my absolute favorite place to go in Akron: Luigi's. You really can't go to Akron without eating at Luigi's. Make sure you get a salad (with cheese, it's basically a cheese salad but trust me) and I recommend the small cheese pizza. It's the best. And try the bread. They bake it there. I spent almost every night of my early twenties there and will love that place for the rest of my life. Make sure you spot the Jay Leno photo before you leave. After Luigi's head over to Thursday's to dance the rest of your night away.
Growing up around punk/skateboarding is a really grounding thing and I find that a huge percentage of the people I end up really liking come from a similar background. Do you feel like that world stays a part of you as you get more and more successful? (I mean…you have a record on Kill Rock Stars. That rules.)
Yes, that world totally stays with you. Skateboarding got me into so many things I enjoy today: art, music, travel, photography, you name it. Skateboarding also taught me to keep my eyes open all the time for opportunity. That's something I'll never unlearn. You're always on a search mission for new spots. I'm always looking for new jokes and new inspiration in life. Growing up being into punk and ska and then DC bands like Fugazi, then onto Riot Grrrl and queer punk music, helped to solidify my worldview. You can talk about yourself and others can relate to it. Just because you're not on every radio station doesn't mean you don't have something to say, and that's the ethos of Kill Rock Stars. I am really glad they got into comedy because it's a perfect fit. I am super grateful for bands on Kill Rock Stars, like Sleater Kinney and Bikini Kill, and other bands like Team Dresch and Le Tigre for being loud as hell and saying what they think.
—Daniel Ralston