FEATURES
A Forest Of Stars: Black Metal "Gentlemen's Club" Evoke Victorian England's Decadent Past
By Andy O'Connor · October 12, 2018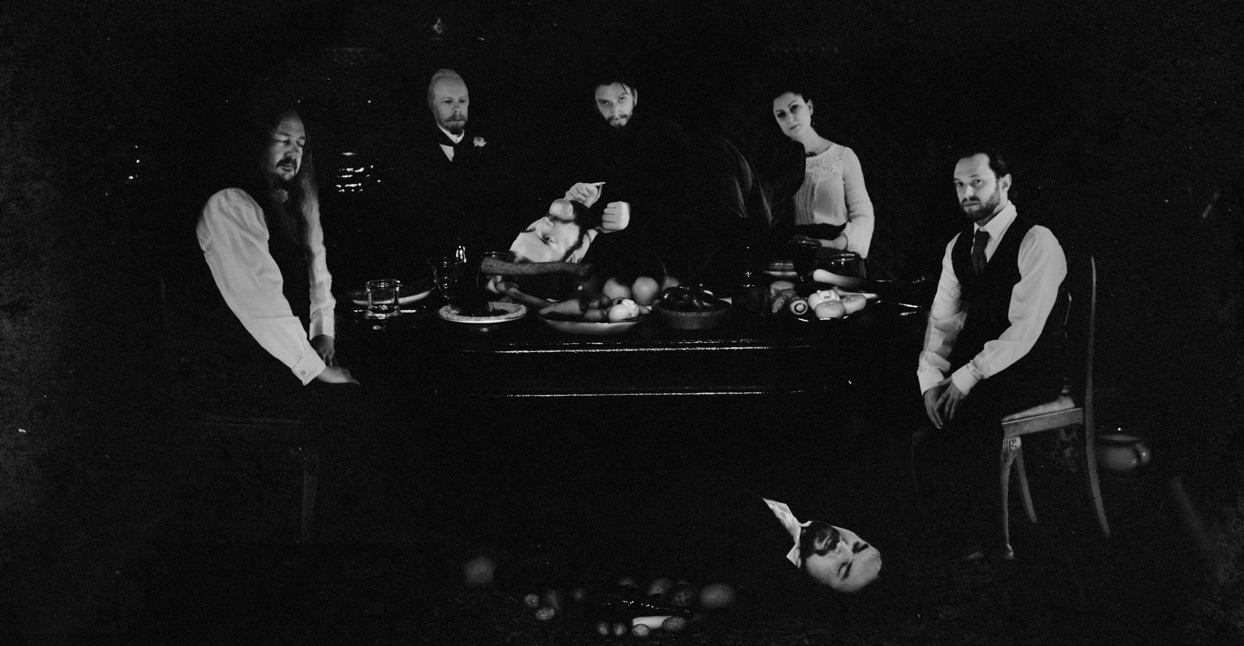 British black metal septet A Forest of Stars inhabit a past that never really existed: not a primeval, pagan Scandinavia, but a world constructed from the Victorian past and mythos of their own country, England: pomp and circumstance masking a libertine social underbelly. Their collective persona is that of a gentlemen's club from another dimension, with multi-piece suits and top hats as their armor. This mirrors their proggy black metal, which sounds a bit like an alternate timeline where Peter Gabriel, having never quit Genesis, was tape-trading with Euronymous and Tom G. Warrior in the '80s. Theatricality and furor harmonize throughout each of their five albums, taking black metal's natural propensity for hysteria and wielding it to surprisingly dignified ends.
Their fifth album, Grave Mounds and Grave Mistakes, which is their first for Prophecy Productions, scales back on the more sweeping aims of 2015's Beware the Sword You Cannot See—just a little. It's still woozily psychedelic, brimming with complex prog performances; thanks to the similarly heady production, the blurred guitars and rich keyboards play out as both closely-felt and dynamically distant, lending these songs an almost alien feel.
.
00:10 / 00:58
Merch for this release:
Compact Disc (CD), 2 x Vinyl LP
With Sword behind them, A Forest of Stars were looking to recapture some of the "cloying atmospheres" from their first two records. "The first album [2008's The Corpse of Rebirth] was a group of friends doing it for the fun of it, and the way we recorded it was without any care in the world, which we couldn't do this time. But we tried to invoke that [by] trying to enjoy the process and breathe deep into it, whatever the equivalent of burning incense and inhaling it all [is]," says keyboardist and primary songwriter Richard "The Gentleman" Blakelock via Skype from England.
Trying to dive back into where it all began does add a bit of macabre fun to Grave Mounds, an enlivened energy for the group. "Precipice Pirouette" and "Children of the Night Soil" weigh epic folk metal's boozy power metal-esque surges with the desperation of trying to capture something essential, too big for words. Like filmmaker Stanley Kubrick, A Forest of Stars are keenly aware of how rich aesthetics can underline horror.
"The ballroom scene from The Shining, when Jack [Torrance] goes in and it's empty, but there's that 1920s music playing," explains Blakelock, "that's how it should sound—that ghostly sound." Think of songs like "Taken By The Sea" and closer "Decomposing Deity Dance Hall" as heavy metal reimaginings of the aforementioned scene: we find Torrance hallucinating at the bar with a glass of bourbon (on the rocks, on the house) as always, just with a phantom group raging in the background.
A Forest of Stars change masks and styles on Grave Mounds more than the average masquerade ballgoer might change their cocktail order. This is consistent with the band's fantastical aesthetic and sound, which Blakelock regards as a sort of method acting. "It's something, as a writer, you inhabit, but something you can escape into and wear as a skin," he says. The spacey synths on "Tombward Bound"—somewhere between King Crimson mellotron and John Carpenter's famous analog soundtracks—provide a launching ground for vocalist Dan "Mister Curse" Eyre to escalate the theatrics, his prog warble loosening into a more feral growl.
.
00:10 / 00:58
Merch for this release:
Compact Disc (CD), 2 x Vinyl LP
The otherworldly element to A Forest of Stars' music also reflects a deep reverence for Kate Bush, one of metal's other favorite non-metal influences. Several songs on Grave Mounds resemble abstract versions of her early records, like Never For Ever and The Dreaming, adding a metal touch to chamber pop (Katie "Katheryne, Queen of the Ghosts" Stone's violin plays a big part on this album), as well as dabbling in out-of-time, out-of-space baroque composition.
"[Bush] was as much as a producer as a songwriter…especially stuff like Never For Ever, and the sound on that record is to die for, and every time we do something I'm always trying to find a way to get closer to that sound without literally covering the whole album," Blakelock explains.
Grave Mounds creates a tantalizing mirage, one that feels totally real in spite of its over-the-top, surreal, and imaginative elements. Can you believe a band of reanimated Victorians could make raging black metal, that they could put a nasty grin to a dressed-up fantasy? You can, and you should. The atmosphere is genuine, even if its origins may be fictional, and selling the world is what matters most.