ESSENTIAL RELEASES
This Week's Essential Releases: Experimental, Hip-Hop, Folk and More
By Bandcamp Daily Staff · October 26, 2018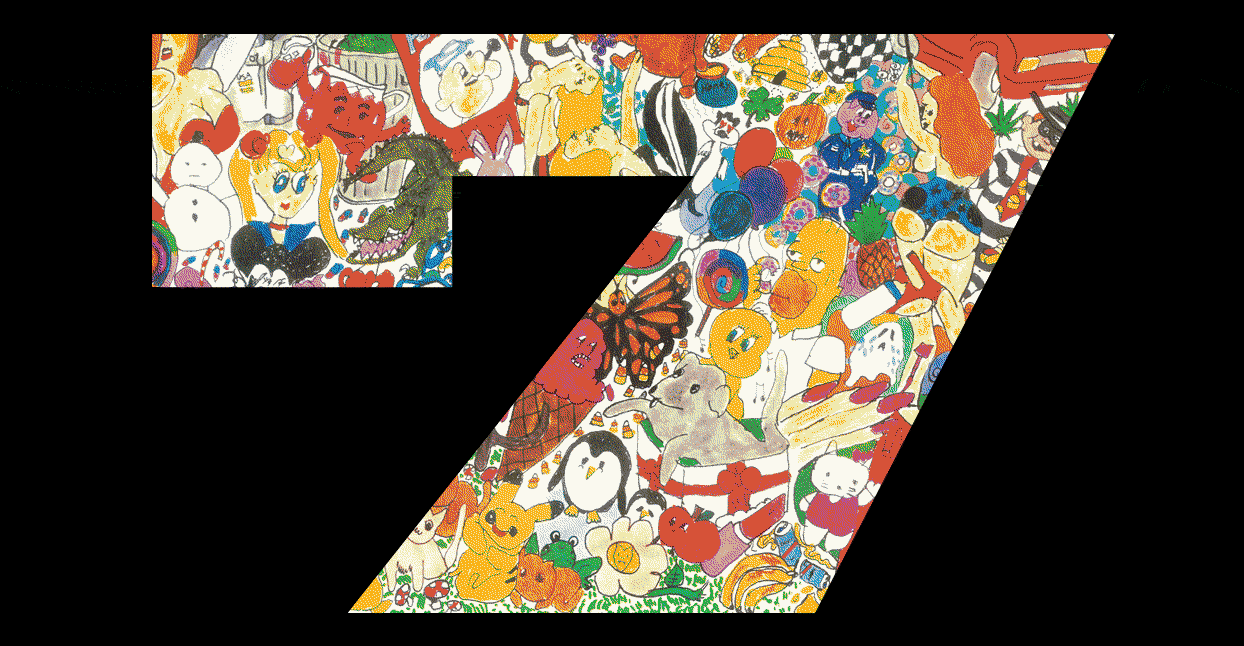 Welcome to Seven Essential Releases, our weekly roundup of the best music on Bandcamp. Each week, we'll recommend six new albums that were released between last Friday and this Friday, plus pick an older LP from the stacks that you may have missed.
New Releases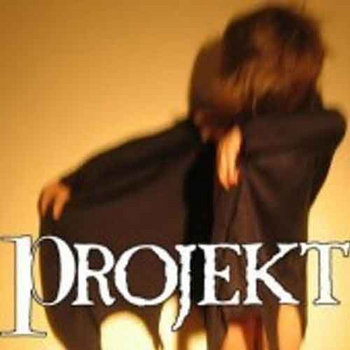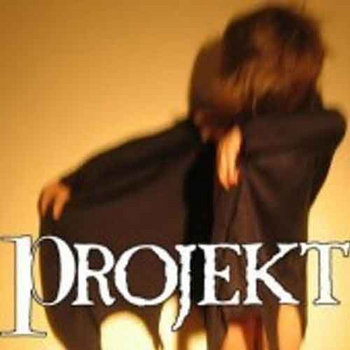 Merch for this release:
Compact Disc (CD)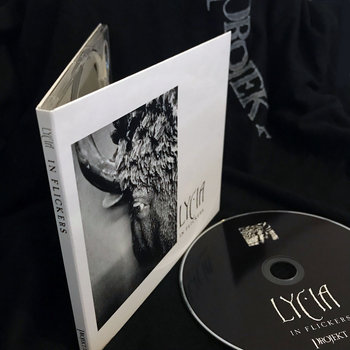 The records Lycia released in the late '80s and early '90s—mostly via the storied Projekt label—were morbid, suffocating masterpieces. On albums like A Day in the Stark Corner and IONIA, principle member Mike VanPortfleet's voice was drenched in echo, sounding more spectral than human, wrapped in a bleak burial shroud of synths. The albums worked because they conjured a funereal mood without resorting to melodrama; artists working on the gothier end of the musical spectrum are always in danger of ramping up the camp, but Lycia's records were unsettling precisely because they remained still and controlled. (Think of it as the difference between a horror film using gaudy CGI and one that generates scares via practical effects.) Now, nearly 20 years after his first release, VanPortfleet returns with In Flickers, an album that finds his gift for chilling melancholy fully intact. "The Path" winds a gauzy guitar pattern over Dead Can Dance-style percussion, a Tara Vanflower's ghostly voice floating lonesome in the background; "25 Years" is as mercilessly crushing as any song VanPortfleet has ever written, but the razor-edged bassline that lopes and growls gives it the feel of a deathrock ballad. And "Late Night Solitude" allows layers of drone to build steadily, cresting in a chorus of vocals from Vanflower that howl like the wind through an old house at midnight. And while VanPortfleet's voice is more prominent here than it was on early Lycia releases, his gift for slow-creeping melodies keeps the sense of mystery intact. It's tempting to bill this album as arriving "just in time for Halloween," but to do that would be to sell In Flickers woefully short. These 10 stark funeral ballads will continue to haunt long after October has ended.
Merch for this release:
2 x Vinyl LP, Compact Disc (CD)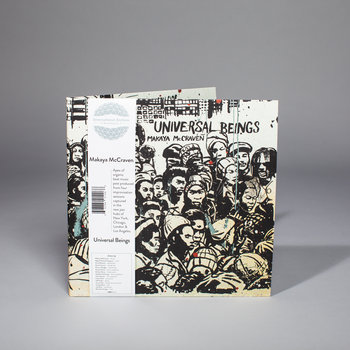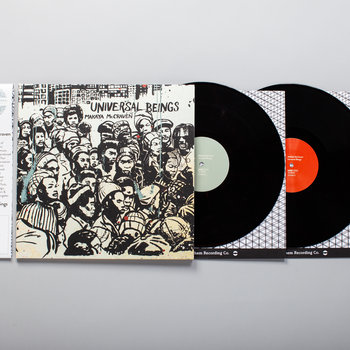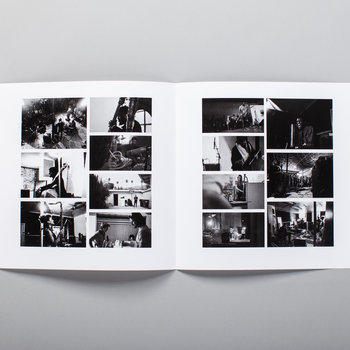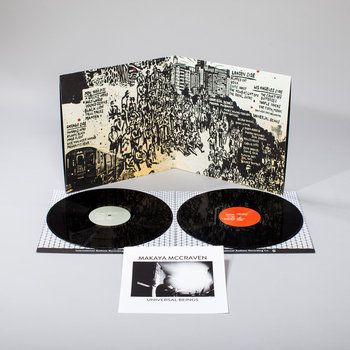 The world can be overwhelming, especially if you subscribe to the daily flood of social media posts and scary WTF headlines. Everything is noisy, and if you're not the loudest person in the room or on the timeline, you run the risk of being ignored altogether. Perhaps sensing our need to relax, Makaya McCraven's new album, Universal Beings, plays like a meditative beat tape of delicate strings and light percussion. Through it all, McCraven is the benevolent leader, ceding the floor to a litany of fellow stars without fading into the background. This album is truly a team effort, and with star turns from U.K. saxophonists Nubya Garcia and Shabaka Hutchings, experimental guitarist Jeff Parker and violinist Miguel Atwood-Ferguson, among many others, Universal Beings captures a broad intersection of jazz from New York City, London, Chicago, and Los Angeles. Check "Atlantic Black" for an immediate jam: Featuring Hutchings, cellist Tomeka Reid, and double bassist Junius Paul, the song is a rapid-fire procession of saxophone wails and drum fills, leading to the LP's most frenetic moment. From there, the album decelerates to a manageable speed, where down-tempo songs like "Flipped OUT," "Suite Haus" and "The Fifth Monk" bring Universal Beings to a rightful close. In the end, Universal Beings is one of the year's best albums, an understated gem of resonant power.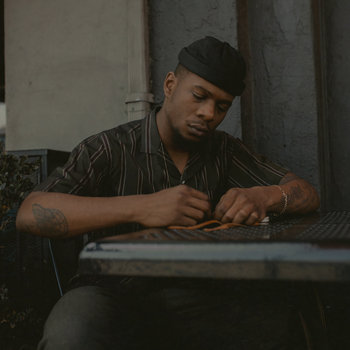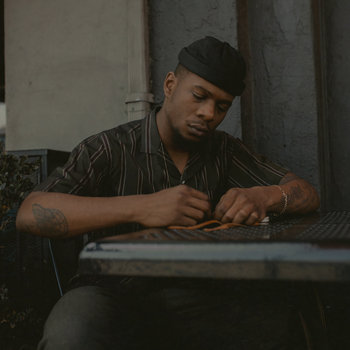 At certain points on his new album, Pieces of a Man, Chicago rapper Mick Jenkins sounds just like poet Gil Scott-Heron. That was done on purpose; Jenkins titled his new record after the icon's 1971 debut album, and the spoken-word bits pull from the classic LP, down to the background chatter and audience applause. Inspired by Scott-Heron, Jenkins dissects the nuances of black manhood atop repurposed soul and jazz. On "Padded Locks," for instance, Jenkins scans the news using a sample from Toronto jazz quartet Badbadnotgood. "They finna do clean water just like Prohibition," he exclaims. On "Ghost," the rapper celebrates serenity and dedication to the craft: "I be on the road, or I be in the crib/ When I'm not on the road, I'm working on my penmanship, and my relationship." Here, Jenkins dispels the notion that rappers need to be out all the time. There's nothing wrong with being a regular dude who stays out of plain sight. Yet given the wins he's piled over the last couple years, his anonymity won't last much longer. Simply put: Pieces of a Man is outstanding, required listening for youngins and old heads alike.
"The last little while has left me with a bitter taste/ I'm taking all the lemons to make you some lemonade." So goes the chorus of "Lemonade," the first track on Another Side of the Seams, the lovely first full-length from Toronto indie supergroup The Seams. A song about relying on friendship to offset creeping melancholy ("to keep myself above the ground"), it's a perfect summary of the emotional thumbprint left by this gently bruised but deeply compassionate record. Musically the band has unspooled the tighter, brighter jangle pop of their debut tape into a more impressionistic take on the genre, their expansive melodic passages coupled with lyrics that brush up against the poetic in their structure ("Struggling a bit/ Only recently it seems/ I remember then/ but sparingly.")  At only 25-minutes long, Another Side of the Seams is an economical listen but a heavy one, taking on topics such as the aftermath of addiction and the tart pangs of sadness that can follow in its wake. Yet the overall impression is not one of darkness. On the contrary, Another Side of the Seams feels as soft as a hug and as sweet as smile. This is a gentle record made by and for kind hearts, the ones who understand that a seam isn't just a line where two things come together, but sometimes the physical reminder of something once torn and now mended, and perhaps—hopefully—all the stronger for it.
Merch for this release:
Compact Disc (CD)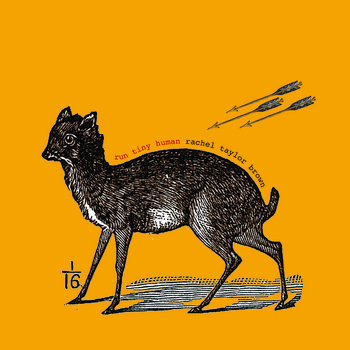 "Come and get your money, get it all right now," sneers Rachel Taylor Brown against a groaning wall of bari sax on "Glitcher." It's the perfect entry point as any into run tiny human, a masterfully crafted collection of songs that pairs cutting lyrics with arrangements so skeletal they often sound like a bag of bones clattering down the basement stairs. The closest sonic touchstone in terms of arrangement would be late-period Scott Walker, but that comparison sells short the record's frequent, stunning moments of beauty (the prime example of which is titled, ironically enough, "Bag of Bones"). Brown's primary instrument of choice is piano, but the way she deploys it throughout the record is so counterintuitive that you end up anticipating the songs' left turns the way you would a plot twist in a thriller. "Maker" casts a jaundiced eye at the moneyed creative class, setting razor-sharp lyrics ("We'll take your town, we'll make it better") over a deliberately stumbling piano line (Brown's jump up the vocal octave halfway through inspires actual chills). "God" is bare an lonesome, Brown leaving great spaces between each measure to emphasize the feeling of a great, cosmic void. "Wonderful You" is a broken music box spinning in a haunted bedroom, Brown's voice sailing mournfully up and down the musical staff. The album's precision and economy makes it a marvel to behold; you both listen to the songs, and watch their pieces spin like the gears in a watch, so that when Brown throws in a particularly devastating aside (like the vocal samples that drive home the point of "Portland"), it lands that much harder.
After suddenly losing her beloved bandmate Cash Askew to the tragedy that was Oakland's Ghost Ship fire in 2016, Kennedy Ashlyn found herself facing immeasurable grief. Ashlyn and Askew were the sole members of Them Are Us Too, a Bay Area dream-pop duo who'd received well-earned praise for their beautiful debut, Remains. Dais Records released Amends, the tracks the group had been finishing for their follow-up, as a posthumous tribute, earlier this year; it's a bittersweet listen, as one can hear just how fertile Ashlyn and Askew's imaginations were together, how much they were growing as a group, how magnificently talented a guitarist and producer Askew was.

Ashlyn forged on as SRSQ, her solo project; Unreality, her first release, finds her grappling with her enormous loss in a visceral way while trying to carry the sound of Them Are Us Too forward on her own. Her agile soprano swoops and keens, backed by lush synths on tracks like "The Martyr" and "Only One; she plumbs darker depths over a noise inlay on the stunning "Permission." This is a carefully crafted record, both an emotionally gutting document of pain and an adoring elegy; on a chilly grey day, listening to it for the tenth or eleventh time, I still find myself moved to tears and bundling myself a little tighter.
Back Catalog
Merch for this release:
Vinyl LP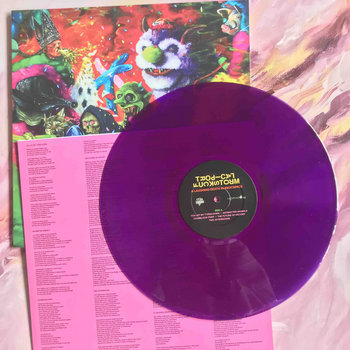 Reflecting on the dismal state of humanity in his revered 2013 book, The Silence of Animals On Progress and Other Modern Myths, the philosopher John Gray issued the following proclamation: "There is no collective entity with intentions or purposes, only ephemeral struggling animals, each with its own passions and illusions." Five years later, his searing rebuke still smarts like a fresh wound —not only because our present political climate confirms his thesis beyond a reasonable doubt, but because those horrors have finally been translated into terrifying sonic form, courtesy of the Australian supergroup Tropical Fuck Storm and their raucous debut, A Laughing Death in Meatspace. To that end, the group's figurehead, Gareth Liddiard, best known for fronting political art-rockers the Drones, contextualized their frenzied debut by way of the aforementioned quote in a recent Noisey interview. "It's hard to understand," he said of the record's chaotic feel. "It's just a bunch of sound waves going [bululululu]."
A Laughing Death in Meatspace, in other words, is a safari deep into the heart of this ephemeral animal kingdom we call Earth — society on the precipice of ruin, doomed to obsolesce by chess-whiz supercomputers ("The Future Of History"), climate change ("Shellfish Toxin") and of course, that "Oompa Loompa with the nukes" ("Soft Power"). These songs are shitshows in the purest sense, pairing Liddiard's smarmy doomsaying with bristling grooves and roots percussion for a dizzying display of Fela Kuti-esque revelry, undercut with Nick Cave's absurdist dread. Or maybe they're just a bunch of sound waves, [bululululus] ringing out ad infinitum for no reason at all, other than we're all fucked, and therefore, have an excuse to rage before the robots come to kill us all. Whatever the hell it is, this strange, wonderful mess of an LP, I can't help but marvel at it.