CERTIFIED
Artist of the Week: Rabit Uses Bleak Electronics to Explore a Brave New World
By Jordan Reyes · October 08, 2018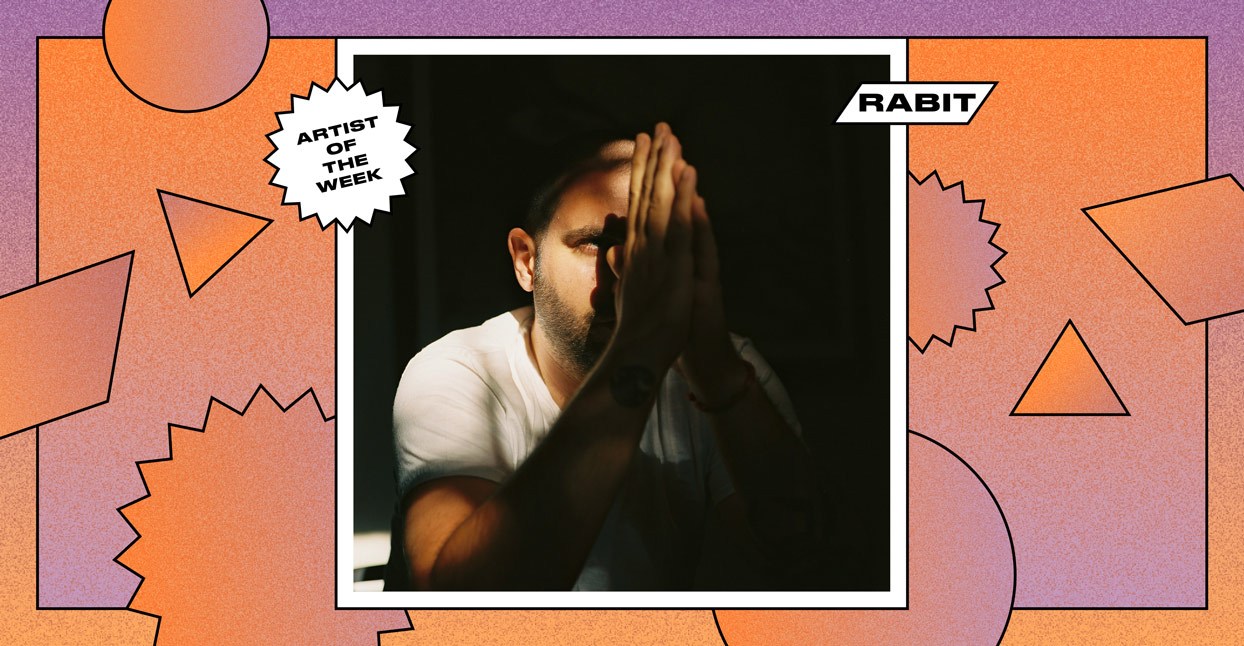 In the six years since he first began making churning, expansive electronic music as Rabit, Eric Burton has collaborated with Björk, Chino Amobi, and London grime master Riko Dan; he's played shows on three continents and has netted critical acclaim for his harrowing take on the genre. His three proper albums—Communion, Les Fleurs Du Mal, and now Life After Death—have been defined by pummeling rhythms, eclectic sampling, uneasy synth melodies, and a collage-like feel.
.
00:10 / 00:58
"My process for making music is very intuitive," he says. I make whatever I make, and then I go back and edit hours and hours of stuff, trying to make connections between different things. It starts out as chaos, and I try to make sense of the different layers of chaos." Part of the fun of listening to Burton's music is trying to unlock the source of his samples; some sounds are familiar, others are warped beyond recognition. Communion was a dark, jagged techno record that combined shattered beats with samples that Burton had pummeled and contorted. Its songs blended grime, industrial music, and hip-hop into something queasy and violent—but somehow still indebted to the tradition of the dancefloor.
Life After Death represents a shift in direction for Burton. For one thing, its narrative concerns are more explicit—the encroaching darkness in the modern world. The album eschews dance rhythms entirely, instead opting for something that is almost operatic in scope. Burton frequently employs heavy chimes, listless singing, organic instrumentation, and massive, distorted synths to create an album that feels divided between anxious paranoia and calm transcendence.
.
00:10 / 00:58
That polarity is apparent from the get-go: Life After Death opens with the snaking, mournful "The Quickening," a term that can mean springing to life, but the second track, "Spiral," is tense and contorted, its vocal samples referencing death, evil, and rebirth. Life After Death is largely preoccupied with our changing world, something Burton views warily. The album's spoken word samples wryly warn of the "Pillars of the brave new world"; at the crucial mid-point of "All I Have," after a minute of crushing synths, a grim voice intones: "The darkest hour," and the track descends into chaos. As the album goes on, it's clear that Burton's concerns aren't so much the bleak chaos of the present day, but the impact it will have on future generations. As the record's final sample grimly puts it: "Children—the human raw material of each shattered nation's tomorrow."
But providing easy answers has never been Buton's M.O.—neither philosophically nor aesthetically. "I think I'd be in a different place if I could be tamed more easily, or if I could sit down and make a track more legible to the average person," he says. But it's clear that's not a sacrifice he's willing to make. "I think it's a cancer we musicians deal with, honestly," he says. "It's like being on a conveyor belt. And if I wanted to work in a factory, I would work in a factory."