CERTIFIED
Artist of the Week: Lala Lala's "The Lamb" is About "Learning and Unlearning"
By Eli Enis · Photos by Sarah Joyce · September 24, 2018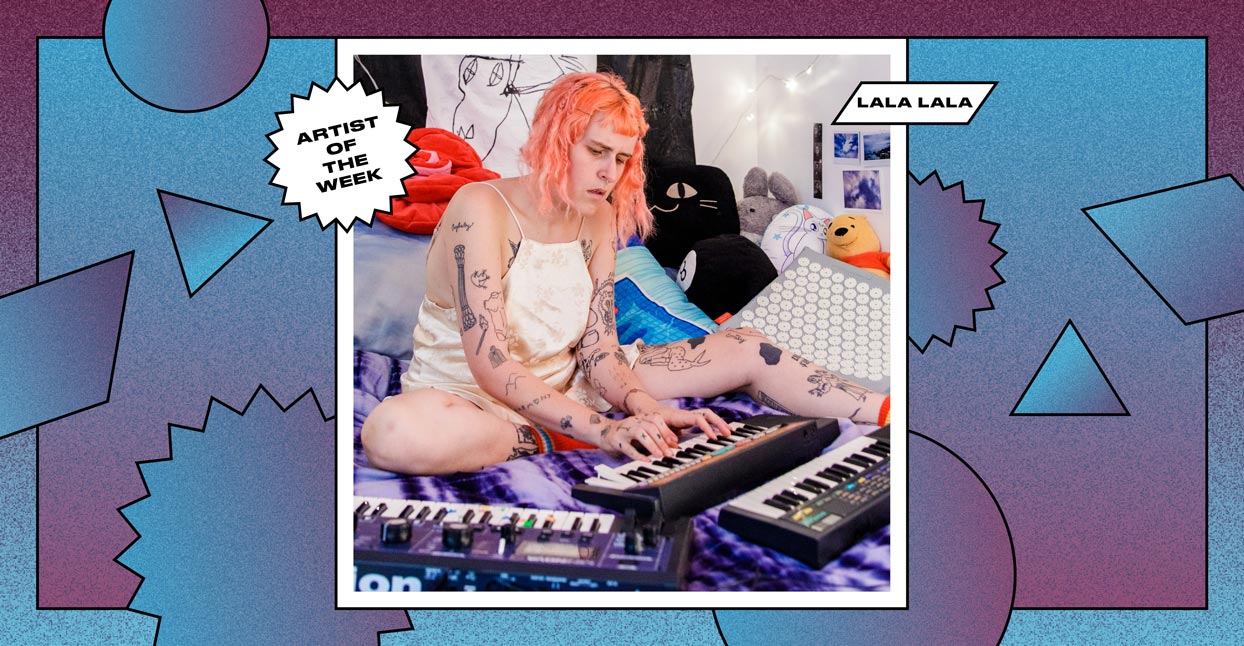 Despite the confidence she exudes in the music she makes as Lala Lala, in person, Lillie West is a bundle of nerves. Speaking before her show in Cleveland last month, at a venue that doubles as a bowling alley, her eyes darted around the bustling lobby as if she were expecting to see someone she didn't want to see. Her pink hair, sharp sense of humor, and amenable chattiness make her a disarming conversationalist—and yet, the jittery look in her eyes suggests otherwise.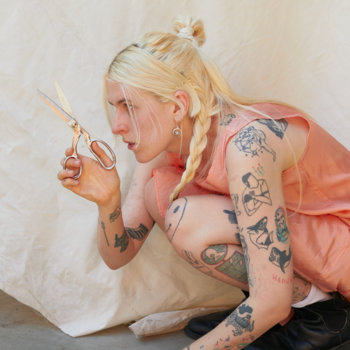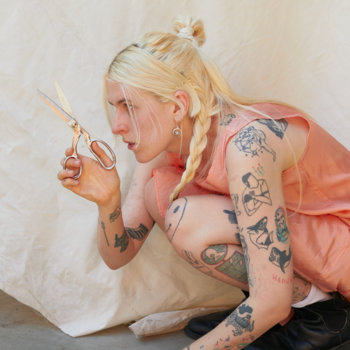 Merch for this release:
Vinyl LP, Compact Disc (CD), Cassette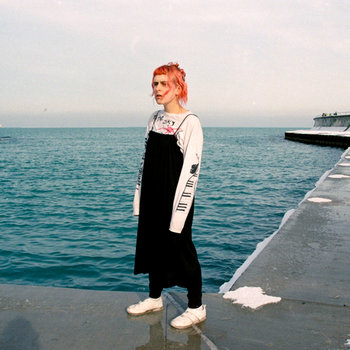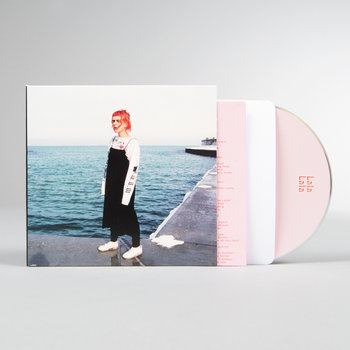 Much has changed for West since she started making music at age 20. For one thing, she's no longer drinking. "The whole time I was drinking," she remembers," I was really confused all the time—just from the act of being drunk, and not being sure what was happening." Back then, she says, writing songs was a tool she used to work through feelings and process experiences that she couldn't comprehend when she was drunk: "Like, I'm upset about something. What happened? I don't know?"
Four years later, West is now sober, and her new album The Lamb is about trying to shed her bad impulses and work toward becoming the person she wants to be. "That's a theme of the record," she says, "me unlearning a bunch of stuff and relearning a different way. Or trying."
West was born in California, but grew up in London until she was 12 years old; she still has her English accent. The singer spent her teen years in L.A., attending the Los Angeles County High School for the Arts, a celebrated public arts institution. Though the school encouraged her to consider all mediums before selecting a focus, West didn't think music was a viable choice at the time; instead, she enrolled in the visual arts program. "I think part of me thought it was too late," she recalls. "Like, I didn't know guitar, so…"
Because she spent her early years in England, West felt unfamiliar with American culture, something she viewed as a personal impairment; she became a voracious consumer of culture in order to play catch-up. "I was like, 'I have to be learning at all moments.' If I was painting for school, I would have to be listening to a podcast or something, or listening to music I hadn't heard before, so I was absorbing it."
It was during her post-high school gap year that West realized she didn't have to be full-time artist in order to be creative. "I thought it was sort of all or nothing," she says. "Like, you have to 'make it' as an artist or you don't do it," she says.
Merch for this release:
Vinyl LP, Compact Disc (CD), Cassette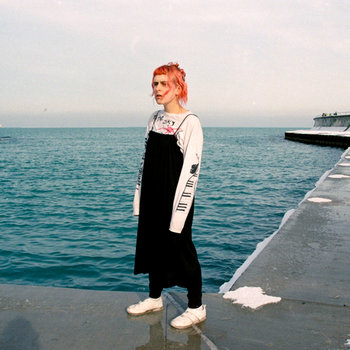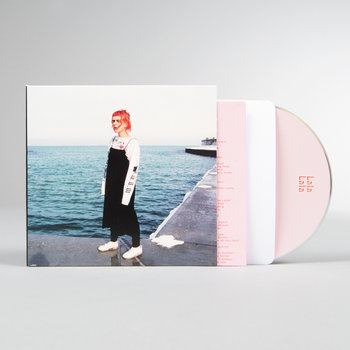 She made some early attempts at songwriting while studying at the Art Institute of Chicago (which she attended to appease her parents). After a year and change, she realized music—not visual art—was her true passion, and she dropped out to pursue it full-time. After playing a few smaller local gigs, she recorded and released Sleepyhead in 2016, a collection of indiepop songs about "drinking and romantic situations" that West admits to feeling "almost no connection to;" listening to it in 2018, she doesn't even consider it a real album. But Sleepyhead is a milestone for Lala Lala nonetheless, not only as a marker of where the project started, but an indicator of how different it—and the person who made it—have become.
"I stopped drinking and doing drugs and I had to change everything about my life," she says. "Who I hung with a lot of the time, what I did with my time, how I communicated with people, what I did on a day-to-day."
The Lamb chronicles this volatile period in her life. Its title is a metaphor for how it feels to navigate the world newly sober. Unlike the straightforward, reactionary lyricism of Sleepyhead, West writes allegorically yet intensely on The Lamb, reckoning with recovery and the death of a friend. And instead of the intentionally amateurish, overblown indie-rock of the former, The Lamb hinges on a dynamic pairing of lucid dream pop and misty post-punk. Each reverb-laden guitar stroke, breathy intonation, and crisp production choice—not to mention the crunchy power chords, yelly climaxes, and coarse drum counterparts—sound purposeful, because they are: West attributes that to the that fact that her "all or nothing" tendencies have been reoriented from substance abuse to uncompromising musicianship.
"I practice now—I never practiced before," she reveals. "I want to get better all the time, and spend intentional time writing. I might try to write or play when I don't feel like it, which I never did before."
For an album about recovery, The Lamb is more conceptually open-ended than one might expect; in West's view, addiction and sobriety aren't black and white, but yin and yang. The Lamb's ending isn't resolute, because West doesn't feel fully healed—a reality that's often scrubbed from the storybook narratives projected on pop culture figures who overcome addiction. "You think I'm good / but I wanna be gooder," she sings with deliberate clarity on the tense, pulsing "Water Over Sex."
Merch for this release:
Vinyl LP, Compact Disc (CD), Cassette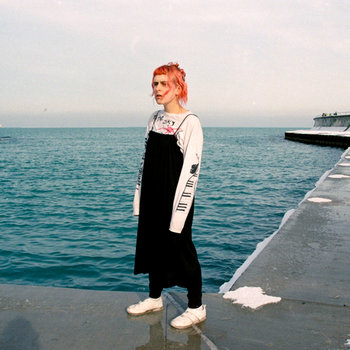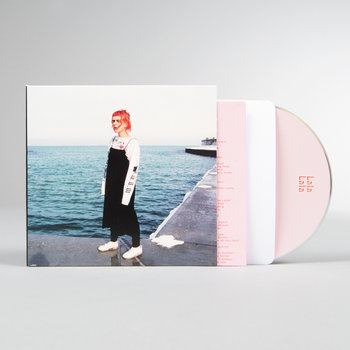 West emphasizes that sobriety has presented her with a whole new set of challenges, even after writing a powerful record on the subject. "I'm a super paranoid person now, which I never used to be at all," she says. "When I was drinking, I pretty much thought I was invincible. Now, I feel completely the opposite. I'm so scared about hurting myself or other people getting hurt, I just panic all the time. I feel like a lot of the press surrounding this record is like: bad things happened, she wrote the album, now it's good. And it's like, 'I am still really fuckin' paranoid,'" she says, laughing.
Many of The Lamb's lyrics are intentionally opaque, but an obvious throughline is West's desire to improve. "I started lying as a small kid / Take it back if I could, every bad thing I did," she croons regretfully on "Copycat," over a bone-brittle guitar strum. "I don't want it to sound like I'm the classic, 'Oh I'm bad news, you don't wanna mess with me,'" she comments with a smirk. "I think I have a lot of bad instincts, especially as an addict. My urge is to go all the way, 100% extreme whatever it is. My instinct is to lie, and that's something I've had to unlearn to exist."
The album's drifting closer reads like a breakup conversation with her self-destructive side. "I release you from us both / Goodbye, maybe forever," she sings. But its eerily suggestive title, "See You At Home," implies her former self will be lurking in the hallways when she returns. The song moves nonchalantly, its glowing synths and warm sax solo seeing West off into the sunset, but it's juxtaposed by lyrics that are acutely aware of the impending sunrise.