BIG UPS
Big Ups: Horse Lords' Favorite Artists on Bandcamp
By Corbie Hill · July 07, 2017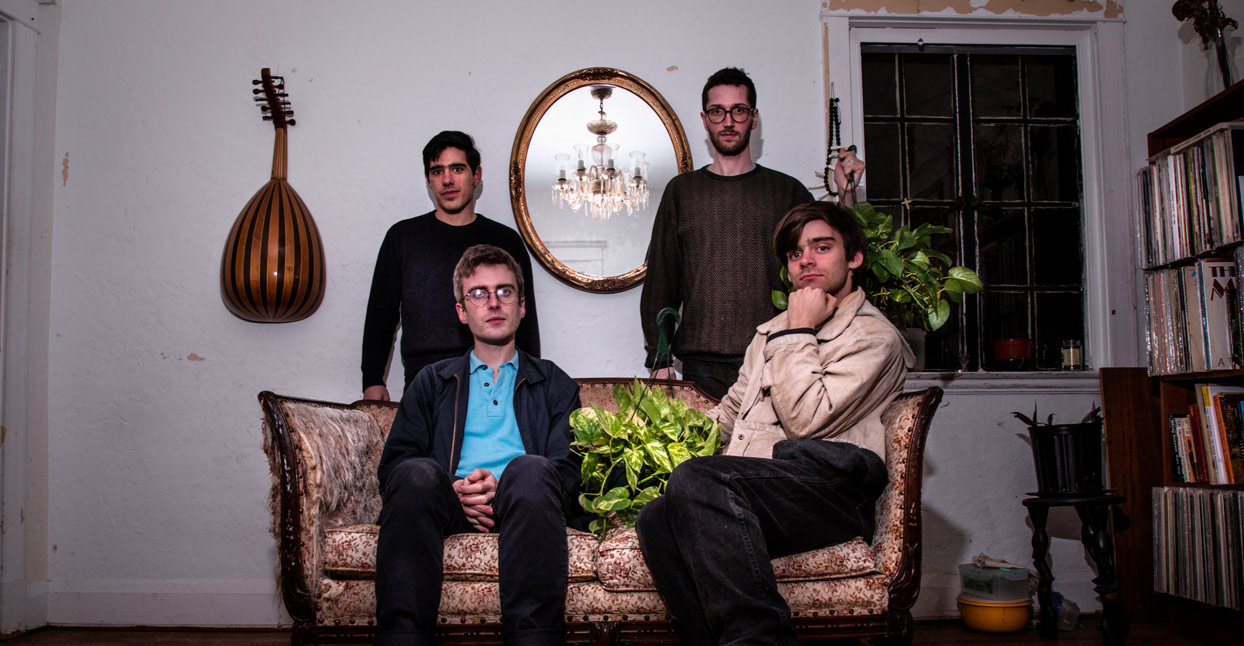 From the outside, Baltimore can seem like a churning cauldron of weird, noisy, artsy dance music. Electronic composer and postmodern lord of the dance Dan Deacon calls Baltimore home, and it's there that synth-pop standard bearers Future Islands found their footing. And while the Baltimore experimental group Horse Lords  admit that this is accurate, that reputation doesn't accuratley capture day-to-day life in the city.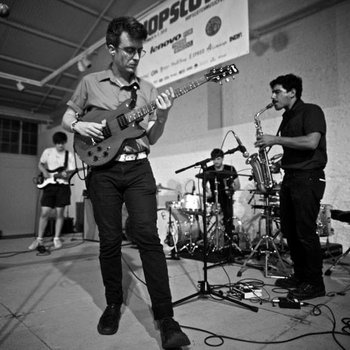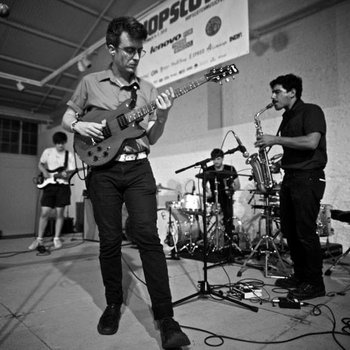 Merch for this release:
Cassette, T-Shirt/Shirt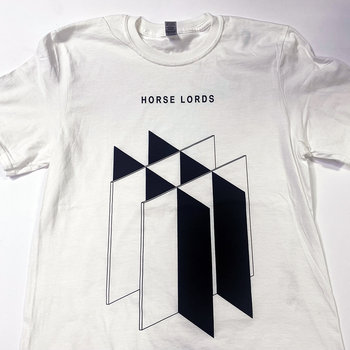 "I would say we most often reflect on Baltimore when we're on the road and we're asked about what's it like living in Baltimore," says Max Eilbacher, who plays bass and electronics in Horse Lords. "There's local shows and it's cool, but it's not a super-happening place all the time."
On the day of this conversation, Eilbacher and saxophonist/percussionist Andrew Bernstein were fresh from a short Horse Lords tour. This jaunt took them through the traditional route of bars and venues, but also it also landed them in a teen center that had been repurposed for the night, and a rock 'n' roll hotel in Boston where, ironically, guests got the show shut down for being too loud.
Horse Lords' members have a high level of technical musicianship, but they apply it to mutated and ever-evolving forms of popular music. (For a perfect example of their combination of the everyday and the academic, read the description of their 2016 LP, Interventions. It's as if a beat poet wrote a musicology essay.)
Merch for this release:
Vinyl LP, Compact Disc (CD)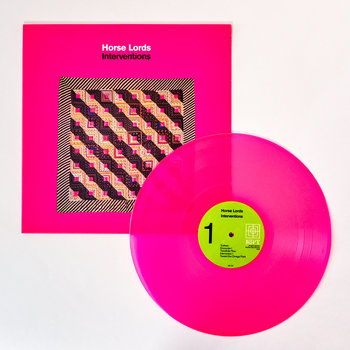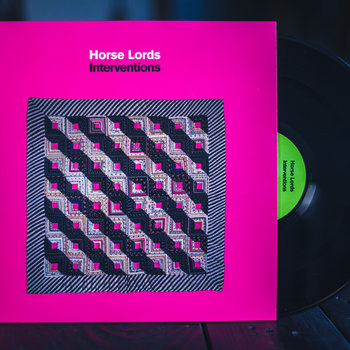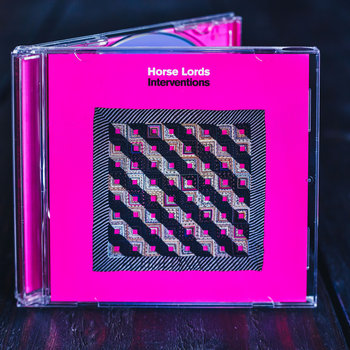 Horse Lords' protracted jams are accessible and groovy enough to be at home in rock bars, but are oblique and technically complex enough for the art gallery. It's a band neither Eilbacher nor Bernstein feel could have happened anywhere but Baltimore. Like any scene, says Eilbacher, Baltimore ebbs and flows, but there's always a solid baseline of experimentalism, which is supported by festivals like High Zero or venues like The Red Room.
When we asked Horse Lords to give us a Bandcamp tour of their city, they accepted it not only as an opportunity to think about current essential musicians, but also to reflect on beloved defunct acts. "Something Max and I were talking about when we were making this list [was], should we limit it to people who still live in Baltimore?" says Bernstein. "There's all this good stuff by people who don't live here anymore. An important part of being an artist in Baltimore is sometimes just leaving Baltimore. It could be for three years, it could be forever."
"I think people, with their time here and with the lifestyle that Baltimore can provide, can make something that's worth mentioning," says Eilbacher.
Headband (aka Duncan Moore), The Mask
"[Moore's] project now is going in the movement direction rather than sound. We were in a band together for years. [Headband] is sort of musique concrète, but he also does amazing movement to accompany his sounds," says Eilbacher. "Half the set could be him on a tape recorder manipulating sounds, and out of nowhere he's doing some facial movements that coincide with the sounds. It's very performative, but in a super tasteful way that I really like."
"It's very tightly composed slapstick performance, almost," says Bernstein. "There's no joke… [it's a] sort of earnest humor."
Susan Alcorn, "And I Await the Resurrection of the Pedal Steel Guitar"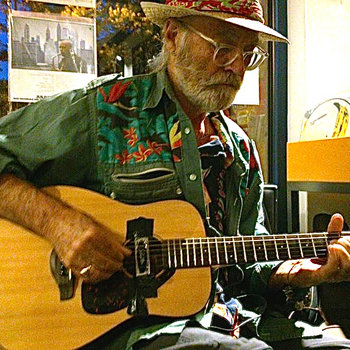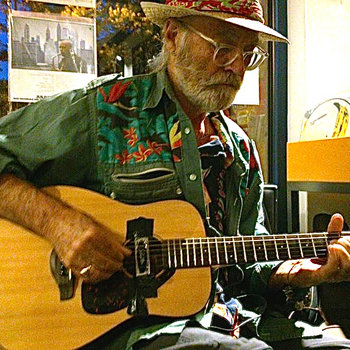 "She's a brilliant pedal steel player, but she'll speak in between pieces and I can tell she's a good storyteller," says Bernstein. "She tells this story about how she heard Olivier Messiaen on the radio and had to pull over and listen to this beautiful orchestra piece, and then she decided, 'I'm going to learn how to play this on the pedal steel guitar, no matter how long it takes me.'"
Alcorn worked on it, Bernstein continues, and made it through two bars of the Messiaen piece—then decided to compose her own work from that foundation. "When she does it live," says Eilbacher, "it's so beautiful and mesmerizing, sonically."
Like Durette, Alcorn is a skilled improviser. Years ago, Eilbacher witnessed a live collaboration between Alcorn and reclusive experimental musician Jandek—Alcorn, he says, simply shredded. The pedal steel guitar, these two maintain, can be remarkably versatile. "Of all the instruments to impersonate an orchestra, the pedal steel is well-suited," Bernstein offers.
"Bonnie is a local electronic musician and composer and poet," says Bernstein. This sound artist's performances mostly revolve around live manipulation of circuit-bent digital delay pedals. "She has the backs of the pedals exposed, the circuit boards of the pedals, and she'll touch the circuits with a quarter-inch cable—I don't know exactly what's happening, but she has a really versatile sound palette from seemingly limited means," he continues. From subtle movements, she can summon a wide range of sounds, ranging from tiny, quiet insectoid buzzes to full-on walls of noise.
"In recent years I've seen her do some really great performances that incorporate that instrument, but also some more pre-composed electronic sound into the piece and also dialogue," Bernstein says. "She has a poetic text she'll be reciting as part of it, and [is] also amplifying small objects. She's a really great performer, and also a great positive force in the Baltimore scene as far as organizing, too."
"That's a local person [who makes] pretty harsh noise," says Bernstein, of Alexandra Brandon's performance style as TRNSGNDR/VHS. Their sound is very in-your-face, and they purposefully bring the audience into the performance, as we explored in an interview last year. "Bonnie's music is harsh [as mentioned above], but maybe more academic," Bernstein says. "TRNSGNDR/VHS is really raw and visceral."
"Really good name. Good band," Bernstein says. Leprechaun Catering's internal chemistry, to a degree, is like Horse Lords'. There's a high level of musicianship, and all the members have really far-out tastes, yet the result is a lot of fun—even if it's jarring and weird.
"It's still cacophonous and intense, but [there's] something about the three of them together," says Eilbacher. "They're extremely fun to see live, and even recorded, too." These were some of the wildest gigs in Baltimore—Leprechaun Catering no longer performs live, he notes—which were defined by the frenzied dancing of 40 people to an off-beat, abstract sequence of synths, weirdly-timed groovy drumming, and contact mic'd rubber bands.
"The members of the band are Tom Borax, Dan Breen and Jason Willett, and Jason Willett has played in a lot of bands, including Half Japanese," says Bernstein. "All of them have played in a ton of bands in Baltimore for ages."
"They were a sort of funky noise band featuring synthesizer, bass, drums, and vocals," says Bernstein. (Of note: Strange Times People Band and Leprechaun Catering share a member.)
"You wouldn't call them a jam band," says Eilbacher. "Maybe sort of new wave-influenced jamming. Good band."
"The term has baggage," Bernstein says. "Horse Lords has been called a jam band as well, so we're no strangers to the jam. It's infectious."
"We support that. If people want to call us a jam band, we're not offended. We're fine," Eilbacher says, then adds with a laugh. "As long as it gets us a step closer to playing jam band festivals, bring it on."
—Corbie Hill