BIG UPS
Free Cake for Every Creature's Universe of Inspiration
By Ally-Jane Grossan · April 11, 2016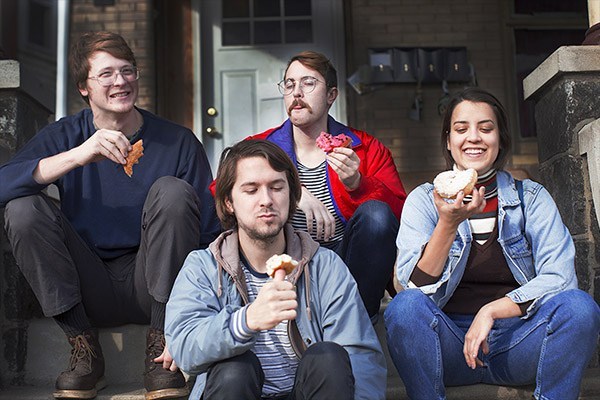 The 10 polished pop songs songs that appear on Free Cake for Every Creature's latest record, talking quietly of anything with you, came from over 100 demos and snippets recorded by Katie Bennett over the past two years. The lyrics are, for lack of a better word, adorable, full of lines like, "For you, I'd write a shitty poem on the wall of the dressing room of JC Penney's" and, "You are the brownie to my TV dinner, but I don't want to save you for later." But the breathiness of Katie Bennett's voice isn't cute. Instead, its sophistication and depth feels almost out of place in the twee universe that her group inhabits. The band, which includes guitarist Colin Manjoney, bassist Ian Stewart and drummer Francis Lyons, recorded the album with Chris Daly at Salvation Recording Company in New Paltz, New York. "He's worked with some of our friends," Bennett says. "He's worked with PWR BTTM and he's done some stuff for Porches. I really just like his production."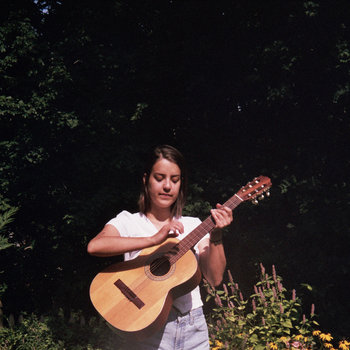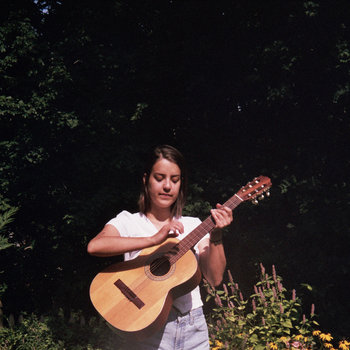 Merch for this release:
T-Shirt/Apparel, Vinyl LP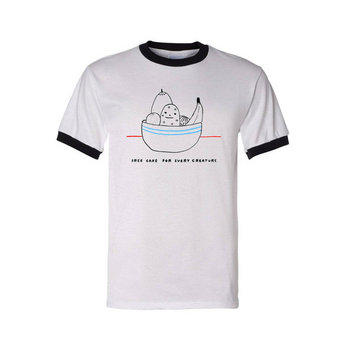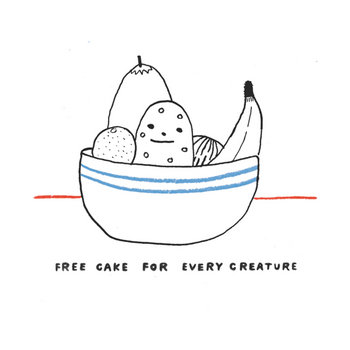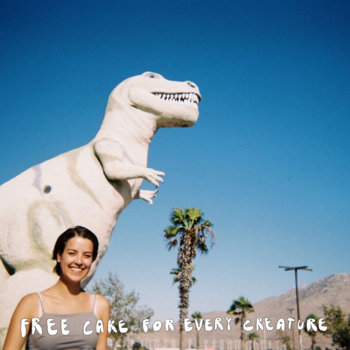 The album, out April 15th, was recorded in just one week. "We banged it out, and it was really scary because I've never recorded with someone else before," Bennett says. "It was hard to give up that control, but I'm really happy with how it turned out."
Bennett, who is also getting her MFA in nonfiction writing at Rutgers University, finds inspiration for her lyrics from songwriters like Rose Melberg, Joni Mitchell, The Gerbils, Guided By Voices, Daniel Johnston, Dolly Mixture, The Marine Girls, Beat Happening, Eric's Trip, Flake Music, Kimya Dawson, and Greta Kline. But she says reading is also vital to her process. The last book she read was Popkiss: The Life and Afterlife of Sarah Records. "Colin (Manjoney, lead guitar and vocals) and I used to listen to that [Sarah Records] stuff in college. It's really the music that inspired me to want to make music. I just love it so, so much. The Field Mice were huge for me, and Another Sunny Day—they are all so good."
Merch for this release:
T-Shirt/Apparel, Vinyl LP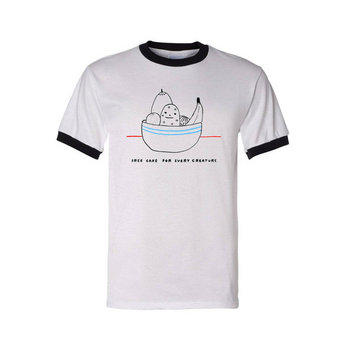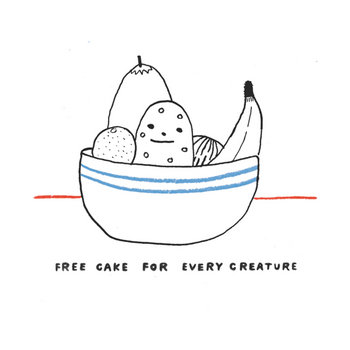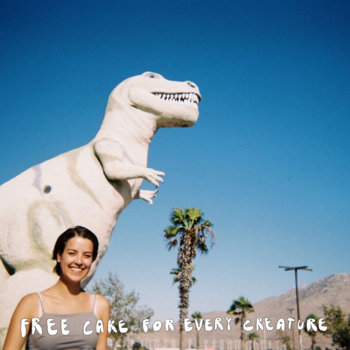 She was also inspired by the community aspect of the label. "It kinda reminds me of being involved in the DIY scene in Philadelphia. It's just playing music with your friends."
We asked Bennett for a list of her favorite bands, many of which include her friends.
Boosegumps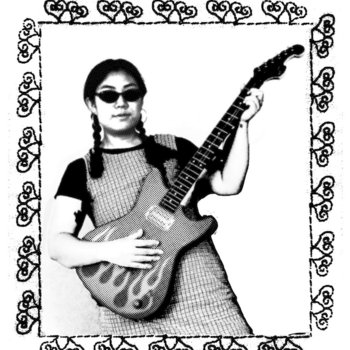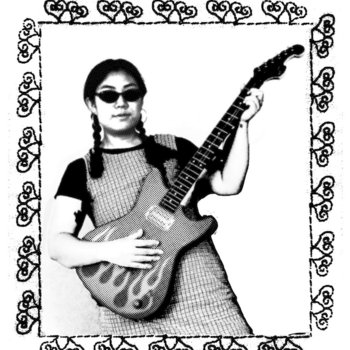 Boosegumps is the solo project of my friend Heeyoon, who also plays in a great band called Secret Mountain. I love that the songwriting is diverse, and that Heeyoon can sing about buying toys at the dollar store one minute, and break my heart the next. The production is diverse as well, and Heeyoon often does amazing covers and remixes of old songs. Also, they're going to sing on a song at Free Cake's release show in Philly.
Florist
Merch for this release:
Vinyl LP, Compact Disc (CD)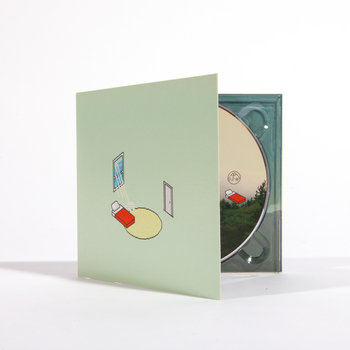 I met Emily from Florist over two years ago when we both lived in upstate New York. I'd searched the "Albany" tag on Bandcamp to see if there were any other folks doing music that was sort of similar to mine and came across her album art, which was a drawing of a little dog next to some flowers. Before I even listened to the music, I knew I'd love it (and I did!) I asked her to play a show I was setting up with Frankie Cosmos, and now we're old pals. Her work is incredible and constantly inspiring. I love that she produces everything herself, and I interviewed her about her gear and studio set-up for Rookie Magazine.
Hello Shark (Bennett plays bass and sings in this band live)
Emily from Florist showed me Hello Shark's songs a few years ago, and I immediately loved them. I met Linc, the songwriter, at a few shows, and was stoked when he asked me to play in his band last year after I moved to Philly. It was my first time playing bass, and also playing in a band other than my own. It's been a pleasure and privilege. He's taught me a lot about the power of simple and effective songwriting.
Fraternal Twin
Fraternal Twin is my friend Tom, who used to play in the band QUARTERBACKS. His songs are much more mellow than QBs, sort of folky and haunting. They're very beautiful and singular; I'm pretty sure Tom uses alternate tunings and other methods that seem incomprehensible to my pop sensibility.
Cave Babies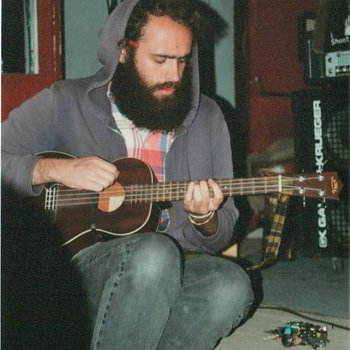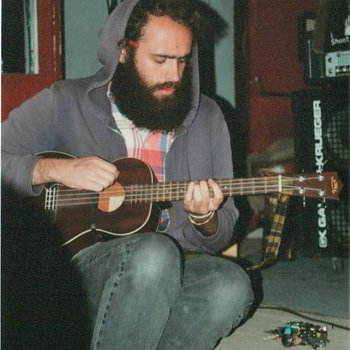 Cave Babies is just Josh Hoshwa Redman and his ukulele. What makes these songs special for me is Josh's humor. While he often sings about anxiety and depression, feelings I know too well, he does so with a light touch: "I've been living my life like a sidewalk/ people always stepping on me." He makes crummy situations seem smile-worthy, and it's something I don't often come across in songs. As well as being a songwriter, he is also a DIY champion, having been on the scene for over 10 years. Throughout most of that time, he's run a popular radio show in Santa Barbara called "5, 4, 3, 2… fun!!." He has folks do short live sessions on the show, and I stopped by last summer while on tour.
Photos by Allyssa Yohana