BEST SOUL
The Best Soul on Bandcamp: April 2022
By Natelegé Whaley · May 09, 2022
For the artists below, R&B is a channel for them to express freedom, imagination, queerness, and honesty. This month's selections include V.C.R's cinematic The Chronicles of a Caterpillar: The Egg and Mwanjé's earnest Seasons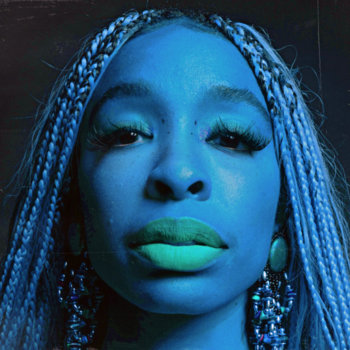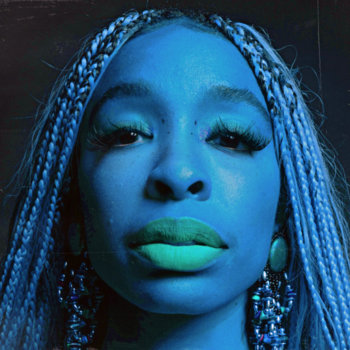 Merch for this release:
Cassette
"Reset," which opens V.C.R's debut, The Chronicles of a Caterpillar: The Egg, is a suspenseful skit documenting a near-death experience. For the remainder of this profoundly spiritual and cinematic album, the Memphis-raised and L.A.-based singer and violinist Veronica Camille Ratliff takes listeners on a journey through a perpetual state of mourning. The project's cosmic soul is rooted in gospel, stitched together with dreamy transitions featuring recordings of preachers, prayer, chopped 'n screwed spoken word, and voicemails from loved ones. There are healing violins and uplifting harmonies on "Minnie Lives," where the heartbreak feels tangible: "Minnie lives, I lived with you, my love/ How don't you know my name?" she sings. On the stirring "Mugwort," V.C.R. feels disconnected: "Why is it so hard for me to sing about the things that make me scream out loud?" On "Everyday (Sunshine)," she longs for a lover's return. Yet, there's an underlying eeriness that suggests this wait is in vain: "Tough girls never cry, we crumble in silence." With each truth told, she lightens the load of the listener witnessing it.
Mwanjé, a Melbourne-based singer raised in Botswana, approaches "Dandelions," the opening track of her debut EP Seasons, gracefully. The toe-tapping, jazzy offering critiques a modern music industry where artists compromise their originality for success. "Many people, empty faces/ Can't tell us apart," she sings. Mwanjé wants nothing to do with that, and is a zealot for individuality throughout the EP. On "Wildones," Mwanjé joins her sister Sampa The Great to offer an ode to carefree living, filled with intergalactic metaphors. And on "Call 2 The Diaspora," she speaks affirmations over a looping, deeply soulful choir singing "hallelujah." "This is not poetry/ This is a testimony/ A carefree, Black entity/ Release your inhibitions/ Complete your destiny," she says softly. Every song on the album is ever-evolving and uplifting.
On the EP Daydreaming, Londoner Alice Auer's warm, loungey neo-soul plays with the imagination and paints vivid details. The title track is a soft, delicate serenade where listeners are introduced to Auer's soothing, airy whistles as she imagines falling in love. "Turn Back Time," is a pulsating, uptempo track about meeting her parents before she was born and wondering about the conversations they might have. "Would you take me as I am if I turned back time?" she asks. On the chill bop "Ghost of Who," she tells the story of a woman missing their ex and sorting through heavy feelings of regret. "She's sad writing letters to herself in the past/ While her tears are smudging, there's no turning back." Overall, Auer inspires us to explore our inner worlds.
Toronto native R. Flex exists in a musical sweet spot marrying electronic music and R&B on their new EP Flex With Benefits, a "queertopia" on wax centering queer desire and inspired by early '00s UK garage and R&B-pop, with futuristic elements woven in. "Covering an underlying theme of innocence, it nods back to the artist's adolescence and their intimate fantasies," is how Flex puts it in the album notes. They deliver on this promise from the start on the bubbly "Too Late," where Flex beckons their lover closer with their smooth, smoky crooning. On the equally exuberant "Know Where," they have it bad whenever they part from their current crush, comparing the feeling of being in their presence to a sugar rush: "It's not fair, you're not here/ I feel you in the air/ It's so good like chocolate/ Oh, can you fill me everywhere?" they bellow. Flex comes crashing down from the high of love and lust on the turbulent "Inhale," singing "The way your demons stay on me/ Wish I could kill the lights/ End this hell." Though the sorrow is raw and fresh, they sing themselves through it.
Merch for this release:
Vinyl LP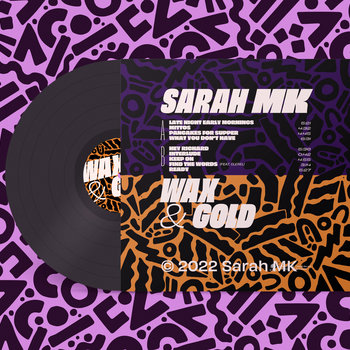 Canadian artist Sarah MK exudes soulful cool on her new album Wax & Gold, commanding each acoustic track with a rich, flowing aura. No matter the mood, Sarah embodies the emotion of each song thoroughly in songwriting that puts us on to her straightforward personality. On the oozing "Pancakes for Supper," she craves the syrupy goodness that needs to be fulfilled whenever, wherever by her lover: "I just want that 24-hour breakfast service all day long." She tries showering herself with inspiration on the slick retro "Keep On": "Stand your ground/ Don't give up/ Cause the best is yet to come." And on the moody jam "Goodbye," Sarah is fed up with dragging along a dead-end relationship: "Please stay the hell away from me," she sings softly but assertively.