BEST PUNK
The Best Punk on Bandcamp: April 2020
By Kerry Cardoza · April 28, 2020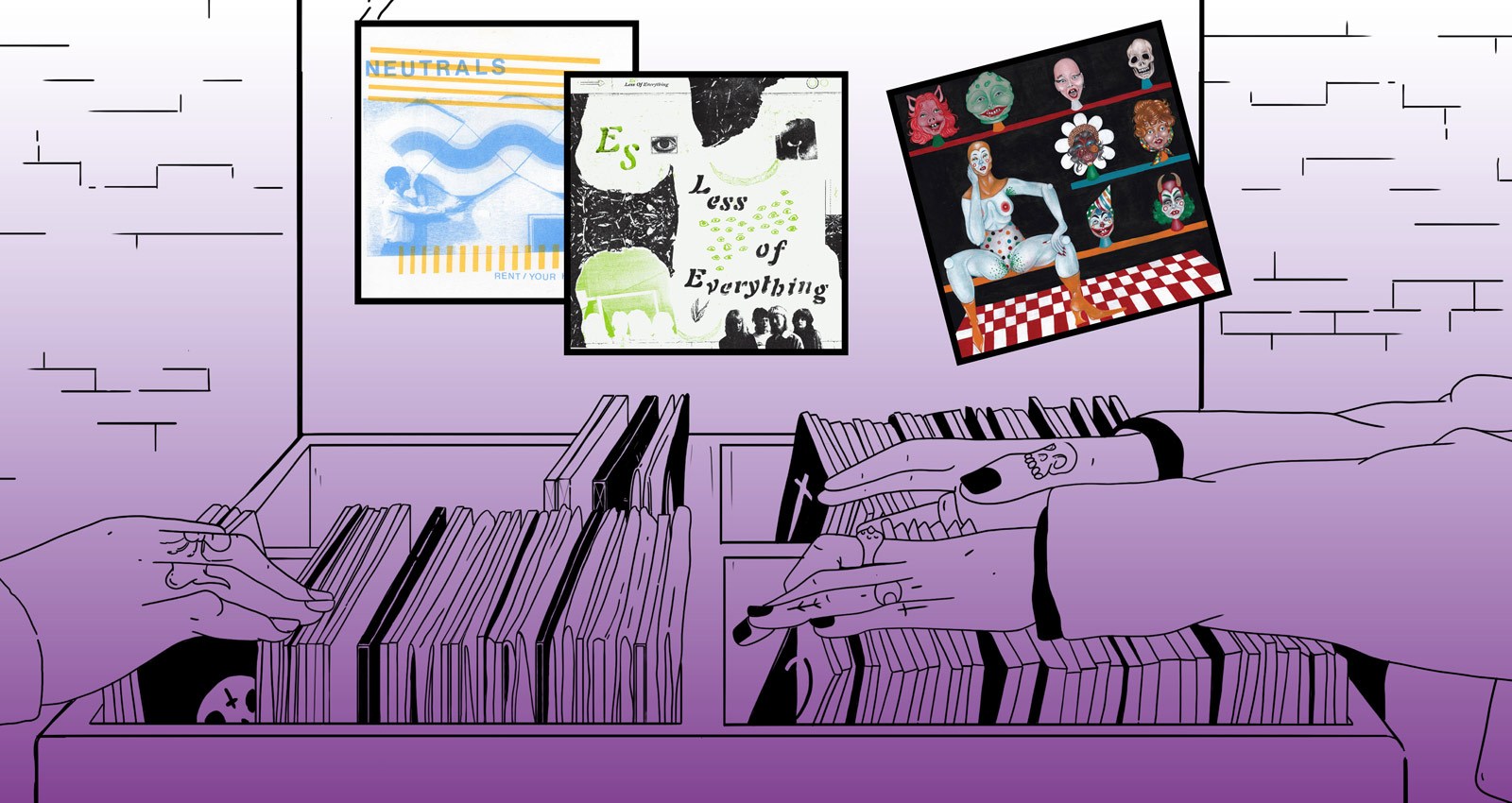 Bandcamp has long been a home for DIY punk and hardcore from around the world, touching all of the myriad subgenre styles and helping to translate the simple effectiveness of cut-and-paste to the digital age. For April's edition of the best punk releases on Bandcamp, Kerry Cardoza features the Australian punk powerhouses Cold Meat, the anarchic punk sound of L.A.'s P22, the brutal hardcore of New York City's Namatay Sa Ingay, and more!
Merch for this release:
Vinyl LP
Perth powerhouses Cold Meat have finally graced fans with a proper full-length, and it's a ripper from beginning to end. Singer Ashley Ramsey is as fired-up as ever, railing against climate change deniers, music industry scumbags, and deadbeat husbands. Fat guitar and bass riffs can add surf vibes, as on "Women's Work," or moody intensity, as on "Cinematic Fashion." Cold Meat know how to create drama in their songs, whether it's through abrupt timing changes, killer solos, or Ramsey's vocal gymnastics (see previous banger "Maternity Stomp.") "Crawlers" is a standout here, a perfect choice for closing out the record. A creepy, sprawling track, it speeds up only to slow down again multiple times, while Ramsey builds intensity, her voice straining and grating before breaking out into guttural howls and barks.
Merch for this release:
7" Vinyl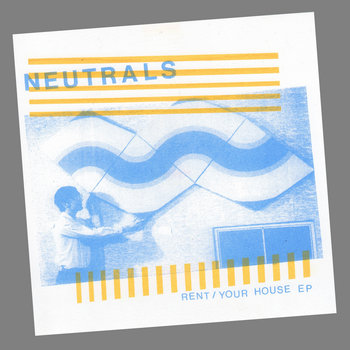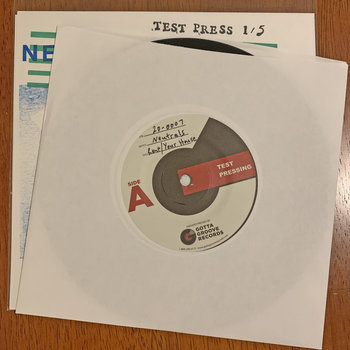 This neat EP from Oakland's Neutrals makes plain the connections between gentrification, neofascism, and Big Tech. The trio doesn't mince words: "Young creative, he's a born winner/ Everything is here for him to use/ If you don't like it, why don't you move," singer Allan McNaughton intones on "Y.C." It's a poetic indictment of the lack of affordable housing in the Bay Area, thanks in part to the influx of Silicon Valley's uber-rich. (A recent report noted the median monthly rent in San Francisco is $4,500, compared to the national average of $1,625.) The tracks here are spare and angular, as on the catchy "Your House," with an unpretentious garage rock feel—like a more lo-fi, indie pop Mission of Burma. Make sure to check out the killer cover of The Exploited's "Hitler's In the Charts Again," still horrifically relevant almost 40 years after its release.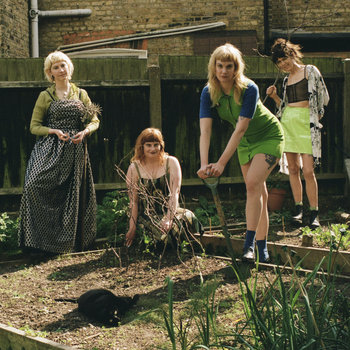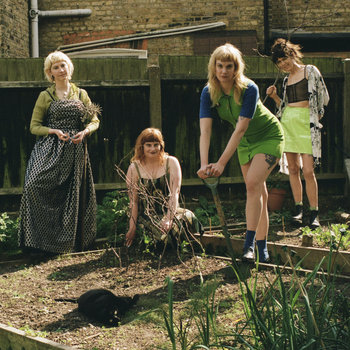 Merch for this release:
T-Shirt/Shirt, Vinyl LP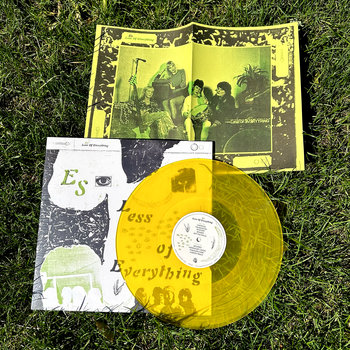 There's no way Es could have known what world they'd be releasing their debut record into when they titled it, but there does seem to be less of everything these days. Less time spent living, for sure. On these nine minimal synth-punk tracks, the quartet weaves a cold, dark vision, and they take their time doing so. Many songs burn slowly and eerily, like "Sesame." The synths remain largely in a high register, placed in stark opposition to the dominant bass lines, giving them an otherworldly feel. At some points, the vocal delivery of Maria Cecilia Tedemalm recalls that of Priests's Katie Alice Greer, particularly from that band's later work. Both have an uncanny ability to sing out of line with the melody, vacillating from something like spoken to shouted word, as on "Kingdom Come." The highlight of the album for me is the epic "Hidden Track," which seems to pay homage to The Germs as Tedemalm repeats "What I do in secret, it's secret, it's what I do in secret." It's a more than fitting end to this unwitting doomsday album, as Tedemalm sings (or advises?): "Stumble over the edge/ Listen for a sign."
Merch for this release:
Vinyl LP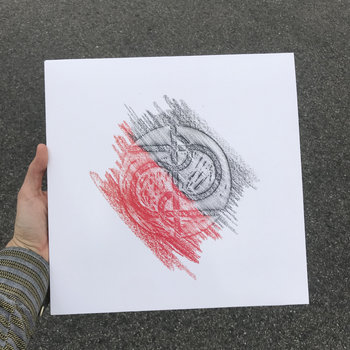 P22 isn't here to make rote punk you can nod your head to, though some songs on this album do dabble in melody. The L.A. four-piece mixes elements of free jazz, hardcore punk, spoken word, and jangly post-punk. The songs here are spare, each instrument stays in its lane. The album opens with subtle strings, eventually adding guitar and bass, until everything bursts into action about three minutes in. "The Manger" seems to lead with a triangle, though it could also be someone keeping a beat on a glass. "Human Snake, 1978" is the standout track, a more straightforwardly melodic number that pulses with a slinking bass line.
Sin Ritmo play bare bones pogo punk. In these seven songs, vocalist Luis Trejo rails against a morally depraved world and the dangers of falling in love. Each track is infectiously dancey, some driven by explosive gang vocals, as on "Pum Pum Mi Corazón." The band, featuring members of Cadenaxo, is based in Mexico and the U.S., but being separated by distance hasn't made them any less tight and cohesive. The highlight must be closing track "Ritmo Intolerante," a fast and short-lasting call to stand against power and against the system.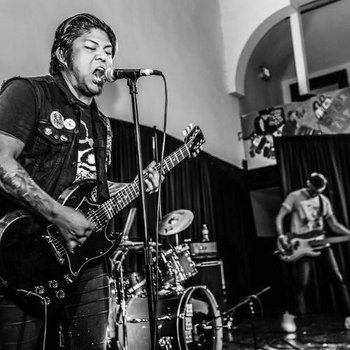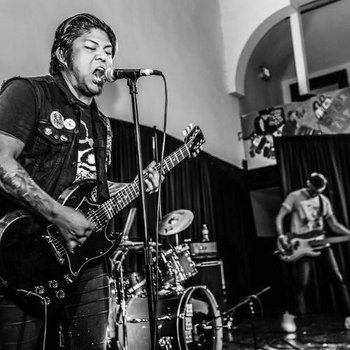 Namatay Sa Ingay play liberatory hardcore punk, sung with a sense of vengeance in Tagalog, which makes perfect sense; Ang Talim ng Galit translates to "The Sharpness of Anger." Based in New York City, this trio play fast and furiously. Aj Santos's vocals seem to strain on each syllable, often turning into gravelly growls, as on "Manhid." The brutal "T.N.T." tells the story of migrating to a new country in order to find greater opportunities, and the lack of shame the protagonist feels. "They put in our heads/ Going abroad is the only hope/ Why do we need to sacrifice/ On the government's failure," Santos screams. Though the title track may be the strongest here, with timeless lyrics drawn from the late Filipino poet and activist Emmanuel Lacaba: "We are tribeless and all tribes are ours/ We are homeless and all homes are ours/ We are nameless and all names are ours/ To the fascists we are the faceless enemy." In keeping with Namatay Sa Ingay's politics, all Bandcamp proceeds go to Kalipunan ng Damayang Mahihirap, an organization in the Philippines that represents and fights for the rights of the urban poor.
Clear Channel
Hell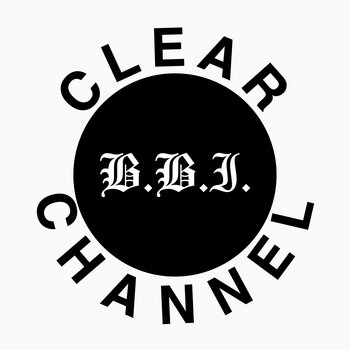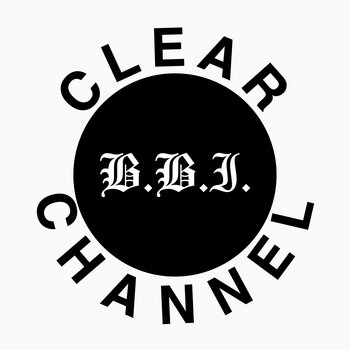 Merch for this release:
Vinyl LP
D.C. quartet Clear Channel came to have fun. Take the music video for the title track of their debut album, where band members and friends dress in cheesy Halloween costumes (devils, angels, skeletons, scary businessmen) and perform in front of a pixelated green screen of licking flames. That track seems prescient today, as millions of Americans have lost their jobs in recent weeks, thousands around the world have died, and the political will of those in power lies between apathy and idiocy. "We are living in a fantasy/ Reality… We are living in hell" hits a little too close to home. In the anti-ode to athletics, aptly titled "Sports," what seems like the whole band repeats "I don't believe in your competition" over an up-tempo drumbeat. Lead vocalist Awad brings frivolity and empowerment in equal parts, heard on tracks like "B.B.I.," which stands for "Bad Bitch International." The bouncy bass lines of Mary Regalado (of Gauche and Downtown Boys) dominate most tracks; her vocals sometimes sound like they're coming through a kid's echo-y toy microphone. One of the strongest tracks is the beautiful "Maria," which, in our current times, reads as a perfect sentiment to share with loved ones we can't be physically with. "All my love/ Send it through the atmosphere/ What else can you hear?," Awad sings, over a lo-fi, atmospheric background.