BEST PUNK
Terminal Consumption: The Best Punk on Bandcamp, May 2017
By Sam Lefebvre · May 25, 2017
In this installment of Terminal Consumption, our monthly reviews column focused on the margins of punk and hardcore, Sam Lefebvre considers Kaleidoscope's lovely hostility and Anxiety's anticipated sophomore release, plus new releases by Leisure World, Marbled Eye, and Mutual Jerk.
Kaleidoscope, Volume 3 CS/12" [D4MT Labs/Feel It]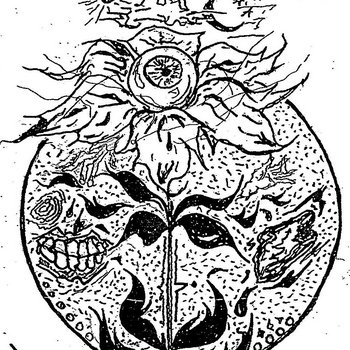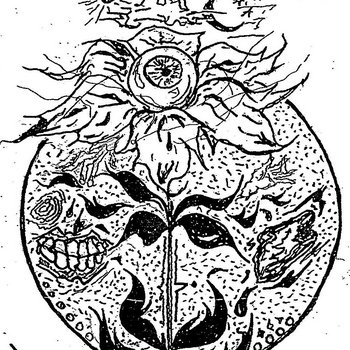 Shiva Addanki's visual art often involves streaks and splotches of black ink, textured by crude reproduction, which is a good accompaniment to the trippy-yet-mean music of his band, Kaleidoscope. The New York trio, which Addanki leads on guitar, is workmanlike and consistent: they've issued several lengthy cassettes since 2015, mostly self-released, all of which boast an unfussy, production line title-scheme (Volume One, Volume Two, Vol. 2 No. 2, etc.). The members play in other bands, live together in Brooklyn, and record in the basement. And the recordings, fraught with errant noise, reliably convey menace and amorphous sounds alike—call it "thuggish psych."
It's become common lately for punk and hardcore groups to invoke psychedelia, perhaps finding it a good catchall—now that "post-punk" elicits groans—for newfound formal ambition or electronic predilections. Volume 3 is full of generous echo and burbling flourishes, which sometimes overtake the riffs, evoking the 13th Floor Elevators' electric jug by way of Chrome's proto-industrial clank. But the group's strength is still careening wildness; what produces the most disorienting effect is that, like so much rousing punk, the players probe the threshold of order without splintering apart.
A frantic, galloping rhythm, on "Cloud Control" gives way to a trudging mid-tempo passage where the vocalist's halting, marble-mouthed syllables sound wonderfully hostile. And the fragments of forbidding guitar that begin "Simulator" typify Addanki's moodily dynamic playing, which veers between frenetic riffing and frosty melodies, not unlike the style of Link Wray. This tension—between an apparent wish to muddle the music, and players too feisty for that to really occur—charges the whole of Kaleidoscope's expanding catalogue.
Anxiety, Wild Life 7" 
[La Vida Es Un Mus]
Glasgow foursome Anxiety emerged on their eponymous 2016 debut with a clutch of raspy paeans to debasement, writhing around a spiritual bottom with fittingly dramatic songwriting. The wretched vocals go to extreme measures in order to articulate torment. Refreshingly, Anxiety's nervy, livewire bass playing carries melodies like a lead instrument amid the guitar's enveloping, cantankerous dissonance.
Wild Life, Anxiety's latest release, retains just the pulp of that staggering debut, yet inspires a similarly pleasing mix of fearful reverence. (Fans will notice the glaring similarity between the riff and rhythm of Anxiety's "Fool in the Shower" and Wild Life's well-titled "Lizard Lads Under a Rock.") The four songs, which run less than eight minutes, feel less festering and more feral. There's none of Anxiety's lightless, tension-building passages, just gusts of queasy guitar and spat-glass vocals—a potent concentrate of sickly bile.
Mutual Jerk, Mutual Jerk 7" [State Laughter]
On "He's Harmless," the opener to Mutual Jerk's eponymous debut, the Atlanta foursome's vocalist facetiously enumerates common defenses of abusers in music scenes: "You're honestly the first person I've ever known who's had a problem with him;" "His bands are so sick;" "He's always been the biggest sweetheart, just generally awkward;" and on it goes for four and a half minutes. The innocuous language belies the insidiousness of the tactics: gaslighting, callousness, equivocation. Atop a mid-tempo beat and needling guitar, Mutual Jerk present the lines without comment, save the evidently exhausted recitation of the vocalist—who palpably wishes each phrase wasn't so familiar.
Leisure World, Paper-Thin Community 7" [Deranged]
Leisure World's muscular riffs and yowling vocals often garner comparisons to Pissed Jeans, who are similarly interested in hardcore's heaving breakdowns and little of the style's speedy frivolities. But Leisure World, named for the retirement community that houses one band member's grandmother, offer more definition: gummy, elastic riffs underpinned by emphatic, well-recorded drums lend their four-song debut plenty of gumption. Leisure World are from Orange County, where bands aren't quick to specify their hometown. It's reportedly a boring place; asked about other local groups in one recent interview, Leisure World's Erik Varho said, "If anyone knows any other good bands in Orange County please tell me."
Marbled Eye, EP II 7" [Digital Regress/Melters]
The mannered post-punk of Oakland outfit Marbled Eye involves dueling guitar leads and crisp backbeats, plus a flat vocal effect that tilts toward melody with detectable reluctance. It's a familiar, conservative sound, but it accommodates Marbled Eye's thoughtful subtleties on EP II: the stuttering drum break on "Former," the vocal hook on "Dirt," and the fluid, melodic mélange of guitar interplay all throughout (though especially on "Objects"). EP II follows a quality, eponymous tape debut last year from the foursome, whose members also play in bands including Meat Market and Unity.
—Sam Lefebvre