BEST OF 2022
Bandcamp Daily Staffers Look Back on 2022
By Bandcamp Daily Staff · December 16, 2022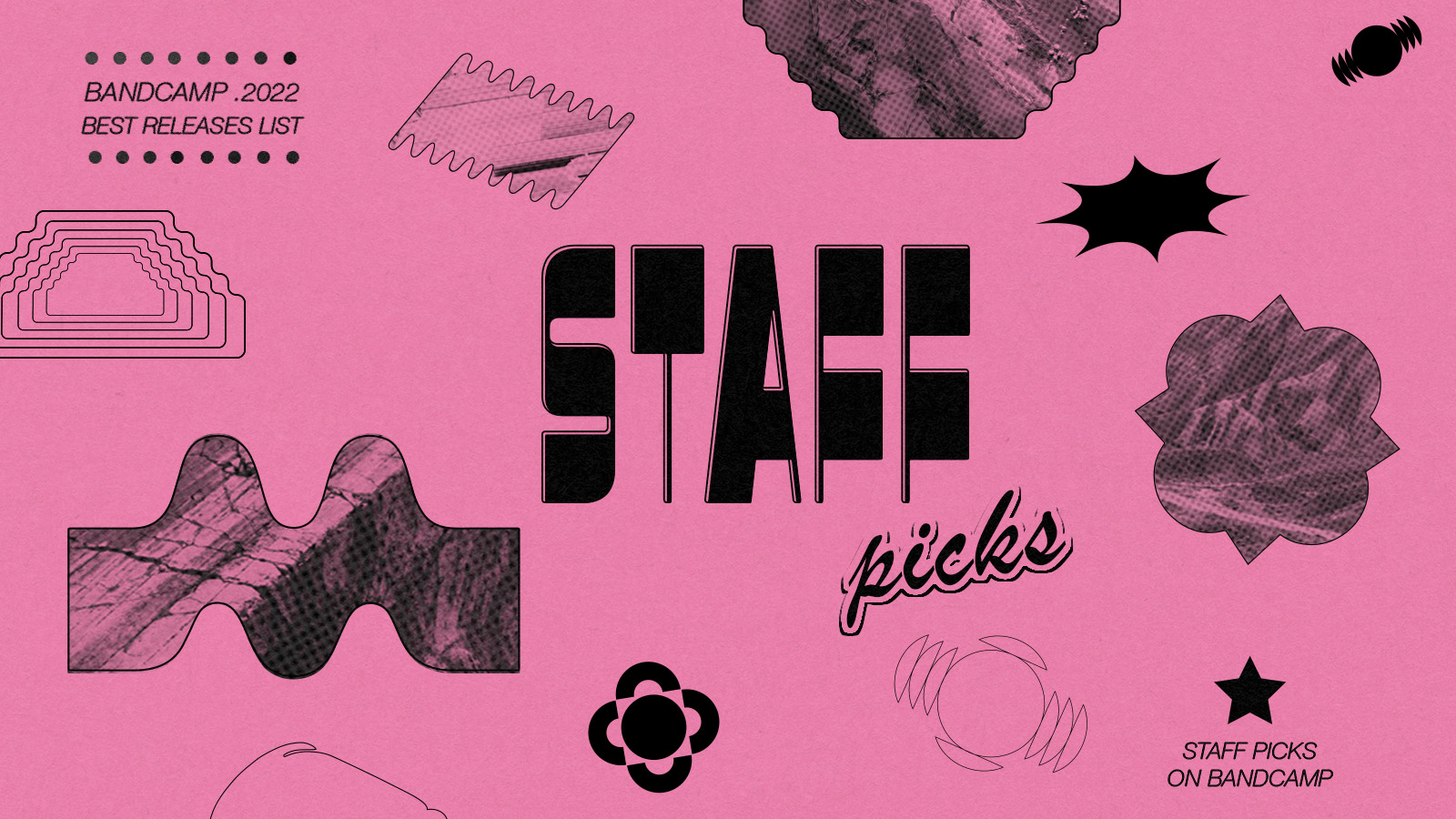 J. Edward Keyes, Editorial Director
I have this fantasy that I like to entertain when everything becomes too much for me to bear. In it, I manage to disappear without a trace, resurfacing many years later with a big beard and a new name, working behind the counter of a 7-Eleven in Nebraska. Occasionally, someone I know from my old life will come in to buy a Mountain Dew Fruit Quake or a pack of Big League Chew and they will kind of squint at me for a second in vague recognition before shaking it off and leaving with their items as I smile placidly back.
The big problem with this fantasy is that I love my wife, and I hate Nebraska. So I disappear into music instead.
This year, I found refuge in the mushroom-gobbling surrealism of Estee Nack & al.divino on Triple Black Diamonds 2, in the mystery of Nancy Mounir's Nozhet El Nofous and in the unbridled joy of Sudan Archives' masterful Natural Brown Prom Queen. I returned again and again to aging icons who remain committed to their vision—the underrated genius of Kurt Wagner's Lambchop, who have never made a bad record; the humbling tenderness and optimism of Terry Scott Taylor's This Beautiful Mystery; Dan Bejar's Destroyer, and the wit and brilliance of his koan-like lyrics; the God Horace Andy—still with us, still peerless in his haunting sound.
One of my greatest day-to-day struggles is trying to live in a way that reflects what is known—amongst people who know these kinds of things—as "the fruits of the Spirit": love, joy, peace, patience, kindness, generosity, faithfulness, gentleness, and self-control. At its best, music helps me get closer to that goal.
Life is a mystery, everyone must stand alone. We could trade places, get lifted in the staircases. Withdrawal in disgust is not the same as apathy. Jeanne Dielman is, indeed, better than Vertigo.
Here are my unranked faves of 2022.
Terry Scott Taylor, This Beautiful Mystery
Lambchop, The Bible
Samora Pinderhughes, Grief
Horace Andy, Universal Rocker
Quelle Chris, DEATHFAME
Lukah, Raw Extractions
Destroyer, Labyrinthitis
Sudan Archives, Natural Brown Prom Queen
Ronnie Martin, From The Womb Of The Morning, The Dew of Your Youth Will Be Yours
Estee Nack & al.divino, Triple Black Diamonds 2
Nancy Mounir, Nozhet El Nofous
Wu-Lu, Loggerhead
Billy Woods, Aethiopes and Church
RA Washington & Jah Nada, In Search of Our Father's Gardens
Lady Aicha & Pisko Crane's Original Fulu Miziki of Kinshasa, N'Djila Wa Mudujimu
SolarFive & Iceberg Theory, Memento Mori
700 Bliss, Nothing to Declare
AJ Suede, Hundred Year Darkness
Daddy's Boy, Great News!
Barbie Bertisch, Prelude
Anteloper, Pink Dolphins
Yaya Bey, Remember Your North Star
Zeal & Ardor, Zeal & Ardor
Crime of Passing, Crime of Passing
Sonja, Loud Arriver
The Mellos, MSCLN-DST, MJSXP, and Nita Slay
Mickey Diamond, And His Name Was Death and No Liquor Before 12
Backxwash, HIS HAPPINESS SHALL COME FIRST EVEN THOUGH WE ARE SUFFERING
Jes Skolnik, Senior Editor
Ah, 2022. The year we "returned to normal," except, you know, people are still getting sick and dying and inconvenient shit like that. (How many bands have had to cancel their tours? How many bands have had to cancel their tours this week?) 
Remember that brief feeling of "Hey, maybe we're looking out for one another, maybe a little bit" we had in 2020? 2022 would like to set that on fire completely. Just burn it to a crisp. We're all out for ourselves, baby. Railroad workers asking for dignity and safety protections at work? Nope! Die on the job, and take your coworkers with you while you're at it! You don't want to be murdered by cops? Well, we're turning cop murder duties over to the robots. You can't take a robot to court, after all. 
Billionaires ruin everything halfway decent. It's just what they do. 
Look, I know this is bleak. And I don't want to get into what it feels like to be disabled, trans, queer, Jewish, and born with the wrong reproductive system in the U.S. right now, because we're far from the only people who have it bad out there, and reducing things to state-constructed identity categories is only helpful in deep context with appropriate power analysis. But it was kind of a hard year to feel like I had a place anywhere, because this society is so hostile to my existence. It's exhausting and I'd rather be thinking about anything else, honestly. Too bad, so sad.
Despite that, I grew immensely this year in ways too personal to catalog here. I continue to be thankful for this team, on which I have been for nearly seven years at this point—the Daily is almost seven years old! The Daily is ready for second grade! This thing's ready to build a volcano at its elementary school science fair. It's asking questions about God and death and reality. 
We know we can always push ourselves, always do better, particularly in our international representation, which is something that really matters to me—being an English-speaking team located in the imperial core obviously limits us in many practical ways. But I continue to be proud of us, in our limited human capacities.
My band made our debut record this year, and then the great Drunken Sailor label put it out. That whipped.
Please take care of one another as much as you can. Keep loving, keep fighting. That is all I ask. Oh, and read Health Communism. 
Here are 25 records I loved that do not appear anywhere else in our Best Of coverage (genre columns and other editors' picks included). Gorgeous, ugly; furious, contemplative; soothing, challenging—it's all here, all brilliant.
Algara, Absortos en el tedio
AKAI SOLO, Spirit Roaming
Beast Nest, Sicko
Katie Dey, forever music
Dopplereffekt, Neurotelepathy
Fatamorgana, Ahora Aquí, Todavía No
Ben LaMar Gay, Certain Reveries
Generacion Suicida, Regeneracion
Girlfriends and Boyfriends, Fallacy of Fairness
Katarina Gryvul, Tysha
ICD10, Faith in Institutions
June Jones, Pop Music for Normal Women
La URSS, +
Liew Nieyomkarn, I Think of Another Time When You Heard It
Ndikho Xaba and the Natives, Ndikho Xaba and the Natives
Nicfit, Fuse
No Home, Young Professional
OOPS, DEMO
Smoke Point, Smoke Point
Ivy Sole, candid.
Spread Joy, II
Stress Positions, Walang Hiya
The Bedroom Witch, A Place of Hurt
The Mall, Time Vehicle Earth
The Sea Ensemble, Memoirs of a Dream
Mariana Timony, Senior Editor
I hate everything, but here are a few records I enjoyed this year.
Say Sue Me – The Last Thing Left
Dummy – Mono Retriever b/w Pepsi Vacuum
Flasher – Love Is Yours
Ride – 4 EPs (Reissue)
Mo Dotti – Guided Imagery
Horsegirl – Versions of Modern Performance
The Casual Dots – Sanguine Truth
Aldous Harding – Warm Chris
Heaven For Real – Energy Bar
La Luz – The Instrumentals
Ribbon Stage – Hit With The Most
Bert Jansch – Bert at the BBC
Winged Wheel – No Island
Diamond Sharp, Editor
This was mostly a good year. My debut book of poetry was released this month. Here's the music I listened to along the way.
Yaya Bey, Remember Your North Star
Nick Hakim, Cometa
Elucid, I Told Bessie
Wallice, 90s American Superstar
Contour, Onwards!
Orion Sun, Getaway
Luna Li, Duality
Zenizen, P.O.C (Proof of Concept)
Sudan Archives, Natural Brown Prom Queen
quinn, quinn
Dreamer Isioma, Goodnight Dreamer
They Hate Change, Finally, New
Denzel Curry, Melt My Eyez See Your Future
Zoe Camp, Editor
This is usually the part of the year when music writers break out the cultural analyses, geopolitical insights, and/or spicy personal anecdotes they've been cooking up over the past 12 months: a smorgasbord of discourse that's deeply enriching, but—like most all-you-can-eat feasts—inevitably overwhelming. Obviously, I consider myself neither a philosopher nor a historian; I'm just an immensely lucky music nerd who happens to work with some of the most talented cultural critics around. Moreover, I'm assuming y'all are just as eager as I am to put this strenuous year behind us. So without further ado, dear readers, here's what you came for: the 22 albums that made my '22′.
Black Midi, Hellfire
Wormrot, Hiss
Sigh, Shiki
The Callous Daoboys, Celebrity Therapist
Soul Glo, Diaspora Problems
Krallice, Crystalline Exhaustion
Ghost, IMPERA
Drug Church, Hygiene
Messa, Close
Black Country, New Road, Ants From Up There
Candy, Heaven Is Here
Asunojokei, Island
God Alone., ETC
Autonoesis, Moon of Foul Magics
The Garden, Horseshit on Route 66
Rolo Tomassi, Where Myth Becomes Memory
Birds in Row, Gris Klein
they are gutting a body of water, lucky styles
Chrome Ghost, House of Falling Ash
Mountaineer, Giving Up The Ghost
Cave In, Heavy Pendulum
Brutus, Unison Life

Emma Shore, Editorial Art Director
"We're All Entertaining Each Other While The World Burns."
Shy Girl, Nymph
Ivy Sole, candid.
Lukah, Raw Extractions
No Home, Young Professional
Nnamdï, Please Have A Seat
Nilüfer Yanya, Painless
Wu-Lu, Loggerhead
Mykki Blanco, Stay Close To Music
Various Artists, Touching Bass Presents: Soon Come
V.C.R, The Chronicles of a Caterpillar: The Egg
Quelle Chris, DEATHFAME
Josie Keefe, Editorial Designer
We've always been living at the end of days, that's why we need a good soundtrack.
Lalalar, Bi Cinnete Bakar
John Ondolo, Hypnotic Guitar of John Ondolo
Kikagaku Moyo, Kumoyo Island
Derya Yıldırım & Grup Şimşek, Dost 2
Bitchin Bajas, Bajascillators
Carla dal Forno, Come Around
Staples Jr. Singers, When Do We Get Paid
Hamid El Shaeri, The SLAM! Years (1983-1988)
Nathan Salsburg, Landwerk No. 3
Voice Actor, Sent From My Telephone
Stephanie Barclay, Editorial Assistant 
Music is, above all, experiential and I feel very grateful for the experiences I've gotten to have with music and just life in general this past year. From seeing Ebo Taylor live to soundtracking long drives upstate with a new love to falling in love with friends all over again, these albums colored the best of this year. 
Let the sun shine in.
Sons and Daughters of Lite, Let the Sun Shine In
Kibrom Birhane, Here and There
Khruangbin, Texas Moon
Various Artists, V4 Visions: Of Love & Androids