BEST OF 2021
The Best Contemporary Classical of 2021
By Peter Margasak · December 23, 2021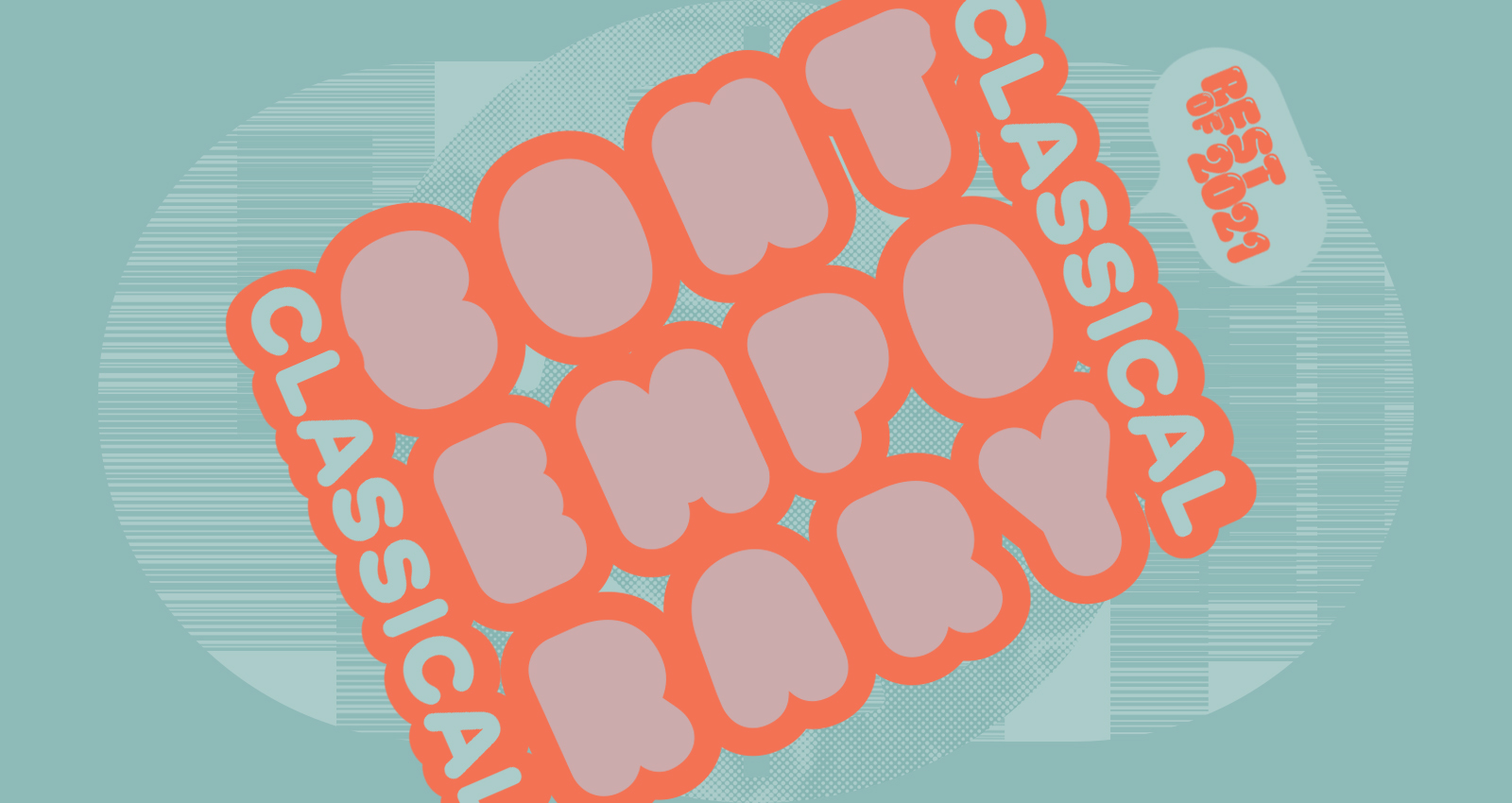 The taxonomy of contemporary classical music—new music, contemporary music, whatever you want to call it—is a thorny issue. That ambiguity makes rating the year's best offerings difficult, if not impossible, but embracing the big picture of musical diversity that these 20 albums have delivered all year long has provided excitement, asked questions, and explored disparate sorts of beauty. These are the best contemporary classical albums of 2021 in alphabetical order.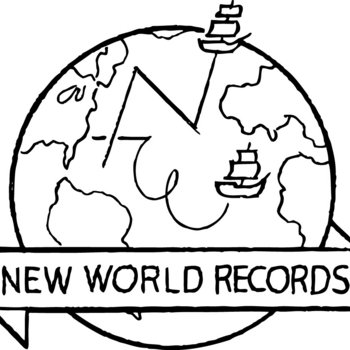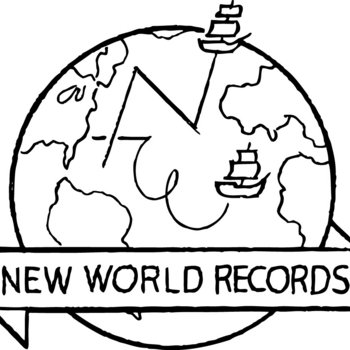 Merch for this release:
Compact Disc (CD)
Christian Wolff's "String Quartet Exercises out of Songs," composed between 1974-76, is a series of three movements built around protest songs, including tunes from Communist China, a Hans Eisler revolutionary anthem, and Florence Reece's "Which Side Are You On?" from the American labor movement. Each segment departs from the opening theme in different ways, but in all of them the music veers to and from abstraction, and the ensemble members push and pull in a way that summons the ideas in the second string quartet of Charles Ives, in which an argument and resolution among the players is captured in sound.
Apart from the five-minute "For E.C." in 2003, It would be another three decades before Wolff wrote for the chamber format again, when Montréal's Quatuor Bozzini commissioned a piece in 2008. He developed that composition from ideas for a violin-cello duo he'd already been toying with—it partly explains the witty, recalcitrant title, "For 2 violinists, violist, and cellist." The work explores different instrumental combinations and techniques, with plenty of decisions made by the musicians—a specialty of Bozzini, and a key reason why they developed a strong connection to Wolff, who also wrote his "Out of Kilter" for them in 2019. That nine-movement work is more compact but no less diverse in its components than the previous commission, leapfrogging between a chipper scherzo, minimalism, folk-based sources, microtonality, and beyond.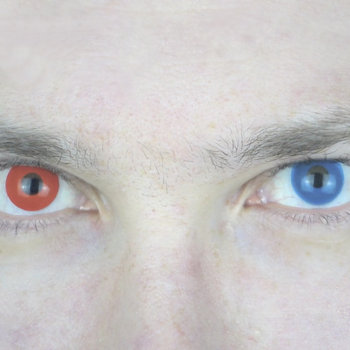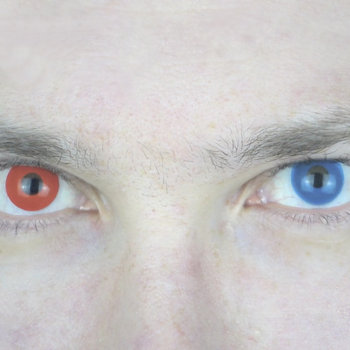 Merch for this release:
Compact Disc (CD)
This gorgeous collection of works by British composer Leo Chadburn, made over the last decade or so, are all about different sorts of found texts, appropriating words for their musicality and sound. Most of the six pieces are performed by the ubiquitous London ensemble Apartment House, but the ravishing opening piece "The Indistinguishables" features the luminescent sounds of Quatuor Bozzini playing dazzling swells, melodic fragments, and resonant pizzicato beneath the exquisite articulation of actor Gemma Saunders, who recites the common names of 70 types of moths from the UK.
A similar vibe is transmitted on "Freezywater," where the composer speaks the names of 49 disparate "topographical features and places" along the M25 motorway—such as "the clump," "Old Slade," and "Devil's Den"—over Apartment House's cycling string sighs, entrancing reed organ tones, and piano accents, which occasionally and beautifully coalesce into elegant, sweeping ensemble passages. Chadburn and Kate Halsall create a fragile tunefulness over the latter's spare piano punctuations on "Vapour Descriptors," bringing a poetic loveliness to a series of words commonly deployed by the fragrance industry. Throughout the entire collection the composer discovers a strange beauty by isolating the language and placing it in a strange location, interacting with simple melodic phrases to produce new, often alien meaning.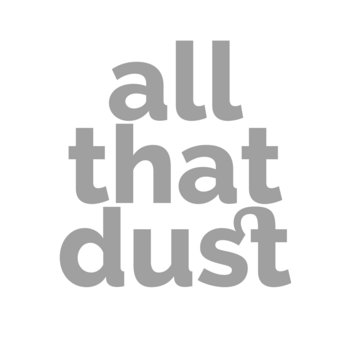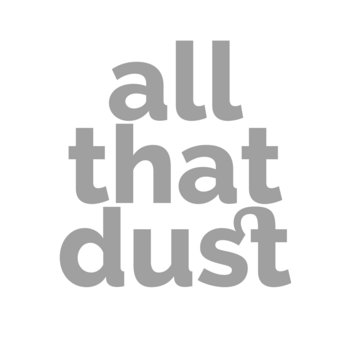 Merch for this release:
Compact Disc (CD)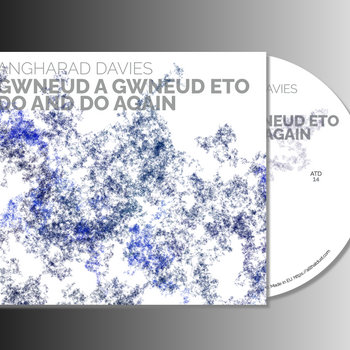 After spending much of the pandemic not playing her instrument and experimenting with video projects, the astonishing Welsh violinist Angharad Davies returns to sound with bracing clarity. She doesn't use a conventional score for this extended, intense piece, but she did work through a set of predetermined procedures and techniques she designed, while also preparing her instrument with a nail file inserted between the strings. Heard casually, the 52-minute piece might feel like a hyper-specific study of extended techniques, but if the listener surrenders to the music and devotes the full duration to careful engagement it packs a wallop.
Davies recorded a version of the piece, altering the angle, speed, and pressure of the bow as detailed in her notes, while allowing little accidental sounds to creep in. She then made another pass on top while listening to the original take on headphones, adding sounds where her energy waned or enhancing certain effects. There's a steady thrum that sounds like more like a mechanical device whirring away, with elusive scrapes and friction effects repeating and splintering, and once I've lost myself in the piece, what she's playing seems to magnify its depth into an otherworldly sonic environment largely disconnected from any conventional violin utterance.
Merch for this release:
Compact Disc (CD)
The apparent simplicity of means deployed by Swiss composer Jürg Frey—arguably the best-known figure of the Wandelweiser Collective—illustrates how few contemporary composers possess equal mastery of form and contrast. The work was commissioned by the Louth Contemporary Music Society for a 2017 performance, and this new reading is astonishing, building from a series of often frictive, short lines that patiently begin to form a gorgeous melodic sequence over time while only heightening the weft and density of his translucent timbre.
The breathy haze that filters through the striated strings (Garth Knox on viola, Nathalie Chabot on violin, and Agnès Vesterman on cello), mostly rubbed percussion (achieved by Sylvain Lemêtre) and crystalline clarinet (played by the great Carol Robinson) feels weightless and profound, and the way soprano Hélène Fauchère articulates Frey's quotation-heavy text and teases out phantom melodic accents from within the meticulous linearity, sends the music into the sublime. The way her voice fits the unfolding score seems to expand similarly to the vocal exercises on Frey's superb piece from 2013, 24 Wörter. The composer's genius at context and scale, forever reconsidering what a particular sound or phrase means within one bar versus another, injects his limited material with incredible depth and complexity.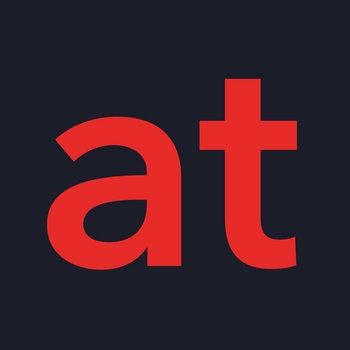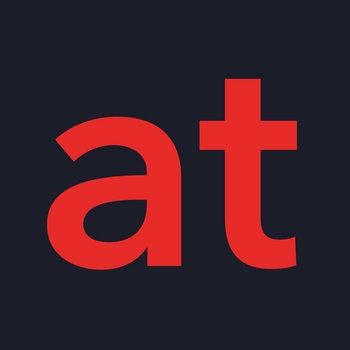 Merch for this release:
Compact Disc (CD)
I first heard the work of British composer Oliver Leith on the superb Aisha Orazbayeva lockdown album Music for Violin Alone last year, and since then he's crossed my path several times in wildly divergent ways, whether making incredibly warm-sounding, detail-rich electronic music or beguiling acoustic compositions that flirt with pop ideas in alluring fashion. This new collection, with work from the last five years, is the second performed by his close collaborators Explore Ensemble, and it falls into the latter camp.
Each piece says something about his unconventional sensibilities. The title composition, for example, is an imaginary soundtrack for a wealthy patron anticipating an eventual film about him, and it embraces a tuneful banality injected with unexpected field recordings of poured liquid, dancing ice cubes, barely audible low-end chants, a running shower, and ringing doorbells over endearingly indelible multipartite sections articulated by a chamber sextet. "Balloon," previously released in an equally absorbing all-synthetic version, was named for the titular object's shape-shifting elusiveness, while Explore Ensemble's violinist David López Ibáñez offers his own take on the ancient-sounding "Blurry Wake Song," the ravishing solo piece Orazbayeva recorded. "664 love songs guaranteed to cure heartache" extracts lyrics from 664 number one pop songs between 1952 and 1990—unsung but presented on video—to underline their formulaic adaptability. But even with only sound at his disposal, the tender vulnerability of his writing proves gripping and, as with most of these five works, unlike anything else I've heard this year.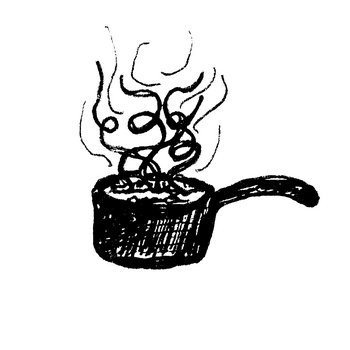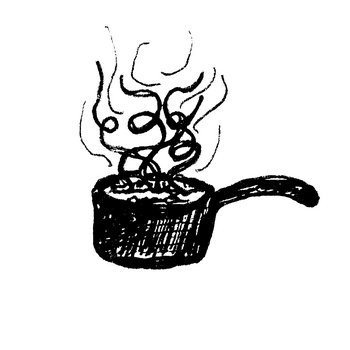 Merch for this release:
Vinyl LP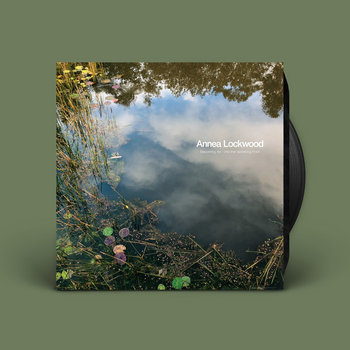 These two recent compositions by 82-year-old Annea Lockwood not only offer a powerful testimonial to her undiminished creativity, openness, and curiosity, but they hit as hard and linger with as much resonance as anything she's created. Lockwood created both pieces in close collaboration with the performers, learning about their interests and strengths early in the process and tailoring each work for each performer.
"Becoming Air" is a composition for trumpeter Nate Wooley that not only harnesses some of his extended techniques, such as creating a fascinating range of fragile, highly vulnerable sounds by simply manipulating his horn's disengaged mouthpiece or producing strident bursts of noise through muscular overblowing. That virtuosity is celebrated for its failure as much as its perfection, a long-time interest for the trumpeter, who, along with Lockwood, recognizes the ineffable humanity within such endeavors. It's an intensely physical work where Wooley's exertion and struggle is palpable, as both performer and composer pull back the curtain on the artist's attempt to control something as organic as sound. "Into the Vanishing Point" is a collaboration with the versatile New York piano/percussion quartet Yarn/Wire that stems from a shared concern for, specifically, collapsing insect populations, and, more generally, environmental degradation, and while the actual music eschews mimicry of insect sounds, it beautifully sketches a kind of slippery ecosystem, evoking the immersive environment of untrammeled nature.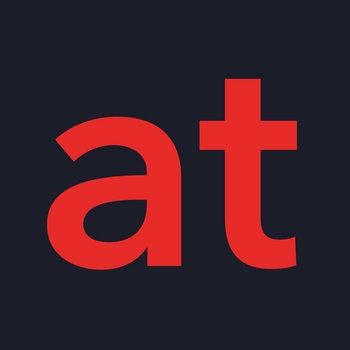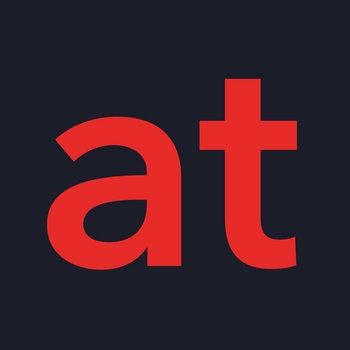 Merch for this release:
Compact Disc (CD)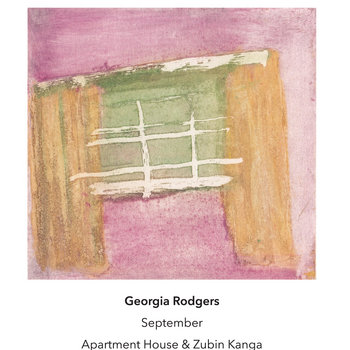 In a recent interview published by her label Another Timbre Records, British composer Georgia Rodgers said, "When I'm making a piece for acoustic instruments or electronics (or both together), I'm always trying to break things down into their component parts to find out how they work. This seems to lead me to use reduced palettes of material, such as simple harmonies, subtle differences in texture or tone." That result spills out all over this astonishing new album, performed by members of Apartment House. The gorgeous opening piece "Base" features simple patterns voiced by a bowed double bass and bassoon that deploy tiny shifts with each cycle, such as one subtracted note or a different pitch. In the composer's hands the music is meditative, pensive, and tenderly lyric, yet her materials couldn't be any more elemental.
Two compositions named for particular UK buildings are derived in part from the resonant frequencies within those edifices, but those parameters don't affect the luxurious lines and thick harmonies in each piece. A string quartet in three movements juggles rich, long tones and gnarled scratch tones, while "Ringinglow," which is also an actual place, is a dance between the perfect harmonics of sine tones and the less precise ones of a piano colliding and generating fascinating effects. Plenty of composers use their work as research, but not everyone makes those experiments so eminently listenable as Rodgers.
Merch for this release:
Compact Disc (CD)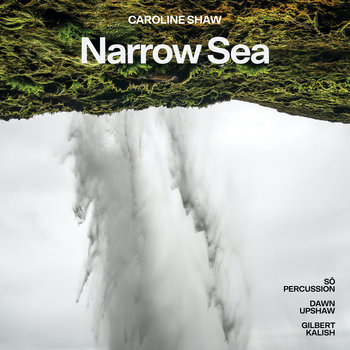 Last year I heard a stunningly beautiful adaptation of American folk music by Caroline Shaw that was part of the radio program Dolly Parton's America. The tunes were from the Sacred Harp—a traditional hymnal of shape-note songs—that she remade with a delicate chamber ensemble. There was something folksy yet sophisticated in her unpolished delivery. On first listen I was a little put off by the operatic precision of Dawn Upshaw, the star who interprets these other Shaw adaptations alongside Sō Percussion and pianist Gil Kalish on "Narrow Sea," but I was soon won over by her honeyed radiance and nuance. She brings a gorgeous fluidity and texture to Shaw's lilting, plaintive melodies, which set a series of Sacred Harp lyrics concerned with different sorts of leave-taking—emigration in search of a better life, ascent from an earthly existence to a heavenly one—that feel more resonant than ever.
The members of Sō Percussion provide endless variety, from shimmering and pulsating tuned percussion, squelchy electronics, liquid gurgles, inside-the-piano machinations, and even wordless vocal harmony, deploying anything from techno-inspired patterns to hydroplaning textures in forging arrangements where you wouldn't expect any sort of percussion. The five-part suite is one of the most beautiful things I've heard all year. The album also includes "Taxidermy," an elegant piece solely featuring Sō Percussion.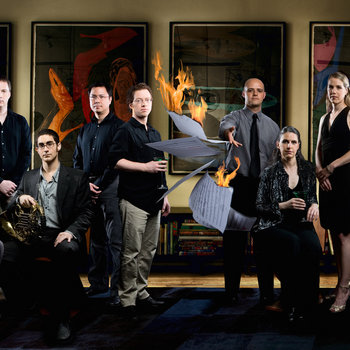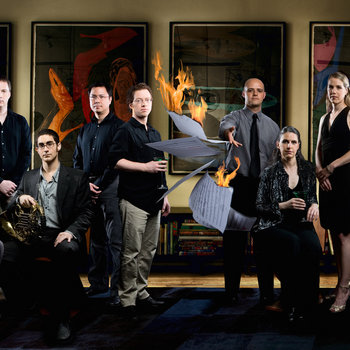 Merch for this release:
Compact Disc (CD)
Alarm Will Sound has earned a reputation for performing music well outside the confines of conventional new music, whether adapting pieces by Aphex Twin or collaborating with Eartheater. On this staggering new double album the ensemble engages with the indefinable music of Tyshawn Sorey, a musician-composer whose diverse output privileges stylistic mobility. The epic "For George Lewis" takes inspiration from its titular subject, an important mentor for Sorey in countless ways.
In the words of the composer, the fully notated work "contains a great deal of density and instrumental activity that is juxtaposed with accumulating gestures, layering processes, and painstaking attention given to time, while remaining still and static in its character." Indeed, throughout its 53 minutes, the piece seems to levitate in place. Digging beneath its deceptively placid surface is a surfeit of detail, melodic fragments, and shifting harmony, as smaller internal instrumental groupings interact, mutate, and resolve within a larger microcosm that's riddled with tension. Two versions of "Autoschediasms," which is less a composition than a method of conduction a la Lawrence D. "Butch" Morris, reveal not only the spontaneous fluidity of Sorey's musicality, but his ability to extract stunning fits of improvisation from musicians not devoted to the practice. Astonishingly, the second version was recorded virtually during the lockdown, with the composer using his various cueing devices and instructions over video. A subtle masterpiece.
Merch for this release:
Compact Disc (CD)
The resurrection of Julius Eastman's ravishing music has been building up a steady head-of-steam for various reasons since the posthumous release of Unjust Malaise in 2005. Perhaps no single piece has caught on like his 1974 work Femenine. In 2016 the Frozen Reeds imprint released a vintage recording of the work, and by my count this is at least the third recording of it since then, following endeavors by Apartment House in 2019 and ensemble 0 & Aum Grand Ensemble earlier this year. This dazzling new take by L.A.'s Wild Up suggests that the piece has the potential to follow in the path of Terry Riley's In C as a similar kind of adaptable, ecstatic, joy-producing epic.
Between the incessant chime of jingle bells and an endlessly cycling 13-beat, two-pitch vibraphone pattern, the work feels simple, but the vigorously ascending and descending energy, stretches of improvisation, and transformative release impart a special, life-affirming quality. Wild Up balances a laser-sharp focus in its application of energy and pulse with mood-shifting solos by various members of the group, which infuses the performance with a journey-like mood. Pianist Richard Valitutto injects a pastoral air while baritone saxophonist Marta Tiesenga adds fibrous muscle. The performance breathes in a unique way—expanding and compressing, tightening and slackening—in a way that both casts the indelible, cycling phrases with perpetually shifting perspective and builds a transportive, overarching bliss. This release is the first in an Eastman series from Wild Up—an auspicious beginning, for sure.