BEST OF 2021
Best of 2021: Bodies in Motion
By Bandcamp Daily Staff · December 13, 2021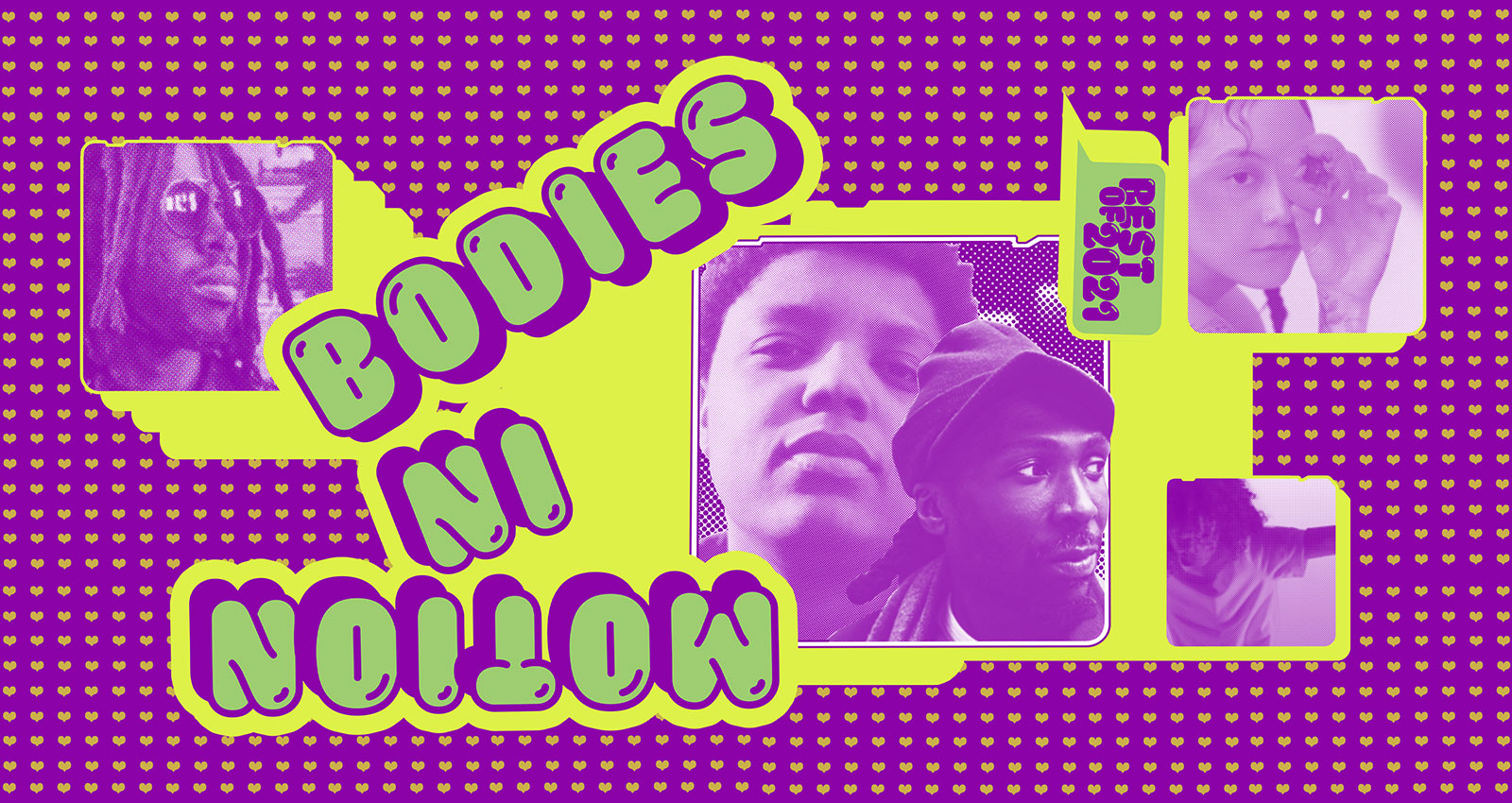 It would be easy to fill this space with cliches about isolation and the way COVID-19 has changed so much about how many of us relate to movement, both by ourselves and with others. Much ink has been spilled over what a dancefloor could or should look or feel like these days. Instead of vamping on those points, I will instead say that the releases here tap into physicality in all of its forms—from the mosh pit to the club to the human body alone, in all of its strengths and weaknesses. May they be reminders of all of the ways in which we can live in our bodies, and of the infinite variations of those bodies, and of the capacity of music to stir us in a direct and visceral way.
—Jes Skolnik
Beginning in 2020, Bandcamp Daily stopped ranking our year-end list. Read about why.
Read Best of 2021: Psychedelic Visions
Read Best of 2021: Working Together
Read Best of 2021: Future History
Read Best of 2021: The Year's Essential Releases

---
Altın Gün
Yol
Merch for this release:
Compact Disc (CD), Vinyl LP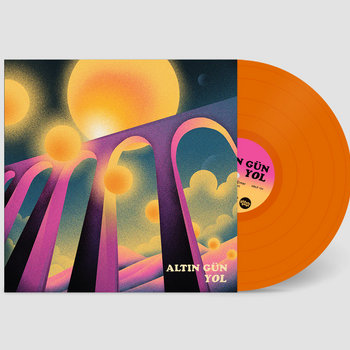 Altın Gün's 2018 debut album On, with its looping psychedelic guitars and clattering drums, was a dead ringer for the records the group idolized—namely, the 1976 breakout LP from legendary Turkish musician Selda, as well as similar albums by Barış Manço and Cem Karaca. For its follow-up, the group have shuffled the deck. In place of barbed-wire guitar lines are the kind of bubbly synths that used to color mid-'80s new wave records, while strutting drum patterns on tracks like "Yüce Dağ Başında" summon images of white polyester pants and butterfly collars in Studio 54. The end goal of Yol is the same as its predecessor—to get you moving—but here, Altın Gün move past joyously revving the past and into recontextualizing classic Anatolian psych sounds in sleeker, synth-forward settings. The result is kaleidoscopic songs that dazzle with color.
—J. Edward Keyes
Read our interview with Altın Gün.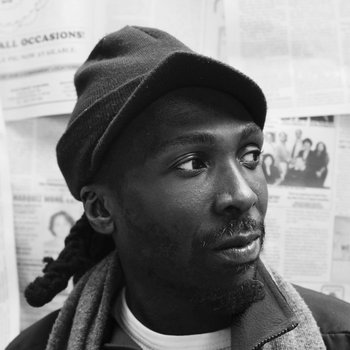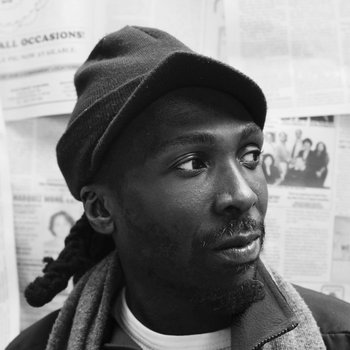 Merch for this release:
2 x Vinyl LP
With Established!, RP Boo proves once again why he remains one of the most vital artists in footwork. The album, a blast of chopped vocals, gleaming synths, skittering snares, and tumbling kicks, sounds like classic Boo—and therefore unlike anything else. But there are a few contrasting wrinkles to his finely crafted style this time 'round. The party-starting mood is cranked up just a notch, as on "Finally Here," while the Chicago artist ventures into slower, more introspective territory with "All My Life" and "Beauty Speak of Sounds," two house tributes with a heavy emotional weight that feel especially devastating in the wake of legendary Chicago producer Paul Johnson's death earlier this year. In this way, Established! doesn't just carry the torch for footwork, but for Chicago's wider musical legacy, as filtered through Boo's own irrepressible, idiosyncratic personality.
—Lewis Gordon
Read RP Boo, Jana Rush, and DJ Manny's "Guide to Footwork."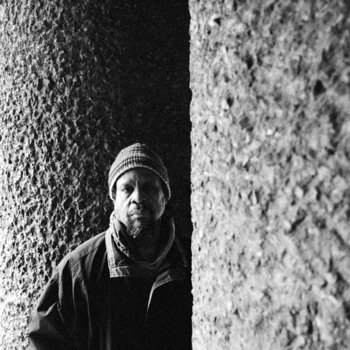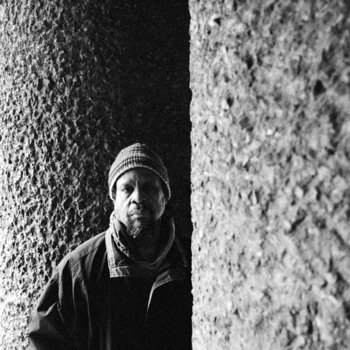 Merch for this release:
Vinyl LP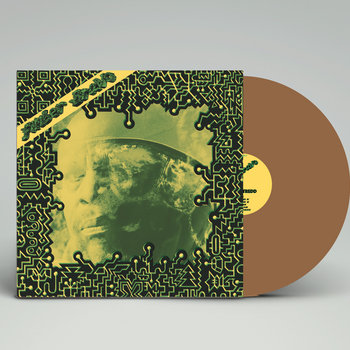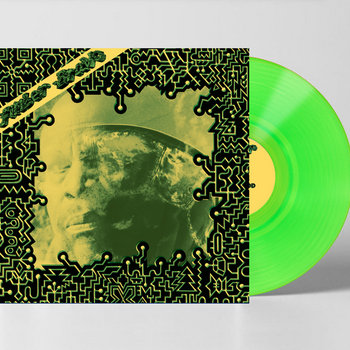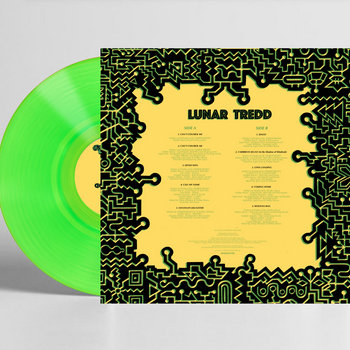 There's a scene in Mangrove (2020), the first part of the Small Axe anthology by British director Steve McQueen, where a Caribbean street party in 1970s West London explodes into a blur of movement, bodies whirling to the unyielding yet feather-light rhythms of steelpan drums. In the context of the film—the infamous 1971 trial of the "Mangrove Nine"—it's a rare, radical moment of Black joy. Steelpan pioneer Fimber Bravo arrived in London from Trinidad in 1971, the same year as the events documented in Mangrove, embarking on a remarkable 50-year career. His music reverberates with the same radical joy that McQueen (the son of Grenadian and Trinidadian immigrants) captures on screen. Steelpan music, although supple and apparently gentle, is much more than that, they both suggest. Within that dappled, shifting sound is a lightness of movement that can't be suppressed and can't be contained. "They can't control we" / "You can't control me," as Bravo sings.
—Philip Bloomfield
Merch for this release:
Compact Disc (CD), 2 x Vinyl LP, Vinyl LP
The first half of Common's series A Beautiful Revolution arrived four days before the 2020 U.S. presidential election. The second half arrives during an "off-elections" year, though its messages are just as potent. The only artist who can reference Nas, Kendrick Lamar, and Maya Angelou in the same verse, Common also offers reminders that change can start small: during the pandemic, a period of forced self-reflection ("A Beautiful Chicago Kid) or with the realization that he had both "[his] father's good or bad tendencies" ("Poetry"). "Star of the Gang" extends similar grace to "kids who yell 'Black lives' but ain't know where Blacks live," because "if you for it, you ain't against." Set to production ranging from pulsating Afrobeat ("When We Move") to billowing blues guitar ("Saving Grace"), the album's message is clear: Incremental progress is worth a lot more than we give it credit for. The art of revolution is possible; it just begins with the first step, and is grounded in a commitment to moving forward.
—Christina Lee
Read our Album of the Day on A Beautiful Revolution, Pt. 2
드링킹소년소녀합창단 Drinking Boys and Girls Choir
Marriage License
Merch for this release:
Vinyl LP, Compact Disc (CD), T-Shirt/Apparel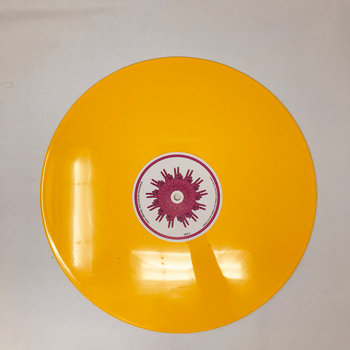 Marriage License is an album for bouncing or for kicking, for shaking up soda cans and letting the sugary contents shoot out the top. Korean punk band Drinking Boys and Girls Choir approach their music like it's a wind-up toy, cranking up the energy with slamming guitars and whirring drums, unperturbed vocals sharing perturbing truths: South Korea's cybersex trafficking scandal, the violent crush of unquestioned tradition, and the ominous declaration that "There is no spring." The driving "I Am Not a Machine" and "Hit the Corner" bristle against the idea of falling in line—the band screaming their questions to the oppressive people in power. They're pissed, but their anger isn't the problem—the patriarchy is.
—Ashley Bardhan
Read our interview with 드링킹소년소녀합창단 Drinking Boys and Girls Choir.
Merch for this release:
Vinyl LP, Compact Disc (CD)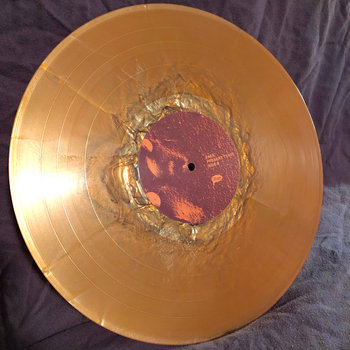 With Present Tense, the trio FACS throw a wrench into the typical patterns of post-punk, and each song is a new voyage just waiting to be derailed. From the hooky, head-spinning chorus that arrives out of nowhere on "Strawberry Cough" to the inclusion of tape loops throughout, FACS subvert the brooding, knotty punk that we know and love. Without the lurching drumming of Noah Leger and the hollered vocals of Brian Case, these oblique details wouldn't work. This kinetic combo positions Present Tense as the aural equivalent of an unscratchable itch—the only response is to bob your head, tap your foot, and shake the jitters away.
—Ethan Gordon
Read our Album of the Day on Present Tense.
Merch for this release:
Vinyl LP, Compact Disc (CD)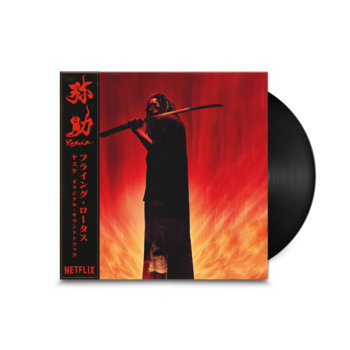 Flying Lotus began his career soundtracking bumpers for Adult Swim, so it was only natural that the producer would be tapped to score Netflix's Yasuke (2021-), an anime set in feudal Japan about a Black samurai tasked with protecting a young girl from a legion of personal and societal demons. Lotus's hybrid of neck-snapping hip-hop, frenetic electronic music, spiritual jazz-fusion, and deconstructed funk have always signaled external battle and internal conflict, and his Yasuke compositions ramp up those dynamics even further; the cavernous drums thump in anticipation of coming battles ("War at the Door") and the percussion often sounds like warriors sparring with wooden swords ("Your Lord"). Suites of ominous, John Carpenteresque synths ("Pain and Blood") co-exist with floor-quaking trap ("Kurosaka Strikes!"), somber jazz-fusion odysseys ("Crust"), and ethereal boom-bap ("Survivors"). Yasuke inspires movement and meditation, simultaneously pushing the listener ever-forward and reflecting on each step.
—Max Bell
Read our "Six Essential Flying Lotus Albums on Bandcamp."
Merch for this release:
Vinyl LP, Compact Disc (CD)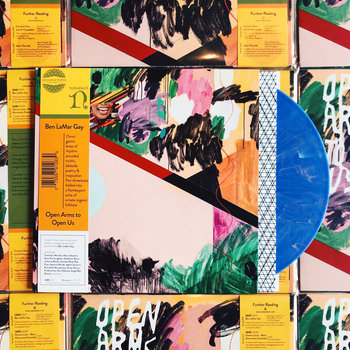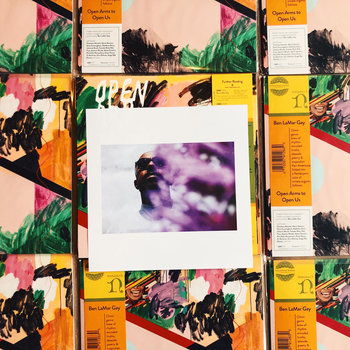 "I'd like my babies to always trust in rhythm," writes composer and cornet player Ben LaMar Gay in the essay that accompanies Open Arms To Open Us, "It's the one trueness that travels great distances and constantly survives the crumbling of facades." Rhythm is also the one constant in his "Americana music," a fluid tapestry of sound, influences, vibes, and moods that spreads outwards from his twin homes of Chicago and Brazil. The movement in Gay's music is both physical and metaphysical. It exists inside these tracks—as multiple polyglot rhythms—but also between them, a dynamic that joins woozy, swirling funk with raw, foot-stamped a cappella and glistening, astral spirituals.
—Philip Bloomfield
Read our Album of the Day on Open Arms to Open Us.
Guedra Guedra كدرة كدرة
Vexillology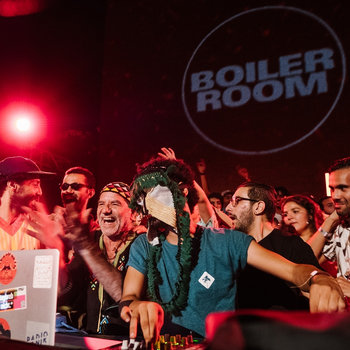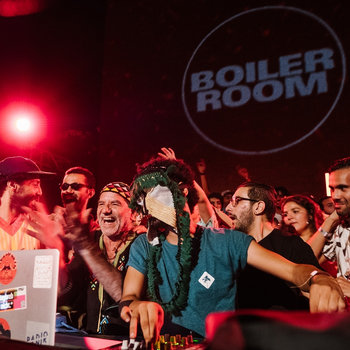 Merch for this release:
2 x Vinyl LP, Vinyl LP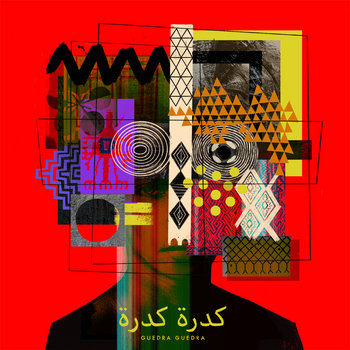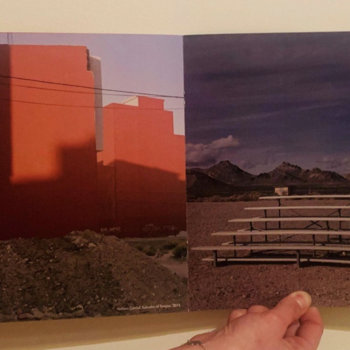 Working from his Casablanca studio under the pseudonym Guedra Guedra كدرة كدرة (a guedra being a North African drum that also gives its name to the Berber dancers who perform with it) Moroccan producer Abdellah M. Hassak set field recordings from communities across North Africa and the Sub-Saharan alongside contemporary dance rhythms. His collaging evokes a kind of global musical tribe that spans the ancient and modern. Whether incorporating the staccato beats of Chicago footwork or the deep bass of dubstep, Hassak never loses the deep folk roots of the original music and cultures.
—Andy Thomas
Read our Album of the Day on Vexillology.
Listen to an interview with Guedra Guedra كدرة كدرة on Bandcamp Weekly.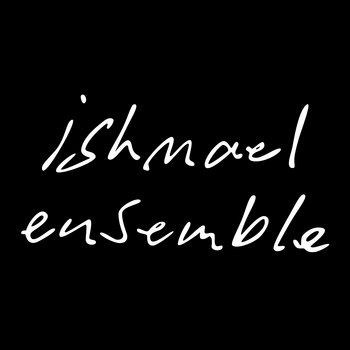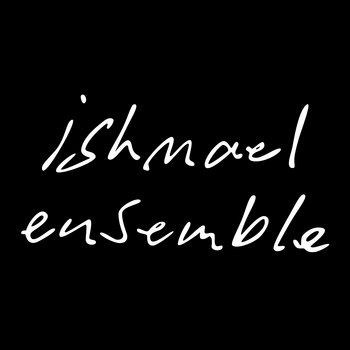 Merch for this release:
Vinyl LP, Compact Disc (CD)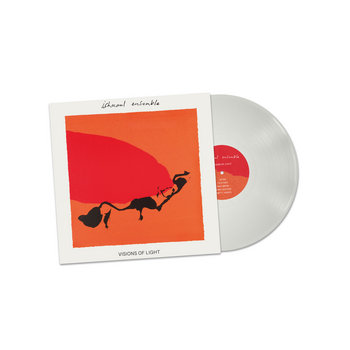 Ishmael Ensemble's Visions Of Light achieves its ebb and flow by binding bandleader Pete Cunningham's saxophone to strings, samples (as in on the boundless Four Tet-meets-Return To Forever "Wax Werk"), and waves of sticky, sometimes trippy, synthesizers. Whether intentionally or not, the album also radiates spirituality—the sort that stops short of easy answers. Holysseus Fly's vocals on "Empty Hands" and "January" turn the songs into haunting quasi-hymns, while the harp-driven "Feather" has a heavenly, floating feel. Meanwhile, "The Gift" is built on a hypnotic pulse that recalls "Expansions" by Lonnie Liston Smith, fine-tuned to move to, bound up in buoyant strings and vocals by Waldo's Gift. Visions Of Light is a plaintive and lovely fantasy.
—Ayana Contreras
Listen to an interview with Ishmael Ensemble on Bandcamp Weekly.
Merch for this release:
Vinyl LP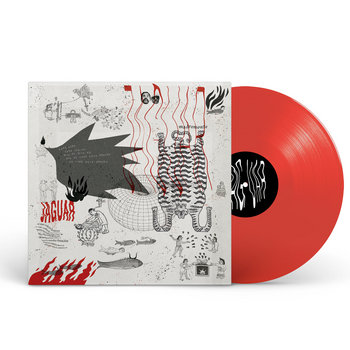 From the beginning to the end of their debut album Madremonte, Colombian duo Jaguar triumphs by doing the unimaginable: Pulling us back to the dancefloor after a global crisis. Based in Switzerland, the group, formed by Raúl Parra and Paulo Olarte in 2017, spent the last few years perfecting their love for Caribbean and dance music. On Madremonte, calypso and zouk meet cumbia and global bass. Lyrics about partying conceal deeper reflections on the reality of their homeland. Amidst poverty and political oppression, Jaguar take refuge in dense Afro-inspired beats, cheerful horns, and psychedelic organ motifs, compelling us to dance in the face of adversity.
—Maria Barrios
Read our Album of the Day on Madremonte.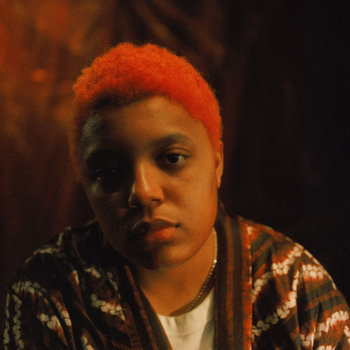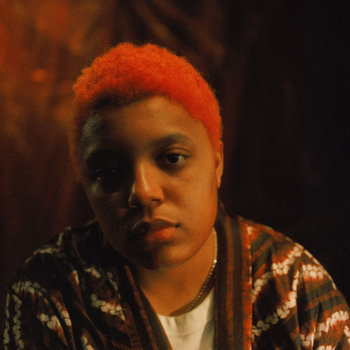 Merch for this release:
Vinyl LP, Compact Disc (CD)
Loraine James is a master of moving parts; her tracks vibrate like boiling atoms. Reflection, the North London producer's excellent third LP, is as much in thrall to linear club music—the glitzy trap of "Built To Last," thick grooving garage on "Simple Stuff," the flirtation with trance synths on "Self Doubt"—as it is wonky math rock and woozy R&B harmonies. The combinations are enthralling and dynamic; highlight "Black Ting" filters Chicago drill through IDM, giving us a musical crossover we didn't know we needed, and the heady synths on "On The Lake Outside" fire like overactive synapses. What we're left with is club music at its most cerebral and contemplative—a rave-ready mind-teaser.
—Will Pritchard
Read our interview with Loraine James.
Japanese Breakfast
Jubilee
Merch for this release:
Cassette, Vinyl LP, Button/Pin/Patch, , Bag, Vinyl, Compact Disc (CD)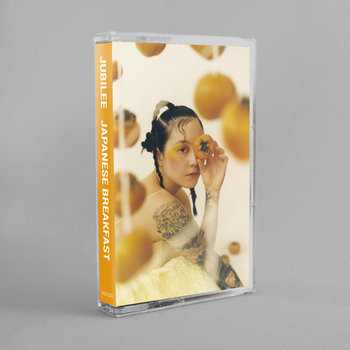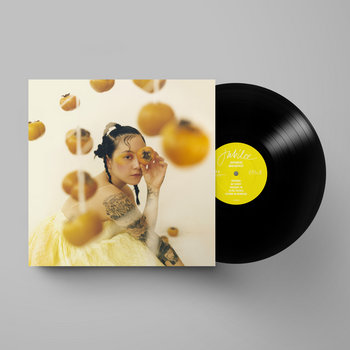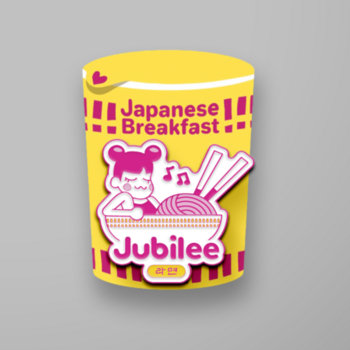 Few artists are better versed in life's bittersweetness than Japanese Breakfast's Michelle Zauner—a fact Jubilee cements, even as it continually reaches towards the sun. The record's front half is bright as can be, from the ebullient marching band pomp of "Paprika" and the infectious '80s shimmy of "Be Sweet" to the sax-led swagger of "Slide Tackle." But Zauner hasn't lost the "bitter" part of the equation, nor her observational streak; "posing," "waiting," and "watching" are recurring lyrical motifs. She dabbles in social critique with "Savage Good Boy," a love song in which a Bezos-ian tycoon tries to woo a woman into his "billion-dollar bunker for two." Like the persimmons on its cover, Jubilee is made from warmth, time, and light—but even in its more melancholy moments, the music remains in constant motion, a testament to the album's main takeaway: It's all about moving forward.
—Elle Carroll
Read our interview with Michelle Zauner.
Merch for this release:
T-Shirt/Apparel, Vinyl LP, Compact Disc (CD)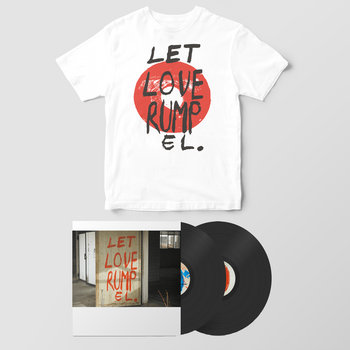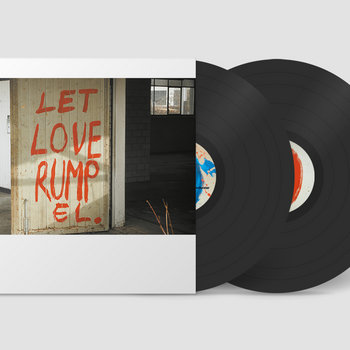 "Pain A Rollin' Away," the sprawling, eight-minute track that kicks off the third album from Swiss musician Kalabrese sounds like it escaped from a lost reel of Talking Heads' Fear of Music. Consisting of just spare, blinking keys, a persistent bass-drum kick, and a few mantra-like phrases sung by a small group in unison, the track figures out a way to dig a deep dance groove with the minimum amount of equipment. It's also a good indication of what's to follow; on the first half of a planned two-album set (the next one is coming in 2022), Kalabrese pulls everything way, way back, stripping songs down to their rhythmic foundations—in most cases, literally just bass and drums—and letting circular vocal melodies cast a bewitching spell. On the great, low-lit "Above Everything," guest Palma Ada threads a noir–y vocal above the skeletal rhythm, and "Unter Strom" pulses quietly, a bleary trumpet gliding over the taut, throbbing bottom end. The songs on Let Love Rumpel: Part 1 don't grab you by the throat, they seep into your system slowly. Before you know what's happened, you're on your feet, heading for the dancefloor.
—J. Edward Keyes
Merch for this release:
Compact Disc (CD), Vinyl LP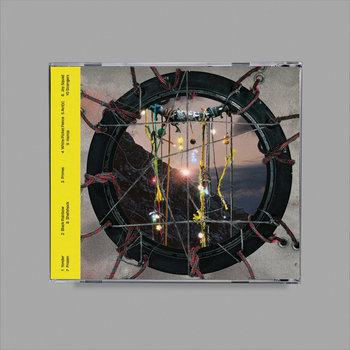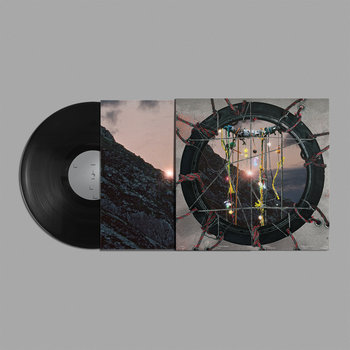 For Welsh producer Lewis Roberts, aka Koreless, the making of the thrilling and expansive Agor was a painful and demanding process that he has described as "quite unhealthy." Even naming the album—"agor" means "open" in Welsh—took an age. Thankfully, Roberts persisted, and we're left with a masterpiece of electronic music that is as enjoyable for what's there as much as what isn't. With banks of synths that swoop and glisten and bass tones that rumble with chest-thumping precision, the music on Agor often rises to a hair-raising crescendo before dramatically dropping out. It's a gripping listen, like the soundtrack to an edge-of-your-seat futuristic thriller. As the world of dance music loiters on the edges of returning to a new normal, it's perhaps fitting that instead of pounding home hedonistic finales to his tracks, Roberts chose to leave more open to the imagination.
—Andrew Jervis
Shanique Marie returns to the sounds that inspired her love for music on her debut album Gigi's House, offering sun-soaked reggae that summons the heyday of Patra and Lady Saw on tracks like "Married Man" and "Government Name." "Give Thanks" and "Ballad" prove that she's equally adept at alt-soul and R&B, and throughout, Gigi's House offers a uniquely modern sound that only Shanique Marie could devise. The first woman of Jamaica's forward-thinking Equiknoxx crew, Marie bridges generations of music together, with mid-tempo beats to make you sway, and heavy bass that commands your body to move.
—Brittny Pierre
Read our "Guide to the Jamaican Label Equiknoxx."
Merch for this release:
Cassette
MESH began in 2019 as the solo project of Sims Hardin, releasing a tight, three-song demo that dripped disaffection and was wrapped up in electronic sci-fi stylings. The band has since expanded into a proper four-piece, refashioning those early songs and adding two more. It's nervy, poppy post-punk made for our paranoid times. "CIA Mind Control" perfectly encapsulates the band's new full-bodied sound—it's wiry and bouncy, with high, surfy riffs. "Company Jeep" is similarly infectious, with a jangle that's akin to the stellar Gen Pop. Consider standout track "Ur Dead" the band's mission statement, an urgent reminder to always keep it moving: "Day in/ Day out/ And now you're dead." If that's not a compelling invitation to throw caution to the wind, what is?
Read our Album of the Day on MESH
—Kerry Cardoza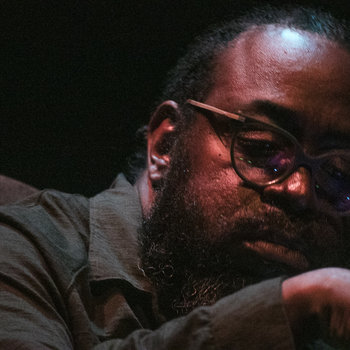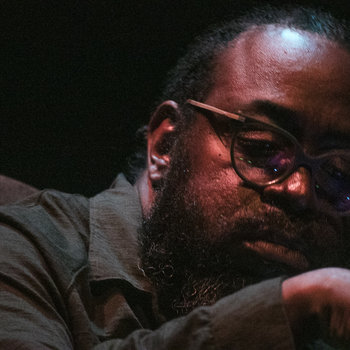 Merch for this release:
Vinyl LP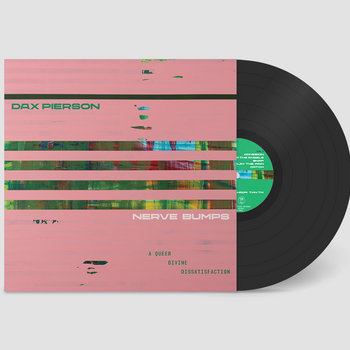 Dax Pierson is a fixture of the Oakland underground; old heads may remember him from his association with the Anticon label, playing keyboards with hip-hop collective Subtle or The Notwist/Themselves project 13 & God. A van accident on a Subtle tour in 2005 left his body paralyzed from torso to feet, but he's remained an active artist, using Ableton and iPad apps to make electronic music that ranges from the more freeform and experimental work showcased on 2019's Live in Oakland to the more formally composed work on Nerve Bumps. This is a record that masterfully and purposefully spans genres: dark, pulsing electro from the Detroit-by-way-of-Kraftwerk school ("For the Angels," "Keflex"); elegiac ambient ("For 2_24," which commemorates the date of his van accident with glowing pads, dreamy melodies, and just the right touch of discordance); atmospheric—and soulful—IDM ("I Slay the Pain"). There is so much in dance music that speaks to collective joy, and Nerve Bumps nearly overflows with it, combining ideas in a way that feels positively giddy for the pure love of music. By the time it hits the heavy, nearly 12-minute stunner of a closer, "NTHNG FKS U HRDR THN TM," an ominous ambient fog from which metallic rhythms, creeping bass, and scraps of melody emerge, it's clear that Pierson belongs among today's most inventive and innovative producers.
—Jes Skolnik
Merch for this release:
Compact Disc (CD), Vinyl LP, Cassette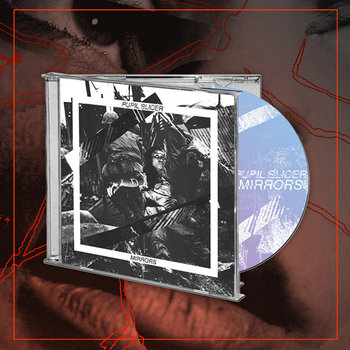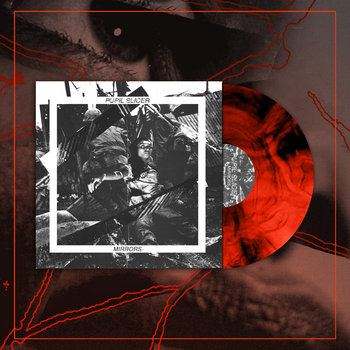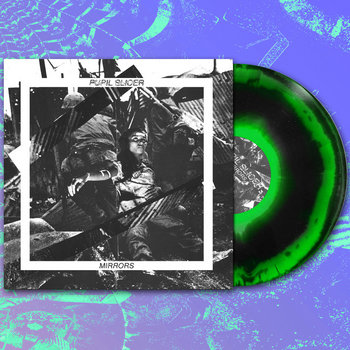 For all its latent physicality, heavy music is ultimately a style dictated by movement rather than sheer mass. Calamitous force is a key aspect, yes, but it all comes back to kinetic motion: all that head-banging, two-stepping, and moshing didn't emerge out of a vacuum. On their debut album Mirrors, London trio PUPIL SLICER use this principle as the basis for an extensive interrogation into suffering and despair with unstoppable momentum. Frankensteined from the most immediate, out-there elements of death metal, math grind, metalcore, and post-metal, standouts like "Wounds Upon My Skin" and "Stabbing Spiders" pair bleak confessionals with contorted riffs and rambunctious backbeats; the end result is a rager for the damned that, however ephemeral, is impossible to forget.
—Zoe Camp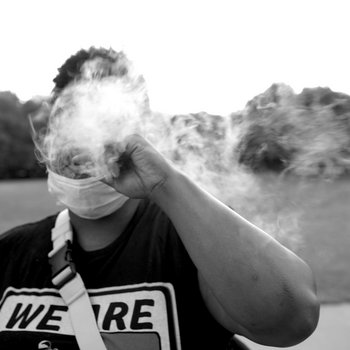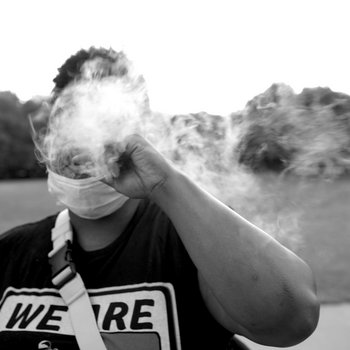 Merch for this release:
2 x Vinyl LP
Footwork is always in motion, but what made 2021 its best year in recent memory was how many artists defined that motion in personal terms. That was never truer than Chicago legend Jana Rush's Painful Enlightment, a soulful self-portrait rendered in seismic bass and frenzied rhythm. Rush samples twisted jazz, R&B, video game effects, and even porn into pointillistic patterns that grapple with the disorienting effects of depression. She captures this subject with nuance, and the tracks dissect and rearrange footwork, offering passion and invention at every turn. As the genre moves into a new decade reenergized, Painful Enlightenment stands as a masterpiece from one of its true visionaries.
—Miles Bowe
Read RP Boo, Jana Rush, and DJ Manny's "Guide to Footwork."
Merch for this release:
Vinyl LP, Compact Disc (CD)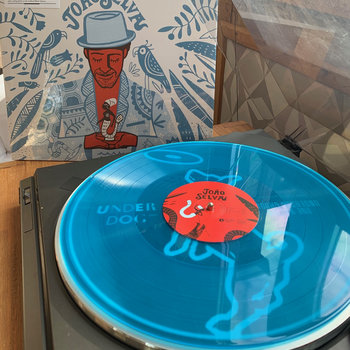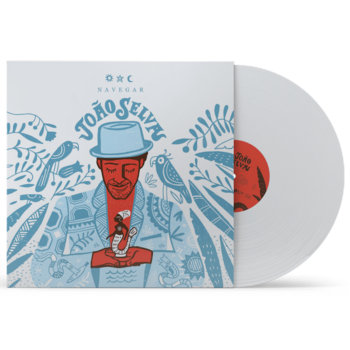 "What I wanted to do for this album was to show some optimism and hope for this hard time we are living," João Selva told Bandcamp Weekly back in March. At the time that his samba-meets-soul-jazz album was recorded, Brazil was being ravaged by both the pandemic and a far-right government intent on dragging the country back to the darkest days of military dictatorship. In the late '60s, the Tropicália movement sought liberty through kaleidoscopic art and music that reached across the world for its inspiration. Selva creates similarly bright and beautiful music shaped by his own travels ("navegar" roughly translates to "to sail"), standing in opposition to the darkness enveloping his country. Written after Selva returned to Brazil from Lyon, where he now lives, Navegar shimmers with the uplifting rhythms of his heroes Marcos Valle and João Donato. "Those people taught me that Brazilian music can be jazz, enriched with strong arrangements without ever losing its groove," Selva noted on the LP's release. Working with French producer Patchworks (Bruno Hovart), Selva has created a joyous love letter to his country.
—Andy Thomas
Listen to an interview with João Selva on Bandcamp Weekly.
SLANT
1집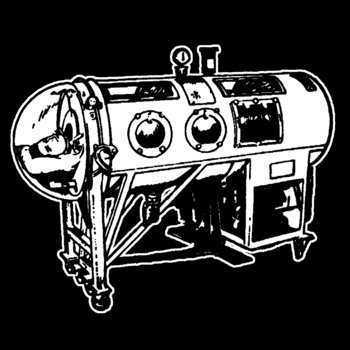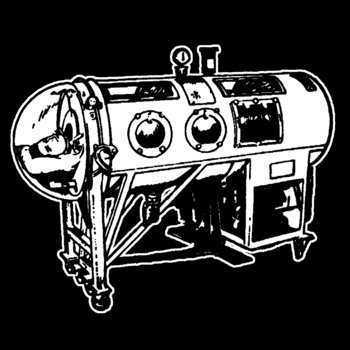 Merch for this release:
Vinyl LP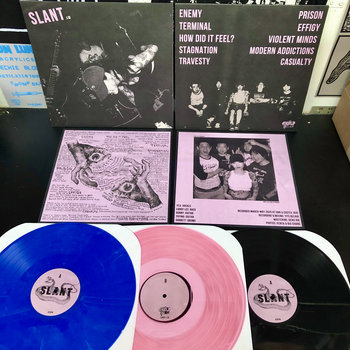 If there's an overarching theme to the devastating debut full-length from Seoul's SLANT, it's the danger of stasis—of failing to grow. "Stagnate in a hole/ Callous to a fault/ No goals," bellows vocalist Yeji on the blistering "Stagnation." A newly added second guitarist brings unexpected depth and a dash of swagger. "Modern Addictions" likens the nonstop cycles of news and social media to capitalism's relentless consumerist churn. At times, Yeji warns against trying to run from mistakes you haven't owned up to and about living a restricted, overly-planned life. She alternates between guttural shouts and ferocious shrieks, set to stomping hardcore that ensures the listener won't fall prey to staying in one place while it's playing.
—Kerry Cardoza
Read our Album of the Day on 1집.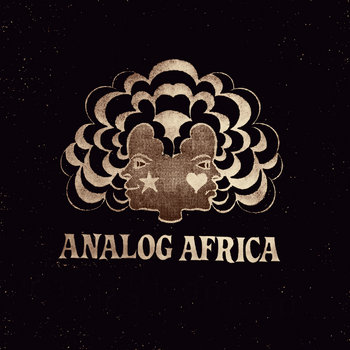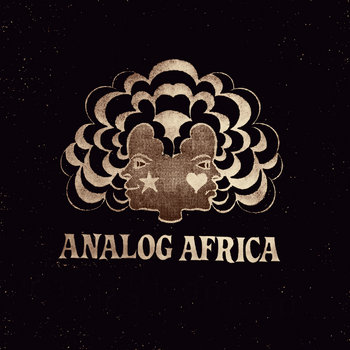 Merch for this release:
2 x Vinyl LP, Compact Disc (CD)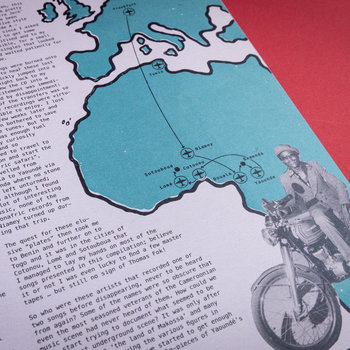 Judging by the hip-swaying rhythms and deep funk grooves showcased on Cameroon Garage Funk, Yaoundè must have been a very fun place to be in the 1970s. The compilation paints a picture of a true melting pot—rooted in its specific time and place, but open to the sounds that arrived via international airwaves and imported 45s.  The Cuban rhythms of "Quiero Wapatcha" and "Yondja"; the James Brown-soaked funk of "Esele Mulema Moam" and "Mayi Bo Ya?"; plus the Fela Kuti-style horn riffs that pepper the tracks—many of which were recorded in a church using one microphone—are a testament to the city's dynamic nightlife. But far from being just a piece of historic preservation, the set feels destined to light up dance floors once more.
—Megan Iacobini de Fazio
Merch for this release:
Vinyl LP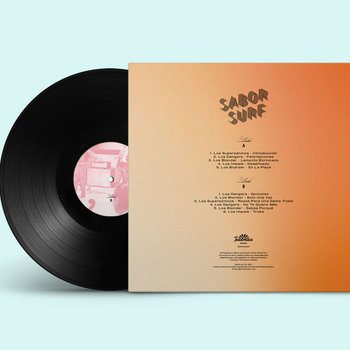 According to the magazine Surfer Today, Venezuela's coastline is "a surfing treasure," and the appropriately surf-inspired musical wave that consumed the country in the '60s owed its sound to U.S. artists like Dick Dale and, most notably, The Beach Boys. On standout tracks "En La Playa" and "González," guitars soaked in reverb cut a path through relentlessly swinging rhythms. By combining California-born twangy rock melodies with lyrics sung in Spanish, the groups on Sabor Surf created something new and vital. Vocal surf gems like Los Blonder's version of "Lamento Borincano" sound like what might happen if The Trashmen left Minneapolis and decided to sing bolero. Venezuelan surfers first rode the waves of the Caribbean in 1964. These songs must have been an incredible soundtrack.
—Maria Barrios
Read our "Brief History of South American Surf Rock."