BEST OF 2021
Bandcamp Daily Staffers on Their Favorite Albums of 2021
By Bandcamp Daily Staff · December 24, 2021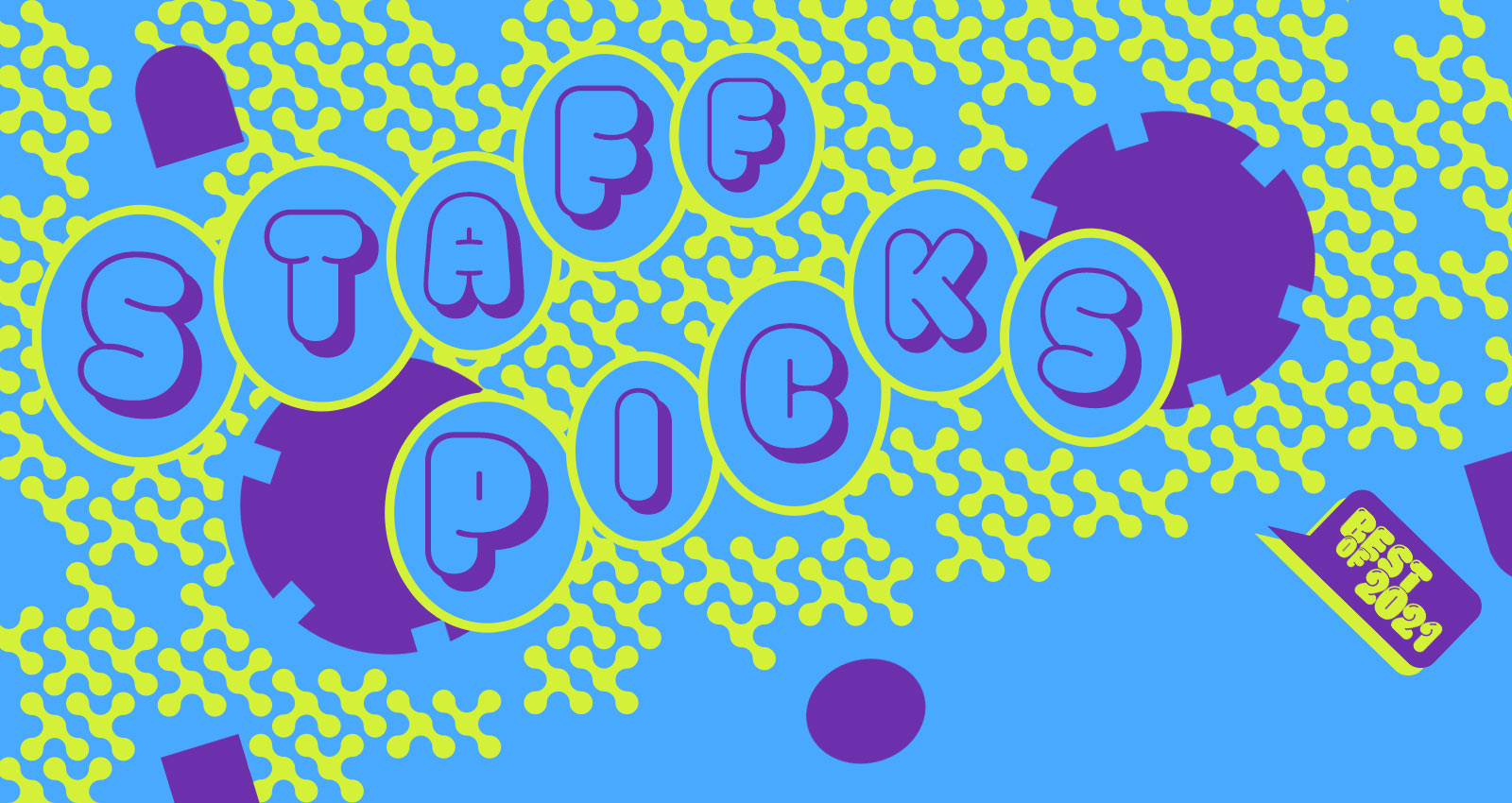 J. Edward Keyes
Editorial Director
To quote a timeless work of American cinema, this year turned out be a weird combination of strikes and gutters, ups and downs. On the plus side, I got to hear a ton of live music—like, actually in the same room as the performer—which was a pipe dream a year ago at this time. On the other hand, we got to salt the rim of this country's already toxic brew of systemic injustice and oppression with anti-vaxxers and their own special combination of ignorance and selfishness. So, like I said: strikes and gutters. But in the midst of my frustration, I was able to turn to the two albums that I loved most this year—Haram by Armand Hammer and Ultrapop by The Armed—and realize that despite everything that was going wrong, human beings were still capable of making art this brilliant and boundary-wrecking and life-affirming. Here are the albums that made me feel that way most often these last 12 months.
Armand Hammer & the Alchemist, Haram
The Armed, Ultrapop
Julien Baker, Little Oblivions
Circuit des Yeux, -io
Fire-Toolz, Eternal Home
Hus Kingpin, Portishus & The Firm
Illudium, Ash of the Womb
King Ralph, C'mon King
Lambchop, Showtunes
Damon Locks – Black Monument Ensemble, NOW
Low, HEY WHAT
L'Rain, Fatigue
Lukah, When the Black Hand Touches You & Why Look Up, God's in the Mirror
Midnight Odyssey, Biolume Part 2: The Golden Orb
Observe Since '98, Le Dernier Royaume
Emily Scott Robinson, American Siren
Skee Mask, Pool
SPELLLING, The Turning Wheel
Starflyer 59, Vanity
The Weather Station, Ignorance
---
Jes Skolnik
Senior Editor
I was wracking my brain for something to say in this space other than the usual gloom and doom (generally shitty year overall, gonna be shitty next year too!), and then I sat down at the dinner table with my bandmates last Thursday. We practice after work and usually hang out for a couple of hours after, because we're close friends who enjoy one another's company beyond playing music together—which usually results in the unenviable condition of scarfing Taco Bell in my car on the way home at midnight, because it's the only thing open, and I'm starving. Potluck family dinner every month or so is an end run around this eternal conundrum. I looked around the table at my friends, laughing at stupid jokes and about to tuck into an honestly delightful meal that everyone had contributed to, and it hit me: this, this is the thing I wanted to write about. (I've mentioned my band in here the last several years running because it's so meaningful to me!)
Look, most large-scale "communities" around identity and/or cultural interests don't really exist in the ways they're iterated online. But what does exist in the world of independent music is a loose and often contentious local-to-global network of relationships like my band's—people who care about one another and the art they make enough to feed one another, give one another places to stay on the road, put out one another's records, book shows for one another, so on and so forth. The way these networks interface with the larger, abstracted formal market of the Music Industry can be infinitely complex, whether one is resisting or wishing to become absorbed by that market, but it is the core relationships and humanity that I think about when we're planning coverage. (There's a reason scene reports are among our most popular pieces month after month; I may be wrong, but I feel like that's something our readers are responsive to.) 
Who are the artists we cover? What's in the work they make that listeners emotionally connect with? How do the relationships of artists with artists, artists with labels, and artists with listeners intersect, and what do those relationships look like? (In other words: music, it's made of people.)
In a barren year where larger structural support often felt nonexistent, it was these creative relationships and the love and care that grew out of them that kept me going. That is the god's honest truth. I would be nothing without it. Here are some records I loved this year that do not appear on any of our formal lists (note: Kerry Cardoza also landed on what would have been a bunch of my personal picks for her Best of Punk column, so go read that!)
BABii, MiiRROR
G. Brenner, Brushfire
Eboni Band, Eboni Band
Farmaco, Descolonizar
Insides, Soft Bonds
Jane Inc, Number One
Jerusalem in My Heart, Qalaq
Klein, Harmattan
Kedr Livanskiy, Liminal Soul
Lucia Honey, Self Help
Makthaverskan, För Allting
Mala Herba, Demonologia
Ruth Mascelli, A Night at the Baths
Meemo Comma, Neon Genesis: Soul Into Matter²
Roscoe Mitchell and Mike Reed, The Ritual and the Dance
MJ Guider, Temporary Requiem
Morbo, ¿A quién le echamos la culpa?
Lon Moshe & Southern Freedom Arkestra, Love is Where the Spirit Lies
Pal Hwang Dan, 2013-2021 Seoul
Qlowski, Quale Futuro?
Silicone Prairie, My Life on the Silicone Prairie
Spread Joy, Spread Joy
Haku Sungho, The Farthest Creole
Wanton Witch, Wanton Witch
---
Mariana Timony
Senior Editor
"I've been destroyed by life and I feel fucking good!" – Pardoner
Pardoner, Came Down Different
Tele Novella, Merlynn Belle
La Luz, La Luz
Mesh, Mesh
Taraka, Welcome to Paradise Lost
The Garrys, Get Thee To A Nunnery
Dummy, Mandatory Enjoyment
Willie Dunn, Creation Never Sleeps
Teenage Fanclub, Endless Arcade
Rosali, No Medium
Chime School, Chime School
---
Diamond Sharp
Editor
Where to begin? This year has been terrible, too. Perhaps less terrible than 2020, but still not great. Here's to hoping that 2022 will be better. Here are my picks in no particular order.
Yaya Bey, The Things I Can't Take With Me
L'Rain, Fatigue
anaiis, this is no longer a dream
April + VISTA, Pit of My Dreams
Jackie Venson, Love Suite
Ego Ella May, Fieldnotes
TASHA, Tell Me What You Miss The Most
Samia, Scout EP
Often, Dirty Saint
McKinley Dixon, For My Mama And Anyone Who Look Like Her
Peyton, PSA
Luna Li, Jams EP
Contour, Love Suite
JPEGMAFIA, LP!
Armand Hammer & the Alchemist, Haram
SPELLLING, The Turning Wheel
---
Zoe Camp
Editor
I'll keep this brief. It's been a hard year. Hopefully, next year will suck less. In the meantime, keep calm, be safe, tell your friends and family that you love them, and listen to some good-ass albums. Here are a dozen of my personal favorites.
The Armed, Ultrapop
Black Dresses, Forever In Your Heart
Every Time I Die, Radical
JPEGMAFIA, LP!
Magdalena Bay, Mercurial World
Lil Ugly Mane, Volcanic Bird Enemy and the Voiced Concern
Papangu, Holoceno
Portrayal of Guilt, Christfucker
Regional Justice Center, Crime and Punishment
SeeYouSpaceCowboy, The Romance of Affliction
Slant, 1집
Yautja, The Lurch
---
Emma Shore
Editorial Art Director
All bangers, all the time.
For Those I Love, For Those I Love
Knxwledge, VGM.15
JPEGMAFIA, LP!
Mdou Moctar, Afrique Victime
Emma-Jean Thackray, Yellow
Pigeon, Yagana EP
Black Midi, Cavalcade
Squid, Bright Green Field
BABii, MiiRROR
Koreless, Agor
96 Back, Love Letters, Nine Through Six
Fasme & Maelstrom, Lotus 48
---
Josie Keefe
Editorial Designer
I've spent a third of the pandemic thus far quarantining in a cabin near my Wisconsin hometown. Surrounded on all sides by cornfields, farmland, and "land" land, I went days on end without seeing another human besides my boyfriend. While home, I rediscovered and reclaimed my most prized possession from childhood: a gigantic Case Logic CD wallet. Teenage Josie loved to blast Boards of Canada past the Walmart and Taco Bell, as I drove in circles around town just to have something to do. Then and now, in bad moods and bad times, I rely of the enormous power of music to completely escape reality. 
As a teenager, to satisfy my voracious desire to discover new music, I would log on to a music blog on the downstairs family computer. Like most websites at the time, the site didn't really yet have images or embedded tracks—only words— so I had to be patient. I would then write down a list of albums that sounded interesting, and twice a month would drive 100+ miles to Madison to buy CDs, often sight unseen, in the hopes of discovering something I loved. Each CD would cost about the equivalent of 2.5 hours of afterschool job money, so I could usually listen to 5-10 new records a month.  These expeditions where one of my few cultural lifelines, they gave me hope that there was a more vibrant outside world beyond the strip malls of my small town.  
There are many disadvantages to our increasingly online world. However, on the plus side, it is so, so much easier to find great music. So, I admit, this is my equivalent of "back in my day we had to walk uphill in the snow both ways"—but it's easy to forget just how newly possible a resource like Bandcamp is. You can instantly discover music from all over the world! And you can just download it onto a portable supercomputer! What a time to be alive!
Altin Gün, Yol
Bobby Lee, Shakedown in Slabtown
Derya Yıldırım & Grup Şimşek, DOST 1
Jaguar, Madremonte
Kim Jung Mi, Now
L'Rain, Fatigue
Nana Yamoto, Before Sunrise
Rogér Fakhr, Fine Anyway
Ryler Walker & Kikagaku Moyo, Deep Fried Grandeur
Various Artists, Back Up: Mexican Tecno Pop 1980-1989