BEST OF 2019
The Best Punk Albums of 2019
By Kerry Cardoza · December 19, 2019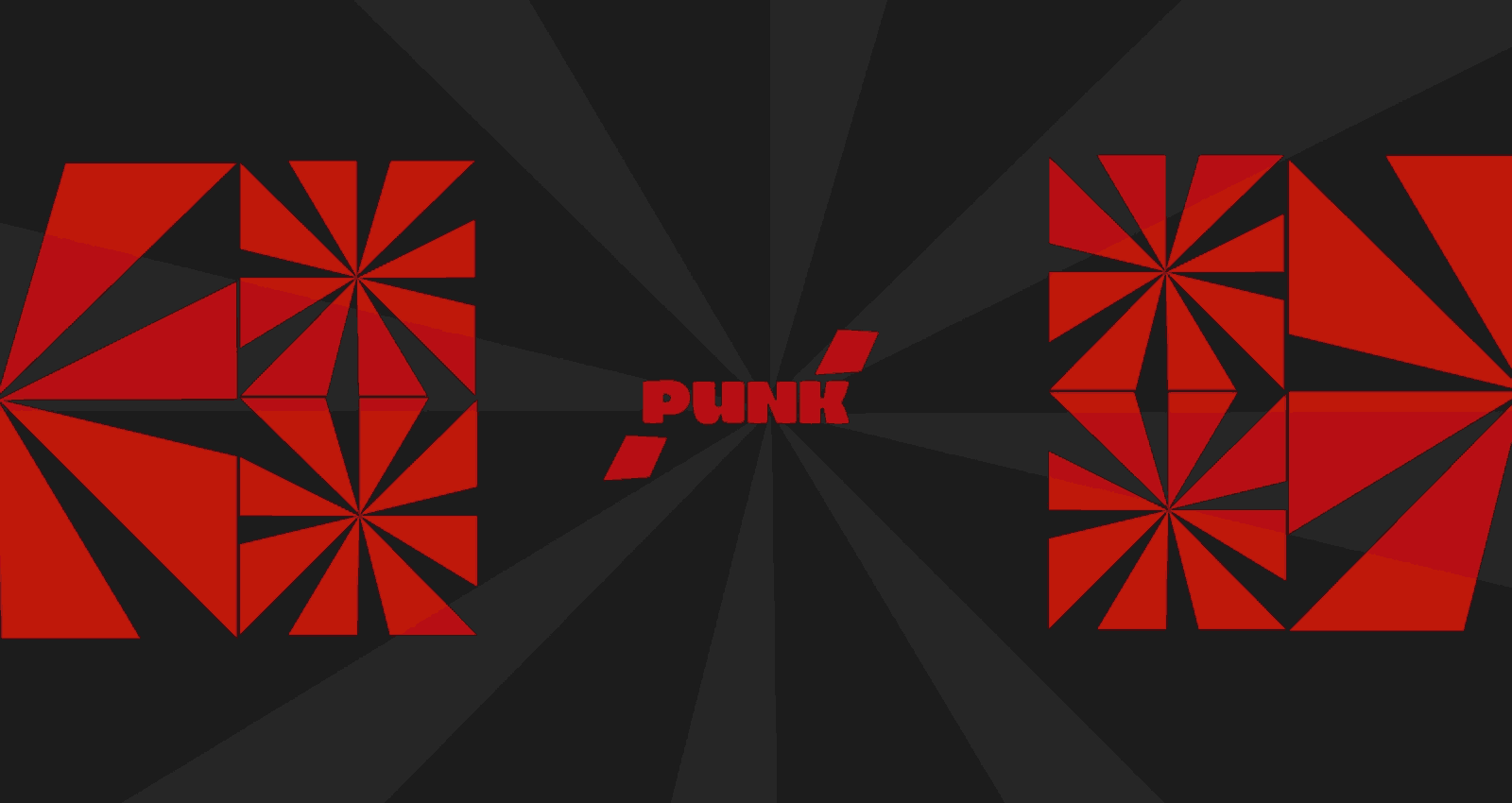 The best punk albums of 2019 are perfect reflections of the civil society that's deteriorating around us. U.K. bands like Bad Breeding and Scrap Brain are vociferously railing against bad government (Brexit, Boris) and bad people (capitalist overlords, TERFs). Pinocchio and Heterofobia are delivering urgent, expressive punk, played as if their lives depended on being as loud and bratty as possible. The world is on fire (literally: see California, the Amazon), and punks are fired up about it, lambasting useless politicians and greedy executives, and offering us all an opportunity to release our frustrations and hopelessness in some basement somewhere.
Pinocchio
S/T
Easily my favorite album of the year, this debut from NYC's Pinocchio is unlike anything else to hit the punk scene in recent memory. It's experimental post-punk ("Light Speed Vol. 1"), rocking proto-punk ("Behind You"), and just plain weird punk all rolled into one. Add expressive, dissonant vocals a la Kate Bush (lots of "oohs" and shrieks), and you have a record that's impossible not to play over and over and over. Vocalist Mary Jane Dunphe (from Vexx and CC DUST) totally commands each song, as on "Trick Plane," which begins with breathy chants and ends with bratty shouting. Album closer "Your Time" is like a time machine to the bizarro pop of the '80s, with electronic beats and staccato vocal delivery.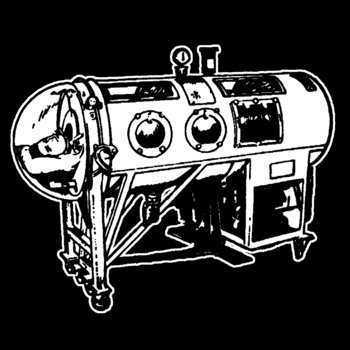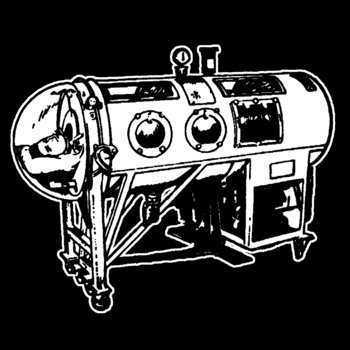 This third full-length from U.K. band Bad Breeding is 12 tracks of anarcho-punk mixed with hardcore and straight-up noise, and it may be their strongest record yet. Their songs are tight, polished, and rhythmic, with enough space in the recording to hear each instrument—and they are well worth hearing. The tracks are full of surprises, as on "Raking Through the Screed," which features random guitar sounds, killer drum fills, and an ending that only gains in intensity. Vocalist Chris Dodd is royally pissed off—at his country's government, growing inequality, and the exploitation of the labor market. On "Theatre of Work," he viciously spits out the lyrics over an ominous hardcore beat.
Merch for this release:
Cassette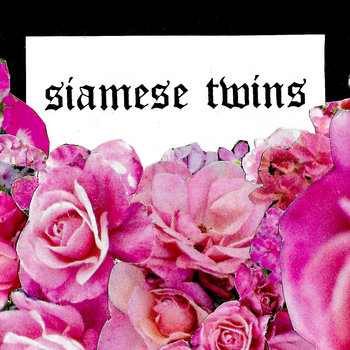 A five-piece band split between the U.S. and Sweden, Siamese Twins understandably can't get together much—which makes this release, the group's first in five years, that much sweeter. They've mastered the art of goth twee—not the easiest thing to do. The two songs here are lush, shimmery post-punk, with a poppier, more upbeat sound that their previous recordings. "Second Skin" features staggered vocal delivery, a slow melody, and a moody synth line, the multiple singers ruminate over losing themselves once again in overwhelming relationships. This is an expertly produced, deftly executed single; we can only hope more new music is on its way in 2020.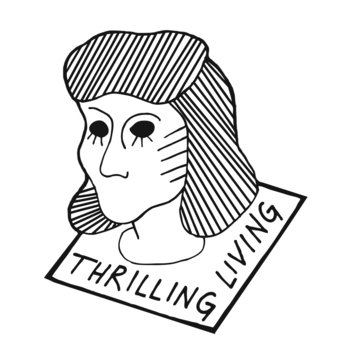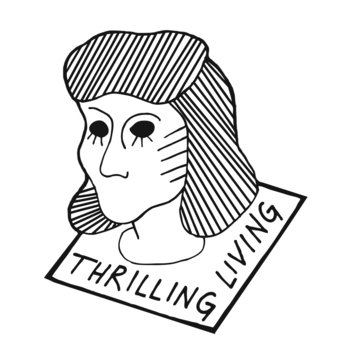 Merch for this release:
Vinyl LP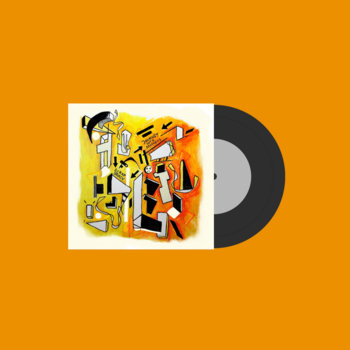 The U.K.'s Scrap Brain is possibly the greatest hardcore band of our time—unrelenting in their aggression, sonically tight, and not so much politically aware as politically pissed. On the opening track, "Introduction / Deadweight," vocalist Camille Reardon makes their presence known through a drawn-out scream-turned-groan; they sound like they are truly sick of it all. The overall sound is heavy and gritty, as if Scrap Brain weren't concerned about production value, only urgency—as they plow ahead on each track. Throughout the 31 minutes on this record, Reardon shrieks, growls, and spits lyrics denouncing TERFs, capitalism, and the historical abuses of power by healthcare systems. Fed up with the state of the world? Lay back, close your eyes, and led the artsy dissonance of A Journey Into Madness seep in.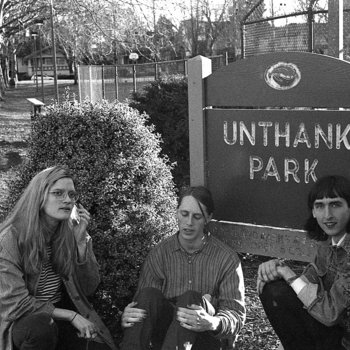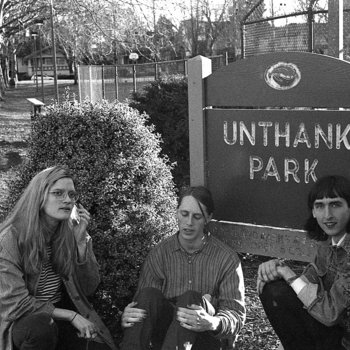 Merch for this release:
Vinyl LP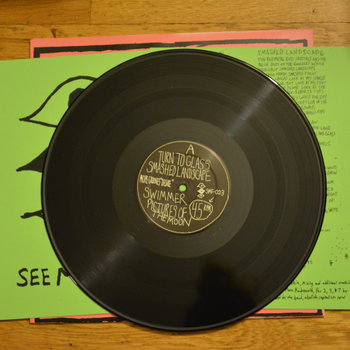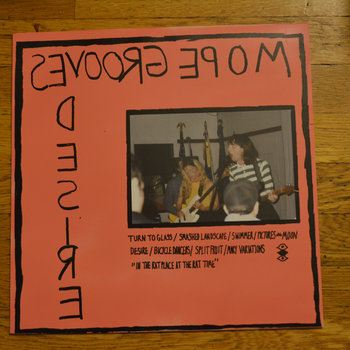 Desire, the fourth and self-proclaimed "best LP" from Portland post-punk outfit Mope Grooves, opens with the tinkling "Turn to Glass." Dominated by xylophone, synths, and irregular bass and drum flourishes, the song sets the tone for this wholly avant-garde record. Each track is minimally yet thoughtfully arranged, allowing the nuances of the instrumentation to stand out. The instrumental track "Swimmer" opens with what sounds like someone drumming on a wooden table, while a nursery rhyme-like keyboard line repeats throughout. Not only are Mope Grooves intentional about their music, they also embody the punk spirit of supporting their community by frequently donating their band proceeds to friends in need or to organizations like the Transgender Law Center.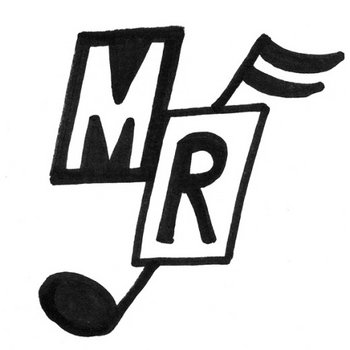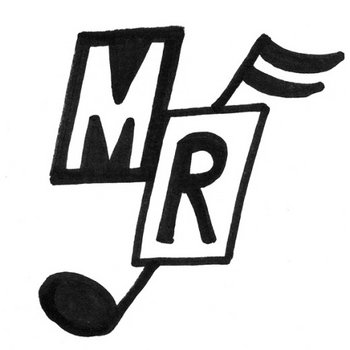 Merch for this release:
Vinyl LP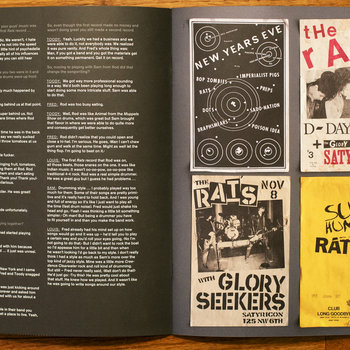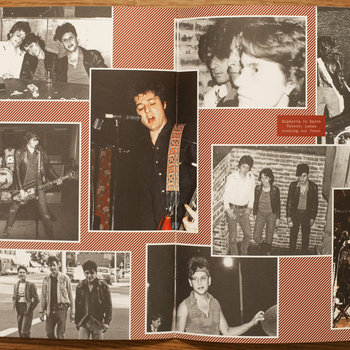 Mississippi Records finally brought their stellar discography to Bandcamp this year—and this classic offering from The Rats was their debut on the platform. Made up of Dead Moon's Fred and Toody Cole and a rotating cadre of drummers, The Rats took up the reins of punk in Portland in the late '70s, after the Ramones came through the city on tour. In A Desperate Red, the band's third album, has a raw, garage sound that draws on a wide variety of genres. "I Want You" has a twangy, country guitar riff; "Leave Me Alone" is bare proto-punk, with a catchy melody; "Just A Man" is a wonderfully satirical post-punk jab at an obviously annoying man. Hopefully the record's addition to Bandcamp helps The Rats find a new generation of listeners.
Merch for this release:
Vinyl LP
Bongos, double saxophone, and melodica are just some of the instruments employed by Oakland's The World on this mini-LP. The quintet creates angular art-punk that feels very much of the Bay Area—it'll come as no surprise that The World shares members with Rays, Andy Human & The Reptoids, and Penny Machine, among other bands. The World aren't all nervous energy, though; they sound here as if they're not taking themselves too seriously—they might even be having fun. "Punctuate" is a horn-heavy carnival song gone awry. "Last Rhodesian" is a raucous post-punk jam that breaks down into weirder and weirder dissonant parts. And "Kill Your Landlord" has to be one of the finest tracks of the year, displaying a sentiment that feels particularly poignant for an area infected by the tech industry.
Merch for this release:
Vinyl LP, Compact Disc (CD)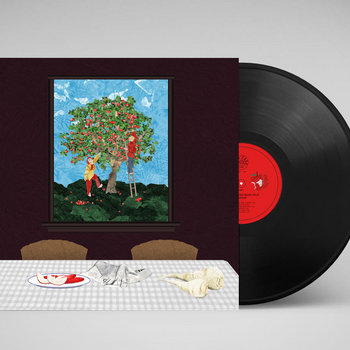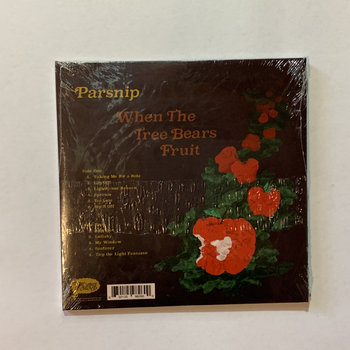 Following two well-liked 7-inches, this debut long player from Melbourne's Parsnip allows the band to dig into their trippy, harmonic sonic fantasies. Lead vocalist Paris Richens is the centerpiece of the band's sound, with her high-pitched, singsong delivery—almost as if she had inhaled a bunch of helium before recording. Parsnip is playful, for sure, with lyrics exploring the power of plants, the sheer fun of dancing, and the dreams of an escape from everyday life. The quartet is part of a recent—and in my opinion, welcome—return to twee in punk (See also: Aussie band Primo!, the aforementioned Rays, and Mississippi's Pleather.)
"Cut up photos of you and glue it in my eyelids," Knife Wife drone on the opening line of Family Party, their debut album. The DC trio's lyrical content is just as grotesque and unflinching throughout the album, too; they sing about euthanizing friends and collecting used Band-Aids. It might sound a bit juvenile, but that's only fitting. Two of the members are still in high school, and the third, Sami Cola, just picked up the drums when she joined the band. They sound utterly dejected; the lyrics are delivered without affect, and each minimal song is low-energy and cold in atmosphere. The band takes inspiration from titans like Hole and Sonic Youth, which is apparent in the fearlessness of their gross-out lyrics and blunt delivery. Knife Wife give uncensored voice to the horror and disgust of high school—like a Kathy Acker novel made into music.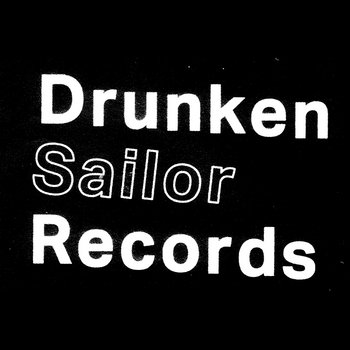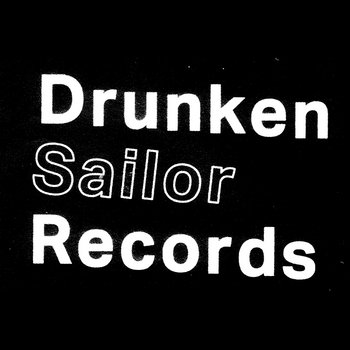 Merch for this release:
Vinyl LP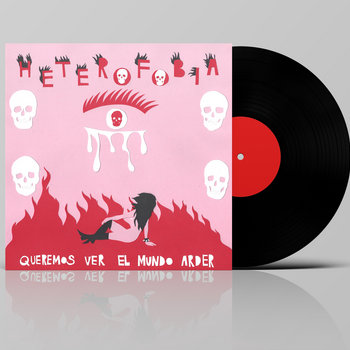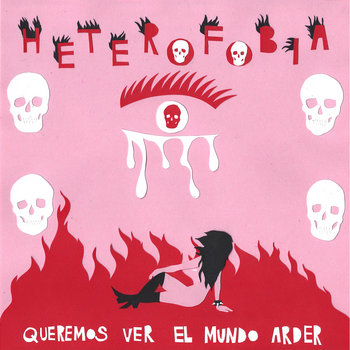 This debut LP from Monterrey's Heterofobia made waves across the underground when it dropped in May of this year—and not only for having such a badass band name. Featuring members of Cremalleras (including the vocalist, Daniel, who sounds like they gargled acid), Heterofobia plays brutal hardcore with a dark punk edge. The guitar riffs are usually low in tone, as on "El Infierno," a cold, brooding, bass-driven track. This album, the title of which translates to We Want to See the World Burn, is an incredibly strong debut, with a perfect proclamation for 2019: that it's better to burn down the horrific society we've built and start over than try to reform what's already in place.