BEST OF 2017
Bandcamp Daily Staffers on Their Favorite Albums of 2017
By Bandcamp Daily Staff · December 18, 2017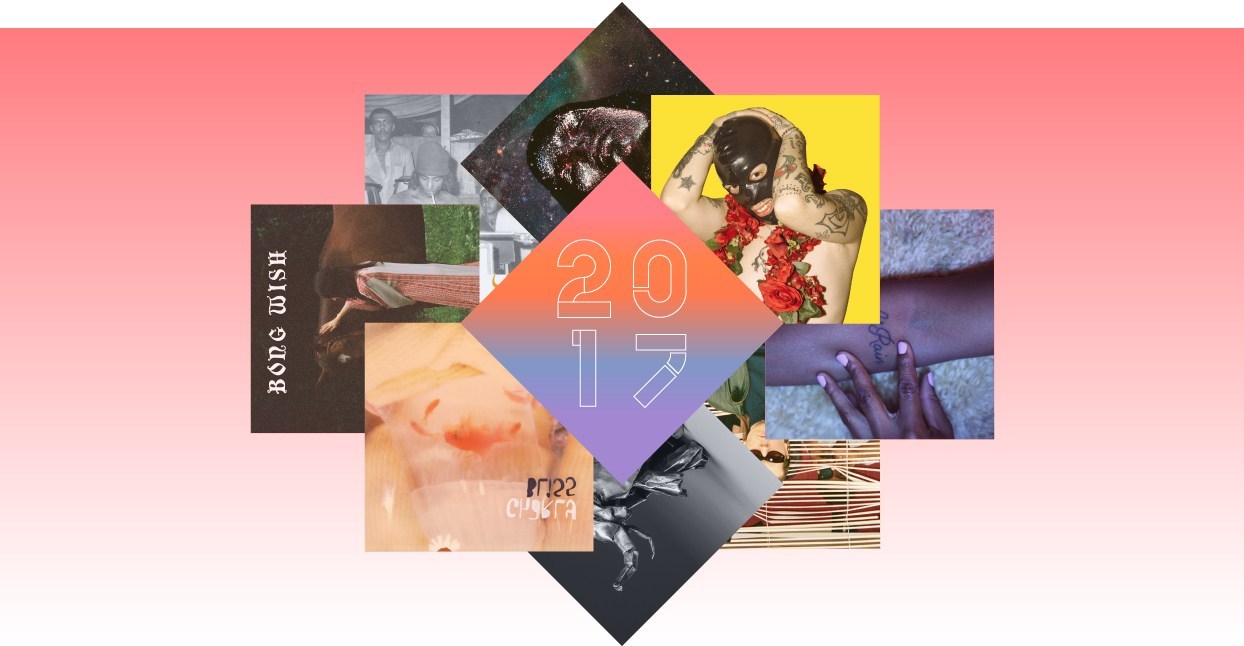 Look, globally speaking, this year was a trash fire. Of all of the art I consumed over the last 12 months, nothing felt more disconcertingly prescient than the harrowing, deeply unnerving conclusion of Twin Peaks: The Return. Its chilling, too-real final scene suggested that the scars of all trauma—personal and national—run deep, and we'd be foolish to think that by correcting one mistake, we're able to eliminate the dark, gnarled roots of what caused it.
When that thought became too bleak and overwhelming, I turned to music to make me feel human again. My 10 favorite albums of the year gave me joy when I needed joy, made me think when I needed provocation, and provided light when it felt like the darkness was closing in. For the second year in a row, running Bandcamp Daily and getting to dive deep into the recesses of the world of Bandcamp, was an unbelievable privilege. On days when I felt hopeless, the promise of an incredible new album waiting for me on the site was one consistent, reliable pleasure. To quote a line from Tica Douglas, whose brilliant album Our Lady Star made my list, "Remember when we got here / Unfamiliar sunny skies / …And I feel the weight lift / The weight lifts."
These are the 10 albums that lifted the weight for me, time and time again.
Charly Bliss, Guppy
---
In the cosmic vastness of the Bandcamp universe it can be hard to find order. From all corners of the globe, musicians are bravely putting out art for the rest of the world to judge, creating a seemingly infinite swirl of albums. Scoop your hand into the water and you are likely to fish out something you've never heard before—perhaps Argentinian doom metal, South African gqom, or an experimental producer from Japan who uses the unnerving cacophony of Pachinko parlors as an instrument. It's notable that every person who uses Bandcamp has an entirely different experience. For metal fans, Bandcamp is a creepy dark catacomb of genres—black, doom, death, nu, and even chiptune, that can send the curious listener jumping from one band to another and boomeranging back again. For crate diggers, Bandcamp is paradise—one can encounter rare disco tapes that fell off a truck in a remote part of Algeria, only to be discovered and duplicated decades later.
I'd hate to give the impression that Bandcamp is only for genre enthusiasts or collectors because when I trawl the site, I'm looking for music's most basic and digestible expression—pop music. It may be hard to fathom, but Bandcamp is home to some of the best contemporary pop music being produced. I can get lost for hours at a time only surfacing to think to shield my screen from my boss and do some "real work" only to remember that spending hours getting lost on Bandcamp is part of my job.
It has been an exhausting year of attacks on our civil liberties, dissolution of international peace and climate accords, and generally unbelievable upsets of democracy, and my way out of the darkness (and no, I don't think that's too dramatic) is sugary hooks and catchy choruses. If you're like me and have a certain nostalgia for the real drama of '80s love ballads or the atmospheric sappy indie pop that came after The Smiths, then you are in for a treat. Pop here is piled high with saccharine vocals, zooming synth bass lines, surf rock drums, and jangly guitars.
Here are, in no particular order, my favorite pop records on Bandcamp.
Łagodna Pianka, Klisze

Charly Bliss, Guppy

Makthaverskan, Ill

---
Here's the thing about being a Pisces: often times, you simply don't wanna be bothered. We're not antisocial people; hell, we'll hang out as quickly as anyone, but we also crave silence and isolation. You can go turn up; I'll be at home with some records and a bowl of Waffle Crisp. Shrug emoji.
My favorite 10 albums of the year are equally pensive, designed to take listeners on a journey from darkness to light. These records have themes, whether it's the Comet is Coming's end-of-the-world soundtrack, or lojii's struggle to make rent. On Being You Is Great…, rapper-producer Quelle Chris gives himself a big hug, and upstart musician L'Rain pays homage to her departed mother on her impressive self-titled debut.
Given our current social climate, asking you to dive headfirst into a deep pool might be a tough request. But these releases are incredibly rewarding, offering something beyond the scope of mainstream fare. These records are best consumed in quiet places where you can fully absorb their significance. This music walked me down the street and soundtracked my subway rides. It played in the background during marathon cooking sessions or in the car during visits to my hometown. In a year of devastating headlines and gloom at every turn, the following kept me sane and in awe, and ultimately at peace.
---
The lesson that keeps getting drilled into me over and over again during the last four years of my life is bleak, but oddly comforting: stability is a myth. Nothing can be taken for granted. I've always been an adaptable and resourceful person—growing up the way I did meant I wouldn't have survived otherwise—but I still held onto the idea that there were some things in the world that were constants. By now, all of that has gone out the window. It's made me more thoughtful, more considerate, and more careful, even if I carry the stress in my body: it's hard to sleep, and my jaw is always clenched.
That said, I'm still immensely, overwhelmingly happy to have my job here at Bandcamp. The fact that my job is to listen to all kinds of new, inventive music from all across the world, to write about music I'm enthusiastic about, to give work to writers I believe in, and to bring the human stories of artists from all kinds of different backgrounds and perspectives to you, fans who are as obsessed with music as I am: Holy Crud. (Not to mention the two fundraisers we've done as a company, which have caused me to cry gratefully multiple times. Anyone who's ever met me can attest that I cry easily for any number of reasons, but it's always because something has genuinely hit me in the guts, for better or worse.) I've been here almost two years now, and it feels like a dream in which you can subsist on birthday cake alone, you never get tired of eating it, and it provides you complete nourishment.
10 records I loved dearly this year, in no particular order:
Dreamdecay, YÚ
Laurel Halo, Dust
---
This year was a difficult one for me. Putting together this list felt a bit like paging through a photo book, observing myself through records I listened to during a lonely year, when music was—as it is for so many—often the only consolation.
Here is Julia Julian, a fantastic find from within the "indie pop" tag in the Bandcamp Discover tool. Silver Shadows bring back images of walking around Brooklyn in early spring. Boozy summer afternoons with Baywitch and Moon Human on repeat. Penning a list of indie surf bands just for fun, and stumbling across Korean indie pop group Say Sue Me, now a forever favorite. Birthday cake with Nu Normol, Jamie Paige opening my mind to possibilities beyond the rock ouroboros. A new record from Frankie Rose, whose music has always meant so much to me (and I got to interview her, too—a career highlight). So Many Wizards providing proof that my beloved Los Angeles music scene remains alive and well—a reminder that, as long as there are kids bashing away in garages and bedrooms, there is never reason to despair, at least as far as music is concerned.
And there's a happy ending. Ultimately what this list, this collection of images and sounds, shows me is that 2017 has been a year of hope after all. As good witch Mariam Saleh, aka Bong Wish, so aptly puts it: "The light is just a door away." Thank you to Bandcamp and all the artists who use it for showing me the door every day.
---
This was my first year working at Bandcamp Daily, and it afforded me the treat of being engaged with music in a specific, daily way. It also allowed me to contemplate the conversation of music, and the ways music speaks for itself. Communication has been a theme throughout this year—how some attempt to find clarity and commonality, and how others attempt to break down communication and confuse reality.
The records on my list spoke to me, and provided me with a soundtrack to hope for more. When wading through social and personal change, we always find ourselves propelled towards the future. All of these releases lean into that feeling, and the questions it contains. More often than not, they choose the ecstatic and triumphant. They engage sound in a way that speaks to a community and a shared, sacred history. They call on the beauty of shared rhythms, patterns, and sounds, and know the simple act of listening can bring needed resolution and renew connections. Many of these artists are ahead of their time, both in the past and in the now. They're starting new conversations, and branching off from others.
Here are 10 of my favorite records of the year.
Kaitlyn Aurelia Smith, The Kid
---
Want to check out more staff picks? Check out our Essential Releases each week and our Quarterly Roundups.