BEST OF 2017
2017: The Year in Stats
By Bandcamp Daily Staff · December 27, 2017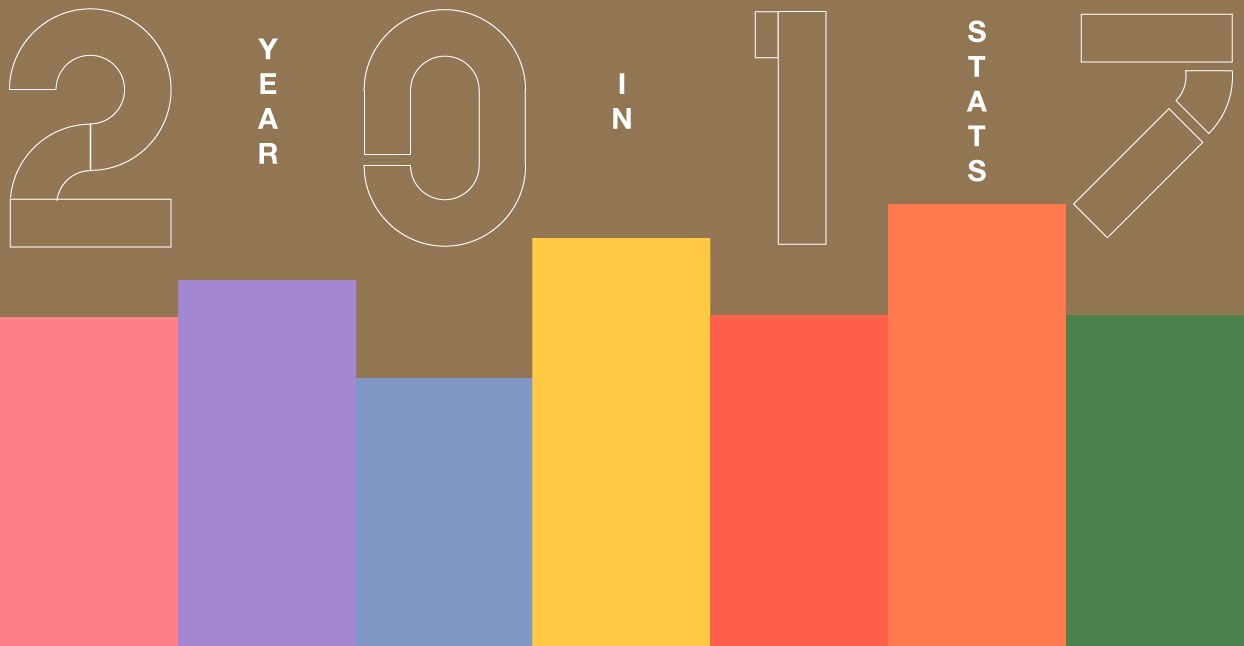 Here we are, at the end of another year—just days removed from a holiday that means many different things to many different people. For music fans, the holiday season was a time to dig out their Phil Spector vinyl (or Imagene Peise). It was time for Becky Kelley sales to, once again, hit the roof. And now, we've arrived at that time just after Christmas—a time for companies to make easily shareable graphs and charts of their growth, thinly disguised as quasi-academic public interest factoids.
Maybe this weird year has made everyone a little more cynical. When I was asked to write my now-traditional The Year In Stats post, it was very tempting just to re-run last year's stats and tell you what changed (OK, so, I did do that—we'll get to that later). It was tempting to wow you with big numbers (our servers sent out about 42 BILLION images in 2017!). It was even tempting to try to mention all the new exciting stuff we launched this year (36,000 bands and labels using the new app! Bandcamp gift cards!).
But all of that left me a little cold, so I'm going to talk about something that matters to me. An oft-maligned format that represents the real and elusive heart of the modern music world. A truly democratic music delivery system. That's right. I'm going to make this about tapes.
Tapes!
I admit to being an avid tape fan. I started buying cassettes from Crash Symbols when I joined Bandcamp five years ago, and never looked back. There's a tape from Sub Pop sitting on my desk that arrived in a padded envelope as I was writing this very post. I love tapes.
I assumed that everyone would eventually catch up with the trend, and that my friends would all be reinstalling tape decks in their cars by now. For some reason it's taking longer than expected (despite regular features on the Bandcamp Daily). So I thought it might be useful to bring everyone up to speed on the latest tape stats.
If you're a tape-lover, you can share this post and convert all your friends and family. If you're not yet a tape-lover, please leave your audiophilic prejudice at the door and prepare to be 😮.
17,872 tapes were released on Bandcamp this year. That's an average of almost 50 tapes per day, or one every 29 minutes. If you're anything like me, you will now be feeling an uncomfortable combination of shock, confusion, and heart-warming joy. Don't panic—it's normal. That's your brain carving out new neural pathways to accommodate the realization that you're more mainstream than you thought you were.
I hadn't felt like that since I discovered that 500 bands set up a Bandcamp page every day. Those are active pages, with music. I'm not counting all the long-forgotten, "That would make a hilarious band name—quick, register it!" accounts. The fact that so many people around the world are making music and sharing it is overwhelmingly cool.
But is anyone actually listening to all of this cassette music? Well, yes they are! Who knows how many are listening to actual tapes on actual tape decks, but each of these cassette albums also exists in a digital version, which you can listen to in the usual ways: In the Bandcamp app, downloaded to your computer, burned to CD, recorded to tape, etc.
In 2017 artists sold 22.6 years of cassette-based audio on Bandcamp. That's 17,076km of beautiful, crunchy tape. You could wrap it around the moon and still have enough left over to spool gently off the back of a raft as you travel the entire length of the Amazon River. I can't guarantee that it wouldn't break along the way, but part of the thrill of tape is that you can never be absolutely sure you'll get to the end.
Cassette Roulette
Now, those are all just science-based numbers. But it's impossible to fully appreciate the cassette as an art form without digging through the releases and discovering a perfectly-executed tape design, a terrible-but-amazing pun in an album title, or a charmingly DIY, hand-knitted tape sock.
So I put together a little toy called Cassette Roulette. It shows you random photos of tapes released in 2017. I challenge you to flick through a few and not find something that makes you smile. I should probably also mention that there may be a few NSFW images, but I haven't seen any. Click the image to play!
A few more stats
While I didn't want to make this a completely dry stats post, I did come across a few that I found interesting.
Band names
Ever since I found out that "Atlas" is the most popular band name on Bandcamp (still – 77 and counting!) I've been intrigued by common band names. They're always words that are short and generic enough to be statistically probable names, but still somehow meaningful to the bands using them. Here are the top 10 names of bands who published their first release in 2017:
Apollo (13)
Grim (10)
Bloom (9)
Indigo (9)
Nova (9)
King (8)
Void (8)
Milk (7)
David (6)
Smith (5)
Apollo, Bloom, and King were in last year's list and are still rising in popularity. The rather ominous Void is on its way down the list (it was number 2 last year) and has been replaced by Grim. I'm trying not to read that as a metaphor for the wider culture by distracting myself with the surprise entry of seven bands called Milk. What a charming name!
Album titles
This list of popular album titles features almost exactly the same titles as last year, but we've lost Time and gained Bloom. I can't bring myself to check how many bands called Bloom released an album called Bloom, but I doubt it's zero.
Home (130 albums released in 2017)
Lost (71)
Memories (71)
Void (71)
Waves (71)
Reflections (70)
Blue (64)
Dreams (62)
Bloom (58)
Love (54)
Bandcampers' Favorites
The Bandcamp team has grown again this year, and it's now much less likely that a significant number of us will buy any one specific album. The albums that show up most are those made by Bandcampers—2017 saw new releases from Germany Germany, Jennie Sadler, Bridal Party, Pumpkin Bread, steady phase and Candy Says. But despite the diversity of musical taste within the Bandcamp staff, there are still some albums that found their way into multiple collections in 2017. Here are the top 10:
So Here It Is…
The world may be changing all around us, but it's somewhat comforting to know that bands are still calling themselves Atlas, Bandcamp staff still occasionally agree on which albums to buy, and hopeful romantics the world over are still imprinting their magnetic dreams onto tape. Grab yourself a Walkman in 2018 and join the party!