BEST OF 2016
The Year in Photos
By Bandcamp Daily Staff · December 12, 2016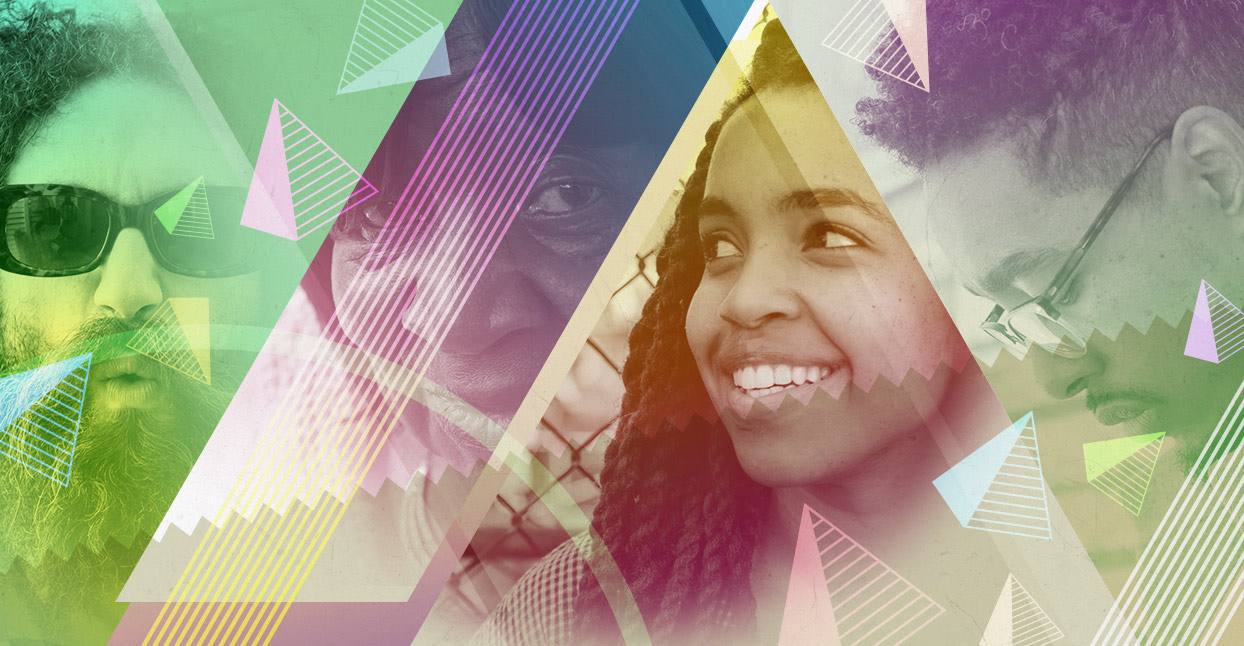 When we started Bandcamp Daily, one of the things we knew we wanted—in addition to great writing—was great photos. And while the results of an interview end up clearly on the page, the process behind capturing great, unguarded moments can be somewhat opaque to those of us unfamiliar with the art. With that in mind, we reached out to the photographers behind some of the stories that appeared on Bandcamp Daily over the last six months and asked them to share their memories of the process.
Not only did Philip shoot the photos for this piece, he interviewed Gaslamp Killer and wrote the story as well. They met at GLK's home in Los Angeles.
It goes without saying that doing both photos and words for a piece is a special challenge. I spent a few hours with The Gaslamp Killer, but much of that time was spent conducting an interview while, in the back of my mind, I was also figuring out how to present him visually. We shot in and around his home, but he didn't want details about the actual location of his home revealed, which makes sense. He also ruled out some cool exterior shots. He wanted to keep on his sunglasses on and, considering he already has a thick beard, this essentially masked a lot of his face. So the challenge there was to convey emotion or "Gaslamp Killer-ness" without looking into his eyes or waiting for subtle facial cues.
Though GLK is a talker, he also can listen, and he's interested in knowing other people as he is with being known. With the photos, I wanted to show the magnitude of his personality, but also make the photos have that same intimacy. There is a lot of weight to the story of his new album album, so it was important for the images to show both sides of him.
I think it is pretty normal to hate everything you've written or shot once you get some distance from it, but looking back at this one, I still love the lead image and the second to last shot in the piece where he's on the couch looking out the window. Those are the two where I can say I wouldn't have done anything differently if I had a chance to do it again.
Crosslegged, Photos by Nicole Fara Silver
The photos for our story on Crosslegged were taken at Keba Robinson's home in Red Hook. It was Keba's first feature story and first photo shoot.
This was Keba's first photo shoot ever and she was understandably very shy. It's an intimidating thing to have a camera in your face—especially if you're not used to it, and it's always an uphill battle when the subject isn't comfortable in front of the camera. Luckily, Keba had a friend with her, which helped break the ice a little bit.
I always try to capture a true representation of whoever I'm photographing. I love to shoot in the in-between moments, when the subject has their guard down and isn't expecting it. Once I realized how uncomfortable Keba was with my presence, I knew I wanted to use that, and highlight it. I also tend to be shy, and holding my camera helps me overcome those moments. So when I felt like I wasn't getting anywhere, I asked Keba to pick up her guitar and fiddle with it while I shot. It took her mind off of me for a little bit.
TRNSGNDR/VHS was performing at the Walters Art Museum when we photographed her for our story.
Working in a live setting can always be a challenge, but working in a Fine Arts Museum comes with its own set of difficulties—dim lighting, docents who might not know what you are doing, an environment not designed for a music experience. Thankfully, most of the above ended up influencing the final product in a positive light.
Going into the project, I knew I wanted to try and capture some of the incongruence of this very modern artist with this somewhat traditional institution. But I think the portrait-style shots of Alexandra worked the best. You can get a sense of her from them—which to me is what i consider success.
Oddisee, Photos by Elyssa Goodman
Elyssa Goodman met Oddisee at his home in Brooklyn for our first long feature, and sought to capture his thoughtful essence.
Oddisee is a really lovely person, but I wasn't expecting him to be so tall! I'm a short lady, and I always bring a stool with me to stand on, because I'm often shorter than my subjects. We did some shots outside on his fire escape, though, and using the stool at that point wasn't possible. We had to do some artful maneuvering to get the shot and also so neither of us fell!
I listened to Oddisee's music before the shoot because I wanted to understand him better, and in it I could feel a deep sense of thoughtfulness and consideration of the world around him. Those were the things I wanted to capture. I realized they might be lofty goals, but I thought if we can even get a hint of that in the images, they'll be successful.
Not only does Oddisee know how to be photographed, he is really confident and comfortable in front of the camera. It's good when you and your subject have the same desires for the image, because it makes working together go a lot more smoothly. He was also a really kind host, and very flexible with where he was willing to go. Sometimes photographing a celebrity can be a clash of personalities, but he was open-minded, so we were able to have some fun and to experiment. The biggest challenge of portraiture is not just taking a nice picture, but capturing the essence of the person you're photographing. While I don't know Oddisee well at all, the person I met that day is the person in the images, and that makes me happy.
Sometimes, an artist's chaotic schedule can yield remarkable results. When Francis Turiano met up with Jean Grae & Quelle Chris, they were at a local laundromat washing their clothes.
We secured a time for the shoot very late in the game, and I met up with Quelle and Jean when they were doing laundry. They had been up all night doing album artwork and were exhausted. We decided to keep it informal—played the arcade games, got some linens done, and got the shoot in all at the same time.
Quelle and Jean are never trying to stunt, or look too cool, or do anything other than be themselves. You're always trying to capture a true identity in a photo shoot, but it's rare that the subject, especially an artist, willingly allows themselves to relax and just be themselves without worrying about "image" or how they might be perceived. Quelle and Jean are very confident in who they are, and I think that came out in the shoot. I was doing portraits of Quelle when the dryer cycle began, and he started doing some kind of karate moves. It's certainly not something that I would have come up with or asked someone running on 30 minutes of sleep to do, but that's Quelle for you.
Weaves, Photos by Cole Giordano
Sometimes, even the most meticulously-planned shoots can go awry. Cole Giordano had arranged to meet Weaves at a church garden in New York, but quickly realized he'd have to come up with a last-minute Plan B.
In the initial talks with Weaves' reps, we decided to continue the theme of the band being surrounded by greenery, which started with the cover of their self-titled LP. I scouted some leafy parks around the West Village in New York where I would be meeting the band, and found a beautiful garden that was part of a church. Of course, the shoot day comes, and the forecast is rain. So, that afternoon I was frantically trying to find indoor backup locations that we could shoot in last minute. To our luck the rain held off, but what we had failed to realize was that the church garden closed at 6 p.m., which is exactly when we were scheduled to start shooting. Basically as soon as Weaves arrived, we were kicked out of the garden and forced to find yet another location. Washington Square park was nearby, so I suggested we check it out and see if we could find a quiet, lush corner to shoot in. Fortunately we did, and with that settled, were finally able to actually start.
One of the members of the band was unable to be there for the shoot, and they were pretty bummed about that. They showed me that they had a passport photo of his and wanted to somehow incorporate it. For most of the shoot, the photo was just being passed around and pinned to their jackets, but I thought, 'He's a part of the band too, we should find a way to get a photo where you can see his face.' While we were doing some shots of them on a bench, I had Jasmyn hold the passport photo under her face for a close up, so he could be front and center.
Looking at the photos now—some of them you would never even guess were in one of the most recognizable parks in New York City. Weaves were just great to work with. They brought so much energy and enthusiasm, and vibed off each other so well. That it just made my job that much easier.
Kokayi, Photos by Jati Lindsay
Jati met Kokayi at Songbyrd Music House and Record Cafe in D.C., where the artist was holding a series called "Beats & Beans." Kokayi would create new music on the fly as coffee shop patrons sipped lattes around him.
Everything about this shoot was a breeze. Great location, great artist—I was just trying to be invisible, to capture Kokayi in his environment, creating music, and interacting with the coffee shop patrons.
When I first arrived, I immediately noticed the way the light was filtering in through the glass, into the front seating area. I knew that was where we had the potential to create some great images, so I waited until Kokayi's beatmaking session was over, and I asked him to set everything up again in the window and create music based on what he was happening on the street. I'm especially happy with those images, the ones I shot from outside the window, looking in. Those photos show Kokayi making beats in reaction to the city life, truthfully illustrating that specific time and place.
Senior Editor Ally-Jane Grossan travelled to North Carolina to meet the artists on the compilation Biscuits For Your Outside Man in person, capturing their stories along the way.
Well, for starters I'm not a photographer by trade. Shortly after joining the staff of Bandcamp Daily, I went to North Carolina to report on a story about the intersection of food and blues. I spent a weekend in and around Durham with the staff of the Music Maker Relief Foundation and some of the artists they help to support (by providing basic needs and musical enrichment). The foundation's photographer, Aaron Greenhorn, was with me the entire time, but I did a bit of shooting myself. On the last day of my visit, we went to the home of Algia Mae Hinton, whose song "Biscuits for Your Outside Man" was the essentially the reason for my trip. I sat with her in her dark living room for almost an hour chatting about her life and her music. She was very shy and hard to hear because she wouldn't lift her head and look me in the eye. Eventually we moved outside to the porch. With a banjo in her lap, she seemed to light-up. After a few minutes of goading, and repeating "Algia Mae, look at me," she looked right into the camera and I got this shot.
I had planned on shooting outside but, of course, it rained. So we shot in Angel's apartment instead—which I think actually worked out better, since we didn't have to hurry from one spot to the next. Her place also has great natural light. I knew she would be doing a lot of photo shoots prior to her new album, so I really wanted the photos to feel different, and to evoke a bit more nuance, which is often difficult to get in these types of shoots. I had photographed Angel when she was recording her previous album, so we knew one another on that level. We also share a few good mutual friends and, at the time, we were pretty much neighbors. I think those things put both of us at ease and allowed me to take more risks. Up until I photographed her looking through the window with the curtain pulled back, I still knew I hadn't really made an image I was happy with. When that fell into place, I knew I had what I needed.