BEST JAZZ
The Best Jazz on Bandcamp: January 2021
By Dave Sumner · January 29, 2021
It is with a deep sigh of relief that we can say that 2020 is finally over. But as nightmarish as things got, music remained a source of hope. This month, we take a look at new releases as well as music that arrived at the tail end of 2020.  Let's begin.
Merch for this release:
Vinyl LP, Compact Disc (CD)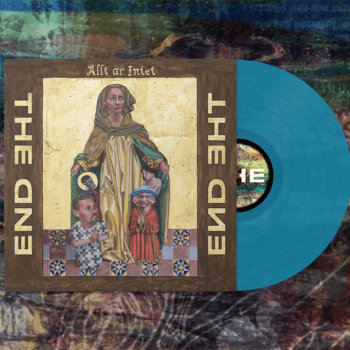 While this Mats Gustafsson project doesn't consist solely of Fire! Orchestra contributors, The End's melodic intensity and their willingness to instantaneously combust certainly makes them extended family. Aided by fellow saxophonist Kjetil Møster, vocalist Sofia Jernberg, guitarist Anders Hana, and drummer Børge Fjordheim, Allt Är Intet proves that there's no reason to fear change, or worry that everything is coming apart at the seams; all of that is just a prelude to creation.
Merch for this release:
Vinyl LP, Compact Disc (CD)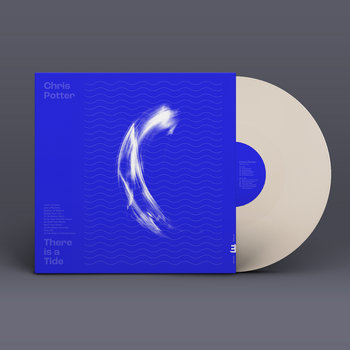 If, while listening to the new release by Chris Potter, a little voice in your head worries that this is a put-on, it would be an understandable reaction. Even though the album notes specifically state that Potter performed every one of the instruments on this pandemic-isolation recording, the music's cohesion and depth makes it hard to believe there wasn't an ensemble contributing to this outstanding session. But I hope it's true, because if it is, it's yet another reminder of the limitless potential for beauty living in all of us—and how sometimes that beauty can come about by doing nothing more than sitting alone in a room with an idea….and a few instruments.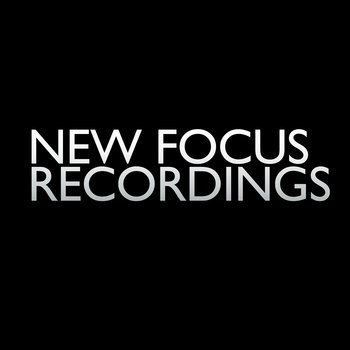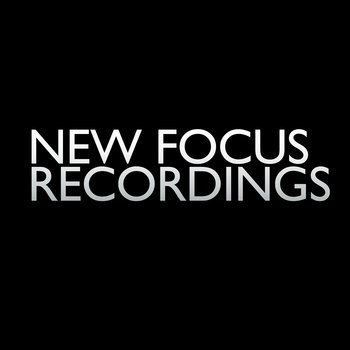 Merch for this release:
Vinyl LP
This riveting set from Susie Ibarra has a talkative disposition, even when its overall mood is contemplative. Whether she's playing solos, duets, or trios with pianist Alex Peh and flutist Claire Chase, the percussionist speaks with a language all her own. The music here has a sense of tension and release that is positively addictive.
When an album consists of just a musician and their instrument, it's nearly always going to be an intimate affair. In its purest state, it leads to music that ignores the laws of physics, dissolving the distance of time and geography that separates artist and listener. On his latest solo recording, Jason Moran does away with those distances entirely. At times it feels like Moran is right there in the room with you, performing.
Livestream concerts from established venues was one of many welcome trends that emerged during the pandemic shutdown. Not only did it open up avenues between musicians and fans, but in the case of this duet performance by alto saxophonist Miguel Zenón and pianist Luis Perdomo, it also resulted in a sublime recording. They touch upon both well-known bolero pieces and Latin American standards, embracing melodies to which they have an intimate connection. During one September evening at The Jazz Gallery in New York City, they masterfully channeled the strength of that connection. Lucky for us, it was recorded.
Merch for this release:
Compact Disc (CD)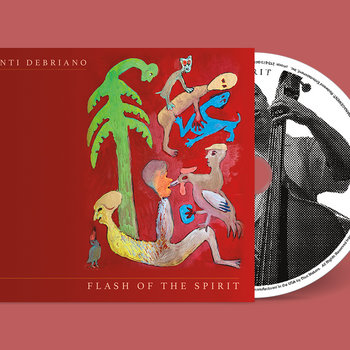 It would be easy to peg this music as simply a byproduct of various influences. The musics of Santi Debriano's native Panama, and his long-time roots in the nucleus of New York City, can be directly felt on Flash of the Spirit, as can the experience of his collaborations with jazz greats such as Archie Shepp, David Murray, Billy Hart, Chico Freeman, Sam Rivers, and Charlie Rouse. But the bassist's latest release, from first note to last, is marked by an appealing fluidity that carries the listener away. Sometimes the music bops along, sometimes it grooves, and sometimes it shakes; but in each instance, it has a joyful flow.
Sam Harris
Solo
This year has already shown that it comes equipped with its own troubles, which means you should allow yourself a little serenity now and then, in order to brace for what's ahead. Sam Harris's meditative Solo will help get you there. These gentle pieces on piano and synths approach each melody as if it has a thousand different facets, each one waiting to be explored. This music should appeal greatly to fans of the contemplative musings of Fred Hersch and Nils Frahm. And if this floats your boat, I highly recommend Harris's 2018 trio recording Harmony, which was released on Bandcamp near the end of the year and kind of flew under the radar, but it's music that will make you soar.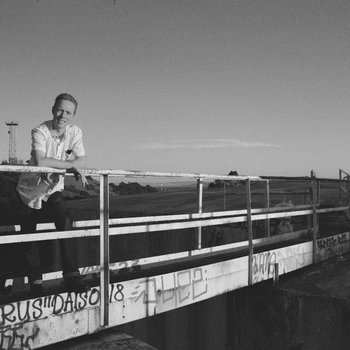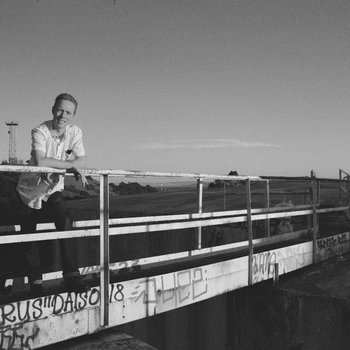 Merch for this release:
Vinyl LP
I just cannot get enough of this groove-happy psychedelic jazz session from Sitka Sun. It's spiritual jazz whose target audience is Mother Earth, and it clears the way for a sense of transcendent joy. Electric, acoustic, and pedal steel guitars, percussion, wind instruments, and keyboards act in service to both crisp melodies and hazy harmonies. We've got a ways to go before it's spring again, but All the Way West can conjure that same warmth in chilly February through the sheer force of its personality.
Merch for this release:
Compact Disc (CD)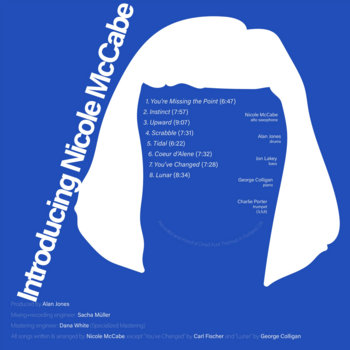 This straight-ahead session from Nicole McCabe is fire. Even when the saxophonist simply lays back into a tune that gallops pleasantly along, her quartet maintains a focused intensity that keeps on generating heat. It's a strong debut from McCabe, and at a time when jazz's evolution has taken it far from its origins, it's a nice reminder that the past still has plenty to say.
Merch for this release:
Compact Disc (CD)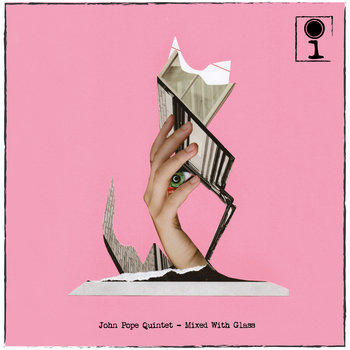 It's not just the fact that his quintet straddles the line between old-school and new-school jazz that makes the latest from John Pope so engaging. It's also the way he transitions fluidly between straight-ahead and free improv. The bassist's quintet keeps close to the heart of jazz, and that tight focus brings the changes into sharp relief, creating an undercurrent of something new, even while listening to something quintessentially familiar.
Merch for this release:
Compact Disc (CD), Vinyl LP
The new century spiritual jazz sound is well established, and one branch of its evolution can be traced back to Lance Ferguson. The Melbourne-based multi-instrumentalist, producer, and DJ has been crafting his own vision of this particular sub-genre with his Menagerie ensemble for some time now. The music's soulfulness is equally suited to quiet moments looking out over the horizon as it is to Saturday nights out on the town.
Akira Sakata
赤とんぼ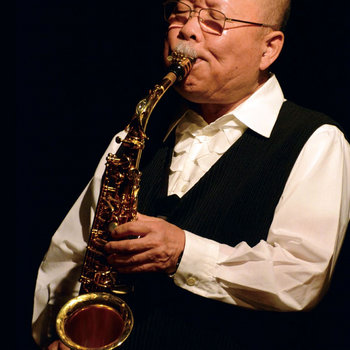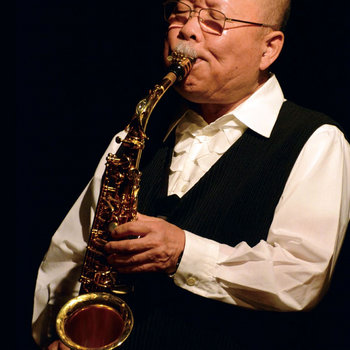 Akira Sakata has dropped some recordings from his back catalog onto his Bandcamp page recently, and while the focus of this column is on the music of today, some exceptions must be made for significant historical recordings. This 2004 session, which translates to "Red Dragonfly," is a stellar example of why. The free jazz saxophonist made his mark on the Japanese scene in the '70s before going international and collaborating with the likes of Peter Brötzmann, Pete Cosey, Bill Laswell, and Hamid Drake. This particular recording is a trio session with pianist Kyoko Kuroda and bassist Vagabond Suzuki. By the album's close, one is left with the impression that Sakata cried out a melody to the heavens, and the heavens called back to him with a melody of its own. This music is nothing short of majestic.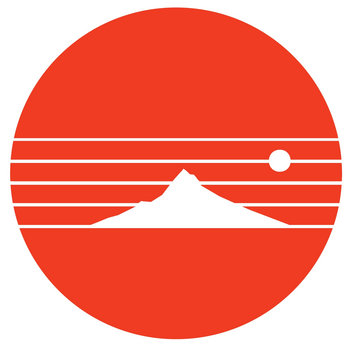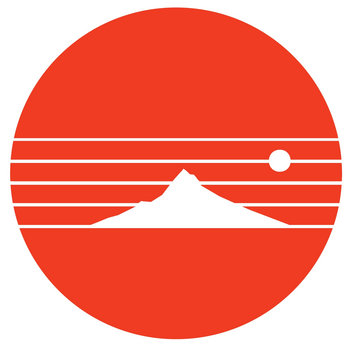 This music is riveting. The saxophone quartet of sopranist Mary-Sue Tobin, altoist Chelsea Luker, tenorist Michelle Medler, and baritonist Mieke Bruggeman keep a tight orbit around the melodies of Andrew Durkin's compositions, while simultaneously unleashing harmonic waves, one after the other, as far as they'll carry them. It is one of those recordings that keeps the ear locked in the present moment, focused on the newest expression. In the jazz tradition of re-arranging pop songs and taking them to new horizons, the quartet teases the melody to Faith No More's arena-friendly anthem "From Out of Nowhere," to the point where it's tantalizingly familiar, hovering at the edge of perception.
In the pandemic era, a frequent dispatch from the Department of Silver Linings has been the sublime solo works and duets of musicians adapting to isolation. This over-the-internet session from soprano saxophonist Jane Ira Bloom and bassist Mark Helias is the latest and greatest example. Though they were never in the same room creating this music, there is an intimacy to their interactions that makes it seem as if they'd been close enough to touch each other. And, so, when the isolation becomes too much for you, and your heart yearns for connection with something other than yourself, Some Kind of Tomorrow will fill that emptiness and make you feel not quite so alone.
Merch for this release:
Compact Disc (CD)
Stardust Crystals is so damn personable. It'll walk right up to you with a big smile and a warm greeting, and make you feel like you've been reunited with a best friend. Yumi Ito's ensemble is composed of woodwinds, harp, vibraphone, percussion, and a string trio, and her vocals melt seamlessly into the folds of its rich textures. If you live in a place where cold weather would've kept you stuck inside even if the pandemic weren't raging, then this is music that'll generate some warmth and make you happy you aren't leaving the house anyway.
Merch for this release:
Compact Disc (CD), Sheet Music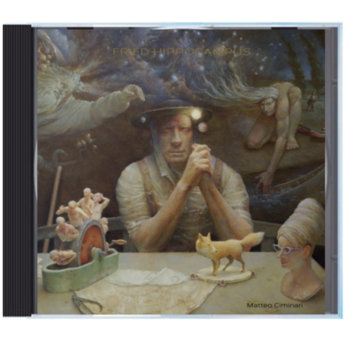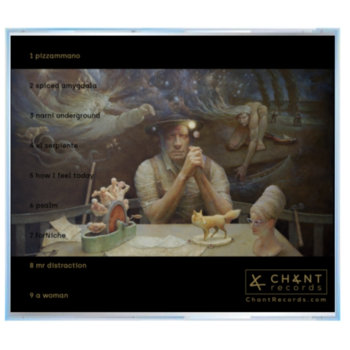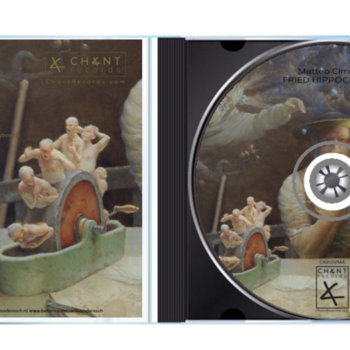 This is whimsical music that leads with its sense of humor, but never actually delivers a punchline. Fried Hippocampus from London's Matteo Ciminari can easily be likened to the work of Frank Zappa, another musician whose serious music has the effect of eliciting smiles. Of particular intrigue is the way Ciminari (a guitarist by trade) incorporates a theremin into the mix, utilizing it the way you might add a string instrument to a piece, but without relying on its knack for instilling an otherworldly ambiance.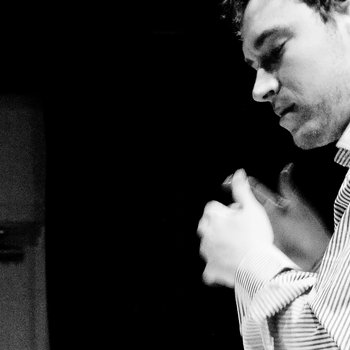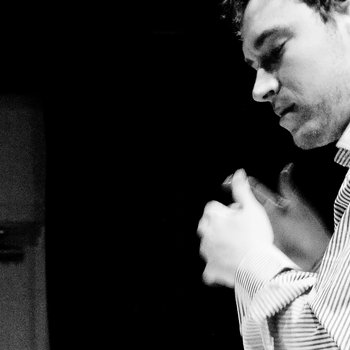 Merch for this release:
Compact Disc (CD)
Let's end this month's column with a memory of the beginning. More than 10 years ago, when I first began sifting through Bandcamp new releases as a fan, the jazz section was nothing remotely like the thriving music ecosystem it is today. One of the first gems I encountered was James Hamilton Jazz Orchestra's The Causeway Suite. It, along with a handful of other recordings, was the motivation to keep exploring Bandcamp time and time again. Hamilton just uploaded another live set from his orchestra, and it's no less wonderful than the first. His music is the embodiment of the sun rising majestically over a mountain range and shining boldly, high up in the sky.