BEST JAZZ
The Best Jazz on Bandcamp: February 2022
By Dave Sumner · March 17, 2022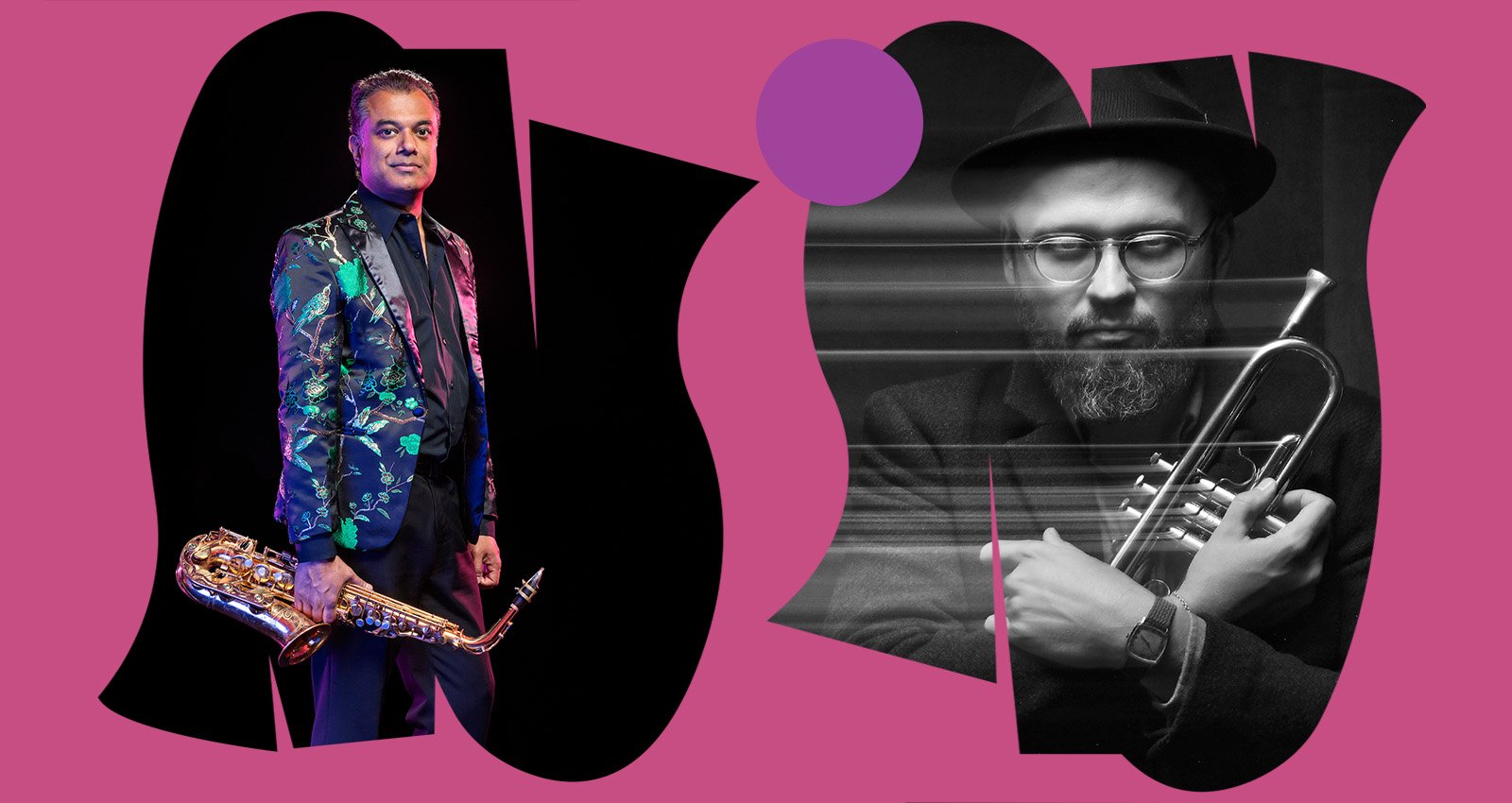 Does February hit everyone hard? It seems like it does. It's a month of Monday mornings, of dreary days to be endured until the first merciful day of Spring arrives. Music helps—helps a lot, in fact. This month's list is a wealth of vivid imagery, an antidote to despair, and a reminder of sunnier days ahead. And, hey, for those of you living your most carefree life in February…this music will be just what you need, too.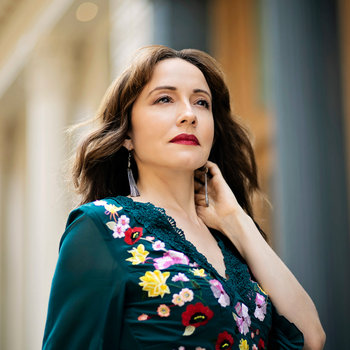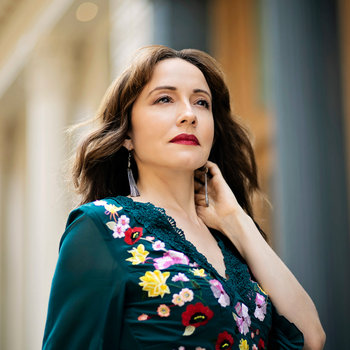 Merch for this release:
2 x Vinyl LP, Compact Disc (CD)
Marta Sanchez's music is always a journey. It may begin with a straightforward melody, and the introductory setting may feel like familiar territory. But, invariably, the path to a piece's final end is unpredictable—and often quite thrilling. The music isn't experimental, nor does it take jazz to new dimensions. Instead, Sanchez's deeply thoughtful, insightful examinations explore what's right there in front of us, instigating new discoveries. Ultimately, the winding path on which the pianist embarks is as exciting as the final destination. Her latest with alto saxophonist Alex LoRe, tenor saxophonist Román Filiú, bassist Rashaan Carter, and drummer Allan Mednard (plus guest spots by Camila Meza, Ambrose Akinmusire, and Charlotte Greve) is just one of many journeys on which she's taken us. And I never miss the opportunity to suggest her excellent 2015 release Partenika.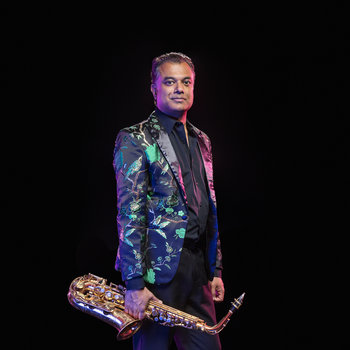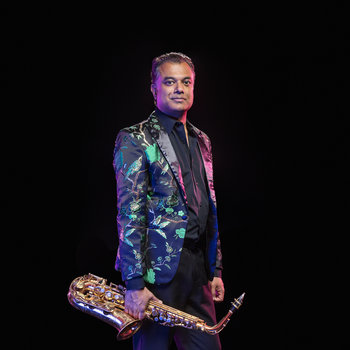 Merch for this release:
T-Shirt/Shirt
There's a radiant joy in the latest from Rudresh Mahanthappa. The alto saxophonist, with acoustic bassist François Moutin and drummer Rudy Royston, sound like they're having a ball during this session. Each musician takes turns jumping to new heights and spurring on their counterparts to do the same. The electric atmosphere alone is worth the price of admission, but the fact that the album contains brilliant renditions of Pat Metheny's "Missouri Uncompromised," Chuck Mangione's "Give It All You Got," George Michael's "Faith," and the theme song for the video game "Animal Crossing" takes things to a whole other level. These, I assure you, are not straightforward covers. Of course, that's to be expected of someone who recorded an innovative reimagining of Charlie Parker's music.
Merch for this release:
Vinyl LP, Compact Disc (CD)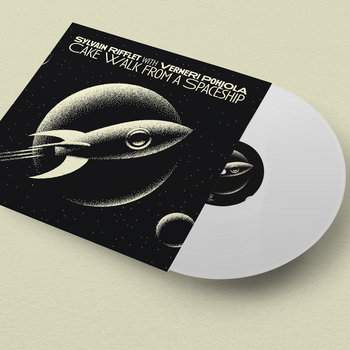 What sets the music of Sylvain Rifflet apart as something special is how, lyrically, it is simultaneously demonstrative and precise. The saxophonist displays a daring inventiveness in each piece, and yet delivers it with a concision that rings with clarity, making room for both big ideas and an eloquent phrasing of the melody. An argument could be made that this session with trumpeter Verneri Pohjola, guitarist Philippe Gordiani, and drummer Benjamin Flament is the fullest manifestation of these qualities. These pieces are wild, effusive, and irresistibly catchy.
Merch for this release:
Vinyl LP, Compact Disc (CD)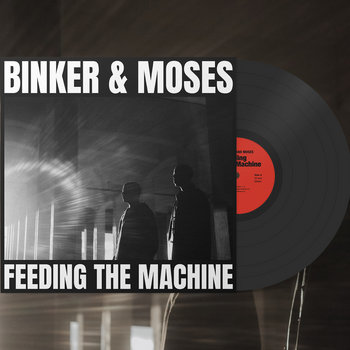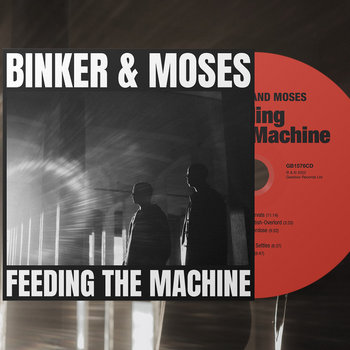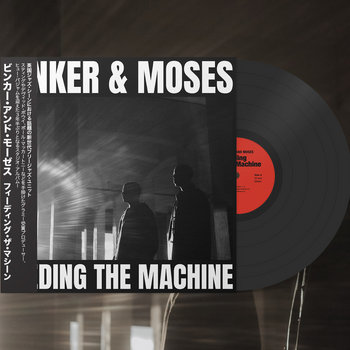 Through raw intensity and sheer force of will, saxophonist Binker Golding and drummer Moses Boyd exhibit a combination of meditation and combustion. Their music is situated in a place where the separation between the eye of the storm and the chaos surrounding it is a thin, delicate veil. The addition of Max Luthert with live tape loops and electronic effects on their latest session adds a new dimension to that borderline hypnotic effect. The pulsing drones sometimes act as counterpoints to the music's fiery personality, but more often than not, they feel like a slow fuse burning ever closer to its combustion point.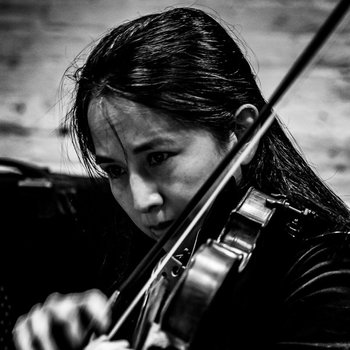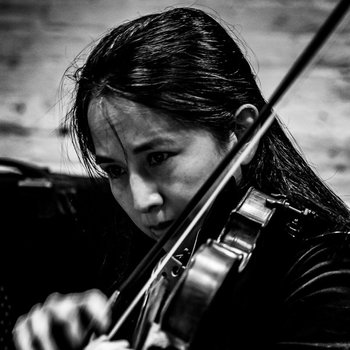 Merch for this release:
Compact Disc (CD)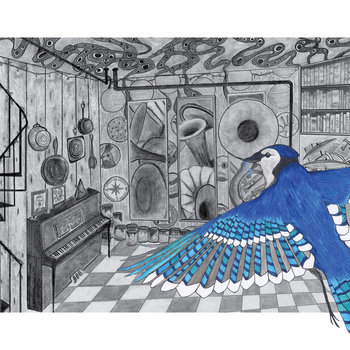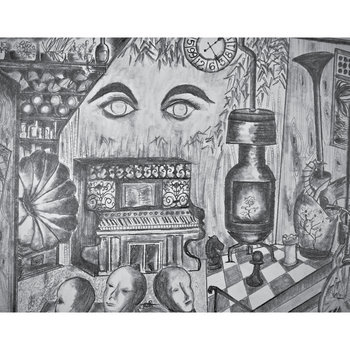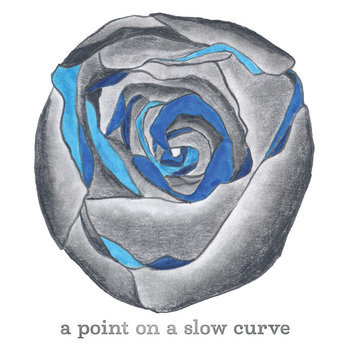 In a modern jazz scene that's grown increasingly unclassifiable, the music of Dana Lyn still stands out as notable. Her latest experimental work casts a bright light on the violinist's singular expressionism, incorporating forms common to the modern jazz idiom alongside chamber, choir, folk, and avant-garde. Vibraphonist Patricia Brennan, clarinetist Mike McGinnis, bassoonist Sara Schoenbeck, and cellist Hank Roberts are just some of the all-star cast who contribute to this fascinating recording. I strongly also recommend Lyn's 2013 release Aqualude, an album I always find time to revisit.
Emile Parisien
Louise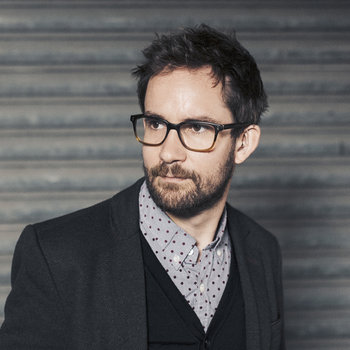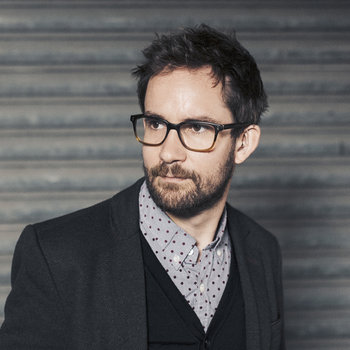 Merch for this release:
Compact Disc (CD), 2 x Vinyl LP
On Louise, dramatic statements serve as a backdrop for the fascinating interplay between the musicians. Soprano saxophonist Emile Parisien's session with trumpeter Theo Croker, pianist Roberto Negro, guitarist Manu Codjia, bassist Joe Martin, and drummer Nasheet Waits is a kaleidoscopic array of moving parts that, time and time again, fall logically in place. It's like a fireworks show, where both the individual explosions and their connection to the greater whole can be appreciated simultaneously. Just an amazing recording, and one of the early highlights of 2022.
Mike Nock/Hamish Stuart/Julien Wilson/Jonathan Zwartz
Another Dance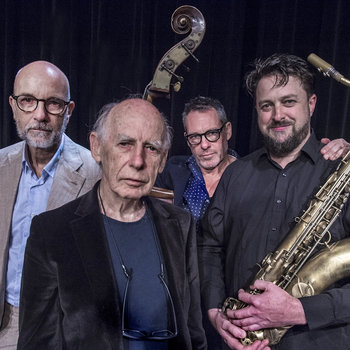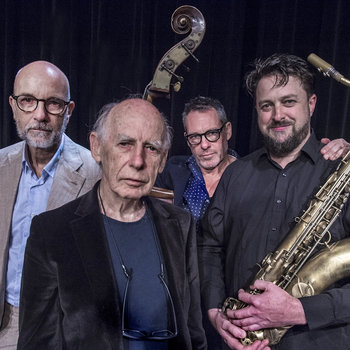 Merch for this release:
Compact Disc (CD)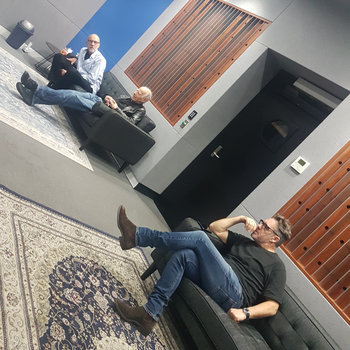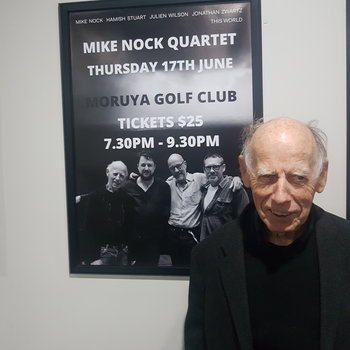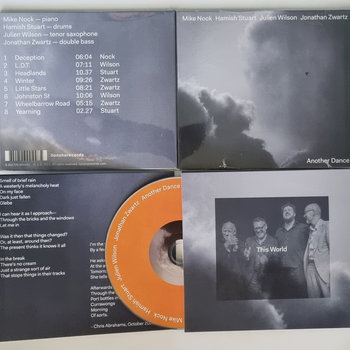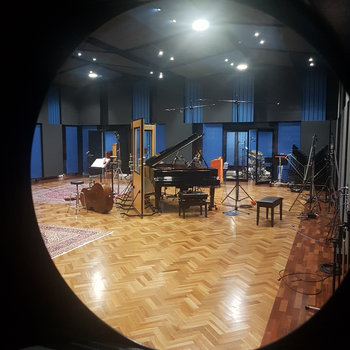 There's a simmering tension that accompanies the lovely melodicism on this session from pianist Mike Nock, drummer Hamish Stuart, tenor saxophonist Julien Wilson, and double bassist Jonathan Zwartz. Even the gentle ballad "Little Stars" contains within it the potential for heavy impact. It's that undercurrent that carries the session, instilling the music with a resonance matched by the quartet's considered restraint. Another Dance is yet one more example of the strength of Australia's jazz scene.
Merch for this release:
Compact Disc (CD)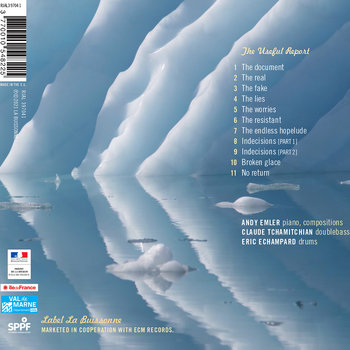 In a large ensemble project, the compositions of Andy Emler crackle with electricity and radiate an eccentric personality. It's no surprise these qualities would also emerge in a piano trio setting. What's consistently been a pleasant revelation is the raw intensity displayed by the pianist's ETE Trio sessions with contrabassist Claude Tchamitchian and drummer Éric Échampard. The pieces reflect a minimalist perspective, and the prowling melodies and relentless cadences push that form of expression to its extreme. A thrilling recording, and yet another excellent release from the French label La Buissonne.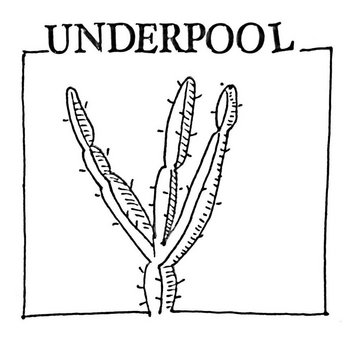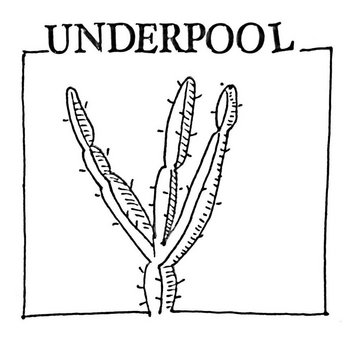 Merch for this release:
Compact Disc (CD)
This album's approach to ragtime is both a brilliant reimagining of the music as well as a tender homage. The 17-piece Barcelona Art Orchestra have lighthearted banter and sunny melodicism, but also provide space for thoughtful, idiosyncratic expressions. Ragtime Stories opens with the exhilarating 16-minute "R.A.G.T.I.M.E.," and the album never comes down from that lofty perch. This is an outstanding example of root music blooming with fresh, vibrant colors in the modern day.
I Just Came From The Moon
Ånd Ud
Merch for this release:
Vinyl LP, Compact Disc (CD)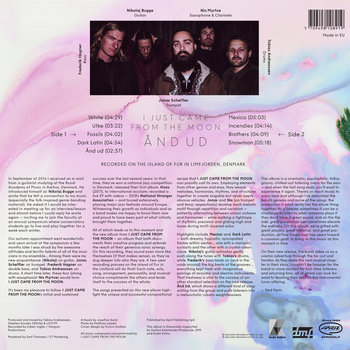 The lingering echo of harmony is one irresistible quality of the latest from the Danish quintet of trumpeter Jonas Scheffler, saxophonist-clarinetist Nis Myrtue, guitarist Nikolaj Bugge, bassist Frederik Hagner, and drummer Tobias Andreassen. These pieces offer up clearly defined melodies that slowly drift into hazier territory, their transformation into the abstract shaping the harmonic patterns. It's why the music possesses so much warmth and such a welcoming atmosphere. I was also quite fond of their 2017 release Hoax.
Joona Toivanen Trio
Both Only
Merch for this release:
Vinyl LP, Compact Disc (CD), Poster/Print
Good God is this album gorgeous. The melodies are haunting—sometimes even menacing when the intensity spikes—but they're always in the service of the music's exquisite beauty. Pianist Joona Toivanen, bassist Tapani Toivanen, and drummer Olavi Louhivuori exemplify the modern jazz piano trio sound, where harmonic visions and melodic inspirations feel like moonlight shining a bright light on the song's path, enchanting the listener along the way while remaining elusive and ephemeral, always fading too soon. This is music capable of breaking hearts and healing them all in the same note.
Merch for this release:
2 x Vinyl LP, Compact Disc (CD)
The melody from the late Tomasz Stańko's trumpet felt like the languorous descent of candle wax, often landing with a splash. And with Tomasz Dąbrowski, you know to expect the heat. Dąbrowski's latest is an homage of sorts to Stańko's music, and the trumpeter charts a course that cuts down the middle of what separates them. The melodies pour out slowly, patiently, but are agitated and stirred before they've fully taken shape. This balancing act on the tipping point between serenity and dissonance is utterly arresting.
Karl Ivar Refseth Trio
Devotion
"Solemn" doesn't quite describe the meditative spirit of this trio session from vibraphonist Karl Ivar Refseth, alto saxophonist Christian Weidner, and double bassist Matthias Pichler, nor does flickering candlelight fully capture this album's hypnotic effect. The trio's propensity for patiently nurturing fragments of melody into fully realized bursts of harmony is a perpetual reward on Devotion. Even when the trio sparks up a bit of heat, the music maintains its serenity, delivering tiny doses of peacefulness in increasingly chaotic times. Speaking of peacefulness, Traumton Records also released Idantitâ this month, the latest from Florian Favre, a solo piano piece of pure tranquility.
Alex Apolo Ayala
Bámbula
Merch for this release:
Compact Disc (CD)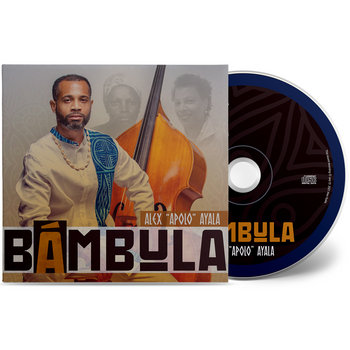 The balance of a rich rhythmic dialog and easy, casual flow is the defining trait on the debut from Alex Apolo Ayala. The bassist is a veteran of the New York City scene, and that expertise is evident on his first foray as bandleader. The bassist's San Juan, Puerto Rico roots make their presence felt, sometimes settling into the welcoming embrace of the jazz expression and sometimes subsuming it entirely. For many, February is a gloomy, oppressive month by any number of measures; Bámbula is a welcome antidote.
Rachel Eckroth's 2021 release The Garden received plenty of year-end Best Of recognition, including some love from the Grammy's peeps. The Common Mutations session was recorded at the same time, an offshoot from the main session consisting of only Eckroth's keyboards, Tim Lefebvre's bass, some studio manipulation, and contributions from drummer Christian Euman. The result is both similar and different from the main event. Common Mutations is the potent shot accompanying the heady sidecar pour that was The Garden.