BEST JAZZ
The Best Jazz on Bandcamp: March 2020
By Dave Sumner · April 01, 2020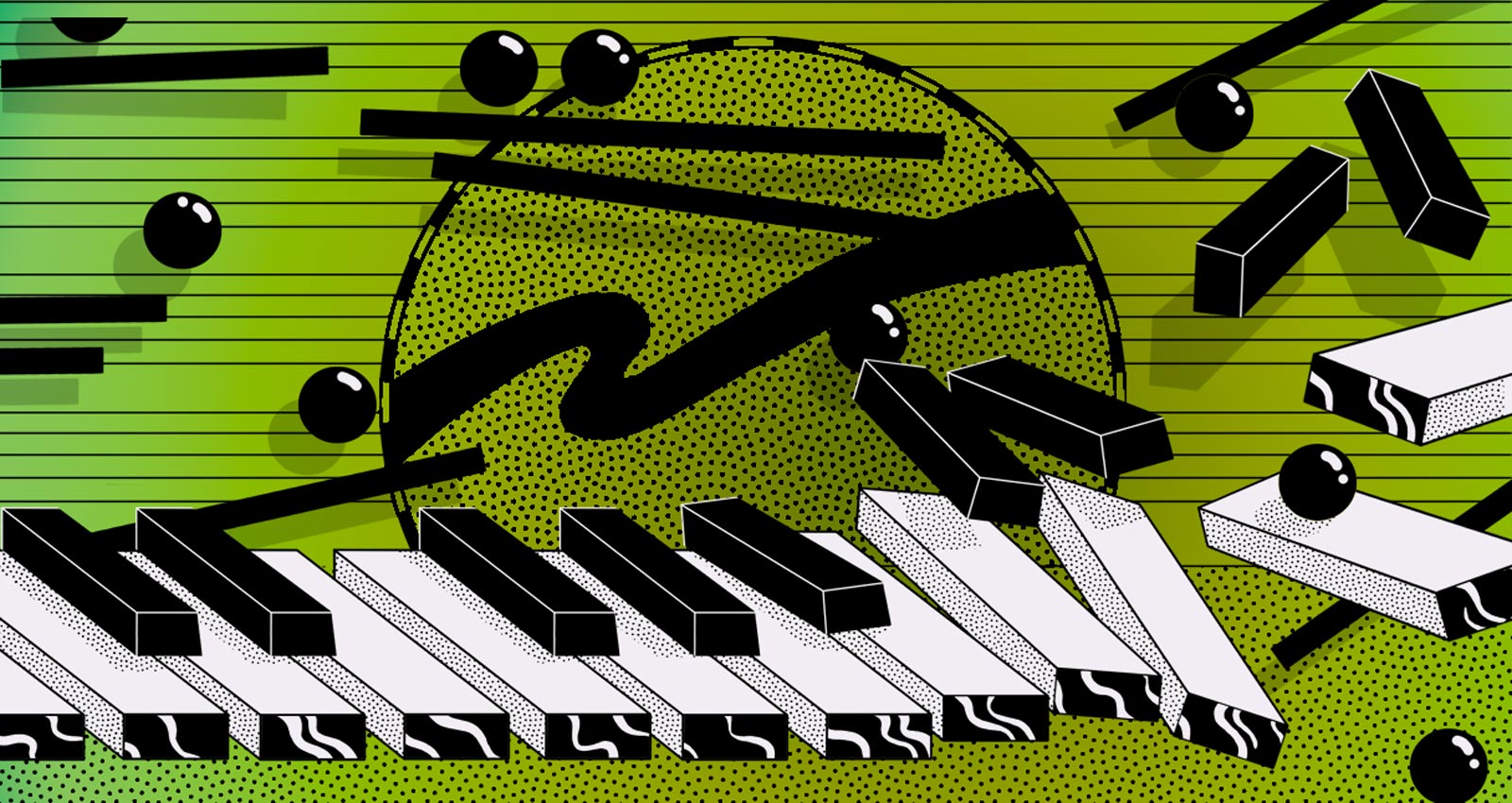 These are fearful times, defined by anxiety and social isolation. But take some small solace in this: when you have good music, you're never alone. The sounds fill the room with a sense of something greater and we connect with the musicians as if they'd created that music just for us. We're reminded of the creativity that exists in each of us if we just let it out. All of that can be a kind of spiritual inoculation for the circumstances inching us closer and closer to despair. These recommendations have always been made with the sincere hope that listeners are introduced to their new favorite album. That motivation has never been more heartfelt that it is today. Now, let's begin.
Merch for this release:
Vinyl LP, Compact Disc (CD)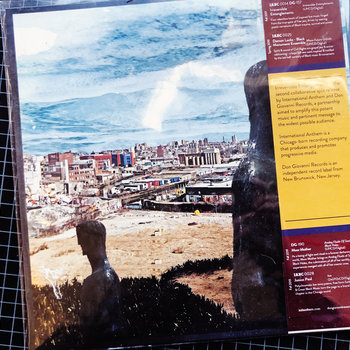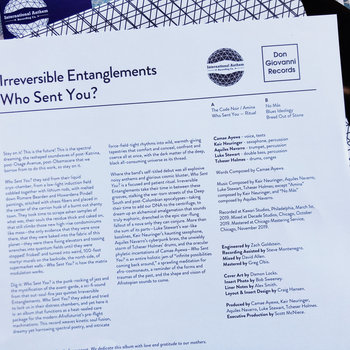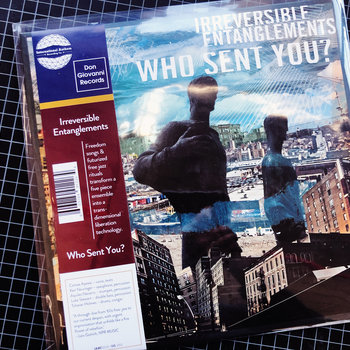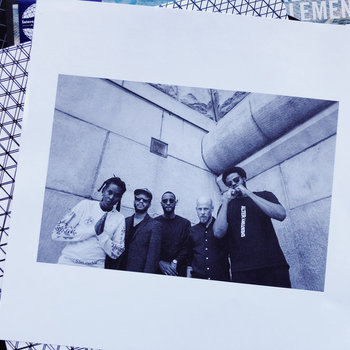 If the Irreversible Entanglements' 2017 debut was a breaker wave of protest crashing against the face of societal injustice and inequality, their 2020 follow-up dissects those same wrongs with surgical precision. Who Sent You? has all of the righteous anger of its predecessor, but with a focused intensity: rhythms have a propulsive groove, and melodies are delivered with the directness of a hawk swooping down on its prey. It can be easy to feel hopeless surrounded by so much that's wrong, at a time when everything feels like it's coming apart at the seams. Vocalist-poet Camae Ayewa (aka Moor Mother), saxophonist Keir Neuringer, trumpeter Aquiles Navarro, bassist Luke Stewart, and drummer Tcheser Holmes are a reminder of how much fight there's still left in us.
Merch for this release:
Compact Disc (CD)
It's time to add Jasper Høiby to the list of bassists responsible for seismic shifts in the jazz landscape. He's already made an indelible impression on the modern scene with the trio Phronesis. Much like how the Bad Plus formed a bridge from the post-bop '90s to the indie-jazz of the new century, Phronesis is inciting a change in the way the modern piano trio is viewed. His contributions to unorthodox ensembles like Fringe Magnetic, Slowly Rolling Camera, and Kairos 4tet further cement his reputation as one of the bright spots of the modern scene. But, good God, his solo projects eclipse even that. His 2016 release Fellow Creatures was one of the albums of the year, but Planet B is an entirely new plateau of excellence. The first of four planned albums inspired by themes of world importance, Høiby, with saxophonist Josh Arcoleo and drummer Marc Michel, takes an expansive approach to the folkloric nature of his music, and imbues it with a majesty that rivals its topical significance.
Chicago Underground Quartet
Good Days
Merch for this release:
Vinyl LP, Compact Disc (CD)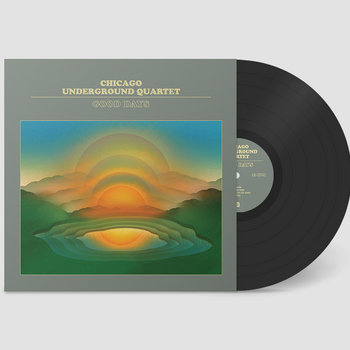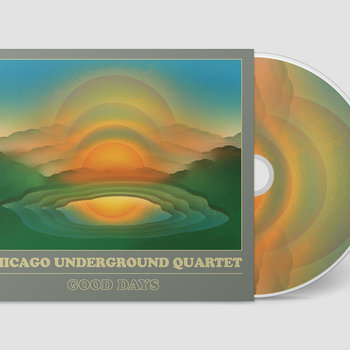 Quartet, trio, duo, orchestra—whatever the current formation, the Chicago Underground is comprised of forward-thinking musicians who served as a pivotal force in the burgeoning experimental and modern jazz scene of the Windy City. Be that as it may, the actual membership of the group does matter, and shapes the sound of the day. The original Chicago Underground Quartet released their debut album nearly two decades ago; the passing of time makes their sophomore release more of a second debut. Trumpeter Rob Mazurek, drummer-percussionist Chad Taylor, and guitarist Jeff Parker have reunited for Good Days, adding Josh Johnson (a member of Jeff Parker's New Breed) on keys. Two decades have passed, and each member has moved on to different locales, but the roots of Chicago still inform their music, and infuses this affair with a welcome sense of the familiar as accompaniment to everything new.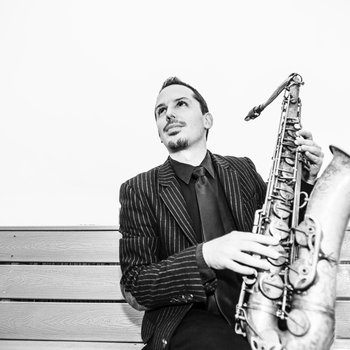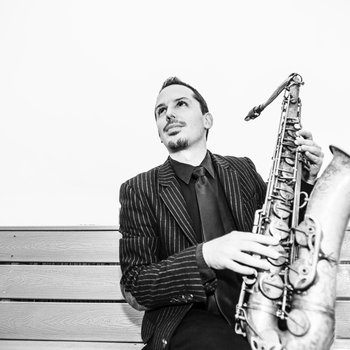 Merch for this release:
Compact Disc (CD)
The theme of a perilous journey along a body of water is a familiar one for saxophonist John Ellis and librettist Andy Bragen. Their outstanding 2014 release MOBRO told the true story of a New York garbage barge searching for a port all along the East Coast, from New York to Belize and back again. Their new narrative, The Ice Siren, isn't based on a true story, but it still has all of the grandeur of its predecessor, while doubling down on the tonal cycle of despair and hope. And like MOBRO, it brings together an intoxicating mix of modern jazz, chamber, opera, folk, and untraceable sonic ephemera. And as it was with MOBRO, The Ice Siren assembles an all-star cast of guest vocalists and ensemble instrumentalists. Bass clarinet, vibraphone, guitar, tuba, strings, percussion, and voices all snap into place to create vivid imagery with a dreamlike presence. You will be talking about this album tomorrow, you will be talking about this album at the end of the year.
Merch for this release:
Compact Disc (CD)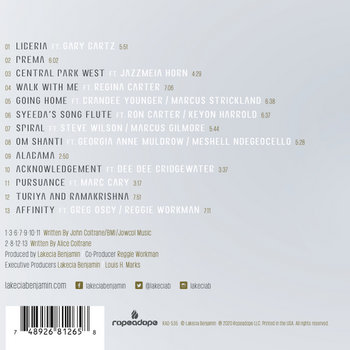 On this tribute to the music of Alice and John Coltrane, Lakecia Benjamin plays it pretty straight. The saxophonist infuses a spirituality into the foundation of these renditions, and this quality, in addition to an appealing propulsion and unerring melodicism, makes this a pretty easy recommendation to make to fans of the Coltrane songbook. There are a couple of pieces that stray into mainstream jazz territory, which leads to a mixed bag on "Central Park West" and an outstanding take on "Om Shanti," which is a gold standard of how to honor an original work and give it a personal voice. A small army of musicians contribute to this recording, including bassist Reggie Workman, violinist Regina Carter, harpist Brandee Younger, bassist Ron Carter, and saxophonists Gary Bartz, and Marcus Strickland (to name, seriously, just a few).
Merch for this release:
Compact Disc (CD)
The music of vibraphonist Chris Dingman has an ephemeral presence, even as the imagery it evokes is vivid. The songs on Embrace don't make a beeline from speaker to ear so much as they coalesce around you like a thick fog. And it's not just a melody he plays, it's also all of its potential shapes and directions—as if that potential can be detected in every note. This trio session with bassist Linda May Han Oh and drummer Tim Keiper is the kind of music to lose yourself in.
Merch for this release:
Compact Disc (CD)
There are no conditions under which The Necks hypnotic talents won't thrive. Twenty-one albums over the course of three decades have proven that statement true, and their 2020 release, Three, stamps an exclamation point at the end of it. The brisk downpour of percussion mesmerizes like rain pelting a windowsill. It's a subtle sort of metamorphosis, as if the trio were obliterating the differentiation between sound and listener—all become one. Pianist Chris Abrahams, bassist Lloyd Swanton, and percussionist Tony Buck are not afraid, however, to reverse the flow on this dynamic, causing the most minimal of drones to rise up into an onslaught. Three has the kind of magnetic personality that takes command of any room; might as well be yours.
Merch for this release:
Compact Disc (CD)
There's a joyfulness to the music of Omer Avital that aims for the heart. It's filled with the blues, framed by the music of his Israeli roots, and expressed from the perspective of modern jazz. These influences, once combined, culminate in a surge of hope, like a beam of sunlight shattering a sky full of grey clouds. The Israeli-American bassist has been a giant on the modern scene, leaving his indelible imprint upon two-plus decades of music: from a captivating extended solo on "Kentucky Girl," through the world jazz grooves of Third World Love Songs, to the ecstatic frenzy of Free Forever, and now the present-day quintet of Quantar—a group of Israeli expats making Brooklyn their home within the embrace of their music. There's never a bad time for the music of Omer Avital, and there's never been a better time for it than today.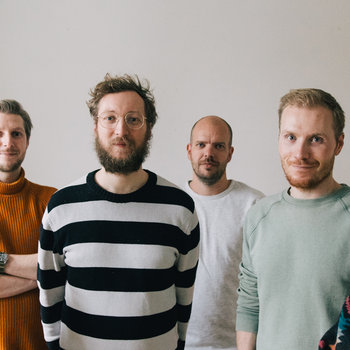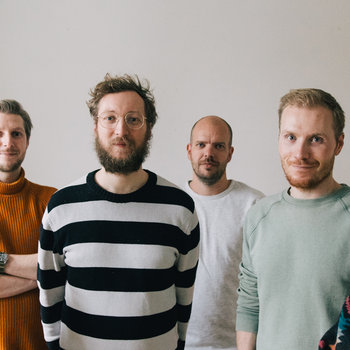 Merch for this release:
Vinyl LP, Compact Disc (CD)
The music of ensemble I Think You're Awesome is so damn charismatic. They have a talent for stringing together catchy melodies, to where a simple, well-crafted hook evolves into something dreamy and epic. Their mix of instrumentation (guitar, banjo, wurlitzer, synths, percussion, bass and electronics) is equally inspired and quirky. Their life at the extremes of focused direction and ceaseless wandering keeps the listener attentive, never sure where the next tune will take them. And now, on their latest, with the addition of the Taïga String Quartet, there are elements of grace and beauty that are simply staggering.
Merch for this release:
Compact Disc (CD)
There's an immediacy to each individual moment of Last Desert. The way Liberty Ellman shepherds the listener from one passage to the next keeps the ear ever focused. It's the equivalent of walking through winding tunnels, where sight lines are consistently interrupted by sharp turns, so the best approach is to focus on the few feet in front of you. The guitarist, arguably best known as a collaborator of Henry Threadgill's, has a track record for making music that takes its own path. His latest is no exception. Ellman is joined by alto saxophonist Steve Lehman, trumpeter Jonathan Finlayson, tubist Jose Davila, bassist Stephan Crump, and drummer Damion Reid.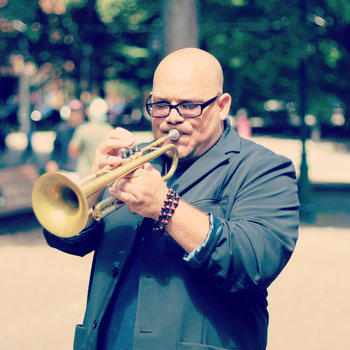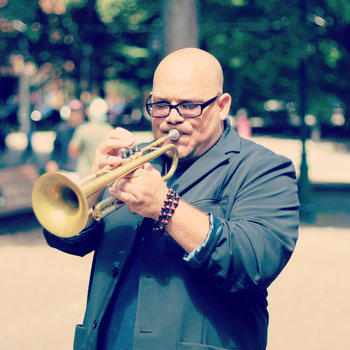 Merch for this release:
Compact Disc (CD)
There's all kinds of hard bop goodness on this session from trumpeter Farnell Newton, tenor saxophonist Brandon Wright, organist Brian Charette and drummer Rudy Royston. The blues hang heavy over everything, but the warmth from the trumpet-sax combo keeps things light and free. Charette is your go-to organist for healthy amounts of swing and deep interludes of sway. And Royston, arguably one of the very best drummers in jazz today, sounds like he's having a ball, and it's a joyfulness that radiates from every tune. On a modern jazz landscape that grows increasingly distant from its roots, it's always nice to encounter a recording that gets back to the heart of things. The album ends with a rendition of "Come Sunday" that makes this worth the price of admission alone. This is also a nice opportunity to scoop up something off the Posi-Tone Records label.
Let's wrap up this month's column with two decidedly non-jazz albums by two musicians with established jazz cred.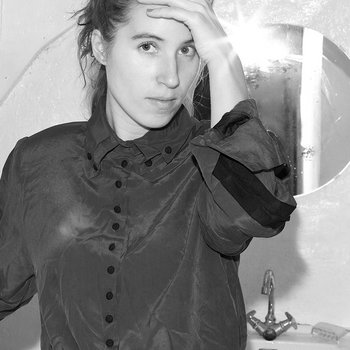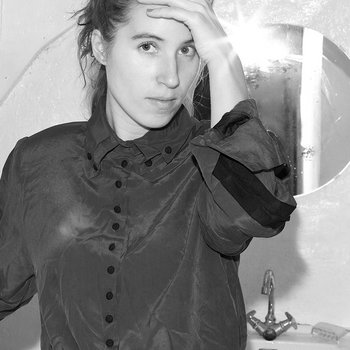 Merch for this release:
Compact Disc (CD)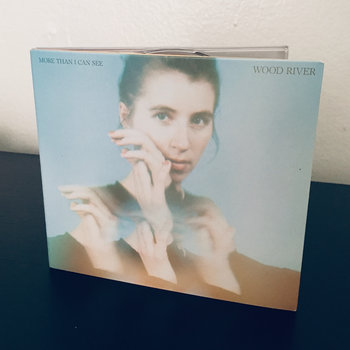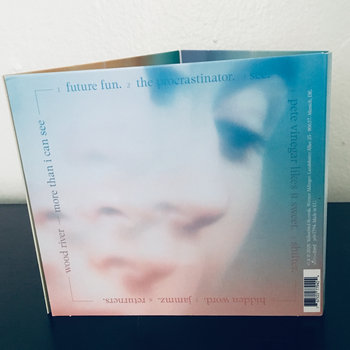 The move to New York City continues to yield new rewards for the music of Charlotte Greve. Back in Berlin, the alto saxophonist established a name for herself with her Lisbeth Quartett, and through collaborations with Malte Schiller and Stefan Schultze that displayed a flexibility for European-styled, post-bop jazz taken in unconventional directions. The move to NYC has led to increasingly diverse sounds and varied collaborations, including those with Marike van Djik's Stereography Project, the jazz choir project Sediments We Move, and noise-jazz-avant-pop collaborations with Landlady's Adam Schatz. Greve's latest sees her stretching out even more with the quartet Wood River. More Than I Can See is gonna share a playlist with Julia Holter, not John Coltrane. It's an art-pop album where Greve's sunbeam vocals are carried along by ambient jazz harmonies. If you're not familiar with Greve, there's never been a better time to explore her discography. She's on a creative path that moves in many directions at once.
Gerald Cleaver
Signs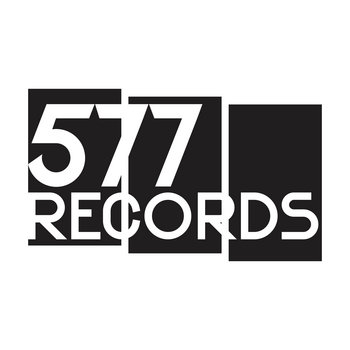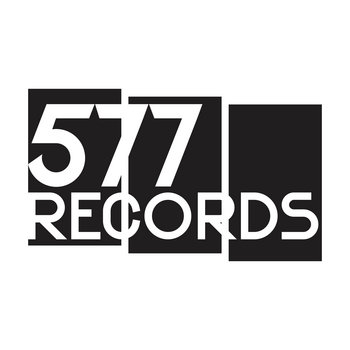 Gerald Cleaver can swing with the best of 'em. There are some that say, and they'd be on solid ground for doing so, that in the modern scene, Gerald Cleaver swings better than any of 'em. But the drummer isn't anchored to bop, and as this electronic music recording proves, Cleaver isn't boxed in by jazz, either. There's a different kind of motion at play on Signs. It is no less playful and thoughtful and fun than his bop and post-bop recordings, but this electronic music session is an entirely different animal, and sees the drummer stretching out in new and interesting directions.