BEST JAZZ
Best of Bandcamp Jazz: October 2016
By Dave Sumner · November 15, 2016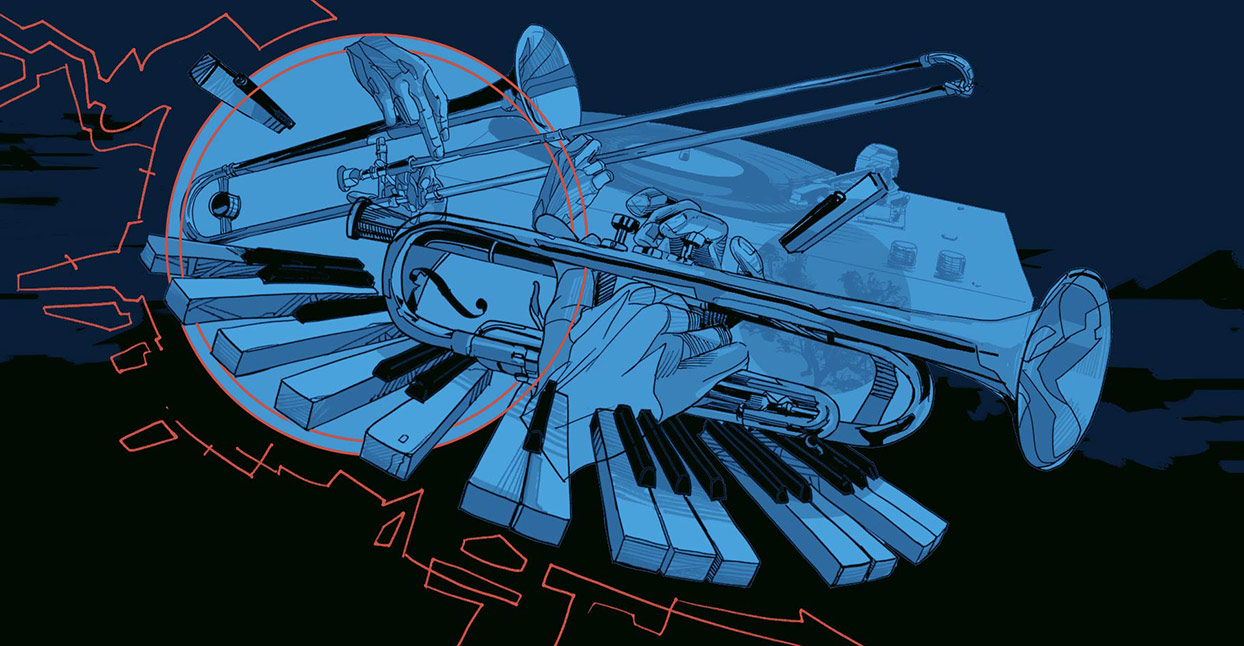 If there's one quality that unites this month's recommendations from the Jazz aisle, it's their philosophical (and stylistic) balancing between looking forward to the next step in the music's evolution and an adherence to the roots of the music's past. When a musician embraces the changing perspectives of jazz across the genre's timeline, it opens lines of communication between the influences of music today and yesterday. It's an aspirational quality that isn't always achieved. To encounter so many albums in a single month that achieve this particular plateau is more than a little amazing.
Eric Hofbauer Quintet
Merch for this release:
Compact Disc (CD)
This reinterpretation of Charles Ives' "Three Places in New England" follows on the heels of guitarist Eric Hofbauer's first two volumes in the Prehistoric Jazz series, where he touched on works by Messiaen and Stravinsky. What's remarkable is how modern this music sounds, even though Hobauer's quintet honors both the spirit and the sound of the source material. There's a heavy influence from American folk, as well as both chamber and classical; traditional jazz shows its charms, and the blues turn up in almost every song. It's perhaps that last quality that allows this music ring with sincerity, even as it unleashes its sense of humor with curveball melodies, marching cadences and groundswells of dissonance. Joining Hobauer are trumpeter Jerry Sabatini, clarinetist Todd Brunel, cellist Junko Fujiwara, and drummer-percussionist Curt Newton. This is forward-thinking music with both feet situated firmly in the past.
Taylor Ho Bynum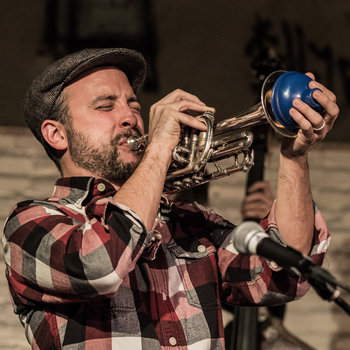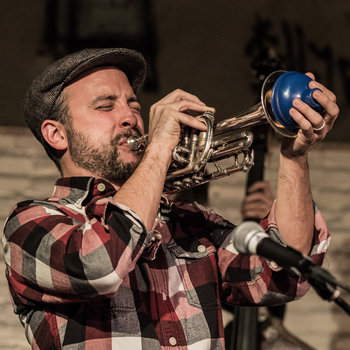 Merch for this release:
Compact Disc (CD), Vinyl LP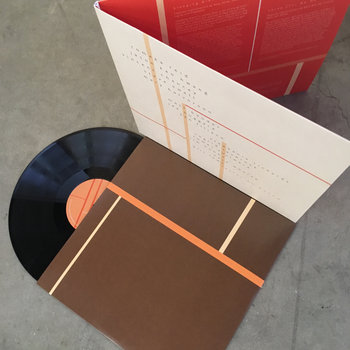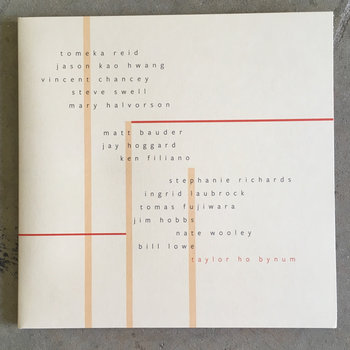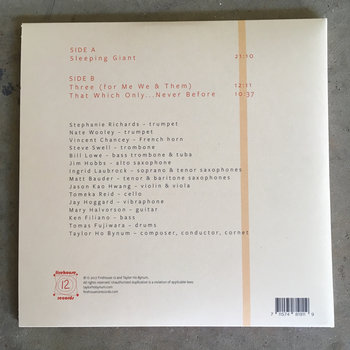 To listen to a Taylor Ho Bynum performance is to traverse a chaotic alien landscape. Bynum works with a strange geometry; his pieces have a definitive shape and form, but they're also utterly indescribable. Harmonies are split apart at the seams, melodies only hint at a thesis statement, and tempos never have sense of permanence. There are passages when the perpetual deconstruction marries to a melodic inspiration, and suddenly the music sprouts up with new life, new direction—then it heads back out into the great unknown and begins the process all over again. Bynum has enlisted an all-star cast that includes names like cellist Tomeka Reid, trumpeter Nate Wooley, violinist Jason Kao Hwang, saxophonists Ingrid Laubrock and Matt Bauder, drummer Tomas Fujiwara. In a time in which contemporary jazz is primarily tied to elaborate compositions, it's nice to be presented with a reminder of the chaotic beauty and emotional power of improvisation.
Matt Ulery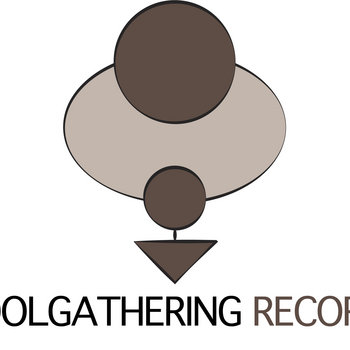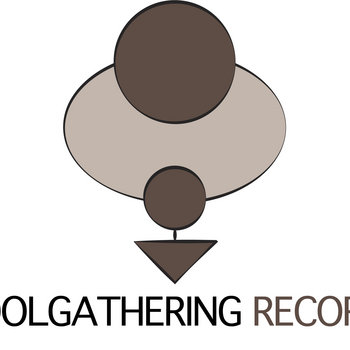 Merch for this release:
Vinyl LP, Compact Disc (CD), Sheet Music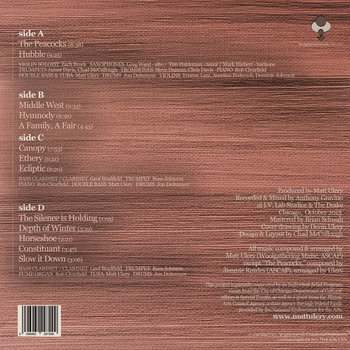 The inherently intricate designs of a project for jazz orchestra means that the final product runs the risk of being impenetrable—that the complex details and strategies leave something more to be admired than connected with. Bassist and composer Matt Ulery intertwines jazz and American folk in a way that overcomes this potential obstacle. By rooting himself to folk music, he gives the songs a strong emotional tether, allowing the harmonies to achieve great depths, and the melodies to soar to great heights. Also impressive is how the grand majesty of Ulery's compositions comes through whether performed by orchestra or small combo. Festival begins with the orchestra performing a rendition of Jimmy Knowles' "Peacocks," with the original composition "Hubble" serving as a companion piece. The emotional intensity shows no evidence of subsiding when Ulery scales the ensemble down to his Loom quintet of trumpeter Russ Johnson, pianist Rob Clearfield, drummer Jon Deitemyer, and clarinetist Geof Bradfield for the album's second half. When the blues shines strongest, it emits both its inherent sadness and celebratory hopefulness in equal measure.
Kris Davis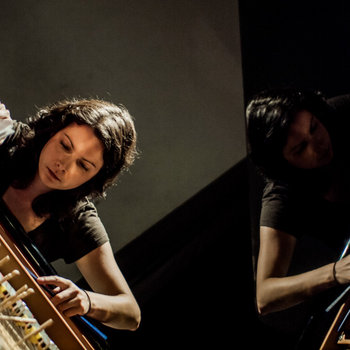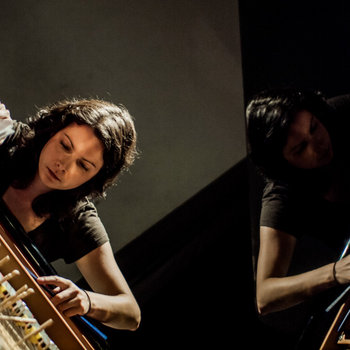 Merch for this release:
Compact Disc (CD)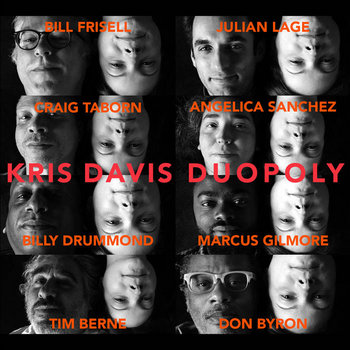 There are all kinds of fascinating little patterns and concepts in the newest release from pianist Kris Davis. She pairs up with eight different musicians, each duo performing one composition and one improvisation. The songs flow logically one after the other (for instance, the duet with guitarist Bill Frisell is followed by a duet with guitarist Julian Lage). The pieces are both introspective and hyperkinetic, at times simultaneously. The skittering patterns of Davis's duets with fellow pianists Craig Taborn and Angelica Sanchez fade out at times, and the way silence settles into the vacuum sounds as much a part of the composition as the actual notes. Saxophonists Tim Berne and Don Byron complement Davis's piano like sun and shadow; drummers Billy Drummond and Marcus Gilmore trade rhythms with Davis like the seasons, with the former sounding like the rustle of autumn leaves and the latter like the summer rain pelting the roof. But more intriguing is how vast Davis is able to open up the composition-based pieces and corral the improvisations, providing a sense of cohesion on an album that has few boundaries.
Le Boeuf Brothers + Jack Quartet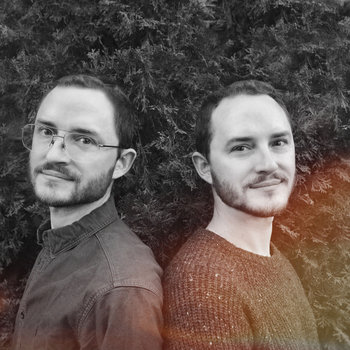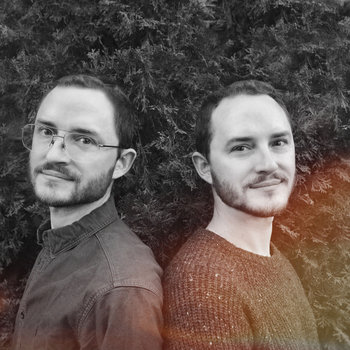 Merch for this release:
Compact Disc (CD)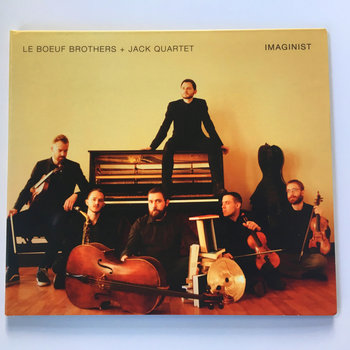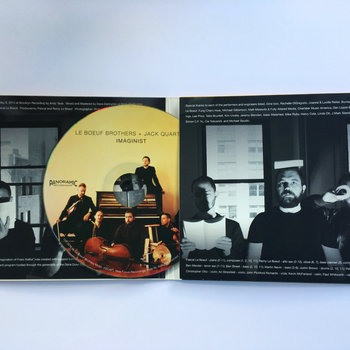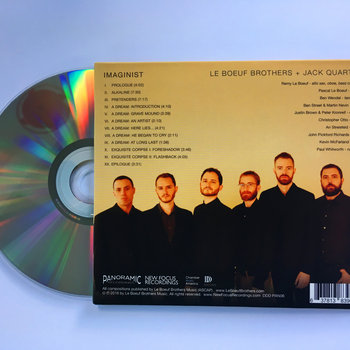 Brothers Remy & Pascal Le Boeuf have a hyperactive strain of creativity that prevents them from sitting still for even a moment. This has resulted in an impressive array of projects spanning a wide range of styles—from modern post-bop to electronica & hip hop-influenced jazz to avant-garde projects with a theatrical bent. On the newest from the alto saxophonist and pianist, they collaborate with the Jack Quartet, a string group specializing in modern classical compositions. The seed of the album is the 20th Century Russian poetry movement Imaginism, in which the flow of vivid imagery both sets the scene and drives the action. That the Jack Quartet is a chamber outfit completely at ease in an improvisational environment works beautifully with the Le Boeuf Brothers' chosen direction. Some albums are described as being cinematic because the music has the vague, surreal qualities of a movie soundtrack; Imaginist is cinematic because it is the movie, one set of distinct imagery following the other like scenes across the screen.
Jonathan Finlayson & Sicilian Defense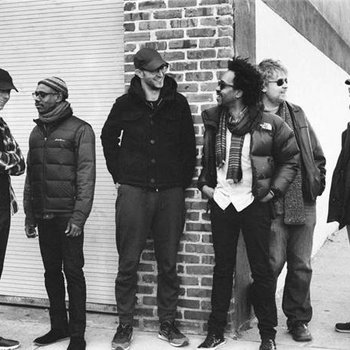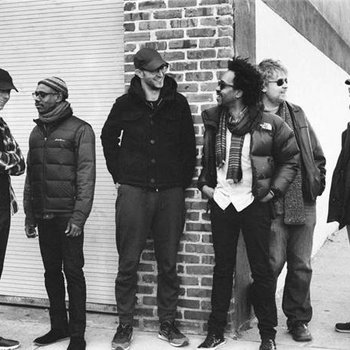 The music of trumpeter Jonathan Finlayson rarely moves in a straight line. It comes with a healthy abundance of sudden shifts in direction and startling modulations of speed. But even with all the changes from one step to the next, Finlayson constructs songs in a way that signals how the next moves will play out, and how they tie back to what has come before. Which is why the staggered tempos and melodic twists of "Cap vs. Nim" is craggy terrain that's easy to traverse, and why all of the seemingly disconnected chapters of "All of the Pieces" seem bound by the same front and back covers. The way the changes fit into the big picture is always right out front, thus making challenging music simpler.
The Westerlies
Merch for this release:
Compact Disc (CD)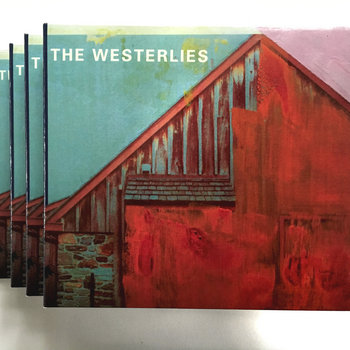 The sophomore release from the brass quartet The Westerlies is bathed in the same harmonic warmth and gifted with the same melodic depth as their debut Wish the Children Would Come On Home. The big difference is how emboldened they sound melodically. Their debut was an audacious embrace of the songbook of Wayne Horvitz, a giant on the Westerlies' Pacific Northwest home turf, after leaving the New York downtown scene behind. The thing about Horvitz's music is that its eccentricities are cloaked in subtlety, and resonate most strongly when spoken with a soft voice. Now working with their own compositions, the quartet of trumpeters Riley Mulherkar & Zubin Hensler and trombonists Andy Clausen & Willem de Koch sound positively unleashed. Many of these tracks set the melody soaring through the clouds, and the harmonies stretching out as far as the horizon line. Some, like "Double Situation" and "The Shop" have a playful demeanor, while others like "Run On Down" and "Where's the Music," have a somber tone, even when the quartet raises the temperature up a notch. The ebb and flow between these two states is captivating.
São Paulo Underground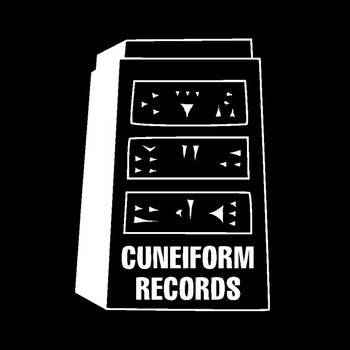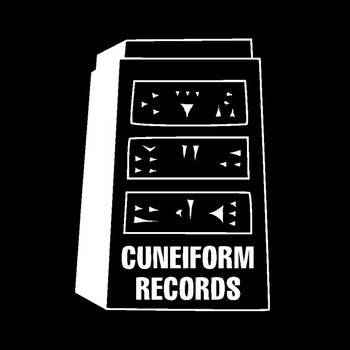 Merch for this release:
Compact Disc (CD)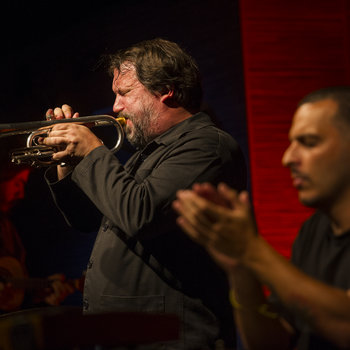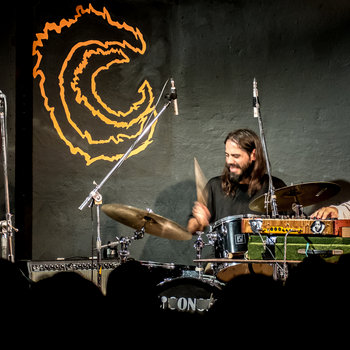 If a group finds a unique sound, something totally different than what anyone else in the scene is doing, it'd be understandable if they latched onto it for every release. But that wouldn't be in Rob Mazurek's nature; and while everyone, long ago, should've stopped being surprised by his new works, Mazurek and his São Paulo Underground continue to take their project further and further out. Originally a fusion of modern jazz and an updated version of the Brazilian protest music Tropicalia, São Paulo Underground has slowly evolved into something less groove-based, more drifting. The group has always been heavy with the percussion and electronic elements, and that trend is unchanged here, as is the core of Mazurek on cornet, Mauricio Takara on drums, percussion, and cavaquinho, and Guilerme Granado on anything with keys. Thomas Rohrer is now a regular part of the outfit, expanding the trio to a quartet; and while his contribution of wind instruments provides some nice balance, it's his work on the Brazilian string instrument rabeca that continues to earn huge dividends on these Mazurek projects. The rabeca is capable of simultaneous expressions of ferocity and melodicism (think: John McLaughlin's electric guitar on Miles Davis's Tribute to Jack Johnson), and for music as complex yet spiritual as is this, it's an essential element.
Natsuko Sugao Group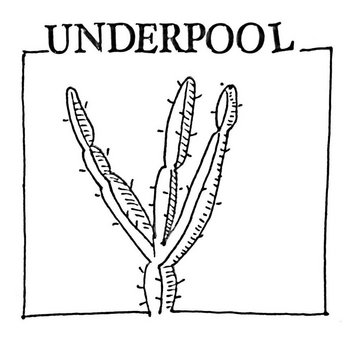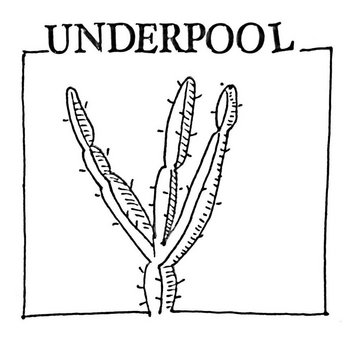 Merch for this release:
Compact Disc (CD)
Trumpeter Natsuko Sugao stirs together an intriguing concoction in her work, with influences of modern post-bop, Japanese traditional and classical. The fact that it pours out smoothly is what makes her newest album more than a mere curiosity, and something supremely enjoyable. The four-part Sonata "Mr. B" is a case in point, with the way it encompasses a number of different influences and forms of expression, but is as easy to connect with as your next breath. Her sextet of trumpet, trombone, tenor sax, electric guitar, bass, and drums (with the sextet doubling up on other wind instruments and percussion) stretch out the melodies, and the rhythm unit keeps things loose and flexible. No matter how many changes Sugao steers the ensemble into, they maintain an inimitable flow. Her previous release, 2013's Sakura, bounced back and forth between modern jazz and Japanese folk influences. Her newest focuses on the commonalities between the two styles. The result is a larger, more cohesive presence.
—Dave Sumner
Illustration for this article by Oliver Barrett.