BEST JAZZ
The Best Jazz on Bandcamp: January 2018
By Dave Sumner · February 05, 2018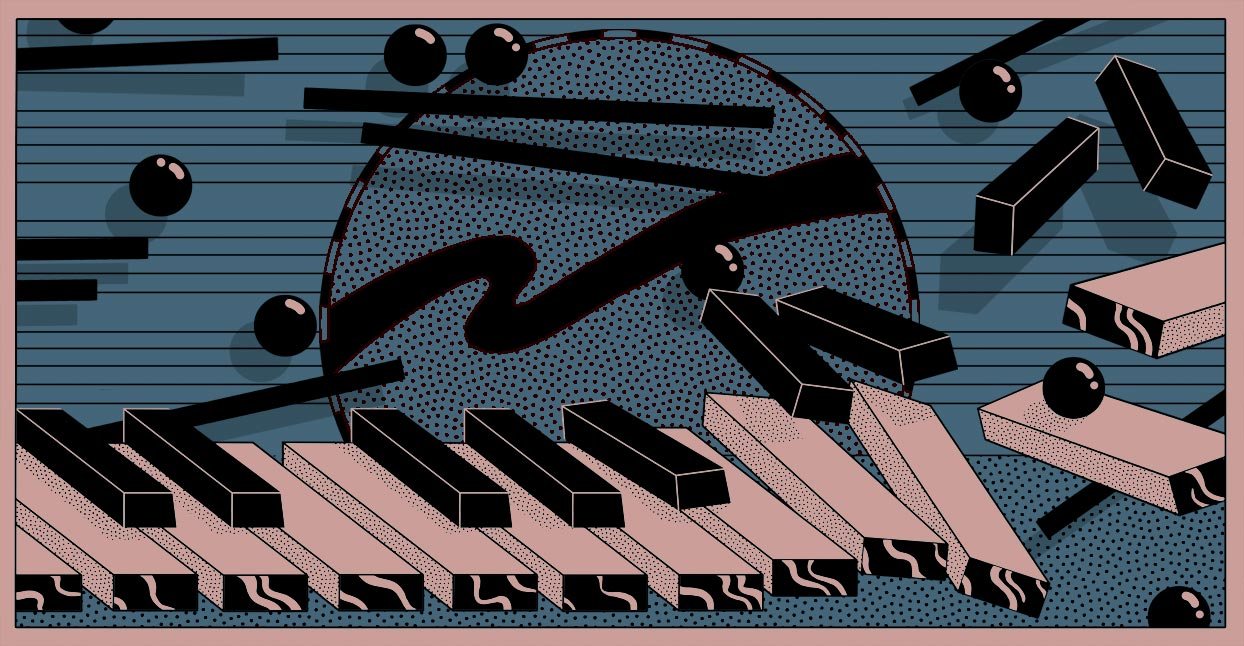 It's a new year of new music. This month's column has "January" in its title, but we scooped up some extra stuff from December, since last month's column was dedicated to the Best Jazz Releases of 2017. Last year may have been a dumpster fire but, in terms of music, the album's in this month's roundup offer compelling reasons to open your heart to hope.
View the Best Jazz on Bandcamp archives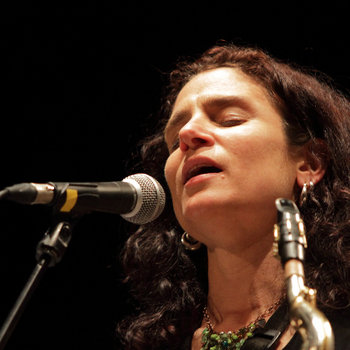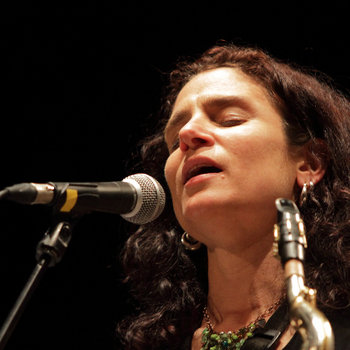 Merch for this release:
Compact Disc (CD)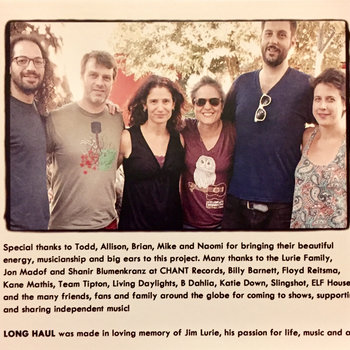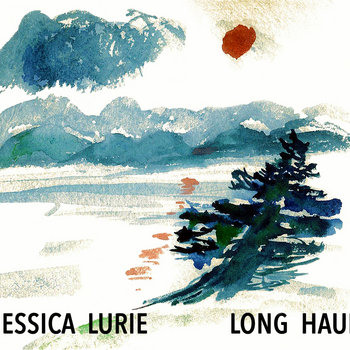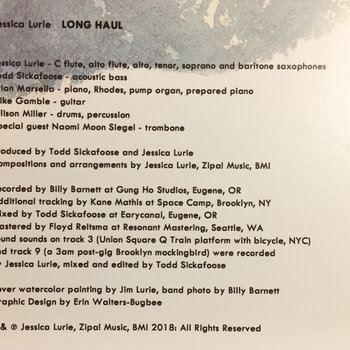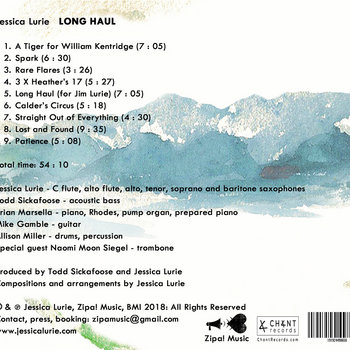 Jessica Lurie's strength is her ability to wield many different music influences at once, but still come out the other side with a distinctive sound full of individual personality. Lurie combines klezmer, Balkan, Latin, and modern jazz, but the final product could only come from her and her alto saxophone. Sometimes, her music rises and crashes; sometimes, it's an effusive celebration, other times, it's a graceful dance. No matter the incarnation, Lurie's distinct sound is stamped upon every note. And if you're looking for breadcrumbs leading to other excellent modern jazz recordings, Lurie's line-up for this session provides them:  Drummer Allison Miller, bassist Todd Sickafoose, pianist Brian Marsella, guitarist Mike Gamble, and special guest trombonist Naomi Siegel have enough music between them to gut your savings account.
Merch for this release:
2 x Vinyl LP, Compact Disc (CD)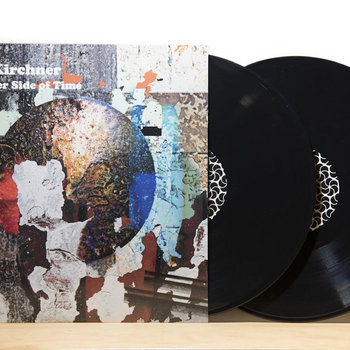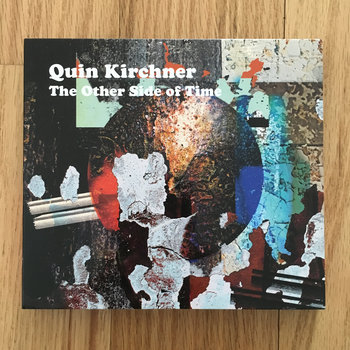 Pick a new Chicago jazz release at random, and there's a good chance that Quin Kirchner is the man behind the drums. Now, some of those artists—like bassist Matt Ulery, tenor saxophonist Nate Lepine, bass clarinetist Jason Stein, and trombonist Nick Broste—return the favor on Kirchner's stunning debut. With its spiritual jazz lyricism, free jazz intensity and avant-garde eccentricities, The Other Side of Time is something of a throwback to a past era. Kirchner's background in a diverse set of recorded and live projects is key to the success of his 2018 release—how else would he achieve a seamless flow from the sprawling drama of "The Ritual" to the percussive dreaminess of "Drums & Tines" to the orchestral heart of "Limbo / The Shoes of the Fisherman's Wife Are Some Jive Ass Slippers"? How else could Kirchner unite his own original pieces with renditions of works by Mingus, Cohran, Sun Ra and Motian? It's way too early to be saying things like this is the best thing I've heard all year… but this is the best thing I've heard all year.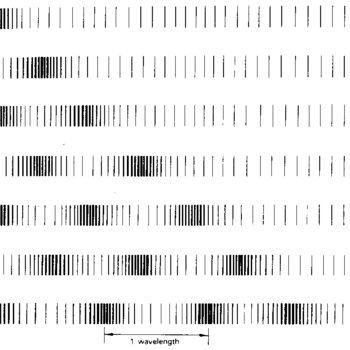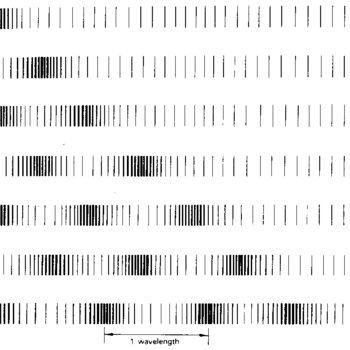 There is the Great American Songbook that is measured as a collection of specific compositions, and then there's the concept of the Great American Songbook, and how it defines us as a nation, even as we continue to shape things in the present day. The trio of cornetist Ron Miles, guitarist Mary Halvorson, and drummer Greg Saunier focus on the latter, offering up pieces by Elliott Smith, the Beach Boys, the Partridge Family, Fiona Apple, and John L. Williams, and perform those pieces by redirecting the echoes of Tin Pan Alley into something unmistakably modern.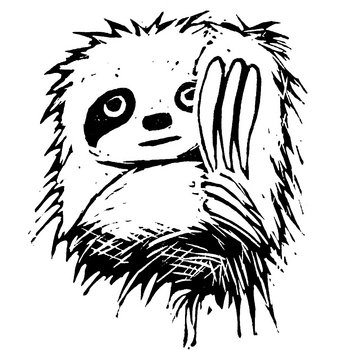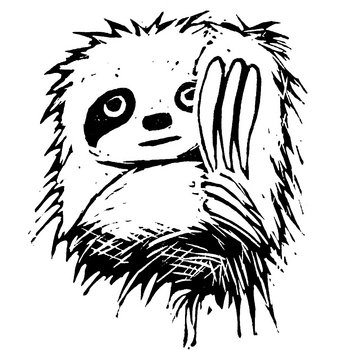 Merch for this release:
Compact Disc (CD)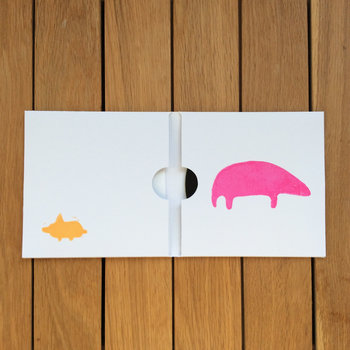 On first listen, Favourite Animals sounds like it may be broken. The dectet of the same name function like atoms repelling one another, seven wind instruments, drums, bass and guitar moving in all directions except toward one another and anything resembling, y'know, cohesion. But every so often, the dectet pulls back and reveals from a wide angle how all of those seemingly random, opposing trajectories were, in fact, strategic orbits circling the same inspiration. Those are startling moments of altered perspective, when everything that didn't seem like it was working right suddenly makes perfect sense. Then, they change it up again. Favourite Animals is an expansion of Cath Roberts' Sloth Racket crew, so if you're at all familiar with the strange and charming bluntness of that particular project, you've got a sense of what's in store.
Florian Egli Weird Beard
Orientation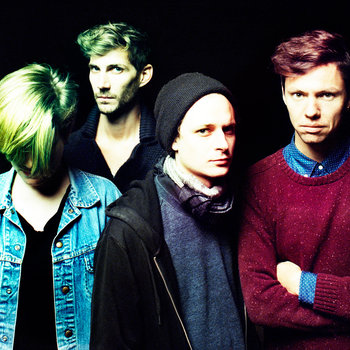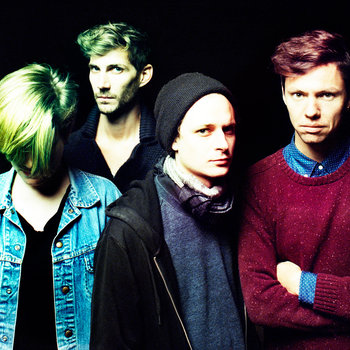 Every melody on the newest from Weird Beard feels like a contented sigh. Whether they're striking up the atmosphere of a moonlit sky or kicking up the temperature to fireplace warmth, saxophonist Florian Egli rolls out the most lovely, languid melodic phrasings. But this isn't sleepy music; the Swedish quartet's love of electronic and beat music echoes through a thoroughly modern European jazz session. The undercurrent of groove on "The Big Wasy" and the rhythmic sizzle and pop of title track "Orientation" are examples of the arresting chatter used to carry the melodic conversation.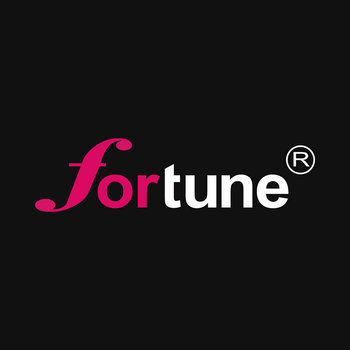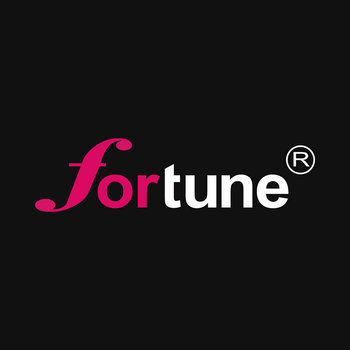 To hear Charles Gayle on saxophone is to experience an acute sense of vertigo, where the result of the imbalance isn't falling, but flight. This old-school giant of the modern scene just unleashes his trio during this live performance in Warsaw, Poland, displaying a lyrical ferocity that falls directly in line with his reputation. So often, his music is like a force of will: Relentless. It's an effect brought into startling contrast on a track like "Venus," where economical delivery doesn't lessen the song's overall impact. When Gayle switches over to piano, it's a different picture altogether, and he makes it clear that he understands that the blues can bring both sadness and smiles. Drummer Max Andrzejewski and double bassist Ksawery Wójciński fall right into Gayle's orbit.
Merch for this release:
Compact Disc (CD)
André Matos has been on something of an introspective kick lately. Nome De Guerra is his second solo guitar work, following fast on the heels of Múquina, released almost exactly a year to the day prior. Both albums serve up healthy portions of serenity, but where Múquina was the contemplation of approaching storm clouds, Nome De Guerra is a journey into the lives of individual raindrops as they fall to earth. Speaking of beautiful music, it's worth noting that Matos's duet recording with Sara Serpa was one of the best things to come out in 2016.
Frederik Köster, Die Verwandlung & Philharmonisches Orchester Hagen
Homeward Bound Suite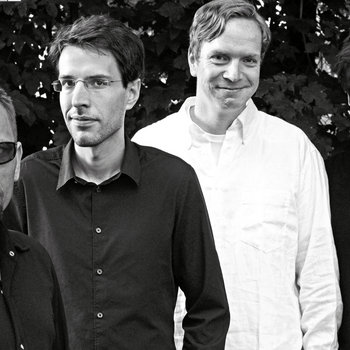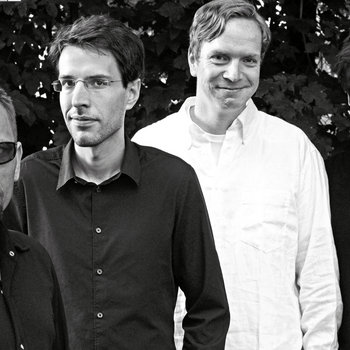 Frederik Köster can absolutely soar on trumpet. He can also propel an orchestra into the same dramatic act of flight. His latest brings together his working jazz quartet and the Philharmonisches Orchester Hagen, and they both take turns urging each other to greater heights. Köster attains a big sound almost effortlessly, matching the orchestra's spikes of intensity without breaking a sweat. But perhaps the most illuminating moments are when it isn't a vertical game, but more about gliding across a peaceful landscape. Even at barely a whisper, the movement "Land der 1000 Berge" has a presence that could change the tides. Köster's quartet includes pianist Sebastian Sternal, who has an intriguing discography to his name.
Merch for this release:
Compact Disc (CD)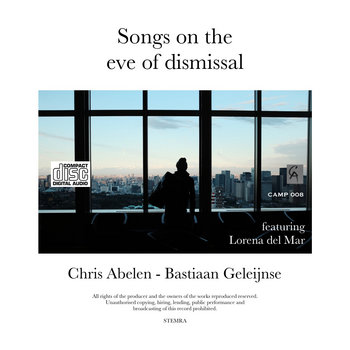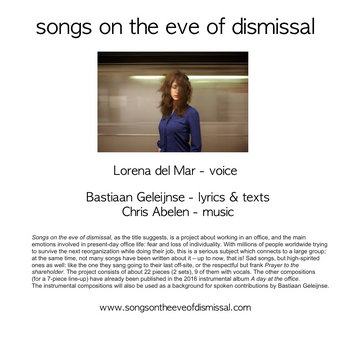 A gospel for those consigned to cubicle life, Chris Abelen's new album captures the angst and ennui of the career office employee. The trombonist's octet maintains a whimsical tone throughout, but nothing about the lyrics give the impression of irony. The vocal delivery of Lorena del Mar creates an intriguing tonal contrast between the delivery of the lyrics and their meaning, an effect amplified by some lovely harmonic work between trumpet, trombone, alto and baritone saxophones. Minus the choir, this project has a lot of similarities to that of Max Andrzejewski´s HÜTTE and The Homegrown Organic Gospel Choir treatise to the love of food… a Bandcamp Jazz pick from back in the day.
-Dave Sumner