BEST JAZZ
The Best Jazz on Bandcamp: April 2017
By Dave Sumner · April 28, 2017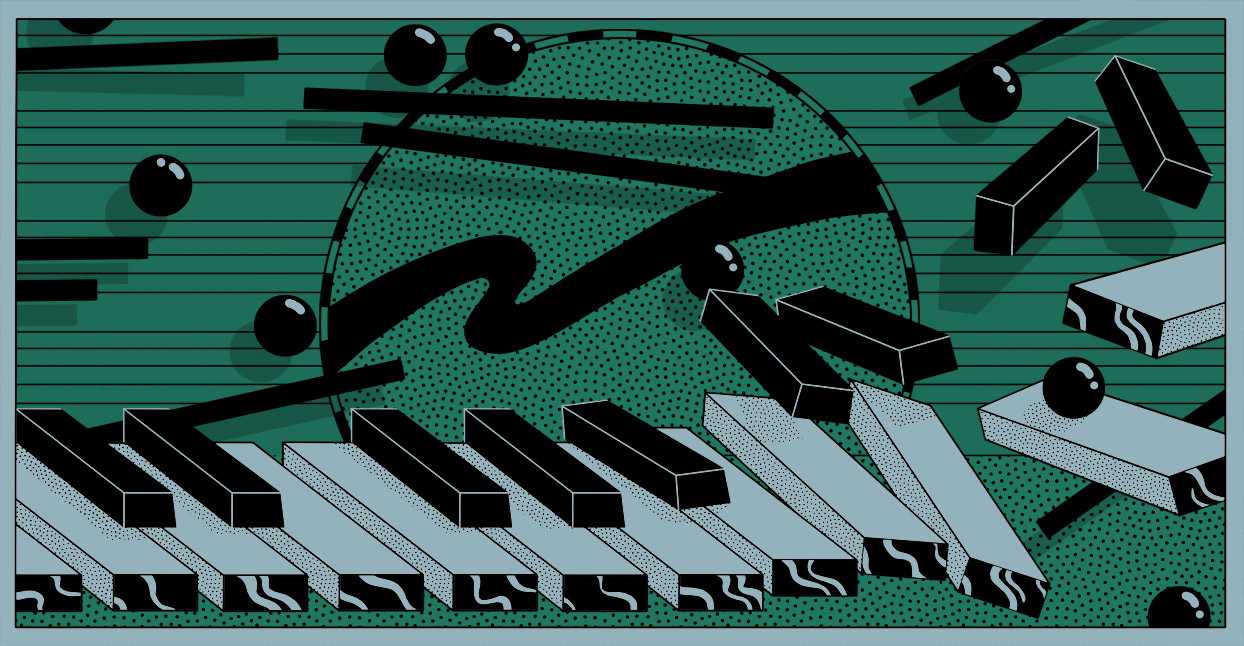 Spring is fast approaching and excellent new recordings have begun sprouting up everywhere in the new jazz section, ample proof of the rich, diverse range of sounds and styles to be found in the modern jazz scene.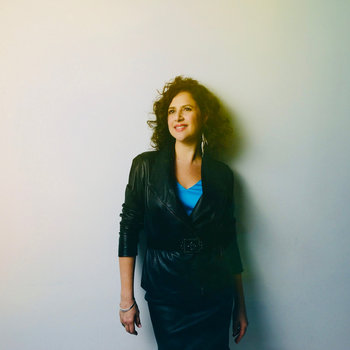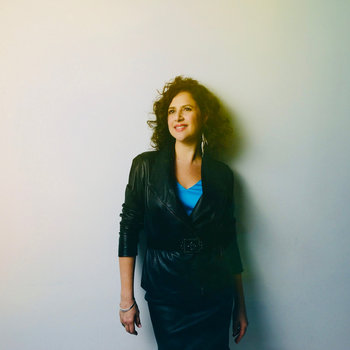 It's a big world full of creative talent, so making definitive statements of any sort can be tricky. But not so when it comes to Anat Cohen. There's nothing controversial about stating that she is one of the very best clarinet players in the jazz world, and it's always a treat when she releases a new album. This month, she doubles up on the fun, showcasing her loving embrace of Brazilian music. First up is a release with the Trio Brasileiro, which is comprised of Dudu Maia on 10-string bandolim, Douglas Lora on 7-string guitar, and Alexandre Lora on pandeiro. Cohen's other release is a duet LP with guitarist Marcello Gonçalves. The music on both is often bright and sunny, and the joyfulness that resonates from every note makes for the gentlest of musical expressions. Even when the songs adopt a melancholy tone, as on the Trio album's "Lulubia" and "Coisa Nº6" with Gonçalves, it never drifts into darker emotions. The dancing motion incited by Cohen's clarinet flows right into the music, and regardless of whether the conversation is formal or free, the dialogue stays fluid throughout. If you're new to Cohen's music, these two wonderful recordings are as good an intro as any.
Merch for this release:
Compact Disc (CD)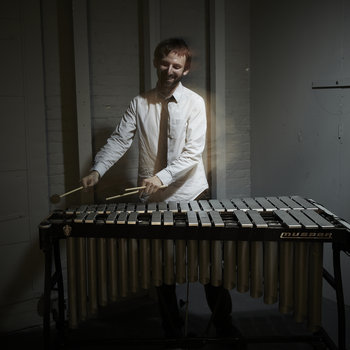 Trumpeter Matt Holman treats silence like sculpting clay. He gives shape to what isn't there, and instills it with a presence that can fill the room. When he enfolds his songs with rich harmonic washes, the display of textures results in varying shades of color. Holman's excellent 2013 release When Flooded offered up plenty of that effect with its mix of reeds, cello, guitar, and percussion. On his newest, Holman brings in an entirely different ensemble. Sam Sadigursky takes over the armory of wind instruments from Mike McGinnis, and the duo of vibraphonist Chris Dingman and pianist Bobby Avey blur the lines between melodic development and rhythmic support. The changes all shake out with highly defined lyricism, where the poetry of motion sets the melody in play, rather than simply creating an environment for them to thrive. It's why the passages of dissonance on "Fragment 26" and the unfolding serenity of "Fragment 36" and the wild emotional swings of "Fragment 38" all seem to have sprouted from the same family of seeds. That Holman's inspiration for The Tenth Muse is the Greek lyrist Sappho certainly had an influence in how the pieces came together, but the conversational rapport between the members of the quartet indicates a guiding hand rooted in the creativity of the present than the echoes of the past.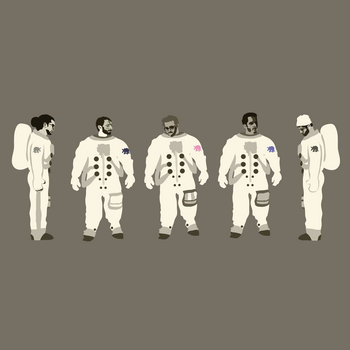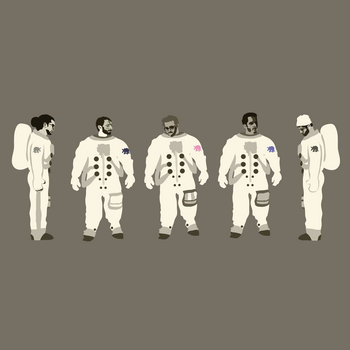 Merch for this release: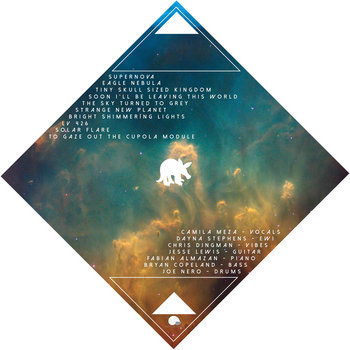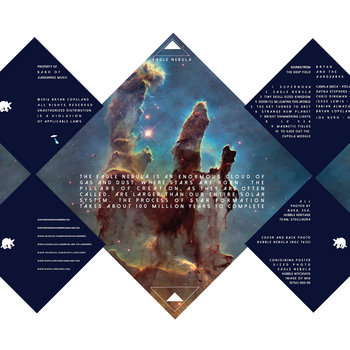 It's a fair argument to make that nobody possesses a greater talent for crafting dreamy melodies in modern jazz than bassist Bryan Copeland. Over the course of two albums, he and his ensemble The Aardvarks have served up tunes that hover over territory staked out by the indie-pop contingent, but still use improvisation and melodic exploration to scope out the territory. 2011's Heroes of Make Believe was one of the best things to come out that year, and its balance of catchy hooks, immersive harmonics, and melodic improvisation had all the mesmerizing comfort of a fireplace on a winter night. On their 2017 release Sounds From The Deep Field, vocalist Camila Meza, guitarist Jesse Lewis, and Dayna Stephens on EWI join the original core quartet of Copeland (comprised of vibraphonist Chris Dingman, pianist Fabian Almazan, and drummer Joe Nero), and the added textures delivered by the expanded septet ramp up the hypnotic effect while also providing more opportunities to shatter it. The curious patterns of Dingman's vibes, or the way Meza's wordless vocals bounce between the twin rhythmic paths of Almazan's piano and Nero's drums, are just a few examples of the music's intellectual appeal. Ultimately, this is the kind of album to just lose yourself in, letting all other thoughts fall away.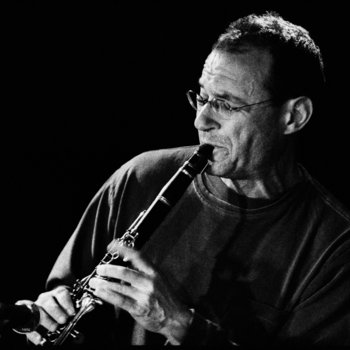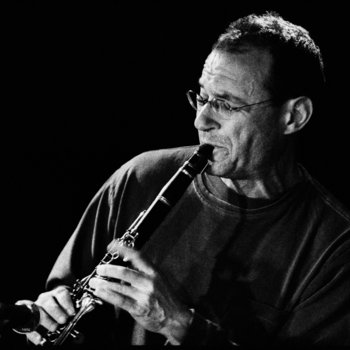 The soundtrack accompaniment to the movie A Sibling Mystery is a wonderful bit of jazz noir. The music is moody, mysterious, and immensely charming. The Invisible Guy quartet of clarinetist Ben Goldberg, keyboardist Michael Coleman, bassist John Shifflett, and drummer Hamir Atwal (who also supplies a tasteful dose of electronics) establishes an ambience of pure moonlight, and lights it up with melodies that are catchy as hell. Many of the album's 31 tracks are mere fragments, which likely suits the nature of a movie soundtrack. But like any great soundtrack, the quartet imbues the music with plenty of its own personality, so that the enjoyment of the final work isn't reliant on its relationship with the movie that inspired it.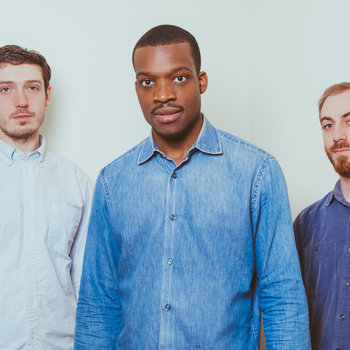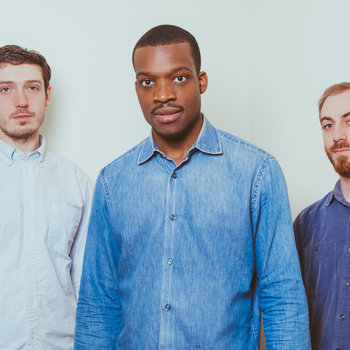 Merch for this release:
Compact Disc (CD)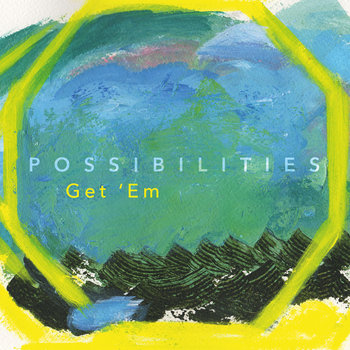 What's particularly appealing about this trio set from alto saxophonist Tim Bennett, bassist Dan Stein, and drummer Peter Manheim is the way they exert a calming influence on what is, for all intents and purposes, high-octane music. The notes come flying fast and furious, but the cadence instills an almost casual flow; as a result, rapid melodic development unfolds at a pace that's easy to follow and enjoy. It's like watching a brilliant curveball or swift knockout punch in slow-motion, and being given the opportunity to admire a brutal act for its delicate precision. It's a quality that's neatly drawn out when they slow things down on "Endless Grace," and holds true even on their clever deconstruction of Willy Wonka's "Pure Imagination."
Merch for this release:
Compact Disc (CD)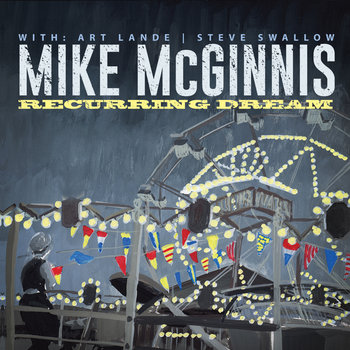 The sublime Recurring Dream is like sunlight spreading peacefully across the floor, when the twittering of morning doves melts into the hush of daybreak. It's the kind of tranquility that holds in place even when "Hearth" breaks into the blues or when the temperature gets nudged ever upward, as it does on "Constantinople," or when the melody suddenly scatters in all directions, as on "Bend Over Backwards." Clarinetist Mike McGinnis, pianist Art Lande, and electric bassist Steve Swallow create a riveting presence with nuance and a light touch, making music that's active and vocal for quiet moments in still rooms.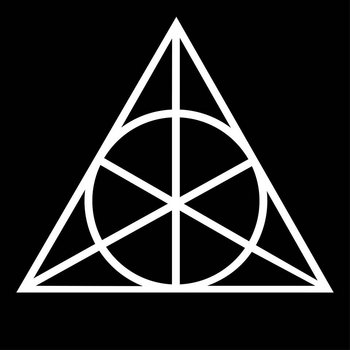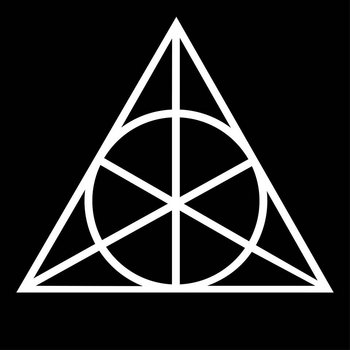 The music of the nonet Brass Mask references the traditional music of the Mardi Gras Indians, even though this UK band are members of London's experimental scene. The musicians who comprise Brass Mask participate in modern, innovative acts like Fringe Magnetic, Loop Collective, Dice Factory, Golden Age of Steam, Antony & the Johnsons, and Examples of Twelves. So while the spirit of the music is pure New Orleans, the form adapted of this live performance, recorded at London's Servant Jazz Quarters, is something far more difficult to categorize. Warm harmonies are subject to ever-changing tempos, and the music of dance suddenly becomes one of deconstruction. The melodies might, for a moment, shine bright and clear like the morning sun before electronics and effects cloud them over, refracting them into alien shapes. Brass Mask is comprised of saxophonists Tom Challenger and George Crowley, 
keyboardist Dan Nicholls, trumpeters Rory Simmons and 
Alex Bonney, trombonist Nathaniel Cross, tubist Theon Cross, and drummer-percussionists John Blease and Jon Scott, and every one of these names has the potential to lead you to additional inventive recordings. Consider this album just the start of a trail of breadcrumbs to other great music.
I'm not sure that identifying this album as a jazz gospel opera about organic food is enough to prepare you for the strangeness that is the music of Max Andrzejewski. This isn't the drummer's first experiment with a choir. His 2014 release Hütte und Chor was a vehicle he used to cross-pollinate his typically hyperactive sound with the joyfulness of voices singing to the heavens as one. On his newest, Andrzejewski reaches the next plateau by providing his jazz choir with a unifying vision. By bringing focus, he magnifies both the beauty of the construct and the intensity of the resulting euphoria. That's also why the album's bizarre personality becomes comfortingly familiar before the last note of "Salt" has played. Along the way, "Hunter Gatherer" adds some folk to the mix, and "Eat What You Are" brings some Motown sway, and the blues breaks out on "Full," and all of it flows seamlessly into Andrzejewski curious jazz gospel blend.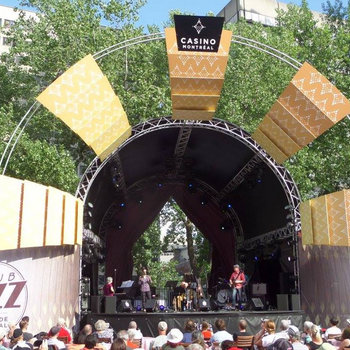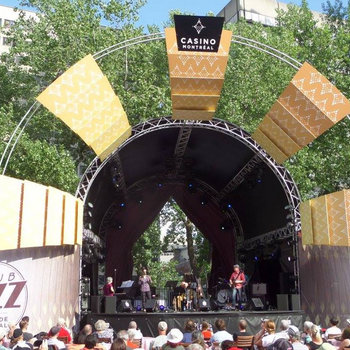 Rebecca Hennessy's full-length debut is as much about the environment as it behaves as one. The trumpeter includes an array of fishing songs among the compositions, and mixes in field recordings of birds in the wild. She populates the album with a host of influences: chamber and modern jazz; rock edge and rustic folk; Balkan and bop; Mardi Gras and moody pop; the wry humor of old-school NYC downtown scenesters and the quirky inventiveness of modern big bands. It all comes off like a rich ecosystem of sonic lifeforms, cohabitating in the same melodic environs. Her sextet of trumpet, trombone, tuba, piano, guitar, and percussion bring a larger sound than their numbers might otherwise indicate, and deftly balances it out with a delicate touch.
Merch for this release:
Compact Disc (CD), T-Shirt/Apparel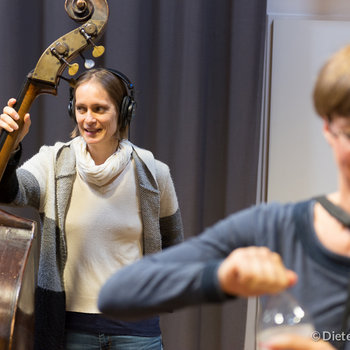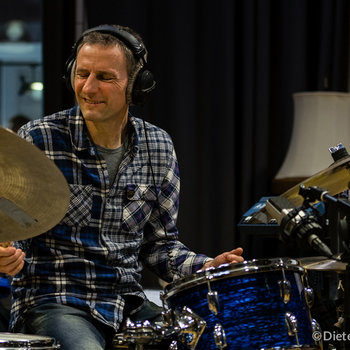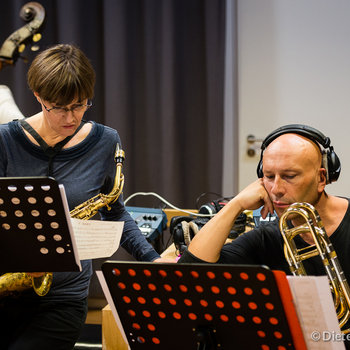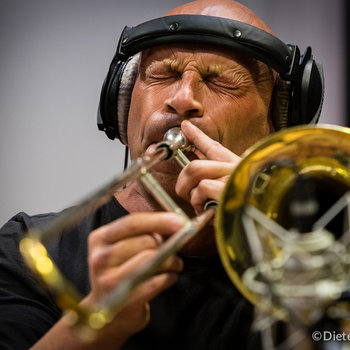 And let's wrap up with another artist with multiple releases this month. The difference between the two new albums from Anne Mette Iversen is one of nuance, and yet each album presents a distinctly individual personality. With her Ternion Quartet of alto saxophonist Silke Eberhard, trombonist Geoffroy De Masure, and drummer Roland Schneider, there's a subtle humor at play. They employ staggered tempos, and melodies are drawled out as often as exhaled. And with the Quartet + 1, the music's tendency is to bop and swing, even when it veers off a traditional path and into modern territory. And these differences between the two recordings also highlight Iversen's particular voice and vision, and how that manifests with a graceful precision in the motion of the music and its stately, formal charm.
—Dave Sumner