BEST HIP-HOP
The Best Hip-Hop on Bandcamp: April 2021
By Phillip Mlynar · April 29, 2021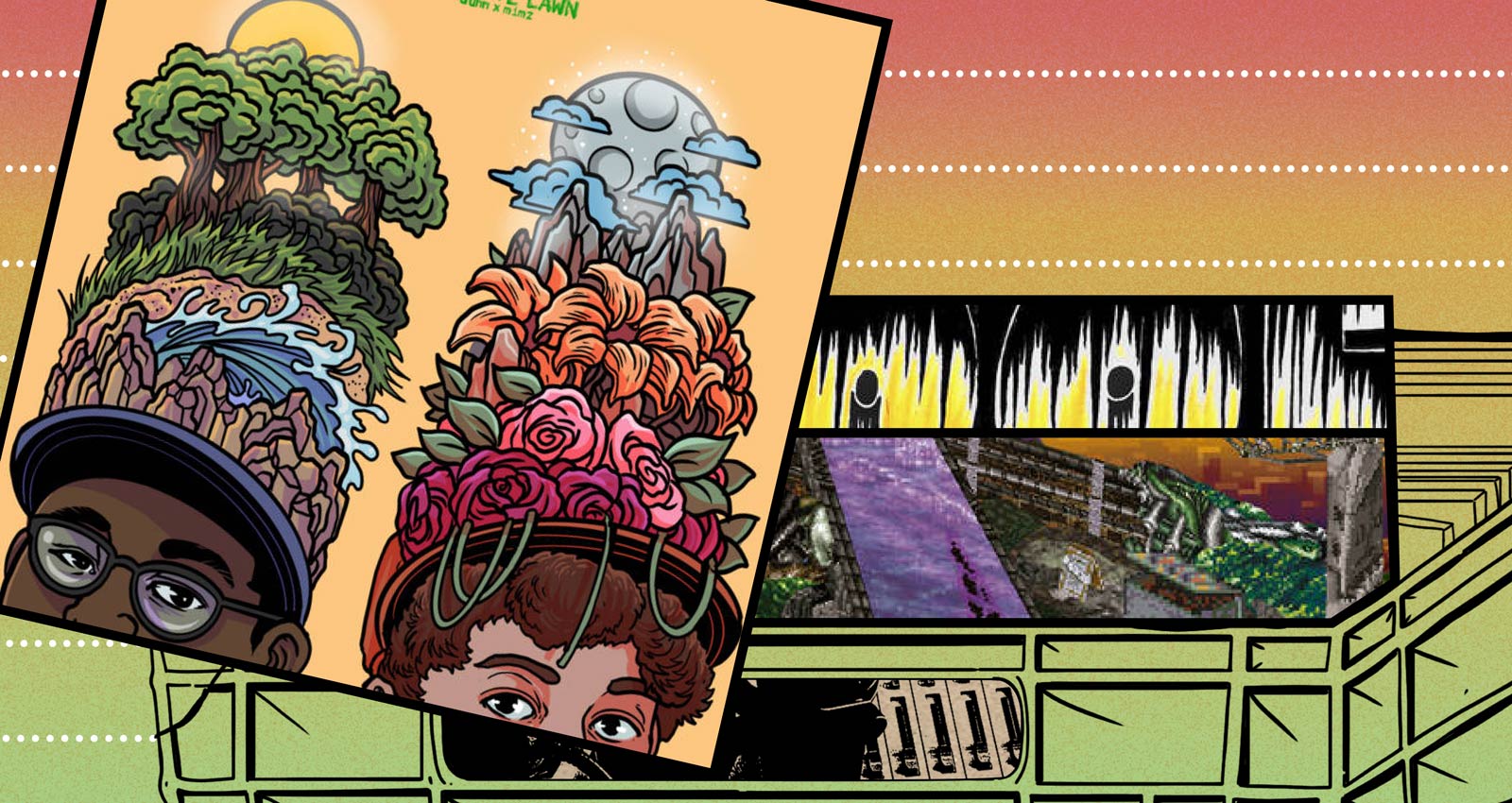 April's spotlight on the ten most crucial new hip-hop projects to hit Bandcamp includes an album that reimagines the United States of America as being populated by anthropomorphic pastries, a free-associative dispatch from a cult Chicago rapper, and a conceptual release that pairs seven Iranian MCs with an experimental electronic producer. We also catch up with the latest offering from New York's influential Atoms Family collective.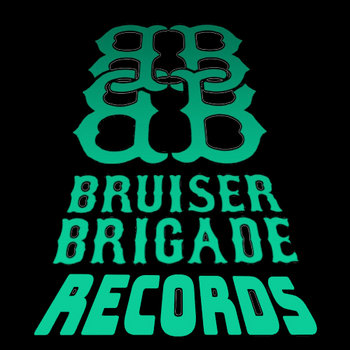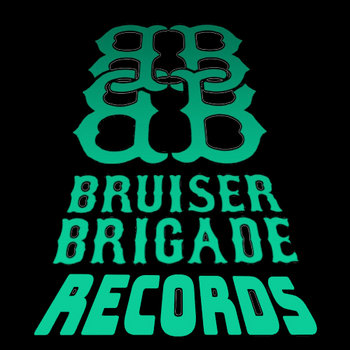 Dope Game Stupid is the debut album from Detroit-based Bruiser Wolf, an MC who rolls with Danny Brown's Bruiser Brigade crew. Relaying lyrics in an animated high-pitched brogue, Bruiser Wolf's verses blend off-kilter similes with deeper social commentary. "Nobody sound like this," he brags on "I'm An Instrument," before twisting a metaphor out of gardening chores: "Cut the grass so you can see the snakes, we know/ But you gotta rake the weeds get rid of the leaves so the seeds can grow/ I'm a landscaper/ Making this money was rough—like sandpaper." Production on the project is almost entirely handled by Raphy, whose beats mine heavy funk. Sultry opener "Thank God" broods with brassy stabs and rolling bass; "Syndicate" employs bluesy blasts of electric guitar; and "Middle Men" is carried by a slurry static-coated soul loop and co-stars Bruiser Wolf's fellow Motor City representer Fat Ray (whose own recent Santa Barbara release is also well worth investigating.) Closing out Dope Game Stupid on a deeply personal note, "Momma Was A Dopefiend" involves the MC revisiting days growing up with a mother who was struggling with addiction. "It's a fucked up game/ I was addicted to selling, she was addicted to using/ Opposite ends of the spectrum but go together like problems and solutions," confesses Bruiser Wolf over a wistful backdrop crafted by Knxwledge. "I never got a chance to be a momma's boy/ And that toyed with my emotions."
DøøF, Graymatter, BayceBoyzUniv & Mutant Academy
Radioactive Spinach
Merch for this release:
Compact Disc (CD)
Radioactive Spinach brings together dusky-voiced New York-residing MC DøøF and Richmond-based beatmaker Graymatter from the verdant Mutant Academy collective. (The crew's Big Kahuna OG also handled mixing and mastering duties.) Presenting tracks recorded between the years 2015 to 2020, the album bears a dusty blunted sheen: Hazy introductory statement "BLOAT RUNCHES" lurches along with a smoggy synth line and ominous snare taps; "DANGER!" features the talents of guest MC Lord Jahmonte over kooky horror movie atmospherics; and "Hallorann" pairs the rapper's verbals with dub-inflected steel drums and a caustic layer of sonic fuzz. "Find me breaking laws in a London Fog windbreaker," brags DøøF insouciantly on late album cut "SPINACH PIGS," before proceeding to salute his team and boast, "Look at all these prophecies we making."
Mello Music Group
Bushido
Merch for this release:
Vinyl LP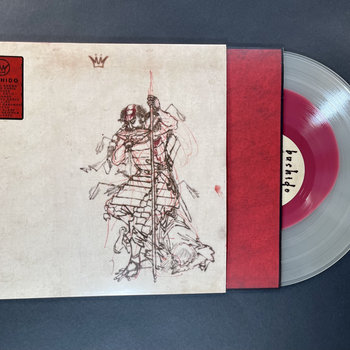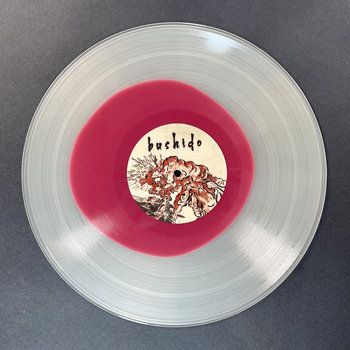 Since launching in 2007, the Tucson-based Mello Music Group label has built up a deep catalog featuring releases by some of hip-hop's most creatively ambitious independent artists, including Quelle Chris, Open Mike Eagle and Oddisee. Inspired by feudal Japanese samurai philosophy, the vital Bushido compilation spotlights the sonic range and lyrical astuteness of the roster and extended affiliates. Quelle teams with Alchemist for the glowering guitar and funeral organ-infused introductory cut "Iron Steel Samurai"; Homeboy Sandman pries into issues of self-doubt and the dynamics of confidence on the serenely muted "Yours Truly"; and MURS teams with Georgia Anne Muldrow to craft the eerie, metallic-hued "Turnt Garveyite," where the rapper rattles off references to a royal roll call of rappers that includes Andre 3000, Guru and Jay Z. Mirroring the balance of history and progression that's embedded in samurai culture, the tracks that comprise Bushido—which also features contributions from Apollo Brown, The Lasso, and Kool Keith—skillfully nod to hip-hop's foundational ethics while gazing to the future.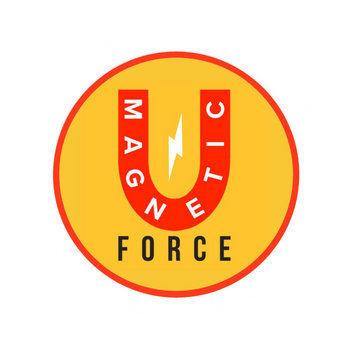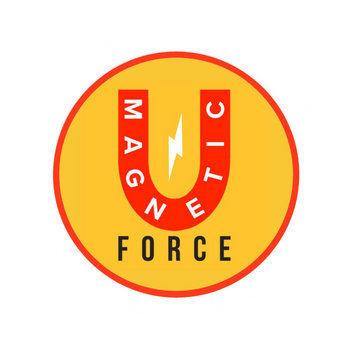 Merch for this release:
Compact Disc (CD)
On this sequel to 2007's The Hunt For The Gingerbread Man, the seasoned rapper MF Grimm reimagines the United States of America as a land populated by anthropomorphized candy and pastry characters. Taking on the role of Mr. Ginjy Breadman, Grimm narrates a tour through the gnarly side of the Candy Land neighborhood, with a series of skit-like special reports by the Candy Land News Network assisting the world-building feat. "Tough on crime, make streets safer/ Only for the marshmallows and vanilla wafers/ Black and white cookies fighting on the news/ Neutral Oreos watching all confused," raps Grimm over a backdrop of boozy funk on "Get The Dough: Saturday Night Live," a track that weaves in commentary on police brutality and state surveillance before closing with lines quoted from John Singleton's '90s gangsta flick Boyz n the Hood. Bolstering the whimsical bent of Grimm's imagery, production throughout the project is provided by Philadelphia-based Darko The Super, whose beats convincingly strike a melodic, nostalgic tone.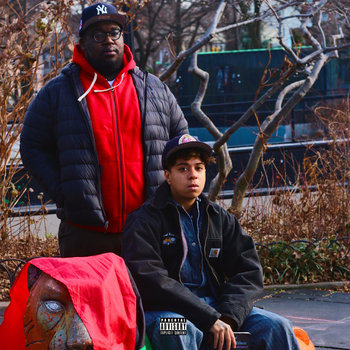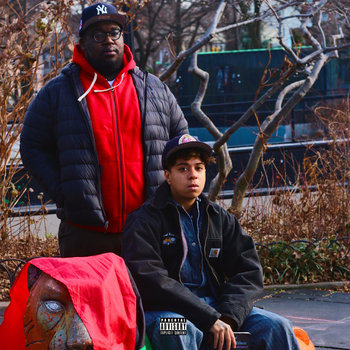 Merch for this release:
Cassette
Infinite Lawn is a meditative foray into the minds of native New York MCs and producers Mimz and Dunn. There's a serene and relaxed feel to the project, with songs sculpted out of lilting soul loops underlaid with subtle drum patterns. Early Dunn-crafted track "DIPLOMA" bobs along with a bittersweet horn refrain; "GUMDROP" is fueled by a bluesy angular piano riff; and "MISS LANITY" is a murmuring melange of a hypnotic vocal loop and hovering strings woven together by Mimz under the beatmaking guise of Ile Deau. Strengthening connections throughout the scene, key verbal assists come courtesy of KUYA, guesting on the glistening KING VISION ULTRA produced "IN THE SUPERMARKET" and Brooklyn wordsmith Desde BK contributing a harmonious presence to "WALKING THE RACECOURSE." Let Infinite Lawn be your compelling introduction to two imaginative hip-hop souls.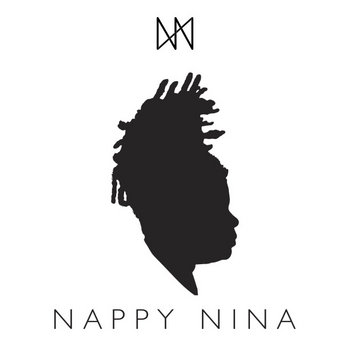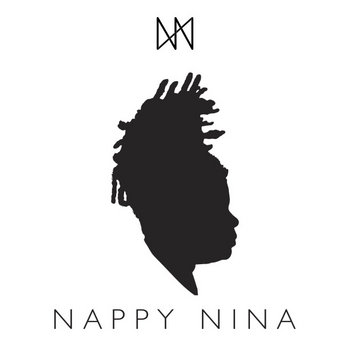 Merch for this release:
Vinyl LP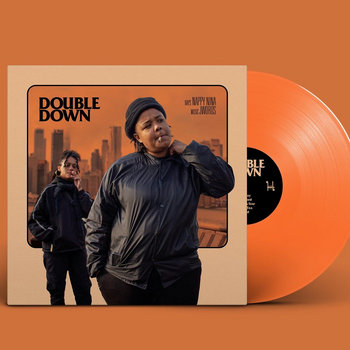 "The therapist won't text me back/ What mess is that?" questions the Oakland-raised and now Brooklyn-based rapper Nappy Nina during the opening verse to this collaborative release with New Jersey beatmaker JWords. Parsed in the project's liner notes as "a call to mass movement" and a plea "to make dance floors of the spaces we have been stuck in," Double Down spotlights Nina flipping frustration into lyrical wanderlust over electro-hued sonic backdrops that often ramp the tempo up to a frantic club-centric pace. Crucial cameos studded across the project include frequent JWords spar maassai bringing her nimble verbal gravitas to the jittering KeyiaA co-produced "Thin Ice" and Stas Thee Boss adding a mellow spoken word lilt to the pleasingly disorienting "Real Tea." Closing Double Down on an intimate note, final song "4am" spotlights Nina grappling with thoughts about loneliness and mortality in an appropriately hushed cadence while backed by a dusky jazz-tinged backdrop.
Merch for this release:
Compact Disc (CD), Vinyl LP, T-Shirt/Apparel, Cassette
PIRATA continues the legacy of New York's influential Atoms Family collective. Consisting of Cryptic One and producer Jestoneart, the album coasts along with deep bluesy loops embellished by the MC's compactly-composed verbals. "We're kinda pirates at the core/ And walk the Earth like it was the high seas/ Finding treasure troves lost in some record stores," opens Cryptic One on "Intro," flowing self-assuredly over humming bass and clipped snares and then issuing a mission statement: "Hear the beauty leaking through the monitors/ Take from elite and distribute to the commoners." Essential moments on the guest-free project include Cryptic One delving into the blueprints of a metropolis on the muggy güiro-enhanced "City Breathes," airing out "Ku Klux confederate degenerates" over waves of interstellar synths on "Political Tinder," and saluting his own outside-the-box tendencies on "Davey Jones Locker," a track with disquieting clusters of piano notes that see the MC retreating to "sketch the plan with a Sharpie on a bar napkin." Lyrically potent and musically immersive, PIRATA is a mighty healthy addition to the Atoms Fam legacy.
The debut release from Durham-based MC, poet, and reformed gang member Sh8kes, is intended to recreate the feel of DJ Drama's influential Gangsta Grillz series of mixtapes. Hosted by DJ Fatz the Governor, the seven song outing also includes recurring contributions from the Dungeon Family's wizened elder statesman Big Rube, who peppers the project with succinct doses of his trademark life philosophy. Balancing moments of repentance with spiritual advancement, Sh8kes' verses settle as a series of searches for inner calm. Over pensive wisps of guitar on "Elevated," the MC observes how, "I've learned to value my relationships more than my ego/ And some folks ain't worth the time, you just let them go/ It's that easy when you know what's toxic and keeps you stagnant/ Healing myself ain't a thing—it's become a passion." Encapsulating Sh8kes's mission, mid-project song "Bruised Seeds" is fueled by cavernous bass tones and haunting flickers of flute and features a verse from gravel-voiced guest Deniro Farrar. "Sometimes the hardest thing and the right thing are the same," raps Sh8kes on the track. "I've put that work in and gained that rank so I can really put it on my gang."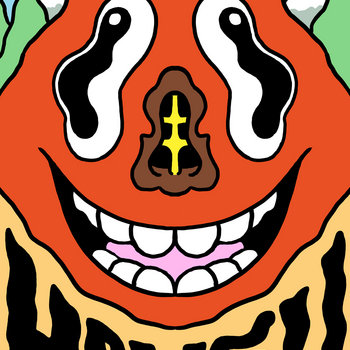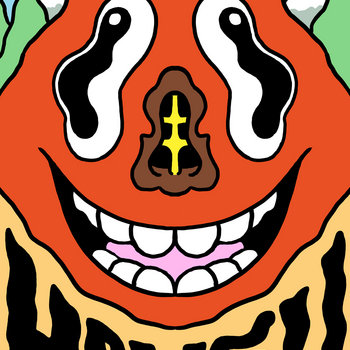 Merch for this release:
Compact Disc (CD), Cassette
A team-up between cult free-associative Chicago rapper Sharkula and Hausu Mountain Records producer Mukqs, Take Caution On The Beach is an enchantingly warped slab of funk-forward hip-hop. As an MC, Sharkula stands in the psychedelic lineage of Wordsound's subterranean freestyle savant Sensational, and futuristic trailblazer Kool Keith. Over the glitchy drum patterns of introductory track "Chicago Bear Claw Jaws," Sharkula bounces between name-dropping vintage wrestler Ric Flair and running through a shopping list of colognes before heading off to secure some ice cream "with a cherry on top-eat it." Elsewhere on the album, you'll find the host referencing Care Bears over cherubic chimes on "Chew It, Swallow It;" weighing up the merits of "boneless vegan chicken" during the shimmering, synth-saturated "Do You Like Country Music?;" and penning what sounds like the makings of a galactic rap ballad for "I Paint Like A Painter." Adding to the freewheelin' tone of Take Caution On The Beach, each track was recorded in just one vocal take—a setup that lets Sharkula's improvisational instincts shine.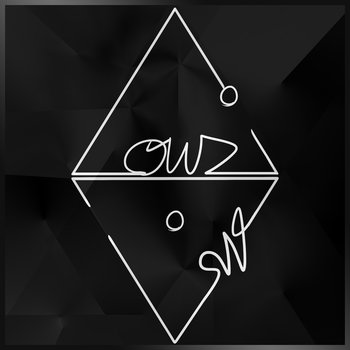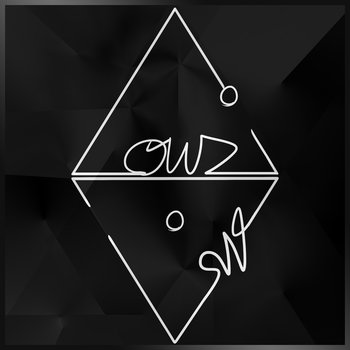 Merch for this release:
Compact Disc (CD)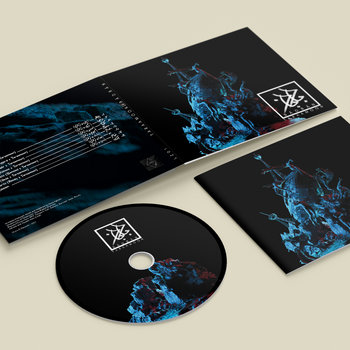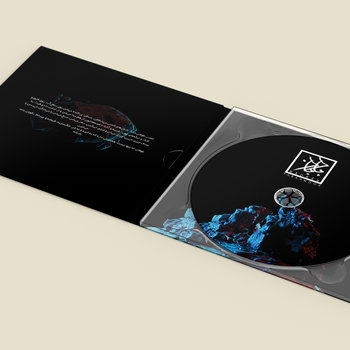 Bādbān is a conceptual project directed by producer Nima Aghiani and vocalist Sara Bigdeli Shamloo (a duo who also record as experimentalist electronic outfit 9T Antiope). The creative scenario fueling the release is key, with seven Iranian rappers playing the role of narrators: As a storm ravishes a boat at sea, the vessel's passengers face a choice to fight for their own survival interests or attempt to salvage the ship. These individual battles between self-interest and collective welfare play out over exquisitely detailed production. Opening song "Pilār" features REZ delivering impassioned rhymes set to shards of synths raining down on a bed of voluminous bass with the intensity of the MC's words escalating as the song progresses; the prickly funk of "Koorāb" hosts Safir, who breaks into a sing-song flow to add momentum to his words; and Roody brings her soothing cadence to the subtly shuffling penultimate cut "Nebrās." Verses recited in Farsi might necessitate an impressionistic take on the narrative arc—but the album's progression is vividly signaled by rich musical movements allied to nuanced lyrical delivery.