BEST EXPERIMENTAL
Hi Bias: Notable Cassette Releases on Bandcamp, September 2017
By Marc Masters · September 25, 2017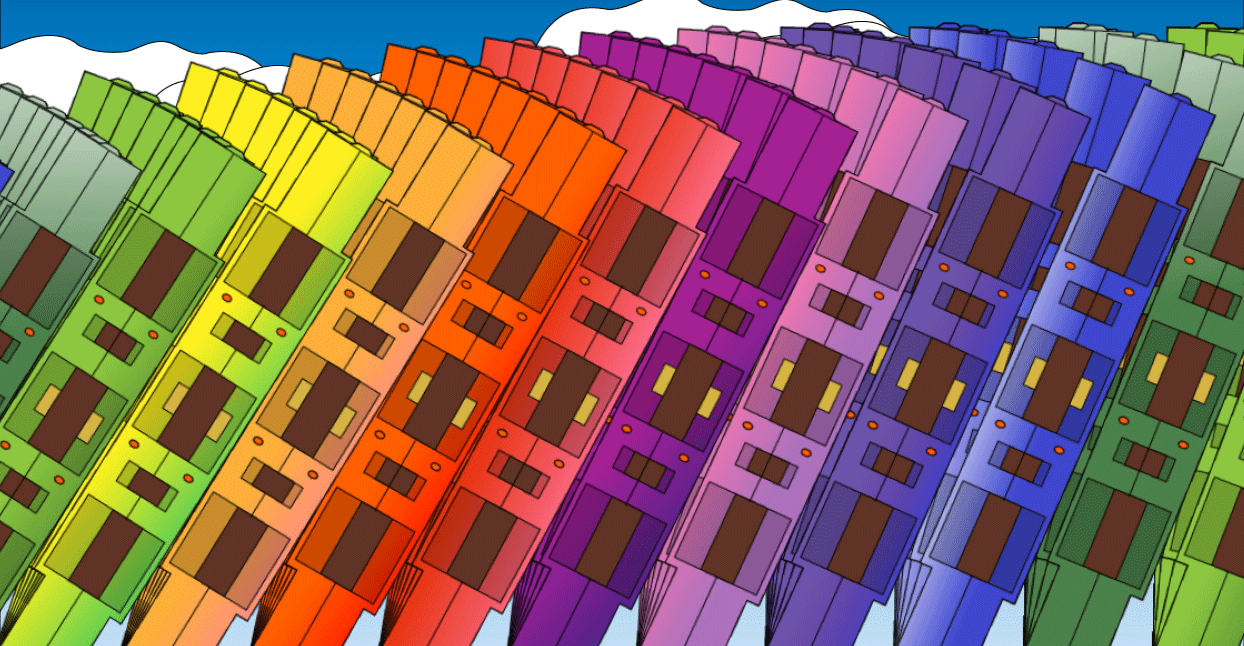 Welcome to Hi Bias, a monthly column highlighting recent cassette releases on Bandcamp, and exploring the ideas behind them with the artists who made them. Rather than making sweeping generalizations about the "cassette comeback," we prefer here simply to cover releases that may escape others' radar due to their limited, cassette-focused availability.
Ailbhe Nic Oireachtaigh, Oreing [Fort Evil Fruit]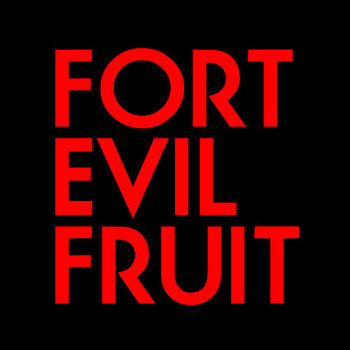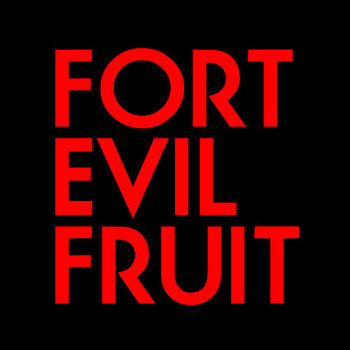 Merch for this release:
Cassette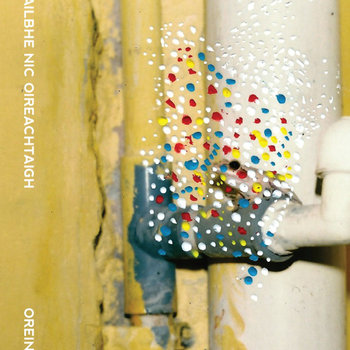 The music on viola player Ailbhe Nic Oireachtaigh's first solo work, Oreing, is constantly ambitious. As she mines her instrument for new sounds, her emphatic songs swing from subtlety to repetition to fiery noise. Each of the tape's four pieces is a journey through intense peaks and calm valleys, seeming to hint at an unspoken narrative. So, what exactly is Oreing about?
"I don't think that the music is about anything," Oireachtaigh insists via email from her home in Glasgow, Scotland. "I don't think of anything specifically when I'm playing this music—[it's] more that the notes come first and then an emotional reaction or feeling will follow, as opposed to basing a piece off a particular emotion. I like to think of them as pretty abstract and open-ended, though someone listening might think the total opposite about them."
Oireachtaigh built the songs on Oreing from what she describes as "small fragments that I chanced upon just from playing around." After recording those bits, she let them sit a while, then improvised on the original ideas. She performed the resulting pieces a few times live before committing them to tape, which only took a few hours including mixing. That no-frills process created music that feels considered and developed, but also retains the rush of her original spontaneity.
It also created lengthy pieces, all hovering in the 10-minute range and beyond, but they seem to go by fast. "I was a bit surprised each time I finished a take and saw how long each one was!" Oireachtaigh says. "I always lose track of time when I'm playing these pieces. I feel now that the more I play them, the longer they have the potential to be, and I'm enjoying getting drawn into the possibility of extreme repetition and very gradual change when playing them live. That is something that I enjoy and admire so much in other musicians—the control and focus and assurance that it takes to shape an improvisation without giving it all away too soon. I'd really love to develop that ability."
Oireachtaigh took a different tack on Oreing's most abstract piece, the tape-ending "Dust Love." "It [started as] just a little pizzicato thing that was totally unformed and unfinished, and I wasn't going to use it at all," she recalls. "[But] Brendan Jenkinson, who recorded the music, suggested we just record the riff and try and do something with it. So we played it back into the room through the speakers and then manipulated the feedback that occurred through the tape delay." The process thus becomes part of the listening experience with "Dust Love," adding a new layer to Oireachtaigh's creative range.
Going solo has presented even more creative avenues for Oireachtaigh. She cites the inspiration of Terry Riley's solo organ music, noting that he once described it as an impression of Indian music, since the organ technically can't play a true raga. "I feel a bit like I'm playing impressions of things," she says. "Because [viola] is the only instrument I can play, I just try to do things on it without really thinking about it too much or worrying that it won't work. I can't play chords and accompany myself playing a melody in the same way that, say, an organ can, so already there is no pressure for it to emulate another sound or have a particular result."
Merch for this release:
Compact Disc (CD), Cassette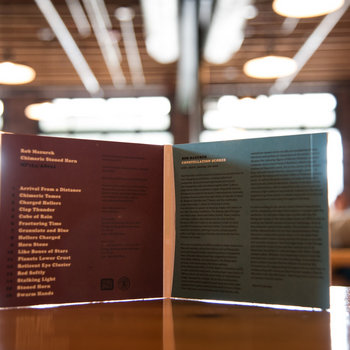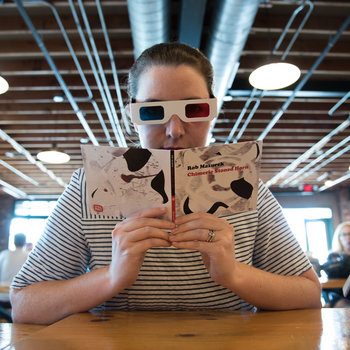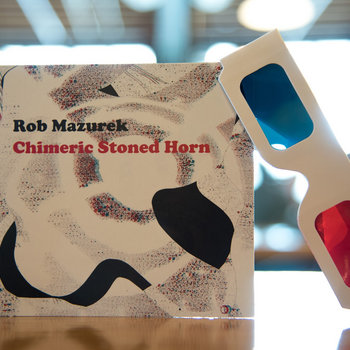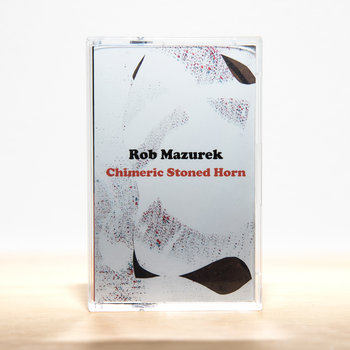 Constellation Scores, the first solo European art exhibition by Chicago's Rob Mazurek, opened this month at France's URDLA center. It includes four 3D lithograph pieces, titled "Chimeric Stoned Horn (#1-4)," for which Mazurek created corresponding audio works. That music is simultaneously being released on tape by Astral Spirits, with a cover that reproduces some of Mazurek's Constellation Scores work (it even comes with a pair of 3D glasses).
"I tried to create an otherworldly projection of sound closely related to the three elements of technique I used in the making of the lithographs—mainly ink line, ink spray, and paint," Mazurek explains. "[The lithographs are] 3D works that explode the image and this release explodes the sound. Line, granulation, sample, density, and minimalism all play their parts. Certainly inspired by the Greek mythological hybrid creature of lion, goat, and serpent, the sound was made as a fourth, fifth, and sixth layer of the three-layered lithographs."
There certainly are a lot of tactile layers on Chimeric Stoned Horn. Sixteen tracks—most of them lasting three minutes or less—sift together the sounds of Mazurek's modular synth, voice, and piccolo trumpet. The result is so detailed and granular it feels as though you're listening through a microscope. Mazurek hard-cuts convincingly from far-off pulses to confrontational noise while maintaining a loose, unpredictable freedom, like a broken machine spinning off course. Song titles such as "Hollers Charged," "Fracturing Time," and "Like Bones of Stars"—which Mazurek came up with spontaneously while listening to each track—reflect the often-startling juxtapositions in the music.
Best known as a cornet player, Mazurek has always used horn in his work, but Chimeric Stoned Horn is his first recording to feature piccolo trumpet. "I came across this instrument quite by chance, although I was trying to find some kind of instrument that sounded like a Turkish Zurna," he recounts. "This Schilke gold-plated three-valve piccolo plays so beautifully that I decided to make it my main horn instrument. It pairs particularly well with the modular synth and excites me to no foreseeable end."
Music first excited Mazurek at age eight, when he decided he wanted to play clarinet. "We would go as a family to hear and dance to polka music in Jersey City," he recalls. "Clarinet was a prominent instrument along with accordion." He started playing cornet at age 10, then as a teen decided to "start making real serious music after hearing Sun Ra at the Chicago Jazz Festival in 1981." He's since become ensconced in multiple Chicago scenes, releasing music solo and in collaboration for the past quarter century; his most prominent projects have been Chicago Underground Duo and Sao Paulo Underground.
But music is too narrow a term to describe Mazurek's creative pursuits. Visual art is just as crucial to his aesthetic worldview; his "constellation" is, in essence, an audiovisual composite. "Synaesthesia is what he's aiming for," states the program that accompanies Constellation Scores. "Painting in sound, composing with color and light, hoping to thereby overcome the barriers between our senses." Press play on Chimeric Stoned Horn, slip on your 3D glasses, and stare at the cover, and you'll see and hear what he means.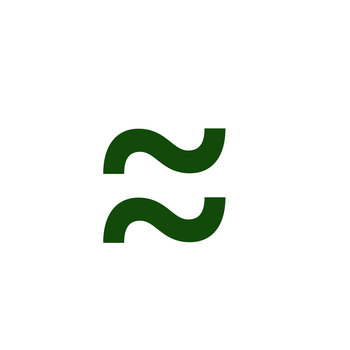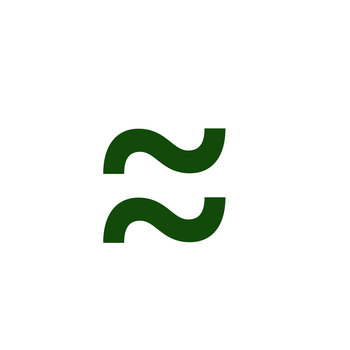 David Sutton is a sound sculptor. Whether he takes his project LXV in the direction of beat-oriented sounds, cut-up electronics, or more abstract, drone-leaning music is somewhat irrelevant: Sutton chisels where the material leads him. On Inversion Method, he's carved out big textures that seem to shift over and around each other like tectonic plates. The four pieces create atmospheres and conjure ghosts, but they're also thickly present, as if you could bite into them with a fork and knife. Especially appetizing is "Four in the Mirror," a collaboration with John Daniel (aka Forest Management) that fuses the best of Sutton and Daniel's fine sonic visions.
Lily Konigsberg / Andréa Schiavelli, Good Time Now [Ramp Local]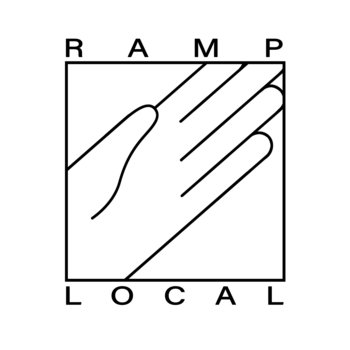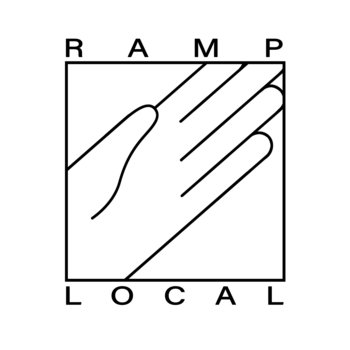 Merch for this release:
Cassette
Good Time Now is a split release that feels like a collaboration. Tracks written and recorded separately by Palberta's Lily Konigsberg and Eyes of Love's Andréa Schiavelli alternate throughout the tape's running order, making the aesthetic connections between these two artists tangible. Both chose to craft songs that roughly hew to American folk-pop traditions, spanning the country both literally (Konigsberg recorded in L.A., Schiavelli in NYC) and figuratively. Each contributes her own "National Anthem," and both prove adept at jangly gems, orchestrated ballads, and nimble acoustics. The more you listen, the more these tunes talk to each other—and the more fascinating that conversation gets.
Matthewdavid's Mindflight, Ophiuchus [NNA Tapes]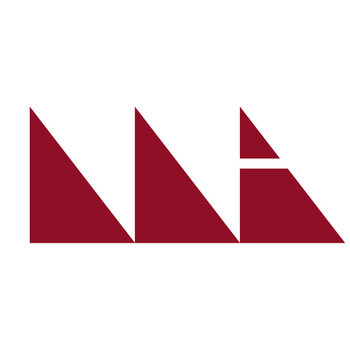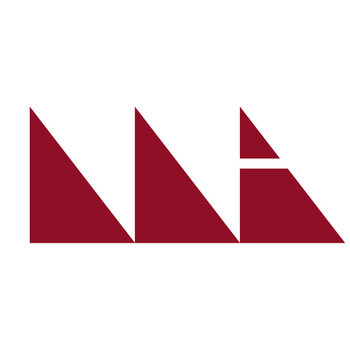 Merch for this release:
Cassette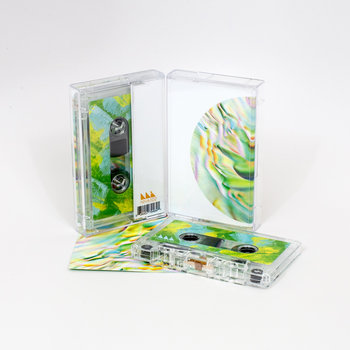 The spirit behind L.A.'s Leaving Records, Matthew David McQueen has created a healthy cache of music (under the name Matthewdavid) over the last decade or so. But his work really took off with his Mindflight project. Last year's double-LP Trust the Guide and Glide was a masterpiece of meditative sounds—moving, earth-shaking ambience that seemed to catch fire as it progressed. Ophiuchus is more subdued, but it's still full of vibrations that create their own centrifugal force. There's a personal aura to Ophiuchus as well; its two pieces are about family. Side A was composed as McQueen awaited the arrival of his daughter, while side B's "Geddes" is named after his neighboring musical comrade (and Leaving roster-mate) M. Geddes Gengras. Taken together, they add a new piece to the still-in-construction puzzle that is Matthewdavid's discography.
Tyler Holmes, DEMO [Ratskin]
In Tyler Holmes's world, catchy synth-pop sits with surprising comfort next to more mysterious and abstract sonic exploration. On their previous release from early August, S P O R T: DELUXE, this meant that bouncy melodies and impassioned vocal gems could spawn the wondering "Barf That Goes On Forever." And on their newest tape, DEMO, it means bright tunes can melt perfectly into the wavy ambience of "Heatwave" and the murky repetitions of "I Can't Forget." Even though their music sticks mostly to these twin poles of pop and experimentation, you get the sense when listening to Holmes that they're capable of infusing any style with their signature imprint.

—Marc Masters