BEST EXPERIMENTAL
Hi Bias: Notable Cassette Releases on Bandcamp, October 2017
By Marc Masters · October 31, 2017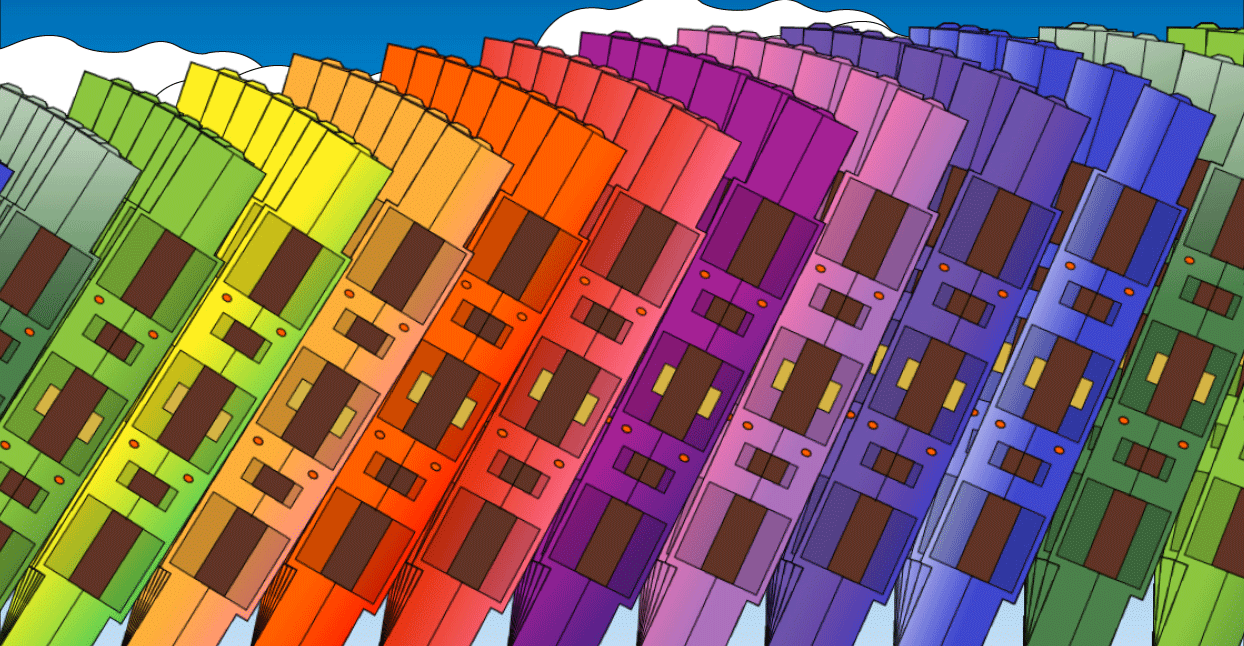 Welcome to Hi Bias, a monthly column highlighting recent cassette releases on Bandcamp, and exploring the ideas behind them with the artists who made them. Rather than making sweeping generalizations about the "cassette comeback," we prefer here simply to cover releases that may escape others' radar due to their limited, cassette-focused availability.
fraufraulein, heavy objects [Marginal Frequency]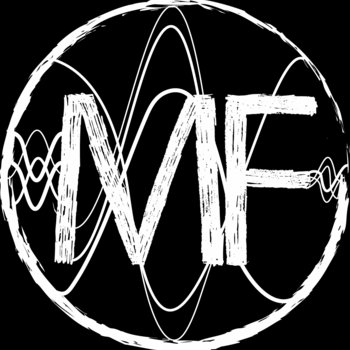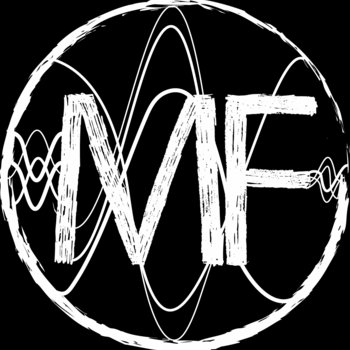 Merch for this release:
Cassette
As fraufraulein, the New York-based duo of Anne Guthrie and Billy Gomberg make music that feels telepathic, as if their minds merge into one whenever tape is rolling. "We have developed the ability to fall into an almost-trance within a few minutes of playing together," says Guthrie, "sometimes slowing to the point of almost stopping completely." "We decided on a 'band name' because we didn't feel that what we were doing was really two musicians doing separate things together," adds Gomberg, "but more like two musicians working on the same thing."
One obvious way to explain the duo's creative synergy is the fact that Guthrie and Gomberg are married. "We make very personal music, because this work is something we have loved to do together," insists Gomberg. But even more importantly, each has made a wealth of fascinating solo music, developing individual sonic languages that are well-suited for dialogue. "Sometimes we suck at talking, as a lot of people do," Guthrie admits. "Often playing music together will resolve something that talking cannot."
On their new tape, heavy objects, fraufraulein both resolve and provoke, using musical and abstract sounds to create something between the concrete textures of field recording and the tightrope thrill of spontaneous composition. "We both enjoy the tension or friction between material that is more apparently musical and that which is not," says Gomberg, who plays bass guitar and electronics while Guthrie works with French horn and "objects."
"I'm interested in a recording or performance that has dimension, like a sculpture," Gomberg continues. "Or plays with the appearance of dimension, like a photograph." That's a good way to describe both of heavy objects' sidelong pieces, which use small, tactile sounds—crashes, bumps, even fireworks outside the couple's window—to create a three-dimensional environment. These detailed aural events are especially striking in "one of us always tells the truth," whose title refers in part to the folkloric riddle popularized in the '80s film Labyrinth.
Fraufraulein's small sounds were inspired in part by a recent addition: Guthrie and Gomberg's son Jasper, who arrived last year before they began work on heavy objects. "Since Jasper was born, we haven't been out in the world as much, and have spent a lot of time getting very familiar with our domestic space, and wanted to focus on the small sounds that have been marking our days," explains Guthrie. "A month or so before we did these recordings, we played in Richard Kamerman's 18-hour piece and brought Jasper along. Watching him try to understand what was going on and seeing adults interact with sound-making objects in a very similar (although much quieter!) way made me want to get back to that here—find the very basic palette of an unfamiliar, simple instrument and tease out all the permutations."
Family played a role in Guthrie and Gomberg's individual paths to music, too, but in different ways. Guthrie's grandfather was a serious pianist, and her parents played and sang music around the house as she grew up. She took piano and French horn lessons as a kid, eventually acquiring a degree in composition, then delving into improv during a semester in London (where she ended up in a workshop run by AMM legend Eddie Prévost). Gomberg, on the other hand, has no musicians in his extended family. As an adolescent addicted to MTV's 120 Minutes, he bought a bass and took lessons, forming what he calls a "gothy band" in high school. Since then, much like Guthrie, he's carved out his own path through many diverse musical scenarios and collaborations.
At the moment, the only obstacle for Guthrie and Gomberg's own collaboration is finding the time to pursue it. "The past year-plus has been a reset, a constant beginning," says Gomberg. "The quickened pulse of participating in the world here has quieted, and I'm OK if today I miss it…maybe I'll pick up on it tomorrow. Music is something that has been very good to me. I trust it with me."
Macho Blush, User Guide [Tymbal Tapes]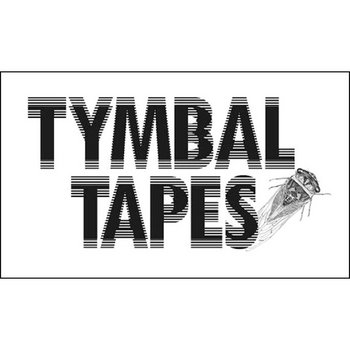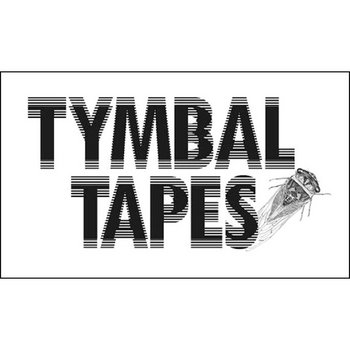 Merch for this release:
Cassette,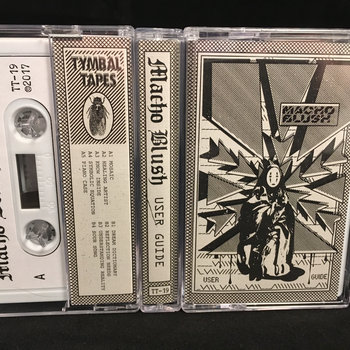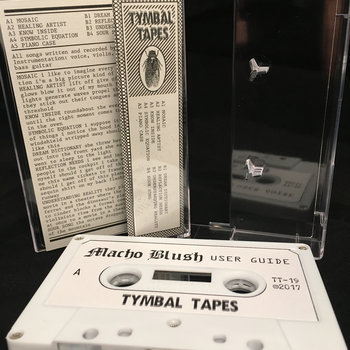 There is surreal logic to the songs on User Guide, Gina Probst's seventh release under the name Macho Blush. A rattling tornado of sounds flies through every track, as Probst simultaneously hints at continuity and deconstructs it. It's as if she had chopped conventional songs into broken shards and glued them back together. Her jagged, brain-flipping flow often feels like a dream: nothing makes perfect sense, but it all seems right, sometimes even natural.
It turns out that Probst based almost all the songs on User Guide on her own vivid dreams. "I just took note and created a form of what I saw or heard in dreamland," she explains. "The title [User Guide] came about by viewing the collection of songs as some kind of abstract instruction manual offering guidance for personal use. For a second, I thought of Dante's Virgil as a guide. I thought about how dreams can offer intuitive information through symbolism, if one wants to troubleshoot components of their life with that insight and perspective."
Macho Blush's dream tunes are grounded by Probst's powerful use of her voice. She began constructing each tune by writing lyrics and singing them, then improvised around those words with bass, drums, violin, and piano. On tracks such as the echo-haunted "Dream Dictionary" and the percussion-happy "Reflection Needs," she edits her voice to the point where it seems to merge identities with her other instruments. But on the hymn-like strains of "Healing Artist"—whose words came directly from a dream—and the misty rain of "Mosaic," her singing floats above the maelstrom like a ghost rising up out of a body.
"'Mosaic' is a piece that came about from pondering personal transitions people go through," Probst recalls. "I had been thinking of the imaginal cells that bring about the butterfly and its metamorphosis. I began considering how each person's body of cells could be seen as a single cell that creates a whole, a bigger picture, while each maintaining their full range of human individuality—as in an individual tile of a mosaic."
Probst grew up in a record-collecting family, and became obsessed with music at an early age. She has dabbled in voice training and music theory, but the bulk of her skills are self-taught. Perhaps that helps explain why her music has such a unique way of dealing with rhythm and progress. Her handmade way of turning cacophony into structure and vice versa gives User Guide an emotional effect; its knack for disorientation is oddly comforting and often moving. By bypassing standard rules, she's tapped directly into something elemental. "I feel a deepening ability to express myself," she asserts. "I start from my own emotional range or mental state and collect and extract what I want to arrange into work that I'd like to send out—or get out. If someone feels something from a listen, great!"
Merch for this release:
Cassette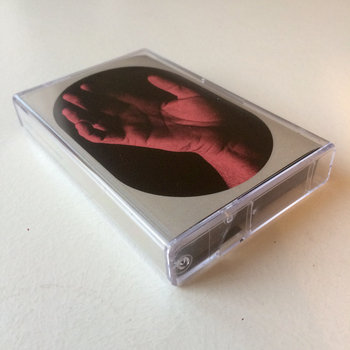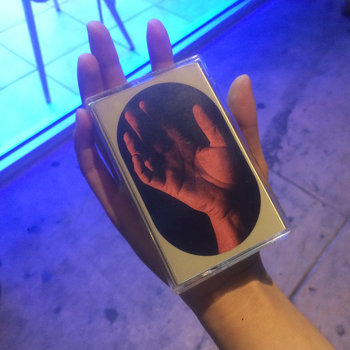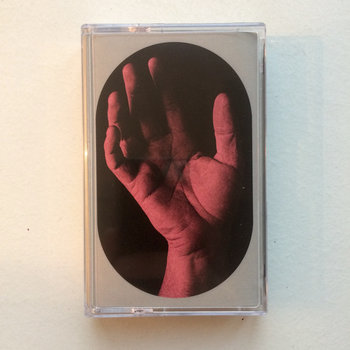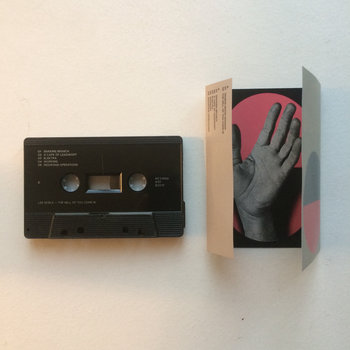 Over the past seven years, L.A. denizen Lee Noble has crafted an impressive oeuvre of subtle music that feels like the soundtrack to a hidden underworld. He has maintained that brain-massaging mood through ambient instrumentals, carefully-constructed songs, and all kinds of morphing modes in between. The Hell of You Come In contains a lot: vaporous synth tones, downbeat acoustic hymns, repetitive minimalist figures, clouds of organic abstraction. It all conveys a subterranean feeling—an aura of the subconscious, or perhaps the dream state that our minds naturally drift toward when they're free.

Plates of Cake, Let's Not Deprive Each Other [Unblinking Ear]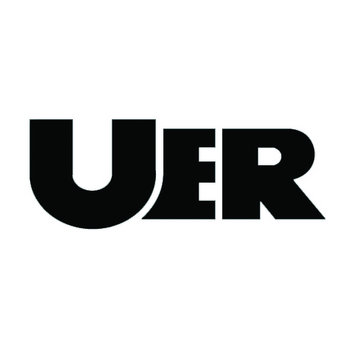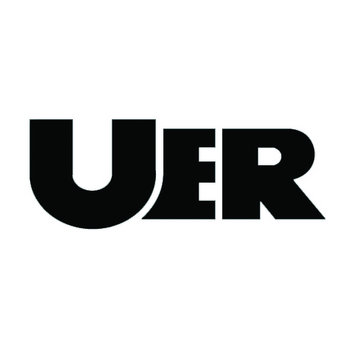 Merch for this release:
Cassette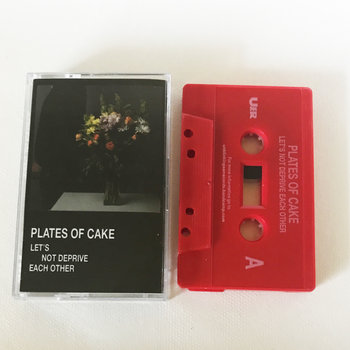 One of the catchiest tunes on Let's Not Deprive Each Other, the fourth full-length by Plates of Cake, is also one of its crankiest. "No Use For the Sun" is a kind of anthem for people who don't love summer. "Give me the cold / Give me the dark / Give me those bleak nights without any stars," Jonathan Byerley sings over bouncing keyboards and ba-ba backing vocals. The song's light/dark dichotomy typifies the New York trio's music, which is simultaneously earnest and deadpan, upbeat and world-weary. The ghosts of literate '90s indie bands and '80s AM-radio rockers float through Let's Not Deprive Each Other, but there's too much wizened personality in these 10 tunes for them to be mistaken for anyone but Plates of Cake.
Curved Light, Quartzsite [Constellation Tatsu]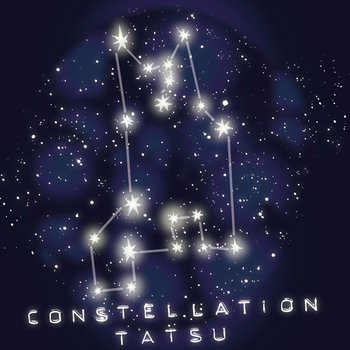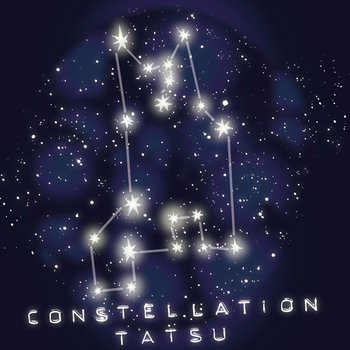 Merch for this release:
, Cassette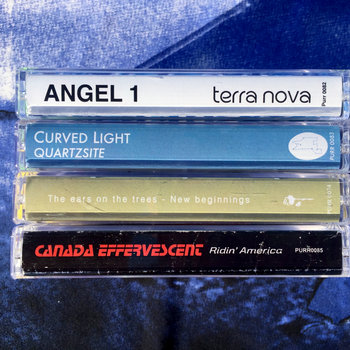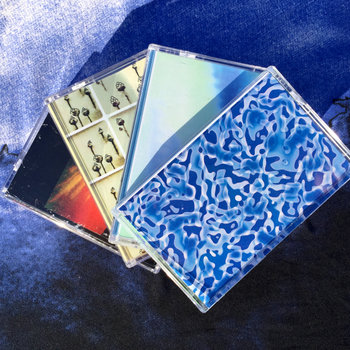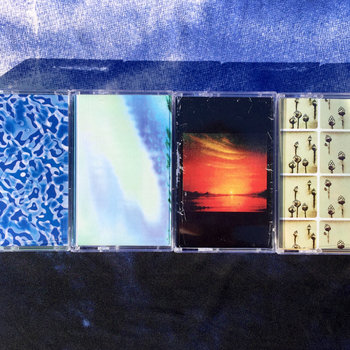 Quartzsite is the fourth tape by Austin, TX-based Curved Light's in just the past nine months, following stellar releases on Atlantic Rhythms, Field Hymns, and Holodeck. Every one of those has had something intriguing to offer, but Quartzsite is the duo's most diverse work this year, traversing a musical range from New Age ambience to rattling techno to cloudy drones. Peter Tran (who makes all of Curved Lights' sounds; his partner Deidre Smith creates the duo's visuals) crafts music that strikes a midpoint between progress and reflection, busy enough to always move but thoughtful enough to never rush through anything. He's also a master sequencer: Quartzsite unfolds like a movie, moving between moods and tones like a wordless narrative.
Merch for this release:
Cassette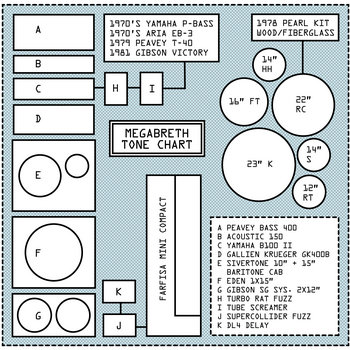 For this year's Cassette Store Day, Iowa-based label Field Hymns devised a release whose art is a homage to cassettes themselves—specifically Maxell Type II tapes, a staple of home tapers for decades. The music is an even nicer surprise: bass and drum instrumentals that are basically prog-metal workouts played with punk immediacy and garage humor. Megabreth is a new duo, featuring Field Hymns owner Dylan McConnell playing bass for the first time while Eric Mellor debuts on drums. The pair is happy to acknowledge their influences: one song, "Ride 'Em All, Kill the Lightning," rearranges Metallica album names in its title, while another is bluntly called "ESG Song." But the basement vibes of Ultra High Noise have their own smell, reeking nicely of bongs, beers, and toasty jams.
—Marc Masters