BEST CONTEMPORARY CLASSICAL
The Best Contemporary Classical on Bandcamp: October 2022
By Peter Margasak · October 26, 2022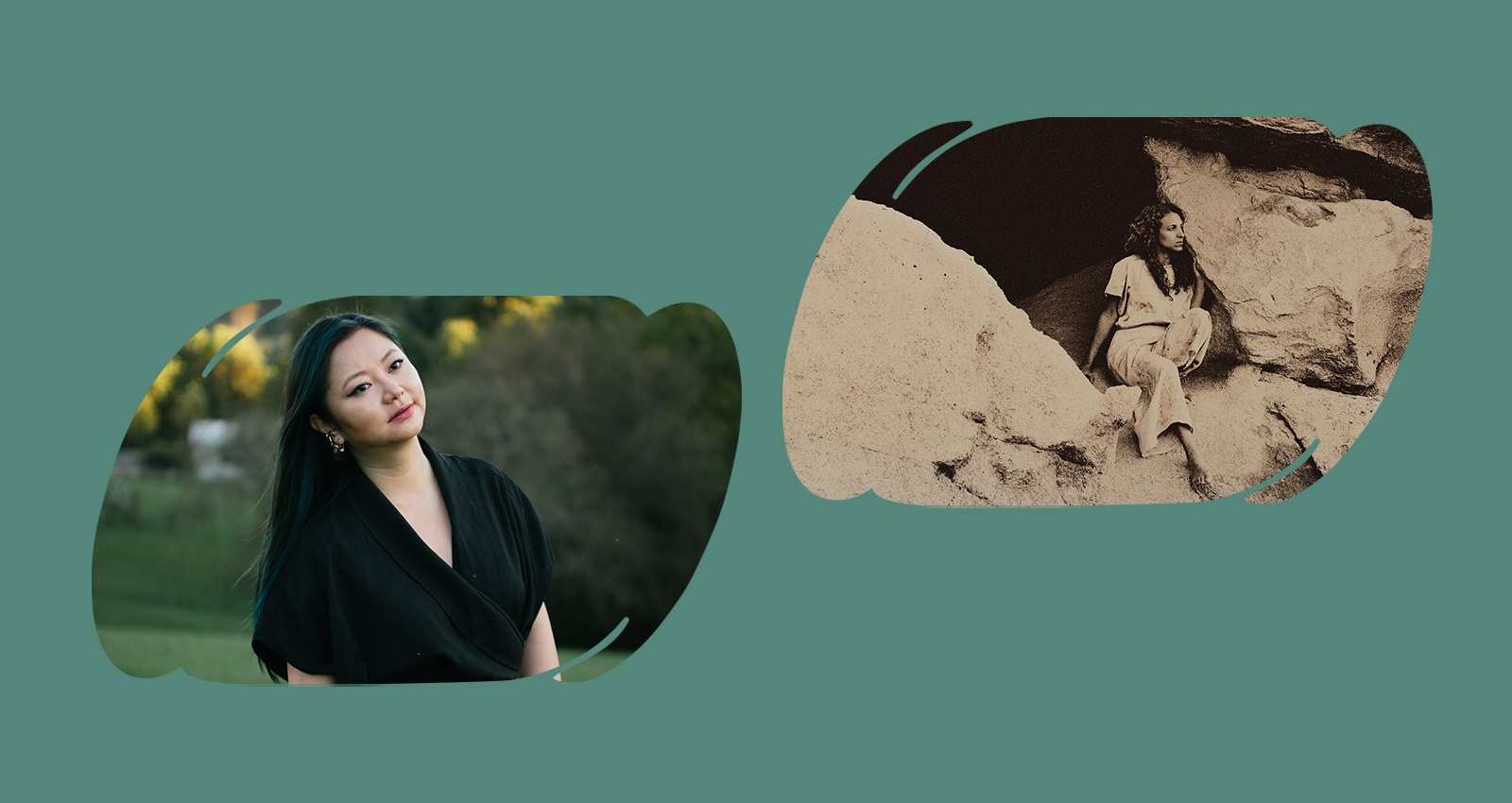 The taxonomy of contemporary classical music—new music, contemporary music, whatever you want to call it—is a thorny issue. But every month, we'll take a look at some of the best composer-driven music to surface here on Bandcamp, that which makes room for electronic experimentation, improvisation, and powerful takes on old classics.
Mats Persson & Kristine Scholz
stilla sväva
Merch for this release:
Compact Disc (CD)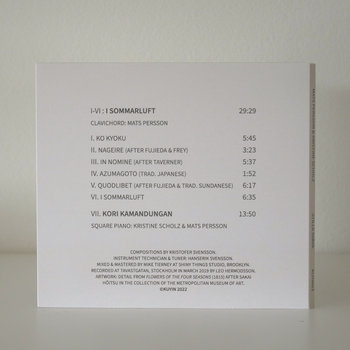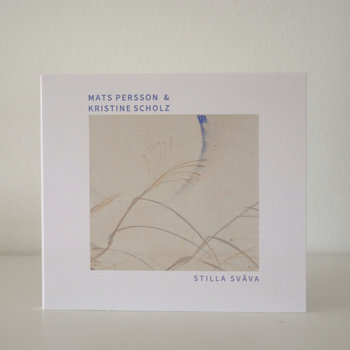 Since first crossing paths in 1969 when they were both studying in Cologne with Aloys Kontarsky, pianists Mats Persson and Kristine Scholz have worked steadily as a duo specializing in new music, where they've tackled work by composers as disparate as Dror Feiler, Christian Wolff, Aldo Clementi, John Cage, and Chris Newman. While their repertoire leans back toward a hardcore, European, 20th-century aesthetic, this phenomenal new album suggests they remain open to younger talent, such as Kristofer Svensson, who deftly digs far back into music history while pursuing deeply contemporary ideas.
The bulk of the recording is occupied by "I Sommarluft," which the composer refers to as a six-movement self-portrait. Each section reflects different inspirations, including Japanese court music, Sundanese string music from West Java, European Renaissance music, and the compositions of Svensson's teacher, Japanese minimalist Mamoru Fujieda. Persson plays this solo piece on a Swedish Lindholm-Söderström clavichord from 1809, which in combination with the patient, meticulously phrased melodies imparts the sound of a bygone past—but simultaneously its sense of space, weird harmonic twists, and deeply evocative lyricism seem modern, reflecting the composer's inspirations in elusive little fillips. The second piece features both musicians playing a single square piano built by Pehr Rosenwall in 1840. Scholz plays complicated, brittle harmonic patterns on exposed strings, while Person ambles casually through a series of melodies in just intonation at the keys, colliding haziness and sharpness in a delicious manner.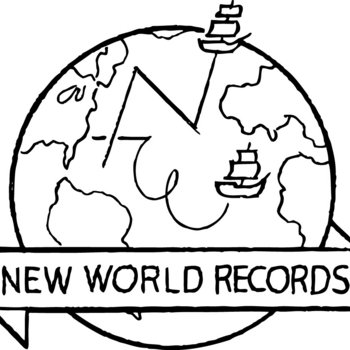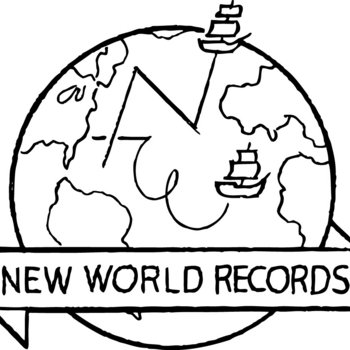 Merch for this release:
Compact Disc (CD)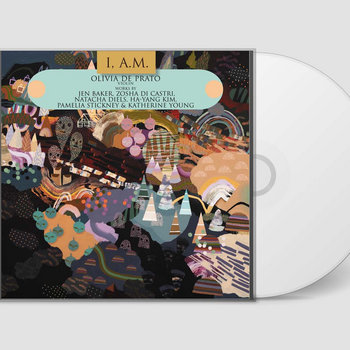 Violinist Oliva De Prato, the driving force behind Mivos Quartet, created this project about the strains motherhood puts on the creative process, enlisting six composers who are also mothers to write pieces for violin and electronics. The album doesn't belabor the difficulties of working and raising children—that's a given with any vocation—but it's fascinating for those without that experience to read through the incisive liner note essay by A. Martinez and grasp how artist-mothers must locate fleeting moments of time to make work, often, it turns out, at night.
Each piece is wildly different. Twinkling electronic tones largely subsume the violin on "automatic writing mumbles of the late hour" by Natacha Diels, indicating a kind of mental haze. The rapturously enveloping "may you dream of rainbows in magical lands" is a piece by Ha-Yang Kim in Kraig Grady's "Centaur" just intonation system that subtly punctures the beating long tones with bits of percussive sounds played on found objects by the composer's own child. Most of the pieces were made in collaboration with De Prato, including Katherine Young's wonderfully jagged "Mycorrhiza I," part of a series exploring the fungal networks of the natural world; both composer and violinist made recordings at home and during walks of non-musical sounds when they had a moment to themselves. Some are heard, some are not, but they prompt and interact with the scratchy, rhythmically insistent lines played by De Prato. The other pieces by Zosha Di Castri, Pamelia Stickney, and Jen Baker are no less satisfying.
Merch for this release:
Compact Disc (CD), 2 x Vinyl LP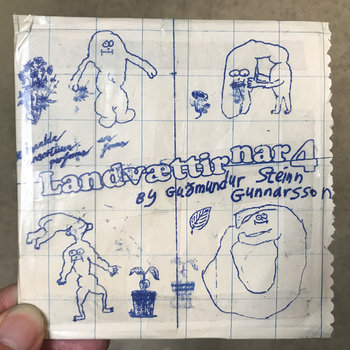 Icelandic composer Guðmundur Steinn Gunnarsson has a different sort of magical worldview than that of another far more famous singer from the island nation, though one could argue they're not that far afield. A veteran of the important experimental collective called S.L.Á.T.U.R., his career has largely been built on subverting convention while pursuing his deeply imaginative vision, which includes the development and usage of video scores that use animated notation. He's reduced the world of sound to four elements: short quick notes, long sustained notes, short percussive sounds, and unstable glissando sounds.
The title of this work is named for the four folkloric guardian spirits that watch over the corners of Iceland; Gunnarsson created and fleshed out his own fairytales deploying these characters. His music is decidedly homemade, played on a variety of simple whistles, flutes, percussion, and strings. On the first encounter, it feels primitive in its artlessness, but it quickly becomes clear that not only are these sounds—deftly performed by Steinalda, an ensemble Gunnarsson assembled for this project—meticulously plotted, but once the ears can adapt to this charmingly odd sound-world, the music is flush with folksy melodic fragments, crystalline counterpoint, and polyrhythm. It recalls some ancient Japanese folk traditions in terms of its lean austerity, but in the end, it occupies a space all of its own.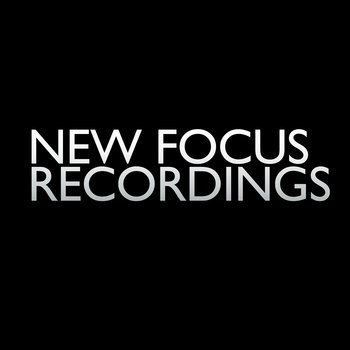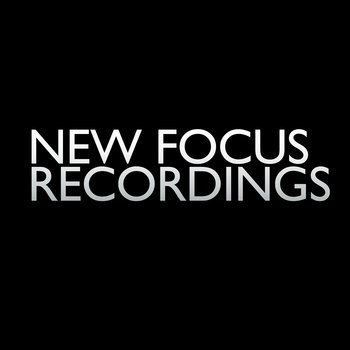 I'd never heard of the Florida-based Turkish composer Eren Gümrükçüoglu before encountering this heavy-duty portrait album, but it hit like a ton of bricks. He studied at Berklee and was seriously rooted in jazz improvisation before pivoting to concert music in 2008. Here he takes a loose-limbed approach that's comfortable with various kinds of ambiguity and that reflects those roots, both in purely electronic works and highly interactive ensemble pieces. His music thrives upon different sorts of dichotomies and polarities.
The hefty, densely episodic title piece rolls through frequently shifting structures and collisions, contrasting string quartet parts (masterfully played by JACK Quartet). Conrad Tao's piano, Zulfugar Baghirov's reeds, and Thom Monks' drumming combine in ever-changing forms, forging momentary alliances and navigating uncertain spaces with authority. While the music throbs, hums, and cracks up, the real pleasure is the endlessly modulating timbres Gümrükçüoglu summons, with acoustic and electronic tension, or floating tones frequently battered by terse polyrhythmic sallies. Mivos Quartet tackles a pair of disparate string quartets, with the explosive, splintery start of "Bozkir" yielding to a more measured second half of harmonically ambiguous long tones and tremolos. The jarring "Ordinary Things" is peppered with excerpts of speeches by Turkish authoritarian Recep Tayyip Erdoğan set with stark martial beats and the corrosive brass and strings of Deviant Septet. The electronic works that bookend the collection are no less novel in their sonic texture and color.
Merch for this release:
Compact Disc (CD)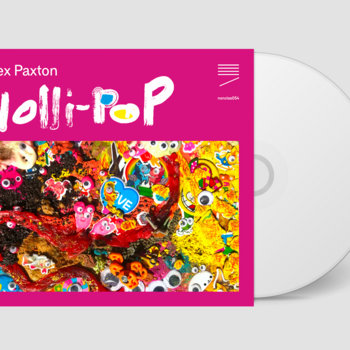 This column has often privileged slow-moving music built around long tones and subtle harmonic phenomena, but here's a wildly maximalist endeavor from British trombonist and composer Alex Paxton that never sits still. As the title and cover art suggest, Paxton enjoys brightly-colored sounds and over-the-top energy. He wrote the titular suite for Frankfurt's Ensemble Modern, although the meticulously scored five-movement work is here performed by the composer with his own Dream Musics Ensemble, who bring relentlessly fizzy energy to the work. His ebullient blowing is at once intensely virtuosic and giddily joyful, a tour de force that seems to change with every bar, enfolding bite-size pieces of classic minimalism, brass brand tradition, electronic noise, and video game plasticity, all flying along at an absurdly fast pace. At times it feels like we're listening to a taped recording of the piece played back at double time, especially in the breathless second section. It's a work as exhilarating as it is exhausting for the listener—I can only imagine how spent Paxton is after playing it.
"Sometimes Voices" was written for Switzerland's Hyper Duo, but Paxton takes it on with drummer James Larter, bypassing trombone in favor of maniacally quicksilver synthesizer patterns and samples that careen just as feverishly as the title piece, while on a second duo piece "Corncrack Dreams" he switches to electronically slathered trombone. Paxton is a monster improviser and he closes the album with a raucous solo that connects his garrulous attack to the most extroverted playing of George Lewis and Roswell Rudd.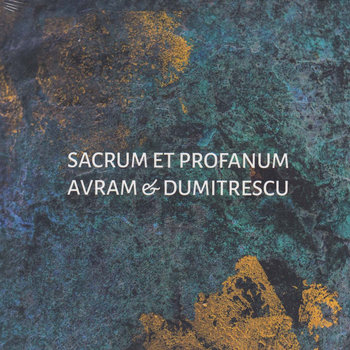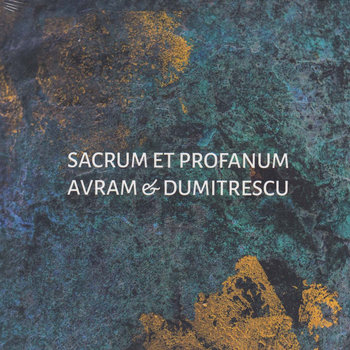 Merch for this release:
Compact Disc (CD)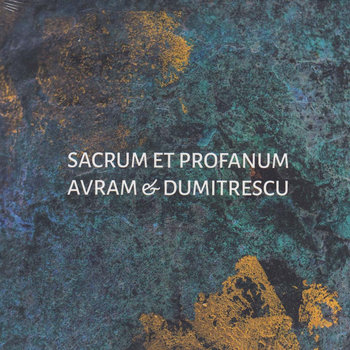 Romanian composers Ana-Maria Avram, who died in 2017 at age 55, and Iancu Dumitrescu, her husband, created some of the most bracing, inscrutable music in the last three decades, building elusive structures from the most irreducible means. This concert at Krakow's Sacrum Profanum Festival took place less than two months after Avram's unexpected passing, with Israeli conductor Ilan Volkov taking on a pair of ensemble works she'd written. Both "Murmur" and "Mineral Matters ii" feature improvisation from an international iteration of the composers' Hyperion Ensemble that included guitarists Oren Ambarchi and Stephen O'Malley; bassist Zach Rowden; and percussionist Chris Cutler, but the essential shape and timbre of the compositions trump exactitude. As Dumitrescu told musician Tim Hodgkinson in a 1997 interview, "There is definitely not the idea of perfecting something, of making the sounds fixed and perfect for all time. The point is to find out how they can be different every time but in exactly the way that is right for that particular time."
Both composers worked closely with the musicians who played their work, and in an email exchange, Volkov told me the score is most crucial when the collaboration process begins, with the musician gaining understanding, and thus, freedom. Indeed, Rowden's solo account of Avram's "Axis ii" ripples with a mastery of how tones splinter and shatter in ever-shifting directions. Four Avram works are followed by the Dumitrescu title composition—which he also conducts—written for the occasion, a lumbering behemoth of juddering sound.
Jan Martin Smørdal/Øystein Wyller Odden
Kraftbalanse
Merch for this release:
Compact Disc (CD)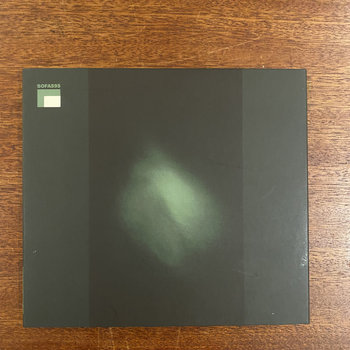 Norwegian composer Jan Martin Smørdal and artist Øystein Wyller Odden are hardly the first folks to draw inspiration from the inescapable, perpetual buzz of electrical currents, a sound we inexorably block out. Most of the work created by La Monte Young has used the 60 Hz frequency of the American power system—a sound he tuned into as a child growing up near electric transformers in rural Idaho. But for Smørdal and Odden, using the 50 Hz frequency used in Norway, it's not only the structural backbone of the extravagantly lean music on Kraftbalanse—the literal sound of the power grid is included as well, with its instability the genesis of the drone's changing timbre and harmony. The music builds up from a self-resonating piano tuned to 50 Hz, as the instrument is outfitted with transducers plugged directly into the electrical grid, which alter along with the subtly rising and falling surges of the frequency due to changes in the power source.
Those sounds are given lush depth from a string octet. Each member has a voltmeter, and the score directs the musicians on how to adapt to shifts in the frequency revealed on those devices. There are two chunks of sound recorded about 30 minutes apart on June 1, 2019, and they don't really seem to move much. A richly marbled slab of striated tones lumbers along, but within that stasis is a remarkably cornucopia of enveloping texture, movement, and harmony that belies its simplicity with a ravishing depth. The piece feels like a slice of eternity, and as long as we have power lines, it won't really conclude.
Merch for this release:
Compact Disc (CD)
Philip Glass set about writing two books of piano etudes when he found himself performing more often with his long-time ensemble back in the '90s, creating these exercises as a way to develop those skills. He wrote most of them in 1994, finishing the second book nearly two decades later, which is about when I first heard them. As someone who had overloaded on his music from the 1980s as a high school student, I had lost interest in his work, but these piano works pulled me back in, deftly weaving rhythmic and melodic trademarks of his work—whether the wagon-wheel effect motion or the almost psychedelic churn of slowly morphing melody lines—within concise, sometimes virtuosic exercises that stand on their own virtues beyond the practice function.
Pianist Vicky Chow—a long-time member of Bang on a Can All-Stars and a stellar musician with a broad aesthetic reach—first played some of these pieces during a 2018 concert with the composer himself, and was hooked. There's no missing the ardor she feels for the etudes in these dazzling performances, whether bringing out the dusky, introverted sorrow of "Etude No. 5" or riding the buzz of the sheer athletic ferocity of "Etude No. 6."  Chow eats it all up with unmistakable passion, and while I'm already looking forward to the next installment, this collection has renewed my appreciation for Glass' best music.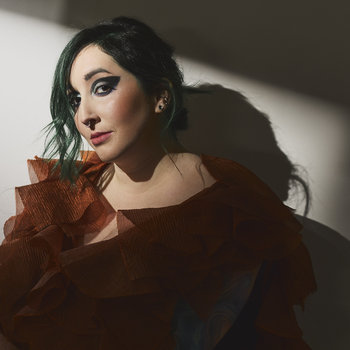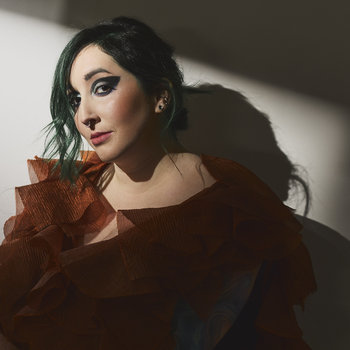 Toronto composer Bekah Simms goes maximalist on these three riveting works, crafting visceral contemporary music that enfolds external inspirations with dazzling rigor and logic. I'm not surprised that a composer as young as Sims—she was born in 1990—would have a close musical relationship to bands like System of a Down or Bathory, but I am knocked out by how seamlessly ideas from that world are incorporated—even a few literal quotes in "Foreverdark," where some jacked-up kick drums feel like the only direct sound shared with metal. She captures the style's coiled fury magnificently. She wrote the piece for cellist, friend, and fellow metal adherent Amahl Arulanandam, who delivers plenty of rage and tactility over an exacting performance from Cryptid Ensemble, but he never wanly embodies some screeching guitar solo.
"Bestiary I & II" abstract some of the elusive melodic shapes of Joanna Newsom into something more harrowing. Regal melodies crash into 3D dissonance, electronic drift, and rhythmic torpor, clearly evoking the most pushing excursions of late-period Scott Walker, although soprano Charlotte Mundy's ultra-precise lines and kaleidoscopic range offer unsettling counterpoint. The harsh timbres and scuffed surfaces of "from Void" were also deduced from another piece of music, in a sense, but this time her score was derived from an "intentionally-error-laden" digital analysis of the titular Rebecca Saunders work, which produced a landscape of scrapes, sighs, honks, thumps, and groans of inexpressible heft.
Odeya Nini
ODE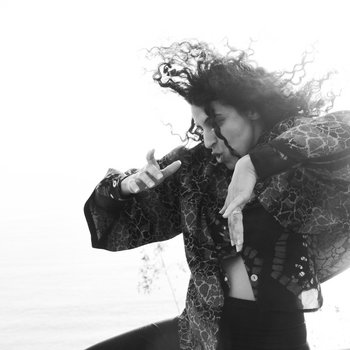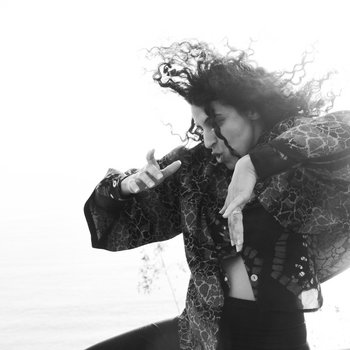 Merch for this release:
Vinyl LP
In some ways, the work of L.A. singer Odeya Nini is characterized by contrasts. Born and raised in New York to Yemenite Jewish parents, when she was 16 her family returned to Israel, where experiences during mandatory military service led her to recognize that music, not theater, was what she wanted to focus on. Since moving back to the U.S.—she now lives in Los Angeles, where she's a member of the excellent Wild Up—her music has pulled between experimental music, improvisation, and meditation, and on this solo voice album many of those tendencies collide with delicious, sometimes powerful tension.
The opening piece "Lala" is something of a maximalist, wordless showpiece, where Nini seems to ricochet between different manifestations of abstraction; gentle coos, meticulously shaped caterwauling, guttural howling, and almost sweet lullabies. On "Double Helix" she overdubs several complementary lines, which braid and pull apart in astonishing patterns—including an amazing sonic evocation of the titular structure, with inverse iterations of the same line unspooling on opposite ends of the stereo field. While her improvisational range and sonic imagination are wild on these high-flying opening works, for me Nini sounds most profound on leaner, more meditative pieces like "Submerge," where she layers a buzzing foundation ringing with harmonic effects with birdsong. As the piece begins to evaporate she drops an utterly unexpected, soulfully ecstatic release.