BEST CONTEMPORARY CLASSICAL
The Best Contemporary Classical on Bandcamp: October 2021
By Peter Margasak · November 03, 2021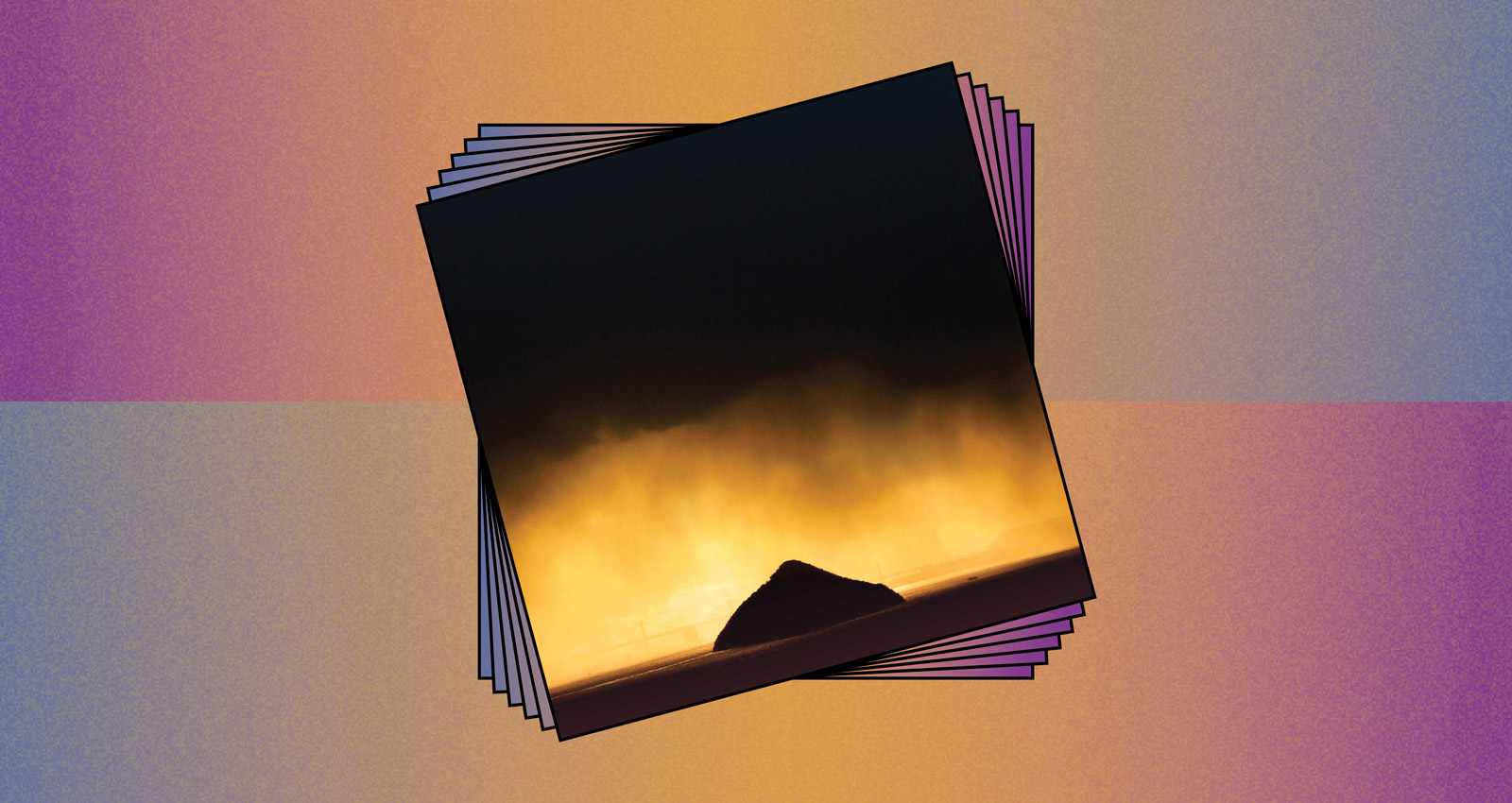 The taxonomy of contemporary classical music—new music, contemporary music, whatever you want to call it—is a thorny issue. But every two months, we'll take a look at some of the best composer-driven music to surface here on Bandcamp, that which makes room for electronic experimentation, improvisation, and powerful takes on old classics.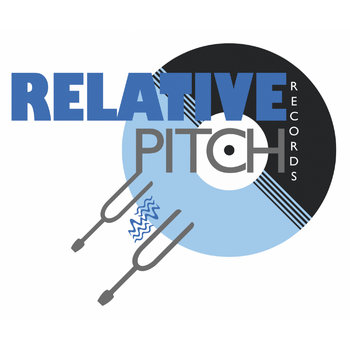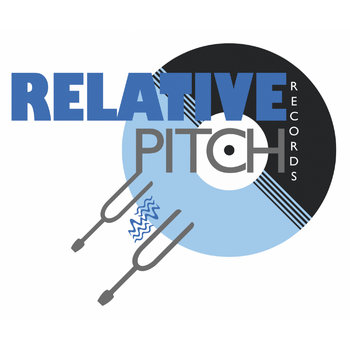 Merch for this release:
Compact Disc (CD)
Swedish pianist Alex Zethson has been very active in Scandinavian improvised music, performing with free jazz units like Fire Orchestra and Angles9. On this new recording he delves into his compositional practice, leading a superb group of paired instruments (piano, bass, cello, violin, and percussion)—and three guitarists, some of which are prepared—through an extended work built on driving rhythms and stabbing, almost staccato tones. There's almost a gamelan-like quality to the group timbre, where each instrument sounds percussive, and every short, synchronized note accumulates a cloud of hovering overtones. Zethson designed the music to force the musicians, who all pluck, strike, and bow with percussive relentlessness, to be intensely focused on the sound while potentially getting lost within its hypnotic spell.
There's no missing the inspiration of Arnold Dreyblatt, especially on the first part of the work, where instrumentalists (particularly percussionist Andreas Hiroui Larsson) slowly untangle from the massed thrum with quick stabs that take on outsized impact by simply being different from the rest of the din, and the rhythms evolve into more complex patterns. In the second part, cycling melodic material amid enticing long tone drones begins to creep in, with a loping groove that wouldn't sound out of place on a NEU! album. The music keeps pushing upward, building in density, volume, and tension, until it all dissolves in a chorus of slashing strings.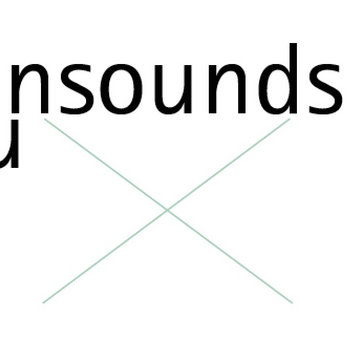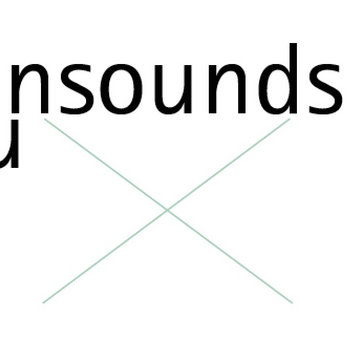 Merch for this release:
Compact Disc (CD)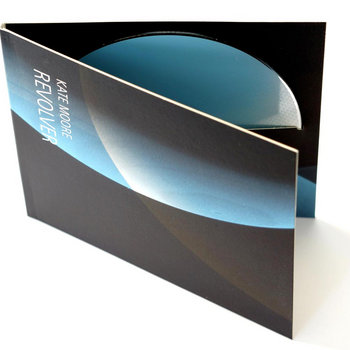 Amsterdam-based Australian composer Kate Moore wrote this set of music for choreographer Ken Unsworth in 2017, and the pulsating, melodically hypnotic pieces reflect a type of minimalism built from intense cycling rhythms a la Steve Reich. Previously she has written material for the Bang on a Can All-Stars, and these pieces would fit naturally into the group's repertoire. Yet Moore isn't stuck with any single process. Certain pieces, like the plangent "Trio (Song of Ropes)," contain melodic variations that feel folk-inspired, and could easily be translated into art-rock tunes. In notes she wrote for each of the pieces Moore eschews literal inspirations or methodology in favor of poetic imagery, such as "in the long slow unfurling of the coil of a rope/ In the form of a melody like a snake's body," which applies to the above composition. The beautifully unfussy music is played with uncanny sensitivity and warmth by a quintet of Australian musicians including cellist Rowena Macneish and harpist Genevieve Lang, either as full quintet, in solo, or in trio.
Teodora Stepančić, Assaf Gidron, Martin Lorenz
Two Trios
Merch for this release:
Compact Disc (CD)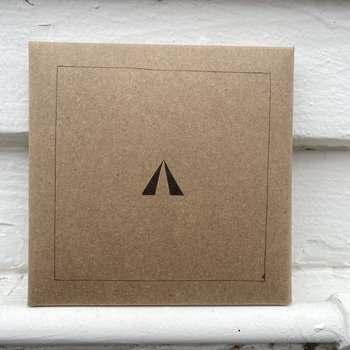 This international working trio—its members, all composers and instrumentalists, currently spread between Brooklyn and Zurich—embraces a beguiling, homemade approach in tackling this pair of wide-open trio works. The music was recorded by composer David Dunn in a single room studio in the Santa Cruz Mountains, and no effort is made to shut out environmental sounds, like airplanes passing overhead.
"Another Trio," by pianist Teodora Stepančić, conveys a charming ramshackle vibe. Long silences interweave passages of whistling; crude friction (scraped objects, crinkled or torn paper and aluminum foil, radio transmissions, columns of breath); primitive Casio percussion presets; and, eventually, some chintzy organ-like chords. It's as if some displaced DIY indie rock folks made a stab at following a graphic score, but beneath the raw surface is a carefully pitched restraint and collective sensibility that delivers a lovely feast for the ears, where noise and silence collide. The same sensibility pervades its reading of "Colours of Silence," a meditative piece written for the trio by Swiss composer Jürg Frey. The Casio organ setting produces thin long tones under steady, circular motion of rubbed stones, and bowed percussion creating a delicate balance between noise and melody, with the listener surreptitiously planted in the middle of the close-miked action.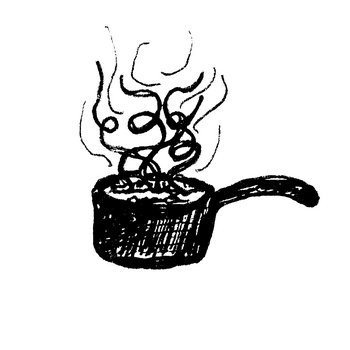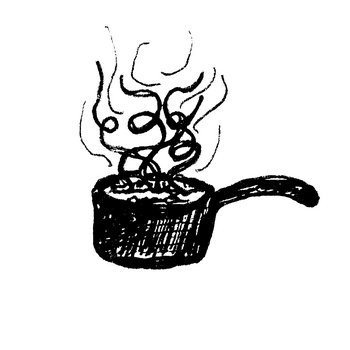 Merch for this release:
Vinyl LP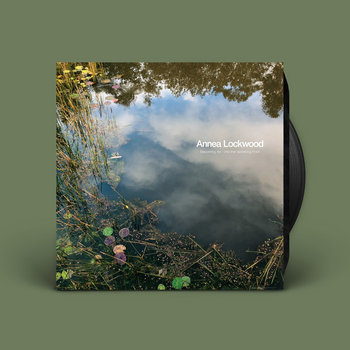 These two recent compositions by 82-year-old Annea Lockwood not only offer a powerful testimonial to her undiminished creativity, openness, and curiosity, but they hit as hard and linger with as much resonance as anything she's created. Lockwood created both pieces in close collaboration with the performers, learning about their interests and strengths early in the process and tailoring each work for each performer.
"Becoming Air" is a composition for trumpeter Nate Wooley that not only harnesses some of his extended techniques, such as creating a fascinating range of fragile, highly vulnerable sounds by simply manipulating his horn's disengaged mouthpiece or producing strident bursts of noise through muscular overblowing. That virtuosity is celebrated for its failure as much as its perfection, a long-time interest for the trumpeter, who, along with Lockwood, recognizes the ineffable humanity within such endeavors. It's an intensely physical work where Wooley's exertion and struggle is palpable, as both performer and composer pull back the curtain on the artist's attempt to control something as organic as sound. "Into the Vanishing Point" is a collaboration with the versatile New York piano/percussion quartet Yarn/Wire that stems from a shared concern for, specifically, collapsing insect populations, and, more generally, environmental degradation, and while the actual music eschews mimicry of insect sounds, it beautifully sketches a kind of slippery ecosystem, evoking the immersive environment of untrammeled nature.
Jacob Cooper & Steven Bradshaw
Sunrise
Merch for this release:
Compact Disc (CD)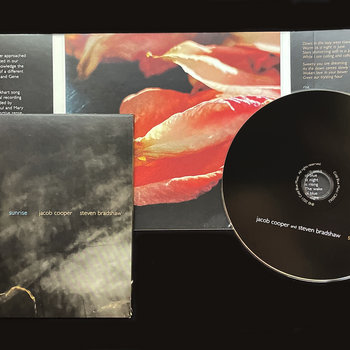 Contemporary music usually moves through a lengthy gestation period, with composition, rehearsal, and performance occurring well before a piece is ever recorded, but technology is changing that. This collaboration between Jacob Cooper, of the Sleeping Giant Collective, and singer Steven Bradshaw, of the Philadelphia new music choir The Crossing, was produced during and reflects upon the ongoing (but hopefully soon fading) pandemic. The pair drew inspiration from the old love song "The World is Waiting for the Sunrise," written during the devastation of the Spanish influenza in 1918-20, but only surfacing as a recording in 1921, when the context of its creation had faded. The original lyrics refer to romantic longing, but mask a yearning for normalcy. Here they are significantly rearranged into a kind of desperate meditation for human connection.
Bradshaw's voice goes through endless electronic treatments—stacked in wordless harmony, pitch-shifted into bird-like warbles, sliced-and-diced into an answering chorus—as well as pure, keening lament that hits harder than anything else. The vocals are placed alongside heavily processed, largely unrecognizable instrumental passages—flautist Tim Munro, pianist Dynasty Battles, and violinist Clara Kim are all credited—that help build to a dense, noisy climax at once claustrophobic and explosive, displacing the voice for several harrowing, apocalyptic moments. As the noise drifts away, a pretty piano line cycles and Bradshaw returns—exhausted and forlorn, but still conveying beauty.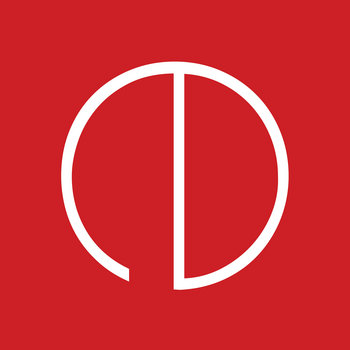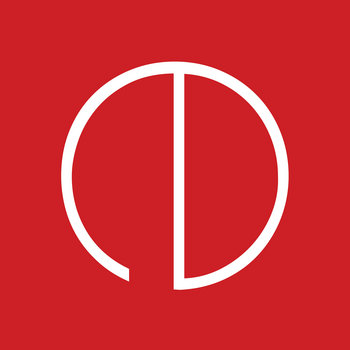 Merch for this release:
Compact Disc (CD)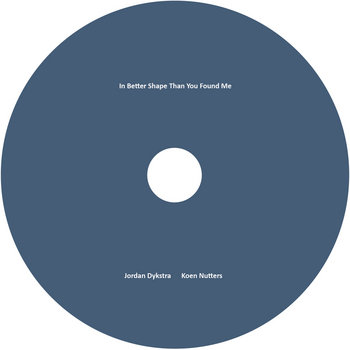 As with the Cooper/Bradshaw work above, this two-way collaboration between Jordan Dykstra and Koen Nutters was also made remotely during lockdown in 2020. The core of the piece is a piano composition Nutters was working on when Dykstra approached him about making a piece together. The stark piano chords and scales, separated by long chunks of silence, were filled in by Dykstra without upsetting the essential architecture of the work. Among the material deftly inlaid by Dykstra are field recordings of birds made during those early days of the pandemic, both untouched and time-stretched. It evokes those days when it seemed as if wildlife reclaimed some kind of primacy in urban areas suddenly silenced by the lack of commuting and socializing, adding astringent viola lines, floating melodica chords, resonant three-note crotale patterns, pitch-pipe tings, and sustained piano drones made with an e-bow.
The piano part may form the essence of the piece, and it could function on its own as an ultra-minimal Wandelweiser-type excursion, but Dykstra's sonic flesh really ups the ante, adding an ever-shifting array of unconventional harmony and sonic disruption so that the music teeters between calmness and subdued terror. The hour-long piece arrives in several discrete sections, separated by brief silences, as if each new movement provides a new perspective on familiar material. It demands total immersion, but the effort is more than worth it.
Jessica Pavone
Lull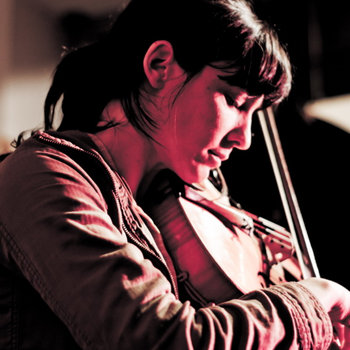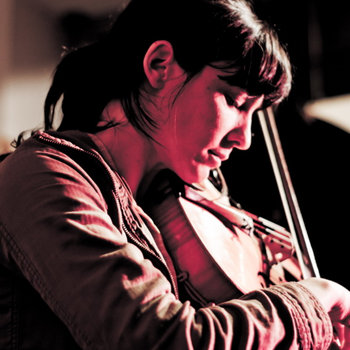 Merch for this release:
Compact Disc (CD)
Composer and violist Jessica Pavone continues an impressive streak of writing for strings with this new recording, expanding her recent work for quartet to an octet, with pairs of violin, viola, cello, and double bass. The context allows for greater harmonic movement and hypnotic counterpoint, as witnessed by the first movement "Indolent," in which a gentle, almost tentative opening gains density, volume, and complexity with each bar, producing a cantering motion that feels dizzyingly unstable. Terse lines saw against one another in ever-shifting patterns, but halfway through they all align to produce an exhilarating set of pulsations and long tones.
On the other pieces Pavone deftly incorporates elements from her improvisatory past, enlisting aforementioned trumpeter Nate Wooley and drummer Brian Chase (Yeah Yeah Yeahs) as soloists, who expand on the freedom the indeterminate score offers each ensemble member. On "Holt" Chase unleashes a micro-focused snare solo interactively swaddled by slashing violas tangled bass lines, while Wooley joins the fray on "Ingot," toggling from tart whinnies to an uninterrupted, softly vibrating lone tone achieved with what appears to be circular breathing. Massed strings glide beneath him, reframing his lines with subtle harmonic shifts and increasingly shorter stabs. It's a remarkable performance. The stirring final movement, "Midmost," concludes the work with just the string octet, in a kind of inversion of the opening.
Julia Den Boer
Kermès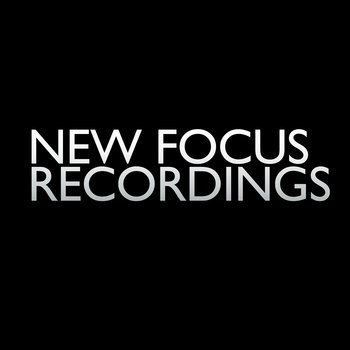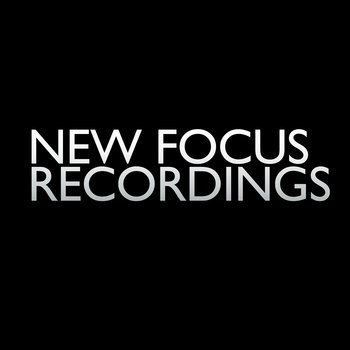 In this new collection, French-American pianist Julia Den Boer brings an electrifying precision to works by four of the strongest female composers at work today. Each piece conveys a bracing tactility, reveling in the materiality of sound. The album opens with "Déserts" by the Italian composer Giulia Lorusso, which is inspired by five deserts in South America and Africa. The music is both introspective in its billowing melodic shapes, but intensely physical in its rhythmic thrust, and while each subsection reflects different qualities of the various locations, as a whole Den Boer balances the dreamy and the visceral.
Canadian composer Linda Catlin Smith's "The Underfolding" recalls the slow creep of Morton Feldman, as muted overtones, pierced by dry, terse phrases, pile up in elegant, pensive constellations. "Reminiscence" by Iceland's Anna Thorvaldsdottir packs seven vignettes inspired by her homeland's gorgeously rugged landscape into nine minutes, painting sonic images that don't fret over narrative. Instead they evoke spooky environments, evoking placidity, tension, and ominous portent without a wasted gesture. The album concludes with Rebecca Saunders's "Crimson," the most bruising and physical work present here, larded with shattered-glass clusters, turbulent harmonies, and a wide dynamic range and delivered with ineffable clarity.
The exceptionally versatile violinist Pauline Kim Harris—who forms the superb String Noise duo with her husband Conrad Harris—shares the second installment in her "Chaconne Project," which uses Bach's classic from the Partita in D Minor as a foundation for exploration and expansion. On her 2019 album Heroine she presented an ambient reimagining of the piece in collaboration with Spencer Topel, while this new recording enlisted four composers to write her new works related in some way to the Bach piece.
Yoon-Ji Lee's "Shakonn" blends abstracted material from the Bach work with chanted vocals delivering words from a Korean sijo, a poetry form. "Morsels," by Elizabeth Hoffman, is derived from an earlier piece she wrote for the violinist, also based on "Chaconne," which seeks to remove the gendered gestures in the original, settling on something virtuosic in its stripped-down construction. Composer Annie Gosfield imagines a duet between violin and jammed radio signals on her "Long Waves and Random Pulses" (the version here transforms a quote from "Chaconne" as it might have been articulated as a jammed signal), asking Harris to toggle between virtuosic, classical passages, and noise-driven abstraction. The final piece is John King's "C-H-A-C-O-N-N-E," which plays with the form of the piece, winnowing down complex gestures and techniques into something elegantly simple.
Merch for this release:
Compact Disc (CD)
The apparent simplicity of means deployed by Swiss composer Jürg Frey—arguably the best-known figure of the Wandelweiser Collective—illustrates how few contemporary composers possess equal mastery of form and contrast. The work was commissioned by the Louth Contemporary Music Society for a 2017 performance, and this new reading is astonishing, building from a series of often frictive, short lines that patiently begin to form a gorgeous melodic sequence over time while only heightening the weft and density of his translucent timbre.
The breathy haze that filters through the striated strings (Garth Knox on viola, Nathalie Chabot on violin, and Agnès Vesterman on cello), mostly rubbed percussion (achieved by Sylvain Lemêtre) and crystalline clarinet (played by the great Carol Robinson) feels weightless and profound, and the way soprano Hélène Fauchère articulates Frey's quotation heavy text and teases out phantom melodic accents from within the meticulous linearity, sends the music into the sublime. The way her voice fits the unfolding score seems to expand similarly to the vocal exercises on Frey's superb piece from 2013, 24 Wörter. The composer's genius at context and scale, forever reconsidering what a particular sound or phrase means within one bar versus another, injects his limited material with incredible depth and complexity.