BEST CONTEMPORARY CLASSICAL
The Best Contemporary Classical on Bandcamp: July 2022
By Peter Margasak · July 25, 2022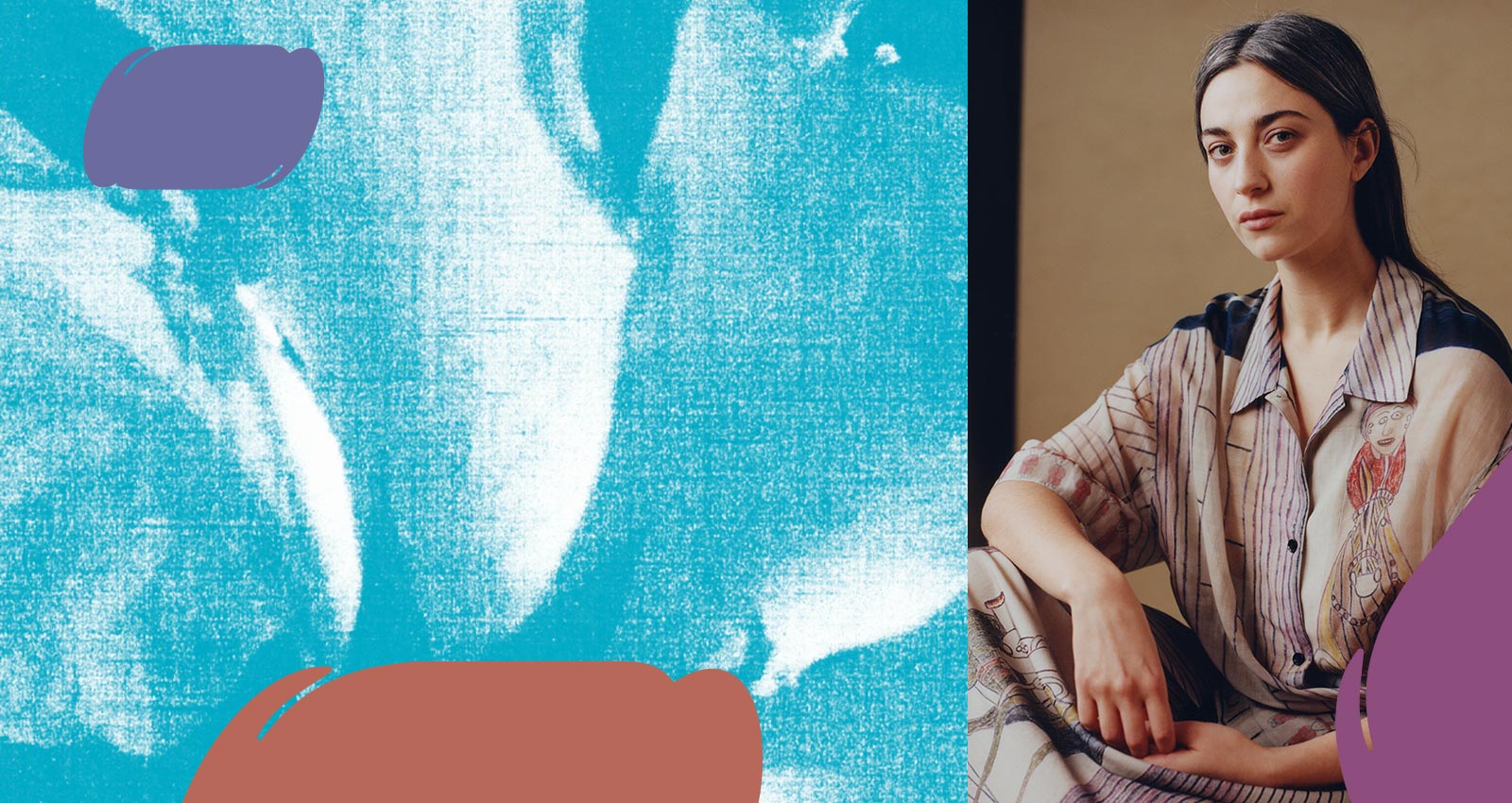 The taxonomy of contemporary classical music—new music, contemporary music, whatever you want to call it—is a thorny issue. But every two months, we'll take a look at some of the best composer-driven music to surface here on Bandcamp, that which makes room for electronic experimentation, improvisation, and powerful takes on old classics.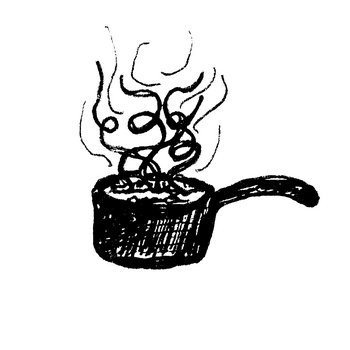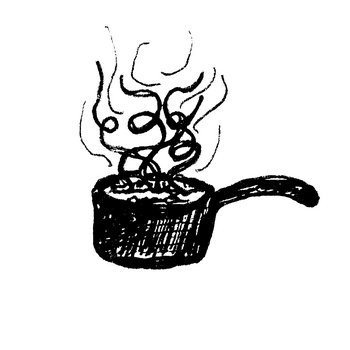 Merch for this release:
Vinyl
Balinese composer Dewa Alit grew up steeped in gamelan tradition, but he's focused on pushing the tradition forward rather than simply preserving it. There's long been a steady flow of new compositions for the instrument, although they're rarely exported to the U.S. Alit helped American composer Evan Ziporyn mount his opera A House in Bali in the U.S. back in 2009 and 2010, but we're finally getting more opportunities to experience his own vision. There are some recordings of his work performed by American and European ensembles, but in 2020 he began sharing music played by his own group, the 25-member Gamelan Salukat, which blends two different tuning systems within its practice.
This new collection—the second released by Black Truffle—presents his most distinctive and gripping music yet. In these two pieces, he seems to be channeling a wide array of non-native approaches through the singular lens of Balinese gamelan. Each work is larded with cross-cutting, stop-start rhythms that pile up as if dragged around on a computer desktop, defying human capabilities. The ensemble uses different extended techniques to produce novel tones—overtones ring and collide; melodies blend, evaporate, or mutate into new forms. Even within the comforting timbre of gamelan, Alit has created something radically original marked by an organically flowing intricacy that leads to new discoveries with each listen.
Merch for this release:
2 x Vinyl LP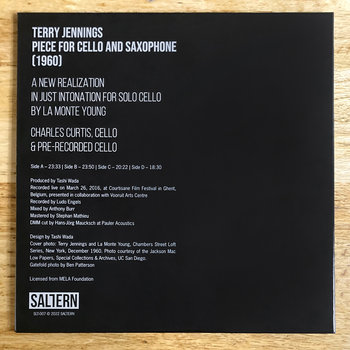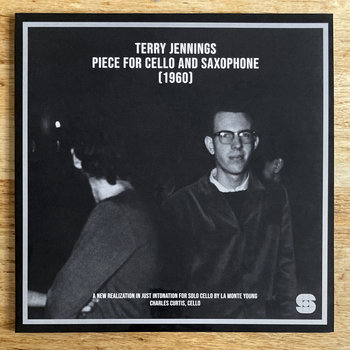 Saxophonist and composer Terry Jennings was an early associate of composer La Monte Young, embracing the latter's focus on music built from sustained tones soon after they met in Los Angeles in the mid-1950s. He eventually followed Young to New York, where he sometimes played in the Theatre of the Eternal Music. Jennings struggled with addiction and died tragically in 1981 at the age of 41. His 1960 work Piece for Cello and Saxophone exists on paper in what appears to be a sketch, but apart from a short excerpt recorded with cellist Charlotte Moorman in 1964, it was rarely heard until Young began adapting for himself, as a vocalist, and cellist Charles Curtis in the late 1980s, slowing it down and arranging it for just intonation with a clear injection of phrases drawn from Indian classical tradition.
This dazzling performance was recorded live in Ghent, Belgium in 2016, with the cellist accompanied by a tape part of his own tamboura-like lines. This invaluable recording includes in-depth liner notes with thoughts on the work from Young and Curtis delineating its history and transformation. While its evolving legacy is fascinating, nothing matches the experience of surrendering to the music itself, a sometimes soothing, sometimes turbulent excursion in transformative harmony and masterful phrasing. The cellist's fully committed performance can feel like a religious experience. Young's hubris in assessing his role in the piece is typically self-aggrandizing, but the music is so magical his egoism is easy enough to brush aside.
Merch for this release:
Compact Disc (CD),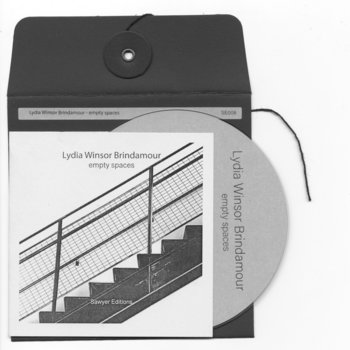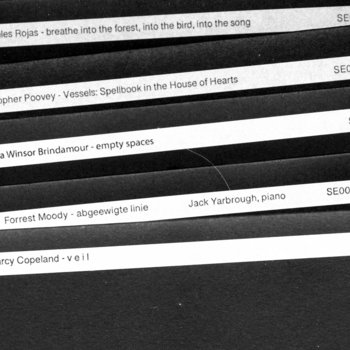 The second batch of titles from the upstart Sawyer Editions label operated by Texas composer Kory Reeder includes this minimalist gem, a collection of works by Lydia Winsor Brindamour, a graduate student at the University of California San Diego, where she's studying with Rand Steiger. The composer writes in the liner notes that each work "investigates the dissipation of sound into silence and the moment at which resonance fades entirely from audibility," and, indeed, these carefully etched performances do just that, carving out "empty spaces."
Clarinetist Madison Greenstone and violinist Erik Carlson offer a delicate balance in the opener "the empty room ii," where long tones drift on the horizon in shifting combinations—alone or together, with different starting and end points—often separated by generous stretches of silence. Carlson duets with bass flutist Michael Matsuno on "the empty room iii," with shorter gestures and longer patches of absence. There's more friction within "of (the ether)," both in emotional starkness and sound, with stabbing notes voiced by pianist Kyle Adam Blair punctuating the striated lines of cellist Peter Ko and violinist Myra Hinrichs. The attack and erosion of sound are more dramatic. The album concludes with a solo piece for tam-tam played by James Beauton—slowly dissolving struck tones, frictive brushing, and slowly undulating rumbling, all just as varied as any of the other instruments. The works all occupy a very specific space, but it's a very nice place to spend time.
String Orchestra of Brooklyn
enfolding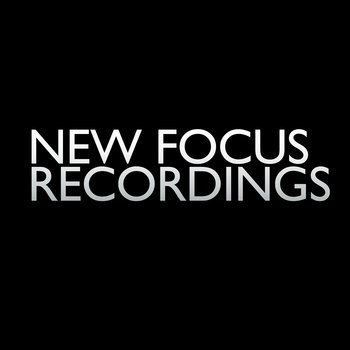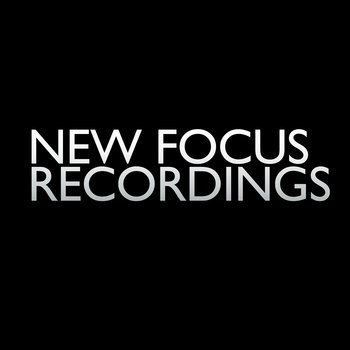 The bulk of this terrific new album by String Orchestra of Brooklyn is devoted to "with eyes the color of time" by composer Anne Leilehua Lanzilotti, a multipartite effort the premiere of which was pushed back for more than a year due to the pandemic. Each movement is named for a different artwork that was on display when Honolulu's The Contemporary Museum first opened in 1988, with interludes inspired by silhouettes cast in the building's bronze doors. But the first five times I played the record I hadn't yet read the program notes, so I experienced the gorgeous piece solely based on its sounds. Its eight movements deftly juggle harmony-rich long tones that glide and shimmer, blending passages built around frictive, rumbling, extended techniques and ghostly overtones with brooding melodic shapes, particularly the harrowing "les sortilèges (the wound / the torn page)." Lanzilotti, whose compositional voice grows more authoritative and versatile with each passing year, draws no line between pure sound and narrative structures, creating a work of elusive beauty and renewable mystery. The album opens with a short chamber piece by Scott Wollschleger called "Outside Only Sound," a pandemic-era piece written to elude lockdown restrictions by taking place outside, with only a few minutes of required rehearsal. Sounds of barking dogs, playing children, and passing sirens provide a canvas for an aleatoric array of strings and metallic percussion, blending in with naturalistic ease.
Germaine Sijstermans
Betula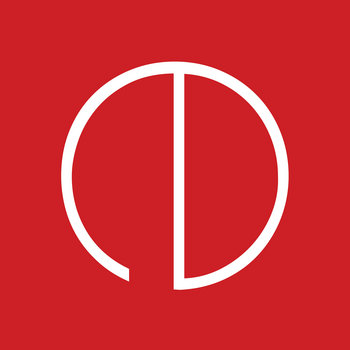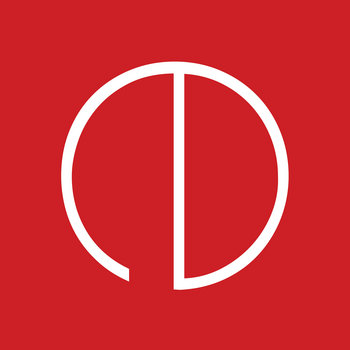 Merch for this release:
Compact Disc (CD)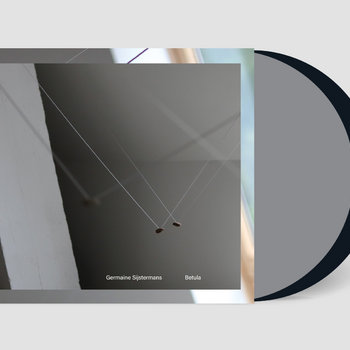 Reflecting on her music, Dutch composer and clarinetist Germaine Sijstermans says in the liner notes to Betula: "My work is neither programmatic, nor does it contain a narrative. It hands material and possibilities to the subjective perception of all that encounter it: performers, visitors and listeners." At the same time, she notes "my biggest source of inspiration is nature and its workings." Some of the pieces that fill this double CD were designed to accompany her art installations, which she calls "transparent environments" for audiences to occupy. There's a quality to this work that feels without beginning or end, as if it's something eternal and naturally occurring that one has stumbled upon.
The album's opening piece, "a song"—another version of which concludes the album—asks a musician to play a simple four-line melody, with long pauses in between each, while two or more additional musicians double particular notes of their choice for as long or little as they choose until the line ends. In some ways, that cooperative spirit—magnificently deployed by the ensemble of violinist Johnny Chang, guitarist Fredrik Rasten, accordionist Leo Svirsky, trombonist Rishin Singh, and flutist Antoine Beuger—guides the entire endeavor, a highly attuned musical rapport persistently channeling the ineffable. The music is still and often weightless, but within that fabric of gauzy sound, they conjure fragile materiality with lyric power.
Merch for this release:
Vinyl LP, Compact Disc (CD)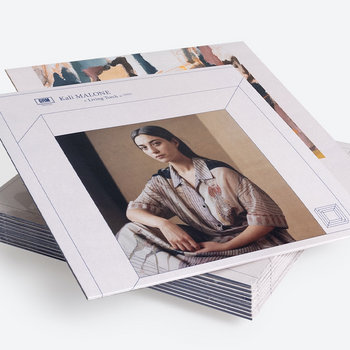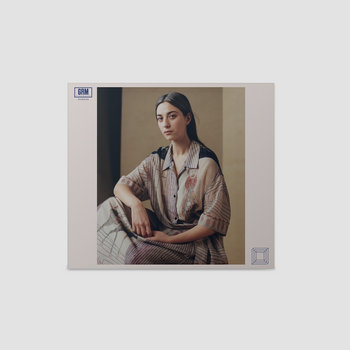 In the last few years, American ex-pat experimentalist Kali Malone has gradually expanded her practice, shifting away from shorter pipe organ works to long-form pieces delving into lush harmony and sustained tones. The new work was made during a residency in Paris at GRM, with Mats Äleklint's trombone and Isak Hedtjärn's bass clarinet recorded at Stockholm's equally legendary EMS. Malone constructs cavernously reverberant sound swells using an ARP 2500 and modular synthesizers, along with Boîte à Bourdons—a shruti-box-like device designed by Léo Maurel. The layered, harmonically kaleidoscopic horns thicken the sound palette with stentorian richness, gliding and billowing over Malone's striated drones like particularly active cloud formations. While the second part opens with shorter, almost-guitar-like tones, in general, the whole performance is marked by a soothing grace that's shielding something much darker and ominous. It's to Malone's credit that she holds back from revealing too much. Combined with another long-form piece she's been performing with cellist Lucy Railton and guitarist Stephen O'Malley, this work suggests a beguiling turning point in her music.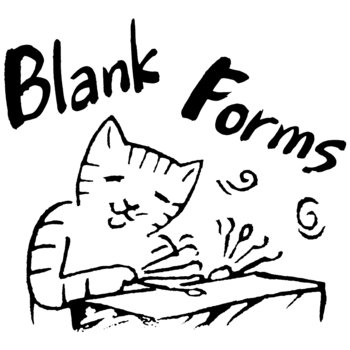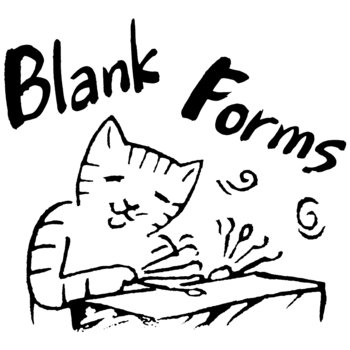 Merch for this release:
2 x Vinyl LP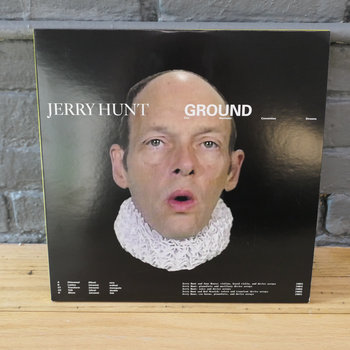 This invaluable reissue of composer-performer Jerry Hunt's final album—originally released by OODiscs in 1993—is part of a sustained campaign by the folks at Blank Forms to redress the criminally overlooked practice Hunt developed before committing suicide in 1992 while suffering from lung cancer and emphysema. The organization curated an exhibition of his art and published a memoir/biography by his former romantic partner Stephen Housewright. This fall, it will release a seven-album box of music released by Hunt's short-lived Irida imprint.
The five bruising works collected here are part of his ritualistic Ground series. The liner notes describe them as such: "These works consist of translations of derivative approach streams, as performance, generated from sequences of memory devices: congruent layers of associations of inflection-calls evoke, through a directed scanning skyring action, point specific, melody-action strings embedded in a reference context of conventions of performance." I'm still not sure what that all means, but the results are intensely physical, jagged, and noisy. Hunt's raucous percussion onslaught on the opening "Chimanzzi (Olun): Core" is matched by violinist Jane Henry with strident double stops and upper register sawing, while fellow composer Rod Stasick jaws with him to a cacophonous shouting match on "Talk (Slice): Double." The other three pieces are solo performances. Hunt plays piano on two of them, and bells and rattles on the last. Three decades later Hunt's music remains utterly sui generis.
Ficino Ensemble & Michelle O'Rourke
Folk Songs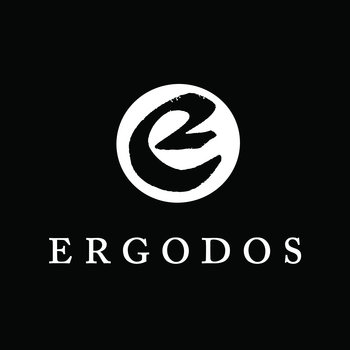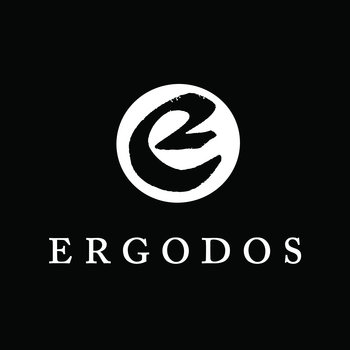 Merch for this release:
Compact Disc (CD)
The Italian composer Luciano Berio had been teaching at Mills College in Oakland for several years when he wrote his famous suite Folk Songs in 1964, amid the sprawling folk music revival in the U.S. The set of music offered new arrangements of themes collected from around the world, including a couple of American songs the composer encountered on a recording by John Jacob Niles, along with music from Armenia, France, Azerbaijan, and Italy, all tailored to the exceptional voice of Cathy Berberian. In the years since it's become part of standard 20th-century repertoire. For this crystalline recording, the Irish chamber group Ficino Ensemble complemented his work with four new commissions that somehow engage with folk traditions. Judd Greenstein's "Green Fields of Amerikay" and Garrett Sholdice's "I would be where I am not" are both adaptations of old folk songs, while Kate Moore and Kevin O'Connell created new works in the spirit of folk tradition. Together with Berio's suite, the music erases any specific era or stylistic hierarchy—reinforcing the endless value of folk sources. The translucent delivery of singer Michelle O'Rourke brings it all together, woven through airy arrangements that privilege the clarity of her delivery.
Kivie Cahn-Lipma
Sumna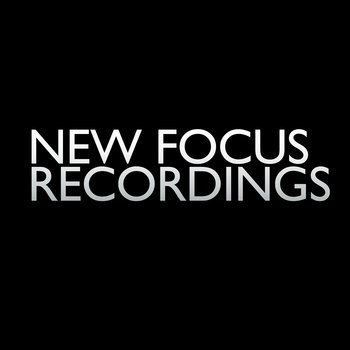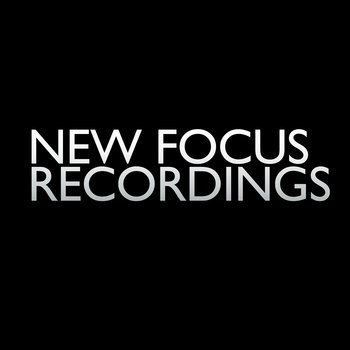 New Yorker Kivie Cahn-Lipman nonchalantly straddles the worlds of early and contemporary classical music, tackling often obscure 16th- and 17th-century composers with his ensemble Acronym and interpreting new music as the founding cellist in International Contemporary Ensemble. On this terrific solo collection, where he also plays viola da gamba, Cahn-Lipman underlines connections between those two worlds—which often aren't quite as far apart as they seem—opening the album with a gorgeous account of Biber's "Passacaglia" before moving onto a richly varied selection of music from the last couple of decades.
Some of those later works explicitly draw upon the past, such as Caroline Shaw's increasingly ubiquitous "in manus tuas," which is based on a 16th-century motet by Thomas Tallis, while the title piece by Mario Diaz de Leon draws inspiration from Marin Marais and Hildegard von Bingen, to say nothing of slashing riffs of heavy metal. Édgar Guzmán's electronics-tattooed "Remains (Hecho en México)" closes the album with an unexpected quotation from "Passacaglia." Spread throughout the rest of the collection are the four movements of Kaija Saariaho's "Neiges," inspired by snowflakes falling on an evening in Finland, with Cahn-Lipman seamlessly overdubbing all eight parts (he also overdubs multiple lines, including some electronically-treated ones, on Vincent Calliano's "Notes on the Delivery Machine"). As the album proceeds the moods swing—from stately serenity to visceral turbulence—as often as the stylistic touchstones shift, but the cellist manages to keep such transitions fluid and poetic, a testament to enduring musical concerns as much as it is to Cahn-Lipman's versatility and holistic sensibility.
Merch for this release:
Compact Disc (CD)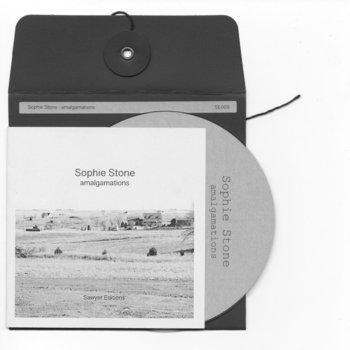 A beautifully austere collection of renderings of a single graphic score that's been meticulously tweaked with specific instructions for each of four different instruments, amalgamations is an impressive debut recording by the young British composer Sophie Stone. She originally wrote the piece for organist Lauren Redhead, but she was pleased enough with the results—an alternately bracing and meditative assemblage of long, harmony-rich lines of shifting density and attack—that she envisioned the possibility to expand the titular piece for others. The collection opens with a rendering by violist and composer Anne Leilehua Lanzilotti, who effectively draws out a dusky translucence, drawing out extended tones with brittle striations and ghostly overtones, occasionally leavened with silence and upper register needling. Cellist Peter Nagle imparts more silence and more heft in his rough-hewn lines, both upper register gestures and earthy rumbles, while pianist Peter Falconer is forced to deal with decaying tones thanks to his instrument. Although the timbre, attack, and note choices are all quite different, the basic shape of Stone's work shines through.