BANDCAMP NAVIGATOR
Bandcamp Navigator, April 2021: From Lush Indie Rock to a '90s Club Classic
By Robert Newsome · May 04, 2021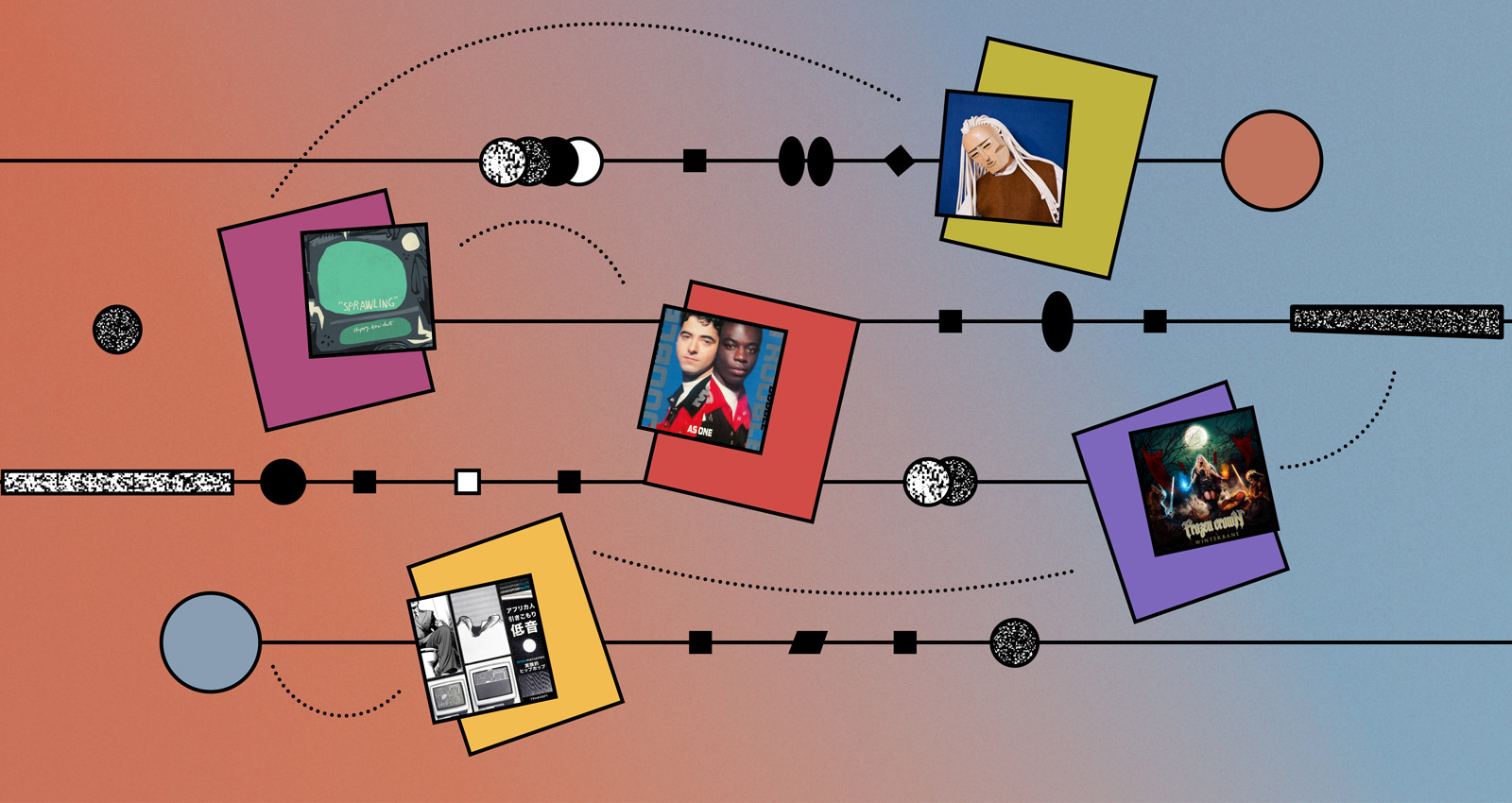 Bandcamp Navigator is a column dedicated to a fan favorite Bandcamp practice: tag-hopping.
I listen to a lot of music. You probably do, too. I've mentioned this before, but it remains true that sometimes the sheer amount of stuff coming out becomes overwhelming. There's really nothing you can do about it, though. I've really tried to just sort of skim across this wave of new material and dive deeper when I can. That method, though, means that sometimes you're late to the party on a new release you wish you'd known about sooner. We're starting our journey this time with one of those releases. Even if you feel like you missed out the first time around, remember, the important thing is that you found something you like, regardless of whether or not you were there on day one.
Merch for this release:
Vinyl LP
I'm not trying to date myself here, but I'm an old enough person that I can remember hearing Kurt Loder on MTV reading pre-release promotional material that described The Cure's forthcoming album Disintegration as (and I'm paraphrasing here) "a similar sound as recent albums, but a lot more downbeat." As someone who loved Happy Accidents' 2018 album Everything But The Here And Now, that Loder quote is the first thing that popped into my mind after clicking "play" on Sprawling. It's immediately recognizable as the same artist, but mostly missing the energetic pop-influenced punk of the previous release. The slow tempos here are paired with gentler sounds. Buzzing guitars take a back seat to mellow electric piano (especially prominent on the title track) and the vocal harmonies of Phoebe Cross and Rich Mandell are gentler, more intimate. Sprawling is a lush, beautiful work built from slow tempos and introspective lyrics.
Sprawling, as subdued as it is, still retains Happy Accidents' #punk influence. As you know, that's a huge tag, applied to thousands of releases. We're moving in on that tag now to focus on the second demo from a Texas hardcore band.
Ozone's 2020 self-titled demo was a burst of frantic hardcore energy, and definitely established these Texas punks as a band to watch. Still, I'm not sure anyone hearing that first demo was adequately prepared for this. Don't worry, the pit-ready breakdowns and breathless vocals are still here, but Ozone brought some new tricks out this time. Opener "Give It A Rest" features a swirling psychedelic effect leading into some absolutely towering riffs. Also, if you listen closely, I'm pretty sure there's some acoustic guitar strumming buried somewhere in the mix. The whole album features hard stereo separation (most prominent on the lurching "Killing Me"), so you'll want to keep both earbuds in for this one. The whole thing, as you'd expect from a hardcore demo, is over in about seven minutes, but it's some of the most refreshing, forward-looking hardcore you're likely to have heard in a while.
Ozone are from #Fort Worth, Texas, the home of artists as diverse as Kelly Clarkson, Toadies, Pinkish Black, Larry and the Blue Notes, and Ornette Coleman, and the birthplace of Roger Miller. That's a broad spectrum, and somewhere in there is our next featured artist.
"Spinning," the opening track on the latest release from Trauma Ray, invokes the peaceful imagery of dust motes dancing in an afternoon sunbeam. Just shy of a minute, it draws the listener in and sets one up for the punch of the opening blast of the second track, "Seen." Trauma Ray delivers classic Ride-style shoegaze pop, with solos that emerge from the storm, supported by lush vocal harmonies and occasionally that My Bloody Valentine trick where the guitarists make their instruments sound like elephants. "Nühevan" leads with booming, echoing drums paired with a guitar tone reminiscent of You'd Prefer An Astronaut-era Hum. Like the best practitioners of the sound they favor, Trauma Ray are adept at using shimmering cascades of distortion and feedback to create a sound that's capable of both aggression and tranquility. It's a formula that's always pleasing when it's done correctly.
Almost as vast as the "punk" tag we visited earlier is the territory encompassed by the #indie tag. It can be applied equally to a particular style of rock music or the ideals and influences of a particular artist (sometimes even both). Our next artist applies the lo-fi DIY aesthetics of that descriptor to house-influenced electronic music.
The banner image on Sei Siren's Bandcamp page features the South African artist standing in a studio, surrounded by production equipment and synthesizers—an accurate visual representation of the sound of this album. From the opening minimalism of "Mmino," we're dropped into a sea of electronic dance sounds, a mix of influences including '90s house music, a touch of retro synthwave, and some early IDM/ambient techno styles. There's a simply wonderful '80s-style synth guitar solo on "Hot Pinkk" that conjures foggy nighttime cityscapes with neon lights piercing the shadows. What's most appealing about this mixture is the rough-around-the-edges quality of it all, providing an immediacy and intimacy to the work that would likely get lost if these same tracks were presented with a slicker, glossier production style. Sei Siren's vocals waft through the whole affair, angelic and laconic, elevating the sound from merely well-done DIY dance music to something unearthly and sublime.
I guess we're sticking with broad genre tags that give us a lot of options this time around. That's fine. It can be incredibly rewarding to wade through a flood of releases looking for the ones that speak to you in the most meaningful way. Our next stop is an #electronic ambient record that's been getting a lot of repeat plays around my house over the past month.
Merch for this release:
Cassette
The latest release from Lorenzo Bracaloni's project Fallen is soothing and captivating. This ambient electronic work (accompanied by acoustic stringed instruments) somehow manages to be both minimalist and expansive. Bracaloni uses layers of synth accented by echoing field-recording-style samples, to create a sound that suggests wide open spaces. On "Ricordo dolce," what sounds like a recording of a bustling train station crashes into bold metallic strings and sustained piano notes, accompanied by a deep rumbling drone. Icy synthesizer stabs coupled with wordless, heavily processed singing create a cavernous space where disparate elements of the piece's structure are allowed to collide and echo. These seven tracks offer different sonic colors, but they all feel connected as a part of the same palette. They stand strong on their own, but flow together to create a work that is endlessly fascinating.
Fallen, as well as the label on which their previous album was released, are based in #Italy. This southern European nation is also home to an impressive assortment of power metal bands. Let's take a look at a new record from one of the best of the lot right now.
Merch for this release:
Compact Disc (CD), Vinyl LP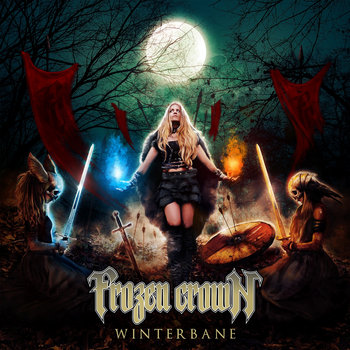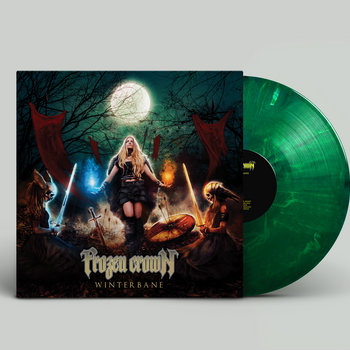 The latest release from these Italian power metal masters wastes no time getting started. There's no atmospheric "intro" track here, just an absolute avalanche of a riff tumbling full-speed down a mountainside to kick off the opening track. That's indicative of the album as a whole; an over-the-top onslaught of soaring vocals, propulsive drumming, and so very, very many riffs. A reverent cover of Judas Priest's "Nightcrawler" puts Frozen Crown's unique shine on a '90s power metal classic. Frozen Crown, who released their first work in 2018, have obviously studied the ancient texts (by "ancient" I mean early '00s, but it's hard not to get a little carried away when you're talking about this sort of thing) written by the likes of Stratovarius, Blind Guardian, Gamma Ray, and fellow Italians, Rhapsody.
Frozen Crown are from #Milan, a city in Northern Italy less than 40 miles from the Swiss border. Also based in Milan is our next featured artist, a percussionist and dancer whose collaborators span the globe. He's also responsible for electronic music influenced by a wide variety of sounds.
Lahki Astoria is a musician and dancer, and that dance background definitely shines through in the music he creates. On The Philanthropist, Astoria grabs Afrobeat percussion; bouncing and sliding funk basslines; and the early electronic synth styles of Gershon Kingsley and binds them together on an album that can be delicate and gentle (as heard on "A Wise Question" which adds Middle-Eastern influenced string instruments to the mix), experimental (as on the jazz-influenced "Throwing The Bone In The Air"), and uplifting (as on the bright, uptempo "Longing For Life"). Astoria builds this collage of influences on top of a foundation of synths expertly played by Klaus Liebemacher. The Philanthropist is a captivating, surprising work, able very much to stand on its own outside of the context of performance.
Given the assortment of influences present on The Philanthropist, it should be no surprise to see the #fusion tag applied. Jumping into that tag, we find another artist combining different styles into a new sound, this one mixing American soul music with Afrobeat.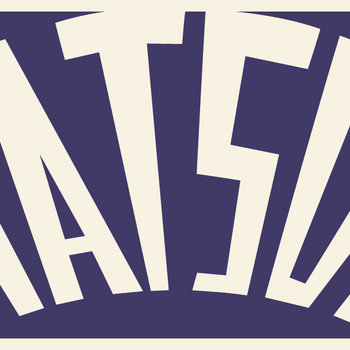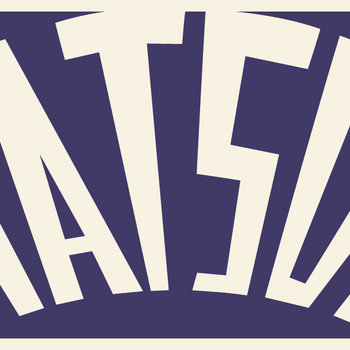 Merch for this release:
Vinyl LP
The sound of The Beaters is the sound of a band in transition. In fact, not long after the 1975 release of this album, the band would change its name to Harari and continue to release music under that name well into the '80s. On Harari, the album, one can hear The Beaters slowly moving away from their early American soul influences and embracing the sound of '70s South African pop music. Those early soul influences are still here, though, making themselves felt especially on "Push It On," a song anchored on a thudding bassline and stomping beat that surely filled more than a few mid-'70s Soweto dance floors. The smooth, organ-driven "Love Love Love" shows The Beaters working with late '60s bubblegum pop styles to create a simple, danceable love song with a memorable horn section hook. The emerging Afrobeat influences are especially prevalent on tracks like "Thiba Kamoo," with its multi-layered percussion and laser-beam synth stabs.
Though not strictly a #jazz record, Harari unquestionably takes influence from the genre. Even though we've landed in the jazz tag, we're going to stay with the "influenced by" theme for our next album from a South African hip-hop artist.
Johannesburg producer Spoek Mathambo's latest release is an immersive multi-layered work of lo-fi hip-hop and dub. Mathambo focuses here on a skeleton of intricate polyrhythms supporting deep bass (at times more felt than heard), ghostly samples, and laid-back vocals. Album standout "Dinner By Candlelight" loops a simple seven-note bass hook around a funky guitar riff and orchestral synth beds to provide backing for a cascading lyrical flow and soulful choruses. "(Sometimes) I Sing The Blues" shows Mathambo using the template of dub reggae to create a low-key track in which vocals float over the rolling waves of the hypnotic beat. The album also features a foray into ambient territory with the burbling, droning "No More Walking Alone." Hikikomori Blue is a testament to the creative experimentation that can emerge from solitude and introspection.
We're glimpsed the edges of the #house tag earlier on with the Sei Siren release, but now we're diving headfirst into the middle of it all, ending our trip with a recently reissued '90s house classic.
Double Trouble
As One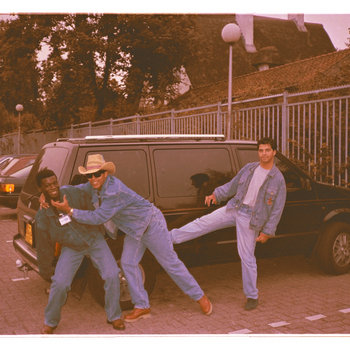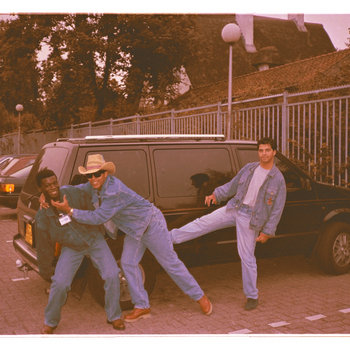 Most people remember Double Trouble from their highest-charting single "Street Tuff," which rose to number 3 on the UK charts in 1989 on the strength of the rhymes of Rebel MC (now releasing music under the name Congo Natty), an absolute earworm of a funky organ loop, and an in-your-face classic boom-bap beat. That tracks featured here on Double Trouble's only full-length, alongside other charting singles like their cover of Rose Royce's "Love Don't Live Here Anymore." This record stands as a time capsule of the state of house/club music in the early '90s. It's certainly a product of its time, but still sounds fresh today, likely given the huge influence Double Trouble and their contemporaries had on pop music. This reissue from London's New State Music (who have also reissued all of Double Trouble's singles) is essential listening for anyone with even a passing interest in dance music.
I never really try to do this, but it's always a little bit of serendipitous fun when a tag on the last release we heard can link it back to where our travels began. This time it's the #London tag that links Double Trouble to Happy Accidents, but I don't expect anyone to loop back around and start again. There's just too much great stuff out there waiting to be found.