ALBUM OF THE DAY
Wau Wau Collectif, "Mariage"
By Andy Beta · November 14, 2022
​
​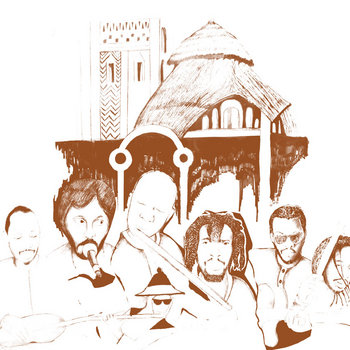 .
00:10 / 00:58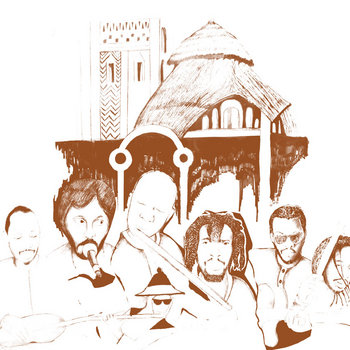 Merch for this release:
Vinyl LP
It's more than a little tongue-in-cheek that Wau Wau Collectif entitled its second release Mariage. Yes, it suggests a lasting bond between the project's constants and catalysts: Senegalese multi-instrumentalist Arouna Kane and Swedish producer Karl Jonas Winqvist, one that can feel by turns predestined and practical, intimate even from across continents and an internet connection. But like any durable marriage, it's a relationship that actively involves others. 
Building quickly on the buoyant magic of 2021's Yaral Sa Doom, Mariage again draws on a local assemblage of Senegalese musicians: Jango Diabaté's xalam strings, Gilbert Badji's resonant voice, Issa Kouyaté's nimble kora, a childrens' choir, the sounds of calabash and balaphon, even some crickets at dusk. It repeats the formula of the debut, in that the informal recordings made by Winqvist in the bohemian hub of Toubab Dialaw and then brought back north for further tinkering. It's all intermingled with Winqvists's studio acumen and a few other Swedish session players, making for an amalgam that defies easy categorization and borders, sometimes seeming folkloric, other times wholly untethered to the ground. 
Almost any song escapes easy assimilation, restlessly moving to a place not yet defined. "Yay Balma" builds from shimmering plinks of xalam into a spiritual jazz burner, propelled by Mara Arnberg's saxophone, Reine Fiske's fuzzed-out guitar, and hard-knocking drums. Grounded by Babacar Diol's honeyed purr, "Yonou Natangue" weaves together dubby bass, effervescent flute, hand drums, and a wind-up music box melody that makes it feel unhurried as a lullaby. Numerous hand drums braid together with kora on the powerful instrumental opener "La Paix Du Senegal," yet the effect is dreamy rather than danceable. "Le Repaire Spirituel" moves slow as a plaint, punctuated by Kane's wail.
And despite the careful construction of the songs, assembling parts from recordings in Senegal and augmenting them in Sweden, there's a looseness to the proceeding that feels spontaneous. Handclaps and kid chants make "Xale (Toubab Dialaw Kids Rhyme)" seem less like a studio creation (the guitar, keyboards, and bass stay in the background) than something just overheard on a playground. He's not present on every single song, but flute player Ousmane Bah seems to always be present, his wooden flute is an invaluable sound throughout. Rousing as a growl when need be yet also breathy and ethereal, hear him dance around the drums on "Mariage Forcé." He passed away shortly after the recordings were made, but his spirit informs the album, as heavyweight and light as mindful breath.