ALBUM OF THE DAY
Vis-a-Vis, "The Best of Vis-a-Vis in Congo Style"
By Megan Iacobini de Fazio · January 07, 2022
​
​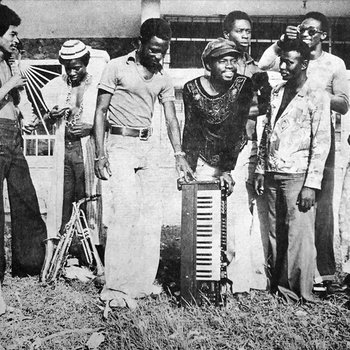 .
00:10 / 00:58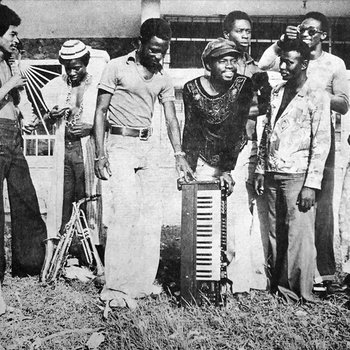 Merch for this release:
Vinyl LP
I can say with some certainty that it was the funk grooves, distorted sounds, and bristling horn lines of Vis-a-Vis's sprawling "Aboagyewaa" that first turned me onto African music several years ago. Their catalog alone gave a relative novice more than enough to explore: between 1975 and 1982 Vis-a-Vis released 13 albums, some more experimental than others, but all combining Ghanaian highlife with Afrobeat rhythms, funk grooves, cosmic synths, and jazzy horns. They helped propel legendary highlife singer K. Frimpong to stardom, but they were so much more than a backing band.  While flirting with different technologies and genres, Vis-a-Vis created a hypnotic, winding style of highlife that was both spiritual and danceable. 
On their album The Best of Vis-A-Vis In Congo Style, the latest to be reissued by Toronto-based label We Are Busy Bodies (following the reissues of Odo Gu Ahorow,  Di Wo Ho Ni, and the seminal Obi Agye Me Dofo), Vis-a-Vis depart from their trademark style and add a heavy dose of Congolese rumba to the mix. Born out of the Cuban son wave of the 1930s and '40s, Congolese rumba was taking over the continent by the '70s, and became a major influence on many styles of African popular music. Few bands, though, took it in the direction Vis-a-Vis did on this record: with vocalist Isaac "Superstar" Yeboah, Sammy Cropper on guitar, Slim Manu on bass, Gybson "Shaolin Kung-Fu" Papra on drums, and a cast of other musicians, The Best of Vis-A-Vis In Congo Style effortlessly combines the sunny atmospheres of highlife with the harmonized vocals and nimble guitar playing of rumba. 
On opener "Medofo Pa," the musicians sing in unison, Congolese style, over a bouncy keys riff and bumping bass that loop around and around in crescendo, before a free-flowing, melodic horn line breaks out among the clapping and chanting. It's unique to hear Twi lyrics among these typically rumba sounds, but Vis-a-Vis are so self-assured that it works flawlessly, highlighting the band's versatility and pan-African outlook. On "Cherie Bondowe," a cover of Mayaula Mayoni's 1974 original, the harmonized vocals sound like they're straight out of a Kinshasa nightclub, but the syncopated rhythms and rolling basslines give this a funkier twist. Guitarist Sammy Cropper gets a workout on the tight, repetitive riffs on "Efre Adofo." He gets to relax a bit on the opening notes of following track "Nsenkeka Adooso," just as a deceptively breezy horn line starts to glide over a bed of jaunty percussion and organ riffs. 
The punchy brass stabs and twangy guitars at the end sound like the celebration of different musical worlds colliding. It's a fitting end to this record that highlights yet another side of this infinitely talented and multifaceted band.