ALBUM OF THE DAY
The Murlocs, "Calm Ya Farm"
By Saby Reyes-Kulkarni · May 23, 2023
​
​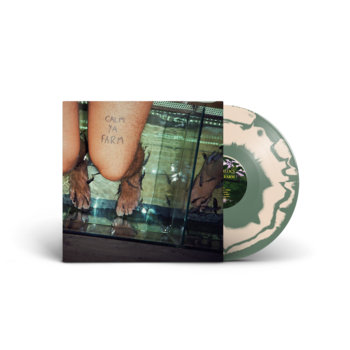 .
00:10 / 00:58
Merch for this release:
Vinyl LP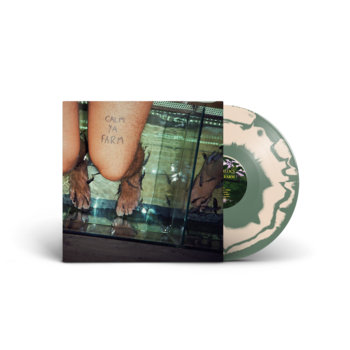 Being in a band that's released over 20 albums in a 10-year span (and twice put out five LPs in the same year) means that Ambrose Kenny-Smith and Cook Craig of King Gizzard & The Lizard Wizard have their time pretty well occupied. Nevertheless, over that same stretch of time, Kenny-Smith and Craig have also found time to play in their other band The Murlocs. Like King Gizz, The Murlocs tend to be prolific, continuously burning through a host of musical styles. 
Which is to say that The Murlocs' seventh full-length Calm Ya Farm deviates significantly from their last offering, 2022's Rapscallion, even though it arrives only eight months later. (Apparently, the members of this musical circle experience time in dog years.) With Rapscallion, a concept album inspired both by author Cormac McCarthy's Blood Meridian and frontman Kenny-Smith's own upbringing, the band attempted to channel stoner metal and crude post-punk. This time, they turned to country rock. 
Inspired by late '60s/early '70s albums by Jim Ford, Ronnie Lane & Slim Chance, The Byrds, and the Rolling Stones circa Exile on Main St., The Murlocs hit upon a seamless amalgamation of the vocabulary those artists created a half-century ago. They've also crafted their most stylistically unified work to date. By Kenny-Smith's own description, previous Murlocs albums tended to be thrown together, often lurching from one song to the next, with lots of explosive clamor throughout. Calm Ya Farm, on the other hand, is most notable for its smooth flow. 
At times, both King Gizzard and The Murlocs have demonstrated a knack for injecting new life into vintage production techniques. In a pop culture landscape oversaturated with retro aesthetics, it's easy to lose sight of what an amazing feat that is. The Murlocs, however, have outdone themselves with Calm Ya Farm. Instead of tossing a bunch of ideas at the wall, the band discreetly punctuates the roots-y trickle of the music with flourishes of other styles. 
"Common Sense Civilian" recaptures the goosebump-inducing swoon of arena rock at its most sublime. Anyone who didn't live through the era when anthems by the likes of Joe Walsh and Foghat rang through the air on beautifully compressed analog radio signals can rejoice: The Murlocs have given us the next best thing. On "Superstitious Insights," the band blends a dusty, disco-funk bassline with a hopscotching Aerosmith breakdown and transplants them into an Old West saloon. "Queen Pinky" saunters into the realm of classic R&B ballads, and on "Undone and Unashamed," Matt Blach pays homage to soul drumming greats like Roger Hawkins of the Muscle Shoals Rhythm Section. From start to finish, the band's collective fluency with soul music truly shines. 
Far lighter on the distortion, the bashing, and the chaos, Calm Ya Farm certainly lives up to the "warm, summery feeling" that Kenny-Smith described. But the appeal doesn't end there. Laced with tension and references to contemporary social ills, Kenny-Smith's lyrics have a way of being disarming. At first glance, they come off as the giddy, nonsensical ramblings of a street poet. Pay close attention, though, and the songs have more than a few chilling moments, like when Kenny-Smith sings "pop goes the pistol" on "Russian Roulette." Likewise, on "Superstitious Insights" he mentions in passing that "we all die alone." These stark overtones lend weight to the band's music which, aside from its flawlessness, glows with a sincerity that The Murlocs hadn't found a space for previously. By re-tracing the footsteps of their elders, The Murlocs have stumbled into one of the most authentic backwards-looking records of our time.