ALBUM OF THE DAY
Tele Novella, "Merlynn Belle"
By Mariana Timony · February 05, 2021
​
​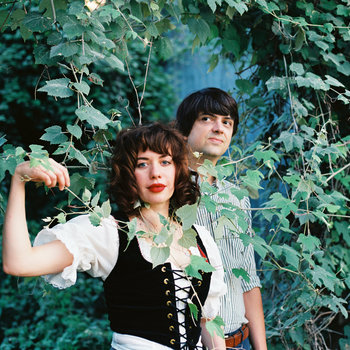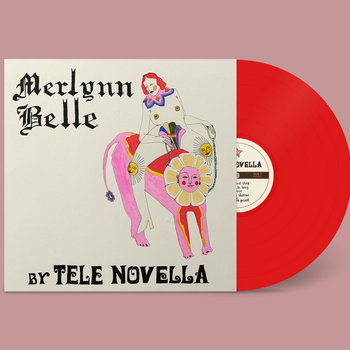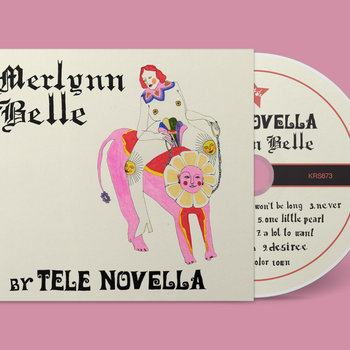 .
00:10 / 00:58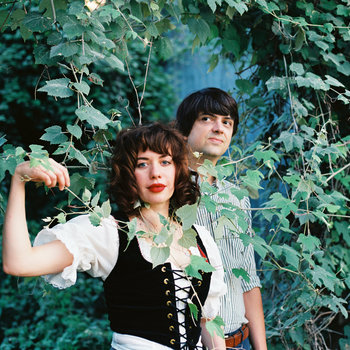 Merch for this release:
Vinyl LP, Compact Disc (CD)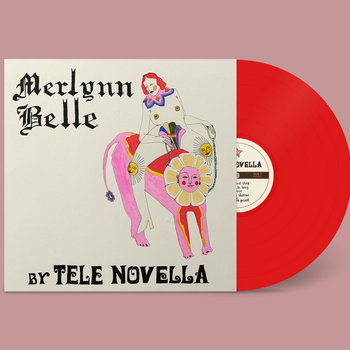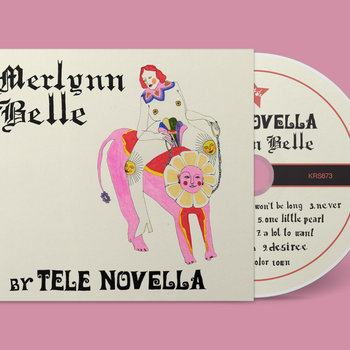 "Where did you go/ Nobody knew you were gone," sings Natalie Ribbons as the curtain rises on Merlynn Belle, the sophomore release from Texas psych-pop band Tele Novella. Her velvety voice is rich with emotion, crooning over strummy, Flamenco-esque guitar and percussion that's minimal and rickety, as if it were being played by a wind-up toy. It's a fitting opening scene for a record concerned not so much with the experience of loss itself, but the abiding presence of absence and the resulting magical thinking that attempts to will back that which has so effortlessly slipped away—to find, as the chorus of the song goes, the "words that stay."
Throughout Merlynn Belle, Tele Novella (now a duo of Ribbons and multi-instrumentalist Jason Chronis) use finely detailed, often-cinematic imagery to conjure up the shape of what is gone: a shadow on the wall where a picture used to hang, a wishing shrine "devoted to a sinner/ Illuminated by candlelight," a tale of a cold-eyed sorceress who feasts on crystals shaken down from a chandelier. "The heart seeks a story like the eye looks for a face," sings Ribbons on delicate baroque-pop ballad "One Little Pearl," drawing out a narrative by cataloguing things left behind: a bonnet, a diary, an old tooth. "One little pearl/ For the oyster's autobiography," offers up Ribbons in the song's bereft denouement, her voice slightly quavering as she swoops into her higher register to deliver the line.
The realm of the fantastic isn't untrod territory for Tele Novella. Their 2016 debut, House of Souls, was an atmospheric ride through an eerie dreamworld, packed with symbolism and thick with tinkling xylophones, rainbow swaths of synthesized keys, and heavily-reverbed vocals. Though similarly flush with quirky, retro sounds like booming timpani, chiming bells, and the occasional fuzzed-out electric guitar, the psychedelic filigree has faded to a gentle pastel on Merlynn Belle. Each song was written and recorded individually, in whole takes, giving them a sense of intricacy and spaciousness that foregrounds the ghostly melodies as they tumble out slowly over the patiently patchworked instrumentation. Tele Novella have also added a healthy dose of dusty mid-century country-western to their sonic paintbox. It's an appropriately lovelorn genre with which to sift through the pieces of broken dreams from this side of the looking glass, but an element that lends their penchant for tarot card medievalism a whimsical anachronism, like an occult ritual performed in a horse barn or the spirit of Lee Hazlewood hanging around at the Renaissance Faire.
Whimsy aside, by hitching their mystical wagon more deliberately to the three-dimensional world, Tele Novella's music takes on a humane elegance that can be heartbreakingly tender, especially when the group lets the emotional cracks show. On the torchy "Desiree," Ribbons summons the smoky ghost of Françoise Hardy as she darkly confesses, "I still believe that it's just me/ You'd come back to living for/ For years I did not lock the door." One song later she's unleashing a crystalline howl of grief that seems to echo across the deserted hills of the band's small-town-Texas stomping grounds, the final word that stays on a record that reveals how magic need not be a matter of imposing your desires on reality with crystals and candles since there's nothing more magical than the resilience of one's own humbled heart.