ALBUM OF THE DAY
TALSounds, "Acquiesce"
By Sam Goldner · May 14, 2020
​
​
Merch for this release:
Vinyl LP, Vinyl, 2 x Vinyl LP, Cassette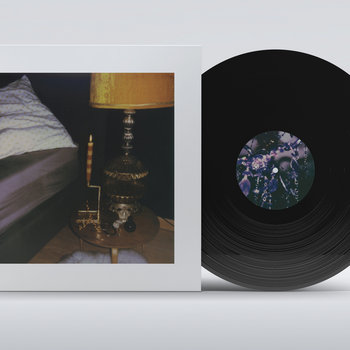 The cover of Natalie Chami's latest album as TALsounds features a matter-of-fact photo of the edge of a mattress. There's a pillow on the bed, and a nightstand sitting next to it, atop of which is the kind of antique lamp you might find at your grandmother's house. At first, this image appears simple, even innocuous. But on the second or third glance, you start to notice the details—like the slim candle at the center of the picture, or the fuzzy carpet at the bottom of the frame, or the polaroid hue that gives the scene a mystical glow.
The music on Acquiesce sneaks up on you in this same way. On her fifth solo album (and first for NNA Tapes) Chami continues exploring her penchant for slowly unfolding drones, her analog synthesizers and gentle whispers layered like silvery smoke hanging in a lamp-lit room. On her previous record, Love Sick, she embraced pop music more directly than she had on any of her previous solo releases (or her collaborative works with fellow Chicago artists like Good Willsmith and Brett Naucke). But Acquiesce is all drift, a rich and soothing assortment of synthesizer shapes.
Chami's instrumentation alternates between cloudy passages on tracks like "Opening" and "No Rise," which dance about in a melancholy wonder, and sludgy slabs of sound, like the oozing, molasses-drip of "Soar." Sometimes, the synthesizer isn't her most potent weapon: the barely-there "Else" starts as a muted rumble before Chami's whirlpooling voice slowly swallows the track. Acquiesce is full of moments like this, where Chami takes a seemingly simple element and draws out its textural properties, scattering her sounds about until it becomes a form of hypnosis. Listen to it on a walk, and you may suddenly notice the way that the light drips through the trees, as if Chami's tapped into something magical hiding just beyond the ordinary.